Tacoma Boys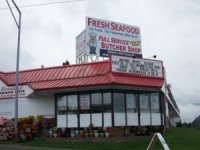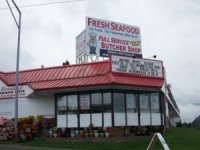 Store
5602 6th Ave
Tacoma
,
Washington
, 98406-2606
United States
(253) 756-0902 |
map
tacomaboys.com
Notes:

3.9
/5
rDev
-3.9%
vibe: 3 | quality: 4.5 | service: 3 | selection: 4.5
Actually one of the better selections in Tacoma for beer can be found here. They have two big areas set for different styles of craft beer local, state and national brands.
174 characters
4.57
/5
rDev
+12.6%
vibe: 4.5 | quality: 4.5 | service: 4.5 | selection: 4.75
I always stop in at Tacoma Boys when I have business in that area of town. I can always find a new beer when I stop in. My main critique is the lack of organization, most of the Washington craft beers are collocated while the rest of the beer is completely randomized.
270 characters
3.6
/5
rDev
-11.3%
vibe: 3 | quality: 4 | service: 3 | selection: 4
Grocery store - so that's the "vibe". Good beer and wine selection though the organization is a bit scattered - beer mixed in with wine, no perceptible organization by style, just a loose organization by brewery but with special items often located in other areas or special displays. I've never been approached by anyone asking if I need help, even in the instances where I was wondering aimlessly. On the plus side, there are good odds that things which have sold out elsewhere will linger here.
497 characters
4.03
/5
rDev
-0.7%
vibe: 3 | quality: 4 | service: 4 | selection: 4.5 | food: 4
A: Like a small grocery store. Girls at the registers are always nice.
Q: Tacoma Boys always has great fresh food whether it be seafood, meat, produce and beer..oh yeah, killer dessert too
S: Service is average grocery store style. Younger people stocking and working registers wont know much
S: Alesmith, Port, lots of good local stuff. You can always find a gem here. Parabola, Collage, Arctic Devil, BA Old Ruffian have all been scored here. You can always find something new here and as of right now it is the best bottle shop in all of Tacoma.
551 characters
3.66
/5
rDev
-9.9%
vibe: 3.5 | quality: 4 | service: 3 | selection: 4
Tacoma Boys is a high end local grocery store, focusing on local produce, high quality poultry, fish and meat, and other gourmet items. They also have a pretty sizeable wine selection as well, and in the back, a cold box with a good selection of craft beer and a few imports.
This place reminds me of a smaller version of my local MofC down in West Linn, with the same sort of focus on high quality goods (an attitude that extends to the wine and beer selection as well). The one exception seemed to be in the pricing area; Tacoma Boy prices are much more reasonable then what one will find at the MofC.
In terms of the beer selection, they have a good selection, no doubt, especially for a grocery store. It doesn't come anywhere close to what one can find at 99 bottles and Bottleworks, but still, the selection here is pretty solid, with a nice variety of local and regional beers. Most of the selection is contained in the moderately sized cold box area in the back, but with a few box displays as well.
Others have mentioned that one can find limited, hard to find beers on occassion here, and that may well be true, but on this day I didn't see anything that wowwed me (though they did have some beers from Fire Mountain brewery in Carlton, Oregon, which was a surprise). Service was about what you'd expect for a grocery store. The folks working here were nice enough, but at the end of the day, this is a grocery store, and so there really isn't anyone here that can answer more than the most basic beer related questions (at least not that I could see).
If one wants something special, unusual or hard to find, it's pretty clear that 99 Bottles is the place to go in the area. However, if one simply wants to pick up some good beer while shopping for high end groceries, then Tacoma Boys is absolutely the sort of place to come. I'm sure I'll be back.
1,866 characters

3.66
/5
rDev
-9.9%
vibe: 3.5 | quality: 4 | service: 3 | selection: 4
I try to swing in here whenever I'm driving past its a lot closer to my house than Federal way. Pretty decent local section, Schooner Exact, Fremont, Two Beers, Stone, Rouge, Russian River, a lot of pretty decent beers. Pliny sometimes, but never when I stop by. Some Belgiums and a few Germans. Not real big on customer service (Beer Section), no one ask you if you need any help. However staff is very friendly when they do talk with you. I will continue to go here. I can always find something to drink.
506 characters

3.4
/5
rDev
-16.3%
Another branch of this local franchise. Their beer section is decent sized, but pales in comparison as far as selection goes compared to their puyallup branch. They have some Schafly RIS and Bwine that has been sitting on top of the cooler for who knows how long, but other than that they have a nice set up. The isle is a bit narrow, so heavy traffic times are not too good for browsing. It is worth Checking out, but I have yet to be wowed by a beer discovery there. They usually have Supplication and other regular RR offerings, PTE is hot and miss, but usually miss. Plenty of national micros, but not so many locals stocked.
629 characters

3.85
/5
rDev
-5.2%
My wife remembered hearing about them somewhere, so we stopped by on the way back from a camping trip.
They have a really good selection. Lots of Germans, a fair number of Belgians, an exceptional selection of locals.
I didn't even talk to any of the employees except at checkout, and I didn't ask her about beer, so my "average" rating for service is definitely uninformed. No one was rude, no one was helpful, no one was unhelpful. Just a store with beer.
Seemed like everything was well taken care of, beer is inside and away from the windows. They had some 2009 Sierra Nevada Southern Hemispheres -- I should have bought one to see what kind of shape those things are in after a year.
Some of their prices were a little bit high, some of their prices were pretty good ($8/4 Old Rasputins, $11/4 90 Minutes). Overall, prices seemed reasonable.
850 characters
Tacoma Boys in Tacoma, WA
Place rating:
4.06
out of
5
with
13
ratings