Dismiss Notice
White Birch Quad
| White Birch Brewing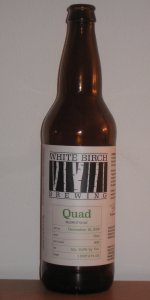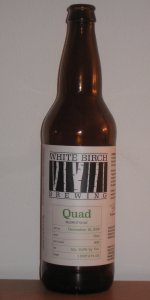 BEER INFO
Brewed by:
White Birch Brewing
New Hampshire
,
United States
whitebirchbrewing.com
Style:
Quadrupel (Quad)
Alcohol by volume (ABV):
11.00%
Availability:
Rotating
Notes / Commercial Description:
We brew our Quad in homage to the Trappist brewers in Belgium. Rich, complex, smooth and a bit drier than an Abbey version. This is a beer to be enjoyed now or for years to come.
Added by johnnnniee on 03-06-2011
HISTOGRAM
Ratings: 13 | Reviews: 9
Reviews by Dope:

More User Reviews:

3.06
/5
rDev
-14.8%
look: 4 | smell: 3 | taste: 3 | feel: 3 | overall: 3
Bottled December 10, 2010
Batch One
Bottle count 900
In a goblet the beer was a hazy red/brown color with a thick tan head and plenty of lace.
Aroma of sweet fruit, yeast, and caramel.
Very much a malty taste, sweet and sugary.
Rather filling. Alcohol noticeable.
Average beer.
277 characters
4.42
/5
rDev
+23.1%
look: 4 | smell: 4.5 | taste: 4.5 | feel: 4 | overall: 4.5
beyond thrilled to be able to try another of bills fine offerings. i decided to open this up randomly tonight while i was catching up on some reviews. served chilled and poured into my darkness snifter.
The pour was deep amber in color bordering on a nice brown with a small head of light off white color that quickly faded into obscurity and left some nice lacing along the sides of the glass. Deep boozy aroma here, lots of alcohol present along with some nice caramel malts and a touch of light grassy notes as it warmed. Some nice fruit flavor on the first sip but this is drowned out quickly by the hot nature of the booze. Really could use some time to sit down as it is just too fresh I feel. Still though I push on letting it warm and come through some light touches of raisins, perhaps a touch of light fig now mixing in as well. Smooth, light and subtle carbonation leaves the mouth dry and looking for just a little bit more.
overall a really, really solid beer that i very much enjoyed every moment of
1,015 characters
3.62
/5
rDev
+0.8%
look: 3.5 | smell: 4 | taste: 3.5 | feel: 3.5 | overall: 3.5
Light head, dark rosy copper brown color.
Nose sweet syrupy malts, light Belgian yeast and fruit, light herbal hops.
Taste is sweeter, fairly rich and heavy, some herbal hops, bit earthy, not very sweet, light malts, bit boozy, some Belgian yeast and fruits, little spicy flavor, little medicinal.
Mouth is medium to a bit heavier bodied, decent carbonation but lighter than I expected.
Overall kinda meh, goes along with the hit or miss White Birch beers, this being more on the miss side, not much going on with it, not a heavy sweet candi sugar rich quad that I expected, more like a tripel.
599 characters

3.28
/5
rDev
-8.6%
look: 3.5 | smell: 3 | taste: 3.5 | feel: 3.5 | overall: 3
22oz bottle served in a snifter.
batch 1 / bottled dec 10th, 2010
pours translucent a deep amber / chestnut tone, builds about a 2" off-white head with moderate retention, lacing. nose opens with notes of candi sugar, dark fruit, belgian yeast, and alcohol. decent if not especially memorable.
flavor follows with the candi sugar and dark fruit well-established along with secondary notes of spice, yeast, and some other fruity characters. boozy. medium-full bodied on the palate with medium carbonation.
overall a fairly middling quad. some enjoyable elements to it but ultimately nothing special. worth a try.
614 characters

3.79
/5
rDev
+5.6%
look: 2.5 | smell: 3.5 | taste: 4 | feel: 4 | overall: 4
Pours a one finger khaki head that fades slowly leaving a good lace. Murky brown color, some yeast left in bottle. Good carbonation and medium bodied. Nose is brown sugar and Belgian yeast, flavor is tart fruit, some yeast, brown sugar balances. High ABV is hidden but warming. Batch one, bottled 12/10/2010, $11.99 for a 22oz bottle from Julio's Liquors Westborough, Ma.
371 characters

3.26
/5
rDev
-9.2%
look: 4.5 | smell: 3.5 | taste: 3 | feel: 3.5 | overall: 3
Batch 1 Bottled 12/10/2010
Pours a slightly cloudy deep brown with glowing garnet highlights and a solid two finger fluffy beige head that slowly recedes with lots of sticky lace left in its wake. I can smell the tartness and spice wafting from my glass long before I put my nose near it. Dark fruits find some voice, but this seems all about the yeast. Stressed, under pitched, fermented warm maybe? Hints of spice and alcohol in there as well. The taste brings out more sweetness than the aroma would lead me to believe. Sweet dark fruity malt mixed with spicy Belgian yeast phenolics. A bit of alcohol comes through and lingers in a spicy sweet semi dry finish. Medium body, medium to high level of carbonation, tart sticky sweet mouthfeel. Well I guess I would say this is not my favorite quad. I'm missing the raisins, dark fruits and the malty sweetness I usually associate with a quad. The candy sugar sweetness balanced by a touch of alcohol and some light phenols. One and done for this guy.
1,001 characters

3.59
/5
rDev 0%
look: 3.75 | smell: 3.5 | taste: 3.5 | feel: 3.75 | overall: 3.75

3.32
/5
rDev
-7.5%
look: 3.5 | smell: 4 | taste: 3 | feel: 3.5 | overall: 3
22 fl oz brown bottle, served in a snifter.
Bottled 12/10/2010; batch 1, bottle 900.
Pours a dirty oak in color with shades of maple. Foamy, off-white head that sits about an inch high. Some spotted and condensed lacing with pretty good strength.
Sweet, candied sugar with notes of vanilla. Sharp notes of tartness: orange, lime, raspberry, and green apple; that cuts the sweetness and warming alcohol aroma. Pleasant aromas; however, a bit subdued for a Quadrupel.
Candied sugar up front that quickly recedes on account of a young, intense, unbalanced sourness: artificial lemon and lime, orange, and red raspberry. The tartness almost completely eliminates the intended rich, sweet malt typical of the style. By mid-sip, the immature fruit fades a bit and a stiff, bland malted wheat surfaces and holds into the aftertaste.
Full bodied; active on account of the carbonation and a touch slick on account of the heavy citrus fruit solvency.
Definite flaws in flavor, in terms of style and in general appeal. A bit disappointing given how much love White Birch Brewing seems to have gotten and how wonderful a well-crafted Quadrupel can be.
1,145 characters

3.19
/5
rDev
-11.1%
look: 4 | smell: 2.5 | taste: 3.5 | feel: 3.5 | overall: 3
22oz bottle served in a snifter.
bottled dec 10th, 2010 (batch 1)
pours a mostly clear, deep copper/borderline chestnut tone with ruby highlights while yielding a big 2" + frothy head; nice retention and lacing. great looking quad.
nose is more subtle than i typically look for in my quads... muted notes of caramel malt, dark fruits, some yeast, and a touch of hops. not doing a whole lot for me.
taste is an improvement over the aroma, albeit a small one. caramel malt, spice, a little dark fruitiness, and some candi sugar. booze presence is noticeable, though not overbearing. finish is on the dry side.
medium bodied mouthfeel with average carbonation.
overall i felt this was somewhat decent, quaffable, but far short of the standard set by the likes of the rocheforts, westvleterens, and st bernarduses of the world. a relatively average quad; a bit of a letdown in my opinion.
889 characters
3.66
/5
rDev
+1.9%
look: 4.5 | smell: 3.5 | taste: 3.5 | feel: 4.5 | overall: 3.5
a: This was a slightly hazy, deep copper color with golden peach tinted edges. It poured with a massive, rocky, tan colored head that faded to clumpy lace.
s: Powdery, candi-sugar along with mellow bubblegum, hints of raisin, and gentle warmth that belies the 11% abv.
t: Bit of a different take on a quad and it works pretty well. As it says on the label, this is a bit drier than the typical quad. Up front I taste cherry, muted candi-sugar, and some bubblegum. This wasn't sweet from the start and the finish is drier with the addition of some leafy hops. The alcohol is extremely well masked.
m: Thick, chewy, and richly carbonated.
o: Just a matter of preference, but I like my quads sweeter. I will say that this drier quad makes an ideal base for their excellent (sour) cherry quad. A sweeter quad wouldn't have worked as well.
838 characters

White Birch Quad from White Birch Brewing
Beer rating:
3.59
out of
5
with
13
ratings