White Birch Crown Of Gold
| White Birch Brewing
BA SCORE
83
good
13
Reviews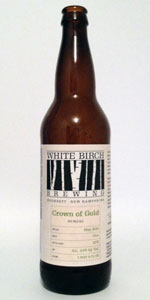 BEER INFO
Brewed by:
White Birch Brewing
New Hampshire
,
United States
whitebirchbrewing.com
Style:
Rye Beer
Alcohol by volume (ABV):
4.20%
Availability:
Summer
Notes / Commercial Description:
We at White Birch hold beer above all else. For this reason, we set out to create the perfect beer for summer: a clean, dry, elegant ale, featuring robust English malts, spicy, toasted rye, a heroic American ale yeast, and whole leaf Cascade hops. We named it Crown of Gold– see how it shines.
Added by johnnnniee on 06-23-2012
Reviews: 13 | Ratings: 31
4.07
/5
rDev
+13.7%
look: 3.5 | smell: 4 | taste: 4 | feel: 4 | overall: 4.5
Bottled May 2012, picked up in Fryeburg, Maine.
Pours a light fizzy pasty white head that reaches almost 1 finger but fades fairly quickly at first, and slows once it reaches a nice head covering, with a bit of lacing, over hazy nectar orange colored beer.
Nose brings a nice pale ale aroma, light grassy floral hops, with definite Cascade like earthy slight spicy type hops, that gives a leafy grassy aroma. then light reddish malts, a light spicy and hint fruity rye aroma, a hint of a biscuit and fruity like aroma, with just a touch of yeast.
Taste starts with rich malts, a hint of biscuit, some caramel and toffee, a little toasty like reddish malts, and some light spicy and fruity rye. The rye isn't very strong but lets itself be known a bit in the background and blends in with the malts well. Then the hops kick in, with light earthy and a bit spicy typical Cascade hops, with some grassy and earthy flavors, just a hint of citrus and light candy flavors. A light yeast flavor comes through with a hint of the bready biscuit malt. A decent bitterness that is light but not too light, that lingers far after the finish, which comes on dry, more grassy leafy slight earthy hops, long lingering bitterness, and just a touch of caramel malts.
Mouth is med bodied, decent carb.
Overall actually pretty nice. It's got a nice malt profile with a bit of rye, smooth and drinkable, and a nice Cascade hop profile that brings decent bitterness and decent hop flavor at the same time. A well done beer IMO.
1,511 characters

4.25
/5
rDev
+18.7%
look: 4 | smell: 4 | taste: 4.5 | feel: 4.5 | overall: 4
Pours a cloudy deep golden color with a nice bubbly white head that persists and sticks. Smell is heavy on the bready biscuity malt side with a fair amount of carmelization going on. Earthy and citrus are here to provide balance. Wow that's got some nice flavor to it! Biscuit, bread, and caramel with that unmistakeable tart rye bite as well as some signature "C" hops. Medium body with an ample level of carbonation and a creamy frothy mouthfeel. Wow I wasn't expecting that! This is a damn fine, easy to drink sessionable ale with all kinds of flavor going on. My meager palette enjoyed this one a lot.
605 characters
2.29
/5
rDev
-36%
look: 2 | smell: 3 | taste: 2 | feel: 2.5 | overall: 2
Poured from the bottle into a nonic pint glass.
Wow this had to be one of the weakest bomber pours ever. Slap slap I hear, is this apple juice? I know that sound, in it pours a murky red brown body, and NO head is even made, giving off a sense of wet watery composition. There is NO head I am talking barely a pencil thin one glugging this out, but the faint tan collar still remains, with some cola like bubbles around the crown.
Nose is very faint and closed. Some mild toast malt notes of brown bread, and brown sugar. Clean. Not much going on, at this point I am afraid to even try this, not a good start. Nothing offensive.
Woah, is this ever nasty. Dry and harsh grain, a real burnt sour finish of blackened husk and bitterness. Very wet body even for a low ABV, with no depth whatsoever. The aftertaste is of burnt grain it's just really not good.
Overall this is like really bad homebrew. This beer is truly lifeless. I'll be skipping White Birch from now on.
972 characters
4.07
/5
rDev
+13.7%
look: 4 | smell: 4.5 | taste: 4 | feel: 3.5 | overall: 4
From the 22 oz. bomber dated June 2012, Batch Three, No. 1296. Sampled on September 16, 2012.
The pour is a cloudy medium amber with hints of golden yellow and a modest white head.
The aroma is full of barley malts and grain with a laid back rye character and little in the way of hops.
The body is about medium.
The taste packs a one-two punch. For the first second I get a slightly sweet maltiness with even a hint of citrus but then after a short delay it becomes pungent and bitter with a long lingering hop finish.
525 characters

3.38
/5
rDev
-5.6%
look: 3.5 | smell: 3 | taste: 3.5 | feel: 3.5 | overall: 3.5
Pours a one finger cream head that fades slowly, leaving a good lace. Murky amber color, some yeast left in bottle. Good carbonation and light-medium bodied. Spicy, hoppy nose and flavor is tart, spicy, hoppy with a dry finish. $8.99 for a 22oz bottle from Caleb's Country Store Barrington, NH. Bottled May 2012 batch One.
322 characters

3.63
/5
rDev
+1.4%
look: 4 | smell: 3.5 | taste: 3.5 | feel: 3.5 | overall: 4
Pours a nice amber-blond color with a two-finger head into my glass. The color fits the theme.
Subdued spicy rye and hop notes greet the nose. I wish it were a more prominent aroma.
Tastes better than it smelled and the hops are more prominent here. Buttery malt and spicy rye compliment each other.
Lingering spicy rye/malt/hops. Not bad for 4.2%. Highly sessionable. Reminds me of the many rye pale ales that I've homebrewed.
Check it out soon!
453 characters
4.88
/5
rDev
+36.3%
look: 5 | smell: 4.5 | taste: 5 | feel: 5 | overall: 5
22 oz bottle poured into a Sierra Nevada imperial pint.
Bottled May 2012, Batch One, Bottle Count 1272, 4.2% ABV, "Our ales are unfiltered, unpasteurized and traditionally made. Best served at 50-55°F in your favorite glass."
Huge thanks to Wisrarebeer for bringing this back from his trip!
A - Strong, steady carbonation flows from the glass' nucleation point, through the clear, beautiful golden amber beer to it's massive ivory head. The clumpy lace plateaus, falling in from the sides, but leaves gobs of heavy lace on the glass.
S - I can't say that I've ever smelled stronger rye in a beer before; Crown of Gold is just erupting with it's sharp spiciness. Potent mulchy, earthy hop notes, as well as citrus undertones, really compliment the rye nicely as this beer finishes with a pale base and slight yeast scent.
T - Once again rye becomes the highlight, really opening up with lots of sharp spice characteristics. The aroma clearly foreshadows the flavor with the complimentary earthy hop wood, mulch, and dry grass notes. Plenty of pale malt keeps the whole beer in balance as it finishes with a light citrus zest.
M - Crown of Gold shines with it's medium-lighter body that's accented further by moderately high carbonation. It's hard to determine which aspect is more grabbing though; spice and hoppiness both latch onto the tongue leaving the palate very dry and moderately bitter, an attribute which aids in the quick return for another sip.
O - White Birch really captures the essence of rye in brewing with their Crown of Gold, rye pale ale. From the bursting aroma to the engrossing flavor, it's nuances run deep while remaining incredibly drinkable and rewarding, especially at 4.2% ABV. I could drink this beer all the damn time. It's a world-class pale which not only emphasizes rye, but also the fact that beer can be full-flavored, balanced - leaning towards hoppy, without being completely full of booze. Bravo White Birch, bravo!
1,961 characters
3.18
/5
rDev
-11.2%
look: 4 | smell: 3.5 | taste: 3 | feel: 3 | overall: 3
A: This poured a cloudy dark copper with a bit of off white head.
S: It smelled like rusty copper hops, with some caramel and bready malt and a bit of rye.
T: It tasted like copper hops and caramel malt, with some bread and bit of rye. It had a dirty and bittersweet aftertaste.
M: It was watery with moderate carbonation. Light body.
D: This was not a very good rye beer, with a generic scent and taste, and a weak body. The finish was harsh, hard to believe it was only 4% ABV. Not recommended.
496 characters
4.13
/5
rDev
+15.4%
look: 3 | smell: 5 | taste: 4 | feel: 3.5 | overall: 4
$5.69 for a half litter bottle. Bottled in May 2012
A: cloudier, orange/brown color, thin veil of head
S: great nose, rye, rye, rey, earthy
T: malts, rye, earty (dirt) with surprising (and too much) hop bitterness,
M: interesting grain bill, heavy on rye, could be better balanced
281 characters

3.95
/5
rDev
+10.3%
look: 4 | smell: 4 | taste: 4 | feel: 3.5 | overall: 4
22 oz bomber into a pint glass, June 2012, Batch Three, Bottle Count 1296.
A - Nice dark amber body. Dirty two finger high off white head settles down to a thin cap. Solid lacing and retention.
S - Lots of rye spice. A touch of caramel malts and piney and grassy hops, but the aroma is all about the rye.
T - An initial blast of spicy rye with a great malty caramel backbone with some piney hops. The finish is bitter which works so well with the spice. Mouth feel is medium bodied with low carbonation which combined with the low ABV makes this super drinkable.
O - So this beer isn't super fresh, but in its current state it drinks really damn well. I just can't help but find this beer being a success. It is a sessionable beer and it has a great rye spice which compliments the hoppy pale base so well. One of the better White Birch beers I have tried.
861 characters
3.7
/5
rDev
+3.4%
look: 3.75 | smell: 3.75 | taste: 3.75 | feel: 3.75 | overall: 3.5
The appearance had a copper/orange colored hazy body with a one finger white head that died to a film. The body was too dark for any carbonation to be seen rising. Filmy lacing graced the sides of the glass. The smell had roasted malts up front, with some rye and barley coming in a bit after, nice lingering hops in the background as well. The taste had the same smells in the flavorings, but very full and powering. The palate had a medium body with nothing harsh on the tongue, but a slight bland aftertaste and finish. Overall, I think this may have been expired, but I still liked it for the most part, and would have it again, preferably fresher or on tap.
662 characters
2.88
/5
rDev
-19.6%
look: 3 | smell: 2.5 | taste: 2.75 | feel: 3.5 | overall: 3.25
A - Copper colored, noticeable sediment, and little head, mostly flat
S - Mine had a harsh smell. Burnt wheat, bordering on burnt plastic
T - Here is where the rye dominated the beer, instead of just an adjunct to enhance it. Quite dry and the unbalanced cascade hops provide a bitter grapefruit flavor, bordering on sour. White light in body, there is a clean finish.
M - light in carbonation and just a quiet fizz.
Hopefully, I had a bad leftover from a summer release. Else, this beer either lacks the balance to be easy to approach, or the complexity to sip and explore.
580 characters

2.85
/5
rDev
-20.4%
look: 2.5 | smell: 2.5 | taste: 3 | feel: 3.5 | overall: 2.75
Vessel: Purchased in a 22 oz. bottle. Consumed from a shaped 23oz weizen glass
Appearance: Pours a cloudy orange… eventually. The beer poured out 100% foam filling the 23oz. glass to the top, all foam. I poured the foam out and let the beer sit for 8 minutes. Same thing happened again. (No, it's not me I know how to pour a beer). I waited another 5 minutes and completed a world record slow pour and pushed out the foam and finally got some beer.
Smell: Not much
Taste: Mild and earthy, leaves a temporary bitter after taste, almost feels like an IPA.
Mouthfeel: Medium body, smooth.
Overall: This beer wasn't great, but I don't think this one was a great representative. The carbonation on this beer was violent and I am sure that was not the intention. Even after I got enough beer in the glass to try it was still churning heavily. Looking at the label this is from batch 1 on May 2012. So at the time of this consumption/review this beer is 9 months old. I will try this beer again when I can get a fresher sample to give it another shot.
Serving type: bottle
1,078 characters
White Birch Crown Of Gold from White Birch Brewing
3.58
out of
5
based on
31
ratings.