White Birch Our Humble Porter

White Birch Brewing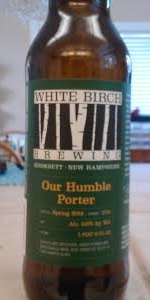 Write a Review
Beer Geek Stats:
| Print Shelf Talker
Style:

ABV:

6%

Score:

Avg:

3.99

| pDev:

10.53%

Reviews:

15

Ratings:

From:

Avail:

Rotating

Wants

Gots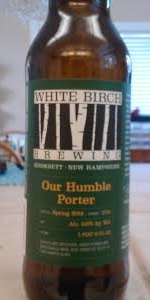 Notes:
3.96
/5
rDev
-0.8%
look: 3.75 | smell: 4 | taste: 4 | feel: 3.75 | overall: 4
White Birch Brewing "Our Humble Porter"
12 fl. oz. can without freshness dating
Notes via stream of consciousness: The can opened with a crack and a puff of foam popping out at me. It doesn't seem over-carbed though as I pour it. It's a very dark, almost black but not quite, brown in color with a finger-thick head of light tan. The aroma is a touch roasty and chocolatey with a touch of piney hops and yeasty fruitiness. The flavor follows, combining all of the components together but also allowing them to stand out on their own ~ very nicely balanced. A stiff bitterness brings it full circle, leaving just a touch of sweet malt but basically finishing dry with some lingering, residual light pine and soft, coffee-like roastiness. Basic but good. I can't find any fault in it, and it's full flavored and drinkable. Medium-light in body and crisp. Worth trying.
867 characters

3.58
/5
rDev
-10.3%
look: 4 | smell: 3.5 | taste: 3.5 | feel: 3.5 | overall: 3.75
Poured into a mug, the appearance was a dark brown close to black looking color with a sheet of white foamy head that slid inward and left a little bit of clingy lace.
The aroma had some dark roasted malts, light coffee grounds, subtle earthiness and a fair dark chocolate bitterness at the end.
The flavor was moderately rugged roasty coffee ground and earthiness. Dark bread/toast slides in fairly nice to bleed into the aftertaste, somewhat bittersweet yet dry.
The mouthfeel was about medium bodied with a fair sessionability about it. Carbonation felt fine. ABV felt appropriate.
Overall, pretty nice porter for the most part that I could come back to.
657 characters

2.61
/5
rDev
-34.6%
look: 2.5 | smell: 3.25 | taste: 2.25 | feel: 2.25 | overall: 2.75
DATE: February 17, 2017... OCCASION: watching Pirates of the Caribbean with the family; coming from a sampler twelve pack... ... GLASSWARE: Barley Creek pint... dark as night to start, as expected, but unfortunately the body scares away its head... what is left is a white ring... as humble as the appearance may be, the robust coffee aroma elicits great promise... a return of slight vanilla, peat, and anise... zero lacing doesn't feed the eyes... feels like flat cola going down--not to riff on the "humble" aspect, but not demanding a second sip... thin and slick, oily to a fault... the coffee is the most recognizable taste, but that is not saying much... the vanilla and peat are barely extant.... the overall experience is not one that I will seek to repeat... useful enough to accompany a winter's night...
815 characters

3.9
/5
rDev
-2.3%
look: 3.75 | smell: 3.75 | taste: 4 | feel: 3.75 | overall: 4
12 oz. can poured into a stemmed glass.
Appearance: Pours a rich dark brown with a very short tan head and dissipates almost immediately.
Aroma: Coffee, some dark fruits, a whiff of chocolate.
Taste: Coffee is there, and dark fruits like raisins and blackberries are, too. Especially berryish on the finish. Dark chocolate notes. Malt. Some herbal hops.
Mouthfeel: Very drinkable without being thin. Classic porter.
Overall: Really solid straight-up porter. One of life's pleasures.
487 characters
4
/5
rDev
+0.3%
look: 4 | smell: 4 | taste: 4 | feel: 4 | overall: 4
The appearance was a dark brown close to black looking body with a one fingered white foamy head that ends up concaving slightly inside and leaves a decent amount of light clingy lacing. The smell had a fair amount of dark toasted malts, an edgy sort of coffee-ness, and an earthy yet somewhat clean slightly refreshingness (weird for a Porter, but I'm not complaining). The taste was sweet and roasty leaving a somewhat clean toasty flavoring encoating my mouth and tongue and leading to a combined bittersweet dry aftertaste; quick dry finish. On the palate, it sat about a medium on the body with a decent sessionability aspect to it. The carbonation is somewhat smooth for an American Porter and pretty good for me. Overall, this is another good White Birch beer, I'm just wondering if these guys can do anything wrong.
827 characters

4.19
/5
rDev
+5%
look: 4.25 | smell: 4 | taste: 4.25 | feel: 4.25 | overall: 4.25
Thoroughly enjoyed from the 22 oz bottle in a snifter. This FINE porter pours a dark chocolate brown with a fantastic head of dark tan bubbles that fades to a thick ring, nice pool, and some excellent lacing. Nose of dark coffee, dark cocoa, light black strap molasses, a touch of smoke, and some dark berries. Flavors surpass the nose with dark coffee and cocoa dancing about a sea of sweet molasses that is lightly kissed with some smokiness on the back. Dark berry flavors of blackberries and raspberries meld in the sides and fade into the back with a lightly sweet yet roasty note that is pleasant and satisfying. A superior porter. Nice full body, moderately high carbonation, and a lightly bitter roasted malt aftertaste.
OUTSTANDING! I WANT TO LIVE NEAR THIS BREWERY!
Purchased in Columbus Ohio from Weyland's Market.
Cheers!
847 characters

4.21
/5
rDev
+5.5%
look: 4.5 | smell: 4 | taste: 4.25 | feel: 4.25 | overall: 4.25
22 ounce bottle, Winter 2014 batch. Served in a nonic pint glass, the beer pours very dark brown with about an inch tan head. Head retention and lacing are both pretty good. The brew smells like roasted malt, coffee, and chocolate. The taste is similar to the aroma, but there's the addition of some vanilla, nuts and woodiness. Nice balance between the sweet and bitter flavors. Mouthfeel/body is medium, it's creamy, coating and smooth. It's easy enough to drink. I think it's a very enjoyable porter! I liked it a lot, and at $5.99 a bomber I certainly wouldn't have any problems with buying this brew again. Definitely worth a try if you've never had it before.
675 characters

4.4
/5
rDev
+10.3%
look: 4.25 | smell: 4.25 | taste: 4.5 | feel: 4.25 | overall: 4.5
a: Dark, murky brown; poured with a medium sized white cap.
s: Roasty malt goodness, some coffee and cocoa plus something a bit milky.
t: Just a big ol' roasty malt bomb, I love it. Some coffee or cocoa and a hint of sweet milkiness.
m: silky smooth.
o: One of my favorite American porters, I need more.
307 characters

4.03
/5
rDev
+1%
look: 3.75 | smell: 3.75 | taste: 4.25 | feel: 4 | overall: 4
In a pint glass this beer was a very dark brown, almost black, color. There was a small tan head.
Roasted malt aroma. Coffee and chocolate.
Nice taste. Espresso/chicory. Some dark chocolate.
Medium-bodied. Pleasantly bitter. One of the more enjoyable beers from White Birch.
277 characters

3.9
/5
rDev
-2.3%
look: 4 | smell: 4 | taste: 3.75 | feel: 4 | overall: 4
Poured a dark brown body with two finger head that goes away real quick and leaves little lace on top of an aroma that is balanced between chocolate and caramel sweetness and some roasted/bread/coffee malts. Medium bodied, not really thick enough to be chewey, hops are barely there and this beer is about the malts. I find the beer to be simple but enjoyable as I get a balance between mainly chocolate and roasted malts and I must say the beer tends to be on the sweet side. Not the most complex porter but pretty enjoyable.
526 characters
4.01
/5
rDev
+0.5%
look: 4.5 | smell: 4 | taste: 4 | feel: 3.75 | overall: 4
From the 650 ml. bottle, Spring 2014 batch no. 1096. Sampled on March 14, 2014.
The pour is a gorgeous looking dark brown with a cloudy appearance and a long-lasting but delicate tan head.
The aroma is alive with dark toasted malts, coffee, and an earthy and clean but punchy hop note.
The body is medium and a tad astringent.
The taste echoes the aroma with its toasted dark malt vibrancy with a coffee grinds chaser and a modest dry bitterness at the tail end. Really well put together Porter.
499 characters
4.16
/5
rDev
+4.3%
look: 4.75 | smell: 4.25 | taste: 4 | feel: 4 | overall: 4.25
Poured into a 13 oz tulip glass, made for the spring of 2014. Pours a very dark brown, with a two inch sticky tan head, the settled slowly into a thick film of bubbles and cotes the sides with lace.
Smell is so sweet and roasty. Coffee, dark chocolate, and hints of vanilla.
Taste fallows the nose, very strong coffee with the other flavors in a supporting role.
Body is medium,nice amount of life, very dry, and goes down easy, but drinks larger than its 6% abv.
Overall this is a very nice porter, much more sophisticated than its name. Impressed with this one.
568 characters

4.13
/5
rDev
+3.5%
look: 4 | smell: 4 | taste: 4.25 | feel: 4.25 | overall: 4
Pours a solid dark brown/black color with a good sized fluffy khaki head that persists forever. Lots of chocolate and coffee in the aroma as well as hints of caramel and light bits of dark dried fruits. There's a slight earthy hop aroma to provide a bit of balance. The flavor follows the aroma quite well. Lots of milk and dark chocolates along with plenty of roasted grains. Light earth and fruits round out the flavor quite nicely. Medium body with a moderate level of carbonation and a creamy sweet velvety mouthfeel. Wow, that's a damn fine beer right there. Creamy, smooth, sweet, chocolatey, this is a great porter.
622 characters

4.68
/5
rDev
+17.3%
look: 4.5 | smell: 4.5 | taste: 4.75 | feel: 4.75 | overall: 4.75
This porter absolutely blew me away. I was only able to have a half-pint because it was the last of the keg, but my God was it worth it. It poured a beautiful black, no head on mine unfortunately because it was the last of the keg. Aromas of dark chocolate and roasted coffee. Taste - magnificent roasted coffee coffee coffee - like Turkish coffee - it still lingers in my memory actually. Very flavorful yet not astringent or overwhelming. Best porter I've had to date. I had the Founders once I finished my half pint, and it really paled in comparison.
554 characters

3.69
/5
rDev
-7.5%
look: 3.25 | smell: 3.5 | taste: 4 | feel: 3.5 | overall: 3.5
Just had this on-tap at Sunswick 35/35 in Astoria, NY on 02/23/13.
This pours a really dark brown color with some red hues when held up to light. There is about a finger of loose sudsy head resting on top. The head has short retention, and leaves just a little bit of lace behind on the glass. The nose starts off with a good amount of roasted malts, smoke, dark fruits, and some chocolate. I can also smell a little bit of hops coming through. The taste has a strong dark roasted malt flavor. There is a nice amount of dark fruit coming through, as well as some smoke, chocolate, and a little bit of hop flavor. The finish leaves some lingering roasted malt bitterness and smoke behind on the palate. This has a medium body and a smooth feel to it. There is nice amount of bitterness from the roasted malts, and some from the hops as well. The roasted bitterness lingers on the tongue. This has good drinkability. Overall, I really enjoyed this beer. It goes down easy and has some really nice flavor. I could easily have a few glasses of this in an evening. This was my first White Birch beer, and I look forward to trying more of what they have to offer.
1,160 characters
White Birch Our Humble Porter from White Birch Brewing
Beer rating:
87
out of
100
with
40
ratings