Cisco Brew Pub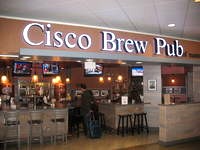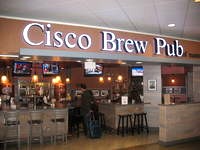 Bar, Eatery
1 Harborside Dr
Logan International Airport
Boston
,
Massachusetts
, 02128-2907
United States
(617) 561-8782 |
map
ciscobrewers.com
Notes: Located on the American Airlines Concourse, Terminal B.
Serves a solid selection of Cisco beers on-tap, some in bombers, plus some macros to appease the masses.
Reviews by DrJay:
DrJay from Texas
3.63
/5
rDev
+5.2%
vibe: 4 | quality: 3.5 | service: 4 | selection: 3.5 | food: 3
I ended up stuck at Logan waiting for a flight to Austin recently. Fortunately, I had the Cisco brewpub in my terminal. The atmosphere was decent for an airport bar, low lighting and low music with tons of space at the bar. There were a few TVs, but the volume was very low. Very few tables, since most of the seating was at the bar. There were 5 taps pouring during my visit (no IPA), including Whale's Tale, Bailey's, Grey Lady, Sankaty Light, and Brooklyn Lager. They also had bottles of Captain Swain's and there were no macros obvious during my visit. Service was decent, very quick and not obtrusive. I had my pick of 16 or 22 oz pours and flights of 5 oz samplers were also available. Food was decent for being stuck in the airport, but nothing I'd be excited about in the real world. Overall, quite an enjoyable experience - other than the flight delays and cancellations that caused my visit.
Jun 05, 2011
More User Reviews:

Boone757 from Virginia
3.58
/5
rDev
+3.8%
vibe: 3.5 | quality: 3.75 | service: 3.5 | selection: 3.5 | food: 3.5
Oct 07, 2017

Beginner2 from Illinois
3.26
/5
rDev
-5.5%
vibe: 3.25 | quality: 3.5 | service: 3.25 | selection: 3
Knowing Cisco is brewed on Nantucket and distributed most heavily in New England, I thought it interesting that this small a brewer ventured into the competitive retail market of airports and, apparently, have had this place for eight years.
It also is a relief from having to drink mainstream beers. That said, I was hugely disappointed that they did not offer flights. That made me so mad, that I had their guest tap (Smutty's Old Brown Dog), drank it and promptly left without eating. I frankly was not that impressed with Cisco's beers that I Had earlier in the week and now have a good enough reason to move on.
Sep 28, 2017

mklisz from New Hampshire
3.56
/5
rDev
+3.2%
vibe: 3.5 | quality: 3.5 | service: 3.75 | selection: 3.5 | food: 3.5
Jun 13, 2016

chrisjws from California
2.7
/5
rDev
-21.7%
vibe: 3.5 | quality: 2 | service: 3 | selection: 3 | food: 2.5
Apr 06, 2016

MattGrimley from Massachusetts
3.89
/5
rDev
+12.8%
vibe: 3.75 | quality: 4 | service: 4 | selection: 3.75 | food: 3.75
Dec 17, 2014



beeragent from Texas
3.6
/5
rDev
+4.3%
vibe: 3 | quality: 4 | service: 4 | selection: 3
Got to the airport a few hours early for the return flight, since I almost missed my flight the first time.
A - Small area but not crowded. The lights are dimmed and the atmosphere is very relaxed making it a nice getaway.
Q - Clean location and quality setup. Doesn't feel like a dive.
S - Friendly bar staff and quick service.
S - Selection is small but the choices are better than average. Much more enjoyable to drink a local brew than the usual stuff you can get at any airport bar.
V - the beer is a bit pricey, but considering its an airport, its not too bad. Worth a stop for a beer.
Feb 03, 2014

Hibernator from Massachusetts
3.58
/5
rDev
+3.8%
vibe: 3.5 | quality: 3.5 | service: 3.5 | selection: 4 | food: 3
Located in Terminal B at Logan is the Cisco Brew Pub. Very close to American Airlines and a viable option for any BA when at the airport. Dropped by here before my flight south to Texas.
Typical layout for an airport bar with two half circle bars with flat screen TV's. My food was pretty average, kinda greasy though. I got an omelette with asiago cheese, onions and homefries. Service was solid, the bartender was responsive and attentive.
I noticed 7 beers on tap including Bailey's Ale, Whale's Tale Pale Ale, Indie Pale Ale and Santa's Beered. They also have Coors Light on tap too, but who cares with these other 6 craft beers available. I opted for the Santa's Beered which is a winter warmer that was really good. Beers come in come in either 16 oz or 22 oz.
Can't wait to make a trip to the real Cisco Brewing on Nantucket Island.
Mar 08, 2010
Jayli from Massachusetts
4
/5
rDev
+15.9%
vibe: 4 | quality: 4 | service: 4 | selection: 4 | food: 4
Flew out of Terminal B at Logan on 8/5
This is the second time that I have spent some time at Cisco at Logan waiting for a flight. It's a nice airport bar though slightly cramped (are airport bars ever any different?) Stools line the bar area which is pretty large and wraps around, there are several tables dispersed throughout the area as well. Service was pretty good, I didn't wait long before being served, and neither did others that I observed. Cisco had offerings of their IPA, Whale's Tale, Grey Lady, Bailey's, and then Coors light. Not an expansive list but they do switch out the taps based on their seasonals. Food was decent - I got a house salad that was alright, but they were out of lobster which negated several of their menu offerings. I listed the value as pricey because by regular standards it is pricey, however for airport standards it is spot on. Good food, good beer, good service - hit it up if ever at Terminal B!
Aug 07, 2009
Cisco Brew Pub in Boston, MA
Place rating:
3.45
out of
5
with
13
ratings