Buffalo Bill's Blueberry Oatmeal Stout
| Buffalo Bill's Brewery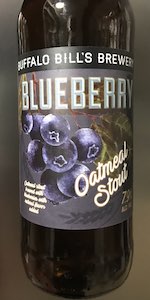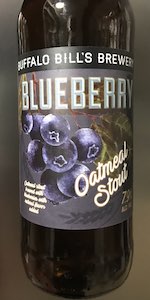 BEER INFO
Brewed by:
Buffalo Bill's Brewery
California
,
United States
buffalobillsbrewery.com
Style:
Oatmeal Stout
Alcohol by volume (ABV):
7.50%
Availability:
Winter
Notes / Commercial Description:
Oatmeal stout brewed with blueberries with natural flavor added.
At 7.5% alcohol, this award-winning brew is a true winter warmer. Blueberry Oatmeal Stout has hints of chocolate, oatmeal and fresh blueberries. A wonderful pairing of flavors! Great for the holidays and for those who enjoy discovering new beers.
Added by dsa7783 on 12-22-2007
HISTOGRAM
Ratings: 510 | Reviews: 254
4.66
/5
rDev
+39.9%
look: 3.5 | smell: 5 | taste: 4.5 | feel: 4.5 | overall: 5
I may be coming out of the woodwork with this review but I find this beer to be deliciously exceptional.
The aroma literally jumps out and kicks your nose with an impact that you will remember. What does it smell like exactly? It smells EXACTLY like blueberry oatmeal and the smell stays true throughout the brew.
What does it taste like? If you can imagine blueberry oatmeal being a beer, that is what it tastes like as well. And at 7.5%, who could complain? Maybe I drink too much I can't even come close to tasting the alcohol.
I only bought this because the place I buy from ran out of top shelf beers and I just grabbed this as a gag. I thought it was just a beer brewed with blueberries but then I found out it was an oatmeal stout as well. What a pleasant surprise!
If you like blueberries and high percent alcohol in your beer (who doesn't?), I'd suggest picking this up to try immediatly. It's a definite vacation from the beer you are use to drinking and almost like a breathe of fresh air from a new light, never tasted or smelled before. Step up, and SMELL THE LIGHT!
Edit: I just bought another 6-pack of this and it lacks a bit from the other one's I've had. I think this is the kind of beer that has much variation from each brew they make. If you didn't like it the first time, give it a try again- maybe it'll be from one of the better brews they did.
1,373 characters
3.72
/5
rDev
+11.7%
look: 4.5 | smell: 5 | taste: 2.5 | feel: 4.5 | overall: 4
Appearance is dark, dark with a deep tan head over 1 inch on initial pour. The head diminished quickly but a thin fine lacing forms all the way down the glass.
Aroma is heavy of wild blueberries on pouring and over the glass aromas of stout, oatmeal, and blueberries. As it warms, the stout aroma grows and so does an alcoholic twinge. Note, wild blueberries are a bit different than the enormous ones at your local grocery chain, both in taste and aroma. This nicely captures the wild blueberries!
Flavor is initially good stout, oatmeal, toffee, and then developing a stronger core of blueberries. Aftertaste is malty and often bitter. Aftertaste grows more alcoholic as the beer warms and the blueberries do give way to malty notes. Sad to see the blueberries give way as the beer reached temps more typical of a stout serving (50+ F).
Mouthfeel is great - very smooth and not too heavy, but definitely a stout.
Drinkability is fairly good because it is not overly heavy. A bit of a downgrade on drinkability due to the deterioration in flavor as it warms.
Overall a fun stout to try in a smaller serving. Good capturing of the wild blueberries. Complex and challenging but not overly heavy.
1,200 characters

4.27
/5
rDev
+28.2%
look: 4.5 | smell: 4.25 | taste: 4.5 | feel: 3.75 | overall: 4
This past summer, I came upon this tasty little brew at my local package store. Being a lover of blueberry flavored beers and stout, I gave it a shot. I was surprised that the blueberry flavor wasn't sickly sweet, and was well-balanced and didn't have a fake flavor to it. The sweetness from the fruit is balanced out with the toast of the stout. I enjoyed the six pack, and went back to buy more. I found it greatly refreshing on a warm day, and it went very well with burgers. My local didn't have any more, so I ordered it. I was told it was a winter seasonal and that I'd have to wait a few months to get more. I happened to buy the last one leftover from the last batch. When I can find it, it's a mainstay in my fridge.
725 characters
2.44
/5
rDev
-26.7%
look: 2 | smell: 3 | taste: 2 | feel: 3 | overall: 2.5
Got a 6 pack of bottles, first one not quite cold, so it went down the drain when it got too warm for my taste. Second one turned out to be a little better, but still searching for that blueberry taste. Not the best blueberry I've had. Should of only grabbed one and let it chill properly.
289 characters
1.12
/5
rDev
-66.4%
look: 3 | smell: 1 | taste: 1 | feel: 1 | overall: 1
Beer advocate let me down on this one. I checked it out, saw it in the cooler, so decided to try it. From the pour, which had so much carbonation, that it took 5 minutes to get the head down. The beer was literally 90% head and 10% beer, even with a slow pour. The smell had a hint of blueberries which was pleasant. The taste was horrible, I cannot describe how it hit my palette.
I tried one out of the glass, one out of the bottle. To make sure it wasn't me, I gave one to a friend which turned out to be a cruel joke but extremely funny.
542 characters

4.14
/5
rDev
+24.3%
look: 3.75 | smell: 4 | taste: 4 | feel: 4 | overall: 4.75
I just happen to see this beer on the shelve for the 1st time last Friday after work, so I thought Id try it since I like beer with flavor. It looked good. Well It is good. Good taste smell and 7.5% to boot with no nasty after after taste. Awesome If you like stout beer youll enjoy this brew very much.
303 characters
4.05
/5
rDev
+21.6%
look: 4 | smell: 4 | taste: 4.25 | feel: 3.5 | overall: 4
Buffalo Bill's Blueberry Oatmeal Stout from Buffalo Bill's Brewery
Beer rating:
3.33
out of
5
with
510
ratings