Bernard Sváteční Ležák 12°
| Bernard Family Brewery
BA SCORE
83
good
15
Reviews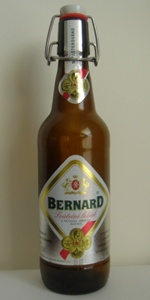 BEER INFO
Brewed by:
Bernard Family Brewery
Czech Republic
bernard.cz
Style:
Czech Pilsener
Alcohol by volume (ABV):
5.00%
Availability:
Year-round
Notes / Commercial Description:
No notes at this time.
Added by rastaman on 10-16-2003
Reviews: 15 | Ratings: 41

3.99
/5
rDev
+10.5%
look: 4.25 | smell: 4 | taste: 4 | feel: 3.75 | overall: 4
Average beer without the frills, all on a solid average rating, a slight, perfectly quenches thirst, do not want nothing to distinguish separately, you can drink !!!
165 characters

4.24
/5
rDev
+17.5%
look: 4.25 | smell: 4.5 | taste: 4.25 | feel: 4 | overall: 4
12,3% Plato.
Poured into lager glass.
Pours clear golden with nice white head, good retention.
Fresh aroma of hay, malts, grassy hops.
Taste - malts, slightly metallic, slightly sulphuric, generously hopped.
Light, creamy.
222 characters
2.76
/5
rDev
-23.5%
look: 3 | smell: 2.5 | taste: 3 | feel: 2.75 | overall: 2.5
Pours a clear, golden color with a generous white head with decent retention.
The aroma is weak but pleasant, some grains and malts.
The taste is pleasantly bitter, not too much, nor too little.
The aftertaste is neutral but still nice.
Feels very refreshing.
260 characters
3.75
/5
rDev
+3.9%
look: 3.5 | smell: 3.5 | taste: 4 | feel: 3.5 | overall: 3.75
0.5 L bottle, 5% abv
Appearance: Light yellow color, quick settling head. Left little foam down the glass as I drank it.
Smell: Very nice level of hops aromas. "Clean" is the word which came to mind.
Taste: Excellent level of bittering hops. One of the better Pilseners I have had. A good, strong hop bite.
Mouthfeel: Very clean, astringent. No aftertaste.
Overall: Excellent Pilsener. After trying a couple of other beers, I went back to this one. Very refreshing.
465 characters
4.32
/5
rDev
+19.7%
look: 4.5 | smell: 4.25 | taste: 4.25 | feel: 4.25 | overall: 4.5
Another one brought back from Prague, in a great swing top bottle. Just mowed the lawn, a nice Czech pilsner should hit the spot.
The pour creates a glorious looking head that rises slowly at first, then suddenly rises quickly as I have to stop pouring, it finishes perfectly bubbling a mound that's at least an inch over the top of the tulip glass and barely hangs in without running down the side, big fluffy creamy looking head that eventually fades at a med to slower pace, lots of soapy spotted lacing as the pillowy head collapses in a heap and eventually falls over sideways, it has a nice color too, mostly clear honey blond orange color.
Nose is nice, pretty much exactly what I expected, starting with nice straw pilsner malts, a light cracked straw and hay, touch of a toasted wheat, little cracker and grassy malt too. Then hops, a nice Czech style noble grassy hop kick, very nice pure noble hop aroma, slight earthy mostly grassy. A nice aroma all around with good aromatics even over the fresh cut grass coming in with the breeze through the window.
Taste brings more of the same, following similarly with the nose. Starting with the hops though, nice grassy hop character, again pure noble hop flavor, with a nice spot of bitterness that isn't too sharp but definitely enough to know it's there, the hops bring a hint of earthy spicy flavor but mostly just grassy again, and hint of the fresh cut grass coming through on the hops as well. Malts are there as well, a nice toasty pilsner malt, with more cracked wheat and toasted straw, light grassy, and touch crackery sweet blond malt. Finish adds a nice crisp pop, fairly dry and crisp, nice lingering grassy hop character, touch of a spicy pop too, light sweet blond malt character lingering as well.
Mouth is med to a bit lighter bod, nice carb, good crisp finish.
Overall quite nice. Well done malt base, nice hop character and balance, good crisp finish, no off flavors, quite nice. Hard to decipher if this is technically a Czech style pilsner or German style, as it gives me more of the German pilsner flavors, which is not a bad thing at all, quite tasty and very drinkable. This is my kind of summer beer!
2,185 characters
3.51
/5
rDev
-2.8%
look: 4 | smell: 3 | taste: 3.5 | feel: 2.5 | overall: 4.5
Poured into a pilsner glass from the 500mL brown swingtop bottle.
A: The bottle opened very forcefully with a bunch of fog coming from the top. Poured slowly and still got a huge head - pure white, foamy, and with good retention. The beer itself is a crystal clear dark gold with plenty of carbonation visible within.
S: Faint aroma of some hops, a touch of fruitiness and light bread. Somewhat spicy. Average.
T: Pretty subtle beer, easy drinking, but pleasant. Basic malt profile of bread gives way to a nice hoppiness and spice that carries through til the end. Finish is slightly bitter and sort of powdery dry. Floral.
M: Somewhat filmy or watery, and not as crisp as I expected. Smooth though.
D: This is one easy drinking beer. Good taste, yet somewhat light. I don't think I'd ever turn this down, and might pick up in the future. A nicely balanced beer, and a good all around Cech Pils.
900 characters

3.56
/5
rDev
-1.4%
look: 4 | smell: 3 | taste: 3.5 | feel: 3 | overall: 4.5
With pen and paper as my weapons, I continued my beer-tasting crusade in Slovakia. This beer is my first pilsner-like beer, and this was actually a mistake caused by my very average Czech/Slovak language skills.... But ok, since I never refuse a beer I didn't have before, I tried. Funny, by the way, to see how people in this pub looked strangely at me when I was smelling and tasting the beer, and writing down remarks immediately afterwards.
As expected, the beer pours a nice clear, golden-yellow color, with a bright-white head.
Smell: well, like the average pilsners, but a bit more hoppy
Taste: This is one nice pilsner, slightly bitter and fresh. The aftertaste is hoppy with some vague hints of sweetness.
Mouthfeel: Medium-high carbonation. Very easy to drink
Overall: Good for the style, one of the best pilsners I ever had. Not spectacular, just good. Will not refuse on in the future, especially not during a hot summer day....
948 characters
3.4
/5
rDev
-5.8%
look: 4 | smell: 4 | taste: 3 | feel: 3 | overall: 3.5
Serving date: 2009-03-20. Served in wine glass. Best before: 2009-07-30.
A: Crystal clear shiny golden color. Big white and thick head. Very good hear retention. Some lacings.
S: A fair amount of floral hop aromas, grass, nettles, white bread and faint malt sweetness.
T: Sweet malt, slightly caramel-like. Dry hay, grass, floral hops. The hop character is quite enjoyable. Faint bread-like flavors. The finish is somewhat bitter and contains some mineral flavors and mild spices. A very refreshing and fairly balanced taste. Nothing spectacular, but definitely drinkable.
M: Light body, plenty of sharp bubbles from the carbonation.
D: I liked this beer. It's absolutely not spectacular, but it's still rather good. Very refreshing and easy to drink. I quite liked the hop aromas in it, especially in the smell. The taste is perhaps bit too restrained and laid-back. Would have liked a more sturdy malt backbone.
919 characters
3.23
/5
rDev
-10.5%
look: 3.5 | smell: 3 | taste: 3 | feel: 3 | overall: 4
A - Very light, and quite carbonated, with a head that quickly dissapates.
S - Mostly metallic scents with a bit of sweet maltiness.
T - Mildly tasty for a pilsener. Some malty sweetness and a very clean finish. Pretty coppery tasting, with no hint of hops and a sweet aftertaste.
M - Light bodied, but not overly so.
D - Very decent, as a good pils should be.
360 characters
3.5
/5
rDev
-3%
look: 3.5 | smell: 3.5 | taste: 3.5 | feel: 3.5 | overall: 3.5
Bought this nice 500ml bottle on trip to Prague for about a euro or so.
Poured with a small head-nice body and smelled like a clean pilsner too. Golden in color and tasted smooth and velvety going down with a hint of hops and floral/citrus tastes.
I would definitely recommend this to someone as
303 characters
3.53
/5
rDev
-2.2%
look: 4 | smell: 3.5 | taste: 3.5 | feel: 3.5 | overall: 3.5
Just available in Texas, labelled as "Original Czech Lager". Label looks nearly the same as the czech version pictured, at least, though it's only 4.7% abv. Pours a burnished gold color with a thick though not lasting head. Aroma is somewhat faint, with powdery, spicy hops being most noticible. Initially slightly sweet grainy malt followed by powdery, drying bitterness. Lacks hop flavor. Neutral texture, with slightly high carbonation.
Not too bad, but doesn't stand out compared to many of the other excellent Czechs.
526 characters

3.63
/5
rDev
+0.6%
look: 4 | smell: 3.5 | taste: 3.5 | feel: 3.5 | overall: 4
The old school cap looks nice but does it make it more expensive? The golden colored brew poured with three fingers of foam smelling of hops and flowers/herbs, bread and a hint of citrus. The taste was bitter with some bread spices. The initial sweetness was quickly buried in the bitterness. It had a bubbly mouthfeel and the dry bitterness lingered in my mouth. Pretty good pilz but a little too bitter for my taste.
418 characters

3.92
/5
rDev
+8.6%
look: 3.5 | smell: 4 | taste: 4 | feel: 3.5 | overall: 4
Presentation: 0.5 liter brown glass swingdown bottle, silver and gold on white label
Appearance: light golden color, snow-white big head, average lace
Smell: light maltiness, something else (can not recognise)
Taste: medium body, light and crisp mouthfeel, malt and lot of hops, pleasantly bitter
Notes: highly carbonated, and VERY refreshing
354 characters
3.71
/5
rDev
+2.8%
look: 3.5 | smell: 2.5 | taste: 4 | feel: 4 | overall: 4.5
Unpasturized. Delicate. Wisely designed bottle to preserve freshness. Something added to speed up aging, pushing Radek's translation of the description. Initial; great large had. Easy drink. No spectacular appearance and light mouthfeel. Pleasantly aggressive carbonation. Yet the malts and hops and all work gracefully together in a complex drink that grows on you with each sip. Thanks for bringing back Georgina.
She did it again, brought me a bottle back 14 months later. Very good pilsner, noticed aggressive acarbonation and very good malting.lwoered the taste but this fresher bottle was much more creamier head.
620 characters
3.52
/5
rDev
-2.5%
look: 3 | smell: 3.5 | taste: 3.5 | feel: 4 | overall: 3.5
Floral, hoppy and bitter, as a Bohemian Pils should be. Nice soft mouthfeel aswell, with some metallic edges. Quite subtle ina lot of ways and pretty simple, but very enjoyable, and entirely downable, really nice bitterness on the finish, dry finish.
250 characters
Bernard Sváteční Ležák 12° from Bernard Family Brewery
3.61
out of
5
based on
41
ratings.