Twisted Spruce Ale
| Highlander Brew Co.
BA SCORE
80
good
11
Reviews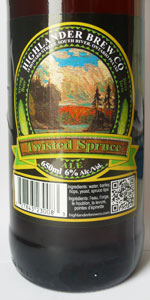 BEER INFO
Brewed by:
Highlander Brew Co.
Ontario
,
Canada
highlanderbrewco.com
Style:
Herbed / Spiced Beer
Alcohol by volume (ABV):
6.00%
Availability:
Year-round
Notes / Commercial Description:
No notes at this time.
Added by scott451 on 06-26-2013
Reviews: 11 | Ratings: 25
3.8
/5
rDev
+14.5%
look: 3.5 | smell: 4 | taste: 3.75 | feel: 3.75 | overall: 3.75
L: Poured a Hazy yellow with a small white head and when it settled and was left for a bit it was a clear yellow with no head left.
S: Slight pine, with a huge sweet malt smell to it.
T: Sweet malt, with a slight pine bitterness to it.
F: Full and heavy body mouth feel, feels like a high alcohol stout even though it's a light beer.
O: Surprisingly excellent beer.
369 characters
3.5
/5
rDev
+5.4%
A: Golden filtered with loads of fine bubbled carbonation. Topped with 4 fingers of off white head that leaves chunky lacing.
S: Lager yeasts, dough, honey, light alpine spruce, menthol.
T: Sweet honey, lager yeast, dough, little light bitter hops on the end. Not getting any spruce per say.
M: Thick syrupy body, little carbonation, light bitter finish to balance.
O: The spruce is just an afterthought. I really get honey biscuit from this and its hard to get the spruce tips, though I assume they contribute to the bitterness. Got it in Port Perry, ON, drank in New Hamburg ON, Aug 21st, 2014.
609 characters
3.77
/5
rDev
+13.6%
look: 4 | smell: 3.75 | taste: 3.75 | feel: 3.75 | overall: 3.75
650ml bottle. I've been hearing (reading, really) a lot about spruce beers from out east lately, and now here I have one right in front of me - the power of thought!
This beer pours a clear, medium golden amber hue, with two fingers of puffy, bubbly, and frothy off-white head, which leaves some recently uprooted island profile lace around the glass as it slowly ebbs away.
It smells of semi-sweet, grainy and bready pale malt, a hint of caramel/toffee, sugary orange and lemon accents, muted leafy pine needles (the spruce, I presume), and a further muddled tropical fruitiness. The taste is much more representative of the spruce - it is sharp, fresh, and green, right off the bat, with a nice biscuity, bready, and lightly caramelized malt arriving shortly to back it up, along with a mild white pepper spice, and some earthy, floral, and sort of woodsy hops.
The carbonation is moderate, with a subtle cutting nature, the body medium-light in weight, and generally smooth, a bit of woody acridity making a soon-forgotten attempt at ingress. It finishes off-dry, that bready malt still holding the keys to the castle, as an indistinct leafy and pine needle acerbity kind of kicks about.
A good, almost great rendition of a sub-style of brew that I, admittedly, have no point of reference for, but I know what I like, and I like this. The spruce is more than noticeable, but hardly overbearing, letting the hops do their thing, and blends well with the sturdy malt. That's two vegetation-augmented brews in a row from this brewery that have kept my attention - I'd now like to see what they do solely with hops.
1,618 characters

3.45
/5
rDev
+3.9%
look: 3.75 | smell: 3 | taste: 3.5 | feel: 3.5 | overall: 3.75
Highlander Brew Co. is located in South River, Ontario, in the Almaguin Highlands from which Highlander takes its name. The brewery is on the Northern edge of Algonquin Park, making Highlander one of the most northerly craft breweries in Ontario. Highlander began operations in 2009 when Brewmaster Brian Wilson made the brewery's first beer, a traditional Scottish Ale. Highlander has since expanded its line to four products with the addition of Twisted Spruce, Blacksmith Smoked Porter and Lion Grass Ale. For his first foray into Highlander's beers, Bucky selected their Twisted Spruce Ale ("TSA") in a brown 650 ml bottle. TWA was 6.0% alcohol by volume with a 'best before' date of March 15, 2014.
Twisted Spruce poured a clear, attractive golden colour with visible carbonation bubbles, and it took an aggressive pour to raise 1" of fluffy white head. The head lasted for about 3 minutes before fading to a thin collar and patchy film of foam, leaving behind some modest lacing and spotting. Its aroma was quite tame…sweet caramel malts with just a hint of spruce. Thankfully the taste was more pronounced, starting with the sweet bready malts before giving way to a distinct spruce flavor, and finishing with a mild bitterness which lingered for several seconds. After reading several reviews of this beer complaining about the lack of any spruce element to the beer, I was pleasantly surprised. Twisted Spruce had a relatively soft carbonation, was medium bodied and had a crisp mouth feel. In summary, TSA is a pleasant enough beer and not 'overly unique' so as to turn off the mainstream beer drinker. Selling for $4.75 per 650 ml bottle TSA is worth a try if you're looking for something a bit different.
1,739 characters

3.18
/5
rDev
-4.2%
look: 3.5 | smell: 3.5 | taste: 3 | feel: 3.25 | overall: 3
500 ml bottle served cold into a pint glass. Received as a gift.
Appearance - Clear golden color with oranges hues imbued. 1.5 fingers of white head and Ok retention time. Decent lacing left on the glass from the frothy head. Very little visible carbonation.
Smell - Slightly tropical aroma maybe a touch of mango mixed with spruce / pine notes. A floral base that is slightly artificial smelling but serves as a decent platform for this to stand on.
Taste - Slightly spicy of pepper and some bitterness from hops. Earthy woody spruce feel . Not a lot else and the cohesiveness just isn't there for my palate. A little bit of earthiness too.
Mouthfeel - Very dry finish. Medium body and carbonation. A bit like a cross between a gruit and an IPA between the aromas flavors and softness of the beer in the mouth.
Overall - Ok, but not a fave. the earthy flavors work well, but the herbs and spices just don't seem natural and are quite separate from the rest of the beer itself.
982 characters

3.2
/5
rDev
-3.6%
look: 3.75 | smell: 2.5 | taste: 3.5 | feel: 2.75 | overall: 3.5
650 mL bottle picked up from the LCBO; best before Feb. 15 2014. I loved this brewery's Scottish ale when I tried it last year, so I'm glad to see another offering of theirs being widely distributed. Served slightly chilled.
Pours a clear golden-amber colour, bright and luminescent, topped with about one finger of foamy, white head. It recedes slowly over the next few minutes, leaving behind a thin cap, modest collar and a ring of lacing on the edges of the glass. Looks alright, but the aroma leaves a lot to be desired - I can pick out lots of doughy malts and honey sweetness, but beyond that I'm struggling to come up with descriptive terms. Spruce is nowhere to be found, which is not just confusing but pretty disappointing.
I'll be honest, I'm not a big fan of this one - it comes off as a basic blonde ale with some spruce tips thrown in. The malts are a little biscuity and somewhat bready, with some floral undertones and light spruce notes sneaking forward near the finish. Honey sweetness in the aftertaste, with an earthy note that doesn't linger at all. Medium-bodied, with the relatively syrupy/thick mouthfeel coming off as very counter-productive given the blonde ale-esque base. Moderate carbonation that offers a light bite, but not nearly enough to cut through the hefty body. At 6%, the ethanol is deftly hidden, but I really don't think this is something I'd want more than one bottle of in a night.
Final Grade: 3.20, a C+. Highlander Brew Company's Twisted Spruce Ale is a little disappointing, but on the bright side it should come off as relatively agreeable to most palates. I frequently complain about spiced beers going overboard, but this one is the complete opposite - the spruce is very muted, and ultimately this basically just feels like a high abv blonde ale with some piney features. There's nothing off-putting about this one, but I doubt I'll get it again... a forgettable selection for my 550th tick.
1,946 characters

3.26
/5
rDev
-1.8%
look: 3.75 | smell: 3.25 | taste: 3.25 | feel: 3 | overall: 3.25
Appearance: It has a nice hazy golden/orange color to it. It has a nice off-white head that dies down moderately and leaves nice lacing.
Smell: The aromas definitely give out hints of sweet biscuity malts, some woody spruce and some breadiness. Not a whole lot going on.
Taste: Like the aromas, it has a some biscuity malts, some toasty notes, faint spruce, some bitter pine and earthy hops.
Mouthfeel: It has a medium carbonation with an average overall balance and feel.
Drinkability: It's a very smooth drinkable beer accompanied with decent flavors and aromas.
571 characters
3.19
/5
rDev
-3.9%
look: 3.75 | smell: 3.5 | taste: 3 | feel: 2.75 | overall: 3.25
An interesting looking find at my local LCBO, this one poured into a large lager glass a slightly hazy dark amber with a bunch of white head that dissipated somewhat slowly to some clouds on the top. Smell is hoppy, not really detecting any spruce here. As for the taste I can detect the spruce flavor in the finish, but the flavor is dominated mostly by hops and a sweetness that is a little more than I would have liked. Mouthfeel is thick, syrupy and heavy.
This wasn't that bad. Though I was expecting something a little more coniferous, a little less sweet and a lot less thick.
584 characters

3.42
/5
rDev
+3%
look: 3 | smell: 3.5 | taste: 3.5 | feel: 3.5 | overall: 3.25
Twisted Spruce Ale has a fairly light, albeit slightly smeared golden complexion. I tend to think of spruce ales as darker beers (as they most certainly would have been traditionally), but colour is not necessarily an indication of flavour, especially when that flavour is an added herb or spice. Its head is thin and brittle as phyllo and indeed breaks up into crumb-like pieces.
The aroma has some vaguely 'outdoors-y' qualities but it's nothing you couldn't get from dry-hopping with a pine-y variety like Chinook. In truth, the bouquet shows far more floralness and cedar flavour than spruce, though it's not overly woody or even earthy at all. It's actually a toasty, almost cookie-dough-like malt that is most prominent.
Spruce fails to show up on the palate either. Instead, the pale, lightly biscuity maltiness continues to be ostensibly the only game in town. Faint floral notes carry forward as well, tasting very lightly of heather or lavender. There may be a trace of peat and some pleasant nougat-like sweetness, but that's about as interesting as this thing gets.
Anyone hesitant about spruce beer need not be reluctant to try this one. It's hardly an irregular offering. In fact, the golden colour, bready sweetness, clean ingredients and negligible bitterness should sit well with most mainstream consumers. Indeed, it's a very agreeable, easy to drink ale and provides a level of quality industrial lagers can't afford.
Twisted Spruce Ale could seriously use a little sprucing up (insert rim shot). It tastes less like a spruce ale than it does this brewery's Scottish Ale (which itself has a vaguely floral, earthy character). Like that offering, I rather like this one. But it must be said, however, that despite an unusual sounding concept, the beer is disappointingly conventional.
1,810 characters

2.55
/5
rDev
-23.2%
look: 3 | smell: 3 | taste: 2.5 | feel: 2 | overall: 2.25
Short white head settles to a film. Clear gold brew with active carbonation. Very ordinary nose of sweet malt and slightly piney hops. Heavy mouthfeel, bordering on overly sweet. Some sort of woodiness from the spruce tips I'd imagine, but not as clean drinking as you might hope. Just too much heaviness, too much sugar/syrup as you go without any interesting pop from the spruce. Sticky. Not particularly enjoyable, almost comes across like malt liquor.
455 characters
3.23
/5
rDev
-2.7%
look: 3.5 | smell: 3 | taste: 3.25 | feel: 3 | overall: 3.5
Two finger off white head on a clear dark amber. Head soon diminishes to a ring.
Sweet malt smells. Tastes of sweet malts. Some caramel. Not as much spruce flavour as I expected, but it is there.
A bit heavier than I expected. A bit cloying, but overall a pretty good offering.
283 characters
Twisted Spruce Ale from Highlander Brew Co.
3.32
out of
5
based on
25
ratings.