McGlinchey's Bar and Grill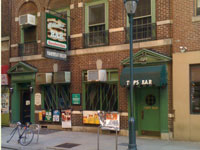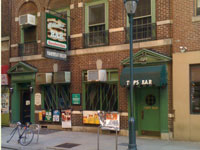 Bar, Eatery
259 South 15th Street
Philadelphia
,
Pennsylvania
, 19102
United States
(215) 735-1259 |
map
Notes:

corby112 from Pennsylvania
2.15
/5
rDev
-30.6%
vibe: 2 | quality: 2 | service: 3 | selection: 2 | food: 1
This a very interesting place in the middle of center city. One of the biggest dive bars around that sells hotdogs and popcorn and is filled with smoke. One of the last remaining bars in the city where you can smoke indoors. It smells awful, like an ashtray, and is filled with the craziest assortment of patrons. The food is atrocious and the service is only mediocre but they have a few decent beers including Chimay and the prices are unbelievably cheap.
All that being said, this dump is actually a lot of fun and you can get a bunch of good beers for very little money. I would skip it and go next door to Jose Pistola's but you should experience it at least once.
Apr 18, 2011

DaveHS from California
2.9
/5
rDev
-6.5%
vibe: 3 | quality: 3.5 | service: 2 | selection: 3 | food: 3
This used to the THE spot for cheap pitchers when I was going to Temple University years ago. It has gotten slightly more expensive over the years, but is still one of the cheapest places to grab a drink in Philly.
The bad news: It's usually packed front to back every weekend. The barstaff, with few exceptions, are generally rude, to the point of ignoring you if they decide you're not cool enough to warrant their attention. The bathrooms are gross, and usually filled with hipsters doing coke. It's a lot less dirty than it used to be, but still reeks of cigarette smoke. If you're hungry, you can usually get hot dogs, so that's a plus.
If you're looking for a pitcher for under ten dollars, this is the place. Otherwise, there are plenty of other places that are better.
Jan 16, 2011
VegasBill from Nevada
3.16
/5
rDev
+1.9%
vibe: 3 | quality: 3.5 | service: 2.5 | selection: 3.5
The stale cigarette smell here is overwhelming, and that was at noon with the front door open and one other customer who was not smoking.
But with that said its a dive and the beer selection and price are both very good. So I had a Stoudt's APA and for a total change for me a Yuengling black and tan.
The bartender was a female and very unfriendly, so since I was here for two beers I thought I would chat her up and see if I could make her smile, well it took a while but she was smiling and even laughing.
On a positive note the guy who does the hot dogs showed up and was setting up his small kitchen area. He really took care too wipe everything down and he was cleaning the reach-ins where the dogs were stored.
Jun 06, 2010

woodychandler from Pennsylvania
3.19
/5
rDev
+2.9%
vibe: 1 | quality: 3.5 | service: 4 | selection: 3
I could not believe how many times I had walked past this place without a second glance. The stained glass windows and the signage gave is a 1960's/1970's vibe that I was not digging. You dig?
Eleven taps, Flying Fish, Yards, Stoudt's, and Yueng. Porter the only standouts. Twenty-seven BTs Yards, Flying Fish, Stoudt's, plus in bombers and big BTs. Rogue and Chimay. Also, Hoegarden, Maredsous 8, Grolsch, Paulaner Salvator, Hefeweizen, SA BOS Lager, and Horndog Barley Wine.
The ambiance was just as I imagined - very 60's/70's, dimly lit and smoky as hell. No joke. Every third person had a cancer stick going. Ugh. My asthma began to act up as a result. The faux-wood topped, race and track oval-shaped bar began just inside the door and ran most of the length of the space with an open space at the back end, in front of the kitchen. The two TV monitors were both tuned to sports. Short-backed booths lined both wall with mirrors above the right hand side. The lavs were all of the way aft on the left. I was deeply underwhelmed. Next!
Dec 02, 2009
soupyman10 from District of Columbia
3.73
/5
rDev
+20.3%
vibe: 3.5 | quality: 4 | service: 3.5 | selection: 4 | food: 3
I'm potentially too much of a fan of this place. It's undoubtedly a dive bar, but one that's got a nice charm to it. The atmosphere's up and down; the bartenders are sometimes a little rude, but it's that nice, down-home, we hate you because we love you rude. They're also always down to give you unending samples, even if it comes from the bottle (!). Depending on who it is, they're fairly knowledgeable about beer, especially local breweries, and are always down to shoot the shit, as is nearly every other person in the place (it's almost impossible not to trip and fall into some great conversation). Service is fairly quick, given probably that the bar's pretty small and the place is never packed. Haven't tried the food yet, but I'm guessing it's mediocre. The place itself is a cool set-up; smallish with a U-shaped bar that means you're always near the tender. It's fairly dark with some fairly good music coming off the jukebox. Finally, the value is insane. All on-tap domestic stuff (all micro-brews included) are $2.90 for a pint, and you can even get a bottle of Chimay for under $5. Better prices than the beer store next door. And the selection is pretty solid as well.
Feb 28, 2007
GnomeKing from Pennsylvania
2.42
/5
rDev
-21.9%
vibe: 3 | quality: 2.5 | service: 2 | selection: 2.5
McGlinchey's (aka "The Glinch") is a cheap dive with a smattering of good beers and only hot dogs available to eat. Yup, hot dogs.
If you want a dive-like atmosphere with a better beer selection, a full menu of good food, and good service, go to the Good Dog, which is just up 15th Steet, a minute or two on foot from McGlinchey's. If you're interested in my review of the Glinch, read on...
I was drinking Stoudt's APA out of a mug (maybe 14-16oz) for $2.95 and had a Chimay Blue from a small bottle for $4.95. They had Chimay glasses, which was surprising. Other noteworthy offerings included some Rogue big bottles, Hoegaarden, and Yuengling Porter.
If you go on an off night, it's a nice dive atmosphere. If you go when it's crowded, you might end up squished in the pack. Even the bathroom is a tight fit. Standing at the urinal, my left shoulder touched the wall, and my right touched the divider--and I'm hardly a big guy.
Service at our table was abrasive and spotty.
Mar 25, 2006
whartontallboy from New York
2.59
/5
rDev
-16.5%
vibe: 3 | quality: 3 | service: 1 | selection: 3.5
I love McGlinchey's. If you look up "dive" in the dictionary, I think there's a pic of the place. Smokier than hell itself, the waitresses and bartenders seem to take great pleasure in being rude and are no less than seventy years old, and there's a table-version Miss Pac-Man machine. You can also buy hot dogs, although after being able to see into the kitchen, I'm not sure I'd recommend that. The tap list is decent for the prices (2.90 for most big dimpled mugs) featuring lager, Yuengling black and tan, Stoudt's APA, Flying Fish ESB, Yard's Philly Pale, Guiness, and Hoegaarden. There is a good chance the walls could start falling down at any moment, and there could well be a family of raccoons living in the dirty bathrooms, but it's not a bad place to get some drinks on the cheap with buddies.
Mar 28, 2005
NeroFiddled from Pennsylvania
2.73
/5
rDev
-11.9%
vibe: 2 | quality: 2.5 | service: 3.5 | selection: 3 | food: 1.5
This is a classic hole-in-the-wall that everyone who went to college in or near Philadelphia has been to... but that's about it. It's a filthy little place with cheap beers and hot dogs - not a beer bar! Copa Too is only a couple of steps away for better beer and food, but this place does have some nostalgic charm! Ahh, maybe it might be worth stopping in for a pint of the old stuff!
UPDATE: ....Well, Mc Glinchey's has changed but stayed the same. They've cleaned it up a little and they now have much better waitress service, and the beer selection has improved immensely! On the first friday of each month they pour a cask of Flying Fish beer; and Fred the bartender is still there (which is good too!).
May 17, 2003
WilliamPhilaPa from Pennsylvania
3.18
/5
rDev
+2.6%
vibe: 4.5 | quality: 3.5 | service: 3 | selection: 2.5 | food: 3
Jrancan was right, this bar looks like it was last decorated and cleaned in the 70's. There are a few Best of Philly awards, framed up on the wall, the one next to the door says "1977 Best of Philly"…the year of my birth. They have a old push button cash register also. The front window is like some sort of stained glass display which contributes to it being a bit dark. The have about ten taps, Yuengling Porter, Yards ESA, Schmidts, Flying Fish, Bass Ale, Bud, Boddingtons and a few others. The prices are really cheap. The also have bottles of Paulaner, Chimay, and some other imports good imports, all imports around $3.50 -$4.25 a bottle. . I just grabbed a Schmidt's from the tap and a roast beef sandwich with hot peppers, red onions, and provolone…emmm the food was excellent, the Schmit's was sad. My buddy Tom had a hot dog and Chili with a Yuengling Porter…. the total price was $10.50 for everything! I stayed away from the bathroom…after reading the last review…haha. Overall this is a nice stop, especially if you are low on cash.
They also have a counter on the wall for First Friday's Cask Brew…sort of sounds like what they do at the Grey Lodge in NE Philly.
Aug 16, 2002
jrancan from New Jersey
4.14
/5
rDev
+33.5%
vibe: 4 | quality: 4 | service: 4.5 | selection: 4
This place is a dive in every wonderful sense of the word! Large, oval bar in the center of a dark, smokey room with booths running along either side wall. It looks as though it was last decorated (and cleaned) in the early 70's. The good thing is that the prices reflect the good old 70's as well. They don't have a huge selection, but what they do have on tap is usually around $2.50-$2.75. I usually go with the Yard's Brawler. Chimay Grande Reserve 12oz. is $4.00. I have also found surprises like Old Foghorn on occasion. Very eclectic crowd.....everyone from the old timers to kids with way too many piercings to residents from the local hospital. Upstairs is (a little) less smokey with a pool table or two. I almost forgot, try not to touch anything while in the bathroom. One look at it, and you'll know what I mean. Overall, a great place! If I'm looking for a cheap night out, I'm always here.
Aug 08, 2002
McGlinchey's Bar and Grill in Philadelphia, PA
Place rating:
3.1
out of
5
with
12
ratings