Sugars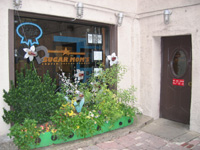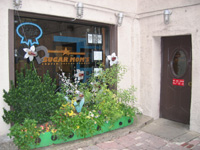 Bar, Eatery
225 Church St
Philadelphia
,
Pennsylvania
, 19106
United States
// CLOSED //
Notes:
Reviews by corby112:

3.58
/5
rDev
+1.1%
vibe: 5 | quality: 4 | service: 3.5 | selection: 3 | food: 2.5
This really cool bar is in the basement of an old building in the middle of small alley street in the Old City section of the city. Worth seeking out because it's a really cool place to hang out, especially with a large group but not a great beer destination.
I love the atmosphere of this place. As mentioned above it is in a dark dank huge basement of an old building with lots of open space. They have high top tables and a pretty large bar but the real charm lies in the vintage decor and furniture. They have old couches that are very comfortable along with bumper cars that you can sit in. They also have a pool table and a lot of vintage video games including pinball machines, bubble hockey and Ms. Pacman. Also the men's room is covered wall to wall with porn. It's kind of odd but really funny, especially the graffiti on the pics. They also have the best jukebox I've ever seen with lots of great old school hip-hop, indie, punk, ska, pop, Joy Division, My Bloody valentine and Guns 'n Roses. The selection in there is constantly rotating as well so it never gets old.
They have an okay selection of rotating drafts along with the hipster friendly PBR. Nothing too rare but everything is usually pretty decent.
This place is just a really cool place to hang out with a large group of friend and drink decent beer. A very welcome change to the douchebag scene in Old City.
1,386 characters
More User Reviews:
3.18
/5
rDev
-10.2%
vibe: 4 | quality: 3 | service: 4 | selection: 2.5 | food: 2.5
Off the beaten path in the Old City sectiion of Philly, Sugar mom's is not a destination bar. It's not because the bartender even said it was not a that type of bar. I believe him, this is not the type of place to search out great(rare) beer. That's not to say there is not some good beer here, but it is in the minority. I had some lagers to test out how things were tasting, and well, it kinda tasted like shit. The atmosphere is very dark and it's in the basement of an old huge building, so there is that. Not the cleanest place. While I liked the Men's bathroom decorations, it stunk to high heaven in there and I almost threw up. The food was pretty amature and the portions were kinda skimp. The service was ok though, nice people working here, I never had to wait for anything. I'll be coming back here when I have no other options when I am in Old City.
862 characters

3.55
/5
rDev
+0.3%
vibe: 4.5 | quality: 3.5 | service: 3.5 | selection: 3.5 | food: 3
Sugar Mom's is a pretty cool place. That's just the best way to describe it. It's very hard to find, and unless you either know about it, or are told how to find it...most likely you wouldn't just stumble on it. It's in Old City Philly...in the basement of what looks like an apartment complex (could be offices...I didn't take too much notice).
Sugar Mom's doesn't have a big beer slection, so if you're looking for good beer, you won't find it here. But the atmosphere alone is pretty cool and worth checking about for an hour or two if you're bar hopping.
560 characters
3.63
/5
rDev
+2.5%
vibe: 4.5 | quality: 3.5 | service: 3.5 | selection: 3.5
This is a decent place to hang out. The lounge has couches and stuffed chairs. The rec area is large and spacious with chalk board wall for tagging classic arcade games like frogger and pinball machines. Don't forget we were playing pool too. Like I said, a cool place to hang out. The beer is decent and I would go to Sugar Mom's Church Street Lounge for an event but the beer was not enough to draw me out. The Oktoberfest seemed a bit sour. Were the tap lines dirty? Who knows. The men's is ... beautifully decorated ;-)
Check it out when you are in the area but don't make a special trip from out of town for this one beer stop.
Hope this is helpful
Cheers!
666 characters

3.93
/5
rDev
+11%
vibe: 4.5 | quality: 4 | service: 3.5 | selection: 4
Now this is quite a treat for a bar with quality beer selections. Mainly because it's not super clean, proper, or trendy. Not to say it's dirty, it's just a darker, dingier kind of atmosphere; one that I love. I believe there was an upstairs under construction at the time. The main bar is a basement, with brick walls and huge brick pillars throughout. The beer menu was top notch in my opinion. I was there for the Split Thy Skull Barleywine festival, so of course I had a grand ol' time sampling barleywines. The crowd and cigarette smoke were a bit much for the peak hours of the festival, ventilation is lacking greatly. However, the diverse clientele along with plenty of choices of many different styles of beer makes up for it, and once the crowd thinned out a bit, it became much more hospitable.
I didn't try any food, however they had buffalo wings on the menu, so that's good enough for me at any bar with good beer.
This is quite a fun find it's neighborhood, different from the rest of the trendy joints, a character all it's own without trying to be outwardly different blatantly. The bottle of Chimay Premiere I indulged in was fresh and served with the proper glass, quite a treat.
I highly recommend this darker, less trendy, more real and down-to-earth bar for good beer and good times.
1,313 characters

3.63
/5
rDev
+2.5%
vibe: 4.5 | quality: 3.5 | service: 3.5 | selection: 3.5
Gotta give some extra BA props to SugarMoms for being the house to Split Thy Skull and other beer events like Santa Fest each year. SugarMoms is as hard to find as it is as good to find. Go North on 3rd off of Market and make a right at Church. Take 50 steps and turn left. It's in the corner but go downstairs and check the bar taps off of the chalk board. Usually 5 to 8 taps offer decent beers of regional offerings like Brooklyn, Yards, Brewer's Art and even 16 oz. PBR for like $2. Check out the pinball and pool table. Grab a crayon to draw and and sit in an amusement car on the floor.
Could you take your Mother here? Uh! No way! Too dingy and the Men's room walls have a lot of well...just go and you'll see.
721 characters
3.76
/5
rDev
+6.2%
vibe: 4.5 | quality: 3.5 | service: 4 | selection: 3.5
When they tell you to hit the alley after Market Street, it'd be good if they gave you a little more to work with. A landmark, maybe, or a sign, or perhaps the number of steps from the corner, yeah, that'd help. There's a cobblestone road, then a smaller road, then an alleyway, then a goat trail, then you've hit the corner realizing that you've gone too far and you're lost and thirsty and a-scared. So you circle the block and come back around and there are some signs of sugar, you just follow along...
In a back alley way, in a courtyard, in the rear, in the building, in the basement, be Sugar Mom's. It's a dimly lit joint, with low spot lights, strung Xmas lighting and candles in the walls. The supports throughout the room are three rows of three pyramidish brick pillars with chalked and painted graffiti. Shelves are cut into them creating effective countertops running their perimeters with stools abound, and upwards of a dozen bar tables riddled about, seating all in all for 5 dozen plus. Cool carnival ride cars, a pool table, CD jukebox, a pinball machine, Phil's golf game, a painted piano in the corner, a few couches and a big screen TV. The bar itself is decorated with chinese lanterns and many pictures of toy robots. It's a very dark and cavernous place. I'm sure fierce velociraptors run freely down there.
11 taps, nothing too crazy. A handful of regional brews (DogFishHead Punkin, Flying Fish Octo, Troegs Oatmeal Stout, Yuengling Porter & Lager), Sierra Nevada Pale Ale, PBR, Guinness, Harp, Hoegaarden, and Woodchuck Cider. There are 3 hand pumps in the corner which I'm told have been dead for upwards of 3 years now. Purely ornamental hand pumps should be illegal.
I'm told it gets young and clubby at night, which is why you should roll on in on a quiet Saturday afternoon...
1,813 characters
3.5
/5
rDev
-1.1%
vibe: 4 | quality: 3.5 | service: 3.5 | selection: 3.5 | food: 3
One of the better characters in the Philly bar scene, Sugar Mom's is a favorite place to just swing by for one drink if you're crawling through Olde City for the vibe alone. Underground, with sunlight barely peeking down through the spiral staircase, it appear like a dungeon as stone pyramids intermittently support the low, dank ceiling. The bar is on the SE corner, making an L, while a second bar used mostly for mixed drinks and bottled beers is over toward the stage. Dark, cold, brooding, but not sulky or angry, this place is a great example of a rock bar.
The crowd tends to be younger and scruffier than the normal field of Olde City but at times nicer than the more preppy masses down the block. Beer selection is decent, with a dozen taps showing some seasonal products form locals like Sly Fox, Flying Fish, and Victory, with the rest being PBR, Guinness, and some other decent choices. To the beer nut this bar is most well-known for its Christmas beer event (Santafest) and its Barleywine bonanza (Split Thy Skull). Both are annual for close to a decade now, and are amazing. The most recent Split Thy Skull featured big beers from Victory, Avery, Sly Fox, Heavyweight, Troegs, and about nine more. Food is bar food with a healthier twist, showing some choices like falafel and the rest for the often vegan indie rock crowd. Service is heavily tattooed but nice lot of youngins, which is cool by me.
Dark, rough, but chill atmosphere with a decent beer selection. I digs it.
FYI – This is NOT a hard place to find as some have surmised. Simply: Stand at the corner of Third and Market facing North (i.e. facing up Third Street). Walk a half block or so and take the very first right onto an alley clearly marked as Church Street. Sugar Mom's is on you left all the way at the back of the small parking lot just before Olde City Coffee. Look for the beat up trucks with punk stickers all of over them.
1,928 characters
3.03
/5
rDev
-14.4%
vibe: 3.5 | quality: 3.5 | service: 2.5 | selection: 3 | food: 2.5
This place gets an "A" for novalty. It in the basement of an aprtment building so it makes for an interseting environment. The structure of the building is what separates the spaces into little quadrants. This place is more of a college bar. They have a good selection of beer but the problem is that they only have one bar that's wedged in the corner and when the place is filled with students looking to get a serious drink on, it's frustrating waiting in the mob of Yuengling chuggers for the tender to finaly get to you. The food is your run of the mill bar food, nothing special. If your into crowds in dark places with defunct amusement park rides sitting around and a bathroom wallpapered with booby magazines, this is your spot!
736 characters
3.26
/5
rDev
-7.9%
vibe: 4 | quality: 3 | service: 3 | selection: 3.5
Sugar Mom's, which I've visited a few times, mostly for Philly's Split Thy Skull Barleywine Festival, is a fun place. It's a big, cavernous space, with bumper cars strategically placed around the floor, and toy plastic doodads all over the place. The regular selection of the bar is not exceptional, and I probably would not bother going if there was not an event there. It remains to be seen what will be happening next year with Split Thy Skull's Jim Anderson relocated in Scotland. This year the event was held without him, with a few bugs, and hopefully by 2004 they will have it all together. I'll revise my notes at that time.
632 characters
3.63
/5
rDev
+2.5%
vibe: 4 | quality: 3.5 | service: 4 | selection: 3.25
(rating based upon visit during Santa Fest Event)
Walk down Church Street …has a real old city feel, walking down this old cobble stone alley. The first place I hit was the bathroom which has a sort of open air feel with plants and nice bushes on the walls. Down the stairs the area is open and held up by big brick pillars with scribbles all over, old pinball games, along with old video games and a pool table, very dim, Christmas wire lights…. I liked the vibe. They have around 12 taps, with a good selection of brews, mostly locals. Troegs Mad Elf and SlyFox Xmas brew just to name a couple. They host the Split thy Skull fest as well as the Santa Fest's here.
668 characters
3.76
/5
rDev
+6.2%
vibe: 4.5 | quality: 3.5 | service: 3.5 | selection: 4
Don't even bother trying to find this place unless you have a map and a two week headstart. Located in the basement of a building that you can only get to by walking down an alley, Sugar Mom's has atmosphere to boot. The bar (which used to be a sugar refinery) has low ceilings and a brick facade (along with multiple brick columns), which makes it feel very cavey (is that a word?). Very kitchey with old boardgames, plastic action figures, foosball and such. Good selection, around 15 or so on tap with another 30 or 40 in bottle. Nothing I haven't seen elsewhere, but not a bad selection nontheless. They host the Philadelphia version of Split Thy Skull, (Mugs in Brookly host's in NY) which is a barleywine festival where they have about a dozen or so brews with nothing less then 10abv. Get's crowded, loud, and young, during the weekend, so I suggest a Saturday afternoon.
885 characters
Sugars in Philadelphia, PA
Place rating:
3.54
out of
5
with
12
ratings