The Lobster Trap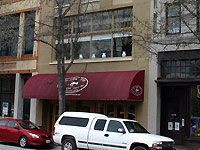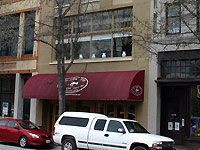 PLACE INFO
Type:
Brewery, Bar, Eatery
35 Patton Ave
Asheville
,
North Carolina
, 28801
United States
(828) 350-0505 |
map
thelobstertrap.biz
Notes:
No longer a brewery.
Added by Norfawkers on 07-22-2009
HISTOGRAM
View: Beers | Place Reviews
Ratings: 14 | Reviews: 10
Reviews by jeshryock:
More User Reviews:
4.25
/5
rDev
+12.4%
vibe: 4.25 | quality: 4.25 | service: 4.25 | selection: 4.25 | food: 4.25
2.79
/5
rDev
-26.2%
vibe: 2.5 | quality: 2.75 | service: 3 | selection: 2.75

3.88
/5
rDev
+2.6%
vibe: 4 | quality: 4 | service: 4 | selection: 3.5 | food: 4
Very good seafood in a town full of great beer & food. If you're in the area and in the mood for super fresh fish - this is the spot. They do their own brews, the oyster stout was pretty damn good last time I was there. Check 'em out. We usually sit at the bar and have shrimp & oysters - there's usually some chill live music on the weekends too. Never had a bad meal there.
375 characters

3.75
/5
rDev
-0.8%
vibe: 3.5 | quality: 3.75 | service: 4 | selection: 3.5 | food: 4
right in the heart of downtown Asheville we walked in for happy hour pints and Oysters we sat at the bar had about 8 brews on tap all local like green man foothills French Broad and thier own Oyster Brewing ..Oyster brewing has moved to a new location on the south side 625 Haywood also worth a visit we had great fresh oysters and tasty pints its an upscale place for dinner as the menu was pricey for seafood fare,i recommend going there for happy hour enjoy clams shrimp and oysters with some nice local taps also looks like they have a stage for live music worth a stop for happy hour but very pricey for dinner
615 characters

3.78
/5
rDev 0%
vibe: 4 | quality: 3.5 | service: 4.5 | selection: 3 | food: 4.5
We went here for a late dinner one night. We sat at the bar and had oysters and shrimp and grits. They had three beers on and one guest tap.
A - Nice place. Definitely a restaurant and not a beer place. As others have noted, it's a restaurant first and happens to brew beer. But nice busy place with a small band playing and very comfortable atmosphere.
Q - The quality of the beer was just okay. Really nothing great but not flawed either.
S - Service was excellent. The bartender was fun and friendly and very attentive.
S - As noted, they only had three of their beers on - IPA, Pale, and a Stout. In addition, they had Foothills Pale on as their guest tap. We had the IPA which was just average. I also had the Foothills which was solid but not mind blowing.
F - The food is king here. Everything we had was very good. It isn't expensive and everything seemed fresh. My only complaint was that the oysters could have been shucked better.
Overall this is a good place to go but only if you're after food - unlike most of the Asheville breweries and beer places which have sketchy if any food. The beer is really an afterthought and pales in comparison to all the good beer available in Asheville.
1,207 characters
3.56
/5
rDev
-5.8%
vibe: 4 | quality: 3.5 | service: 4 | selection: 3
Atomosphere is a little nicer than the other places in town that focus on brews. Nice woody interior. Very outer banks like. Bar was big enough, one television.
A mix of their stuff and some micro brews. Smaller bottle selecion and what looked like a descent wine selection.
The stout was pretty good, the ipa was pretty average, didn't try the third.
First and foremost this place is a seafood restaurant. I just popped in to try their brews so we didn't eat. It looked a bit pricey anyways, but not overly so for the area, which is generally overpriced.
Service was fine, but again something that does not seem like a strong point in the area.
Probably a fine restaurant, but I don't know how much of a beer destination this is or will be. There are too many other options around Asheville.
795 characters
4.08
/5
rDev
+7.9%
vibe: 4 | quality: 4.5 | service: 4 | selection: 3.5 | food: 4.5
Upscale-ish seafood eatery tucked along Patton Ave. They must surely do some good business, as we were originally quoted a near two-hour wait time upon our arrival. We thought it best to return at an earlier time the following day (Sunday) for a nice eveningtime meal.
The place is tastefully decorated, features an open kitchen, and even has a small stage for live music. As for parking at the Lobster Trap, well, I had walked the short distance from the nearby Downtown Inn & Suites, but I do recall seeing a parking lot catty-corner to the restaurant.
At the time of my visit, they had four of their own beers available (the supplies of brown ale and chili beer had since been exhausted), with the Moonstone stout being the stand-out for me, particularly when paired with a platter of raw oysters. I'll admit, I didn't really peruse their bottled beer selection or other non-Oyster House draught options, as I was focused on slowly cruising through their own beers.
The menu featured a great range of fresh seafood options that were what I would call 'reasonably pricey' (at least when one considers the simple fact we're a few hundred miles in from the coast). As a fan of seafood, it was one of those menus where you really struggle to finalize a decision. We opted for the lobster bisque, raw oyster sampler, and the trio of crab cakes. The crab cakes were particularly enjoyable - thank heavens they weren't just over-priced, over-sized hush puppies with nary a hint of crab like you get at some shameful seafood joints.
All in all, a great option for some fine, filling seafood. While the beer was decent, I think it's the ocean-based grub that'll have me coming back when next I'm in Asheville.
1,707 characters
3.75
/5
rDev
-0.8%
vibe: 3.5 | quality: 4 | service: 4 | selection: 3 | food: 4.5
I have heard great things about the food here, so I decided to give the place a try.
Located downtown, I was lucky to find a parking spot directly in front of the establishment. The awning reads "Lobster Trap" so look for that. The Oyster House is the brewery inside the restaurant.
I only had time for one beer and some to-go food. The beer I chose was the stout and it was pretty good. It wasnt overly impressive but certainly serviceable.
The food was really good. I had the crab cakes and they were all crab, no filler (llike lots of other places). The soup of the day was a shrimp and crab bisque and again, it was really good.
The prices were actually pretty reasonable for the quality of seafood here. My entree and soup and drink were all under $30; hard to beat. With more time, I would come back certainly for the food. For beer, there are som many other places in Asheville that I may go elsewhere.
917 characters
3.68
/5
rDev
-2.6%
vibe: 4 | quality: 4 | service: 3 | selection: 3.5 | food: 4.5
Located in the heart of downtown on Patton, just a few blocks down from Biltmore Ave.
Small bar area and smallish restaurant overall.
2 house beers pouring and 4 guest taps. While small in number, all are quality beers.
Excellent seafood dominated menu. While the entrees are very pricey, the apps are well priced and offer a cheaper alternative to lobster and oysters. Very easy to come in and have a pint and a small app and get out cheap. While the food is on the high side, beer prices were very good.
All of the dinners I saw were very well presented. Nice place for a splurge of change of pace in the area.
Both house beers were solid. The blonde was a nice thirst quencher for the summer and the ipa was extremely good.
Another nice addition to the Asheville beer scene.
787 characters

3.5
/5
rDev
-7.4%
vibe: 4 | quality: 4 | service: 2.5 | selection: 3.5 | food: 4
The Lobster Trap, home of the Oyster House Brewing Company, is a bit of an odd duck as a a New-England-style seafood house located in the mountains of North Carolina. The decor is a combination of seaside-rustic and chop-house-classy, making the restaurant feel both upscale and comforting (and downright warm at the rear tables near the open kitchen). The menu offers a wide assortment of primarily seafood options, with a heavy emphasis on lobster and shellfish (along with their premium price tags). Although it is nowhere near the coast, all of the seafood we ordered was fresh-tasting and well prepared. In particular, the crab cakes were very well done, and the lobster roll looked terrific.
Regarding the beer, although the beer menu is relatively small, it is solid, with a few interesting bottled selections (one of the Sierra Nevada 30th Anniversary beers was offered the day we were there) and a handful of drafts featuring the house beers. Always one to drink local, I tried the flagship Moonstone Oyster Stout, while my friends sampled some of the other house beers. Even though the Oyster House works with a small-batch brewing system, the beers are well-crafted. Overall, the Lobster Trap is more of a nice seafood restaurant that has a brewer rather than a brewpub that serves seafood, but the beers are solid and provide a nice complement to the lobsters and mussels. Because this is a beer website, though, I have to give it lower marks, especially compared to other restaurant options in Asheville.
1,518 characters

3.93
/5
rDev
+4%
vibe: 4 | quality: 4 | service: 4.5 | selection: 3 | food: 4.5
This is first and foremost a seafood restaurant and NOT a brewpub. That being said the brewer/owner does a fine job cranking out a few house brewed beers on their 1/2 Barrel Sabco Brew Magic system! The signature beer is the Moonstone Oyster Stout.
The place has a typical but pleasant feel of an old time seafood joint. NIce long bar swoops down the right side of the space.
The staff and owner, who waited on us at the bar, were very friendly and entertaining.
This is,without question, the place in Asheville for oysters, wow! With upwards to 6-8 varieties to choose from and all flown in as fresh can be! Looking forward to going back and trying some of their other offerings. This time around though we enjoyed Louisiana oysters on the half shell---YUMMY!
A bit pricey but then again we are talking FRESH seafood in the mountains of western NC so...you get what you pay for!
A (another) nice place in downtown Asheville I would not hesitate to go back to.
966 characters
4.2
/5
rDev
+11.1%
vibe: 4 | quality: 4.5 | service: 4 | selection: 4 | food: 4.5
Me and my wife ate dinner here a few weeks ago. It was a nice compromise as she wanted something a little fancier and I wanted to have some good beer, lol. Having had their stuff before, I new it would be a good time. Nice, classic feel to the place and the staff was very friendly and professional. The food is off the hook. If you like oysters, wow. This may be one of the best places I have ever been to. Just a really nice place to bring a date and hang out. I would have to say one of the better restaurants in downtown.
525 characters
The Lobster Trap in Asheville, NC
Brewery rating:
0
out of
5
with
0
ratings