BJ's Restaurant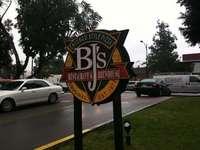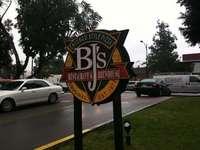 Bar, Eatery
107 South 1st Street
Burbank
,
California
, 91502
United States
(818) 557-0881 |
map
bjsrestaurants.com
Notes:
3.5
/5
rDev
-6.4%
vibe: 3.5 | quality: 3.5 | service: 3.5 | selection: 3.5 | food: 3.5
This location is a pretty typical BJ's all around. They have a good selection of their own beers plus a solid line-up of guest beers on tap and in bottles. The food has always been solid. The service is usually pretty good. Parking can be a slight pain if you have to park in the structure next door.
300 characters

4.28
/5
rDev
+14.4%
vibe: 4 | quality: 4 | service: 5 | selection: 4
My buddy, Gooch, tells me at his apartment "Well, if you're headed to BJ's, it's all downhill from here." Ha! He is a lifelong native with a lot of contacts and he meant that to get to Angeleno and First, the short hike would be downhill and a short block south of Gordon Biersch, where we had recently eaten dinner.
The entry was off of the parking lot off of First St. with an outdoor patio along First and wrapping around to the entry. Coming in, the m.d.s. was dead ahead with the marble-topped, "U"-shaped bar off to the left, along the First St. wall. Between the m.d.s. and the bar was a mix of high tables and chairs and some booths, but especially booth seating along the parking lot wall. To the right of the bar, behind glass, was the chill box with four SVs. Back at the m.d.s., the restaurant area was off to the right, but since I had already eaten and the WoodCompass (TM) always orients to "Bar", I was less than interested.
Back at the bar, my server was an enthusiastic twin-braided chestnut-haired cutie with a helium-voice who was really excited to be my late-night Happy Hour bartender. Madeline Kahn? Not quite. Bernadette Peters? Pretty close. Usually, I eschew personal comments about staff but Oh my, was she cute! In fact, my behavior took a turn for the silly, thanks to my being flirtatious. I left a nice tip.
Back to reality.
Beers: Seven (7) standards - Brewhouse Blonde; Harvest Hefeweizen; Piranha Pale Ale; BJ's Jeremiah Red; Nutty Brewnette; BJ's PM Porter; and Tatonka Stout. Seasonals: NitWit; Irvington IPA Hemp Ale.
The menu sad to ask about "... [their] extensive list of bottle-conditioned Belgian ales!" and so I did, in full Beer Pest mode. Sixteen (16) in all, including Chimay Red et Blue; Delerium Tremens; Duvel; Gulden Draak; Hoegaarden; Kwak; Orval; Lindeman's Framboise, Kriek, et Pomme; Petrus Oud Brune; Saison du Pont; Scaldis; and Westmalle Dubbel et Trippel.
My pick was the IPA/Hemp Ale. I had several glasses before calling it a night.
1,998 characters
3.83
/5
rDev
+2.4%
vibe: 3.5 | quality: 4 | service: 3.5 | selection: 4 | food: 4
I do not know why but the atmosphere of the Woodland Hills BJ's was more inviting than the Burbank BJ's. They both have pretty much the same decor so it is a mystery to me why I think that.
This BJ's is giant. It has two bars and two dining areas. Booths along the walls and tables and chairs in the middle of the two rooms. The main bar has four large tvs in the middle and tvs along the sides. A very large and appealing wooden and glass structure above the back of the bar holds liquor and beer bottles. It is a giant liqour cabinet. The ceilings are high and there are posters of BJ's beers on the walls. Plenty of tvs all over the restaurant to view sports. A nice environment but nothing eclectic or overly exciting about the decor or layout.
The service was good. Our waiter was very pleasant but he needs to stay up to date on the beers they have. He did not know what specialty beer or guset beer they had that night. The hostess was another matter. I am not complaining but she may have been smoking something in the parking lot before her shift. They called us for our table. The hostess starts to walk us down an aisle. Then back to the front. Then back again. She is giggling and very confused. My friend points out an empty booth to her. She laughs makes up some silly giggling excuse and seats us there. I hope she got home okay.
The food is good and fairly priced. They are known for their Chicago style pizza. The group enjoyed their appetizers and entrees except for one person who ordered a shrimp pasta dish. She thought the sauce was too potent and heavy. The food is very American in its style.
The beer selection is good. BJ's makes some good beer. I have always liked their Tatonka stout and their Pale ale. This BJ's has about seven of their beers on tap at a given time. Sometimes they have a BJ's specialty beer on one tap such as an IPA. They have a rotating guest tap at this BJ's and it had Sierra Nevada Celebration on it that night. Others in the group had the blonde and the red. Their red is really popular. They carry a few bottles with a couple of Belgians. Orval and Lindeman's. They also had a couple of Unibroue selections. If you like BJ's beers then the selection is good. If you do not then the pickens are going to be thin.
Overall a good place to come if you enjoy BJ's style of food and beer. It is a place for the family as well as friends. I would come back but it may not be my first choice. Because of their blonde and red, this could be a good place to introduce people to beers who are starting to look for variety.
Note: They have a full bar.
Note: They have growler service.
2,649 characters

3.4
/5
rDev
-9.1%
vibe: 3 | quality: 4 | service: 3 | selection: 3 | food: 4
I used to work right around the corner from the Burbank BJ's taphouse and used to stop in for beers all the time when my best friend was a cellarman.
There's something strange that hangs over this joint, maybe because it's in the middle of the whole "media center" entertainment district, but this store has just never gotten it's act together.
Service is never rude here, but it's amazingly inattentive for the number of servers on the floor. The kitchen seems slow and the whole environment seems leaden.
Beer is mostly provided by a mix of the 4 BJ's SoCal breweries (Brea, W. Covina, Oxnard, Woodland Hills) and as such the most you'll every see here in the tank room is a cellarman clean the serving tanks and blowing beer from kegs into the tanks.
Overall.. just not my favorite of the BJ's establishments.
827 characters

3.95
/5
rDev
+5.6%
vibe: 3.5 | quality: 4 | service: 4 | selection: 4 | food: 4
The Burbank outpost is one of a number in Southern California. I believe the Burbank beer is actually brewed at the Woodland Hills location, about 15 miles away. It's got the typical chain restaurant look and has operated as a couple of different restaurants over the past 15 years or so. It seems to be a place that attracts people because of its convenience rather than the beer. The bar has four big screen TVs with sports on all of them on the weekend. The beer is pretty good. The red ale, IPA, and porter are decent, but the Imperial Stout is better than the rest. I brought a growler home and was happy with it. Growlers can be filled at any BJ's location. The turkey melt and fries were a cut above, and all the food I saw passing me looked good. Not being able to talk to a brewer is a bit of a disappointment, but if you're in Burbank, it's worth a visit.
875 characters
BJ's Restaurant in Burbank, CA
Place rating:
3.74
out of
5
with
8
ratings