British Pale Ale
| 7 Seas Brewery and Taproom
BA SCORE
83
good
12
Reviews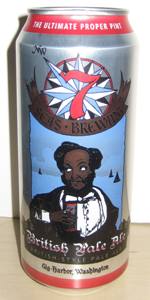 BEER INFO
Brewed by:
7 Seas Brewery and Taproom
Washington
,
United States
7seasbrewing.com
Style:
English Pale Ale
Alcohol by volume (ABV):
5.40%
Availability:
Year-round
Notes / Commercial Description:
No notes at this time.
Added by RedDiamond on 10-27-2009
Reviews: 12 | Ratings: 34
4.81
/5
rDev
+34.7%
look: 5 | smell: 4.5 | taste: 5 | feel: 4.75 | overall: 4.75
This is a great example of an English Bitter. A little on the high side for alcohol but very tasty and perfect hop balance. For those who grew up in England and miss a nice pint this one does the trick. I grab a growler when ever I am passing on my way home from an appointment. (which luckily is not every day) Clear and crisp no cloudy, head retention no up to my Yorkshire standards but very nice all the same.
A pleasant diversion from the HOP obsessed IPA craze that has the US in its grips right now.
507 characters

3.83
/5
rDev
+7.3%
look: 3.75 | smell: 3.75 | taste: 3.75 | feel: 4 | overall: 4
Attractive yellow-amber with plenty of foam in the wine glass. Some fruity hop notes in the aroma. Sprightly and tangy mouthfeel.
Toasty malt flavors, but with a sharpish taste.A little cracker flavor, a little passionfruit. A pleasant gulp with a refreshing edge. From the 16 oz can purchased at Whidbey Beer Works in Oak Harbor for $2.50.
342 characters

3.46
/5
rDev
-3.1%
look: 4.25 | smell: 3.25 | taste: 3.5 | feel: 3.25 | overall: 3.5
Pours with a decent sized light tan head that settles into a nice lacing above a clear caramel copper colored beer that seems to have pretty decent carbonation.
Light citrus hops aroma, that seemed sort of like canned fruit for some reason with a added weird scent coming at the end, not bad or anything just very different and kind of light backgroundish.
A light citrus fruit taste with maybe mango and pears, seems like a different citrus hops taste then NWPA's have. This light citrusy fruit taste has a different kind of taste but in the same way I like the standard west coast hops taste I kind of liked this taste also, just seemed weird that it was the same and somehow different.
A light dryish aftertaste with some of the light fruit tastes hanging around with this medium bodied beer.
A little different taste but decent within itself, I personally think I'll stick to the basic west coast hops style IPA's and pale ales.
936 characters

3.75
/5
rDev
+5%
look: 3.5 | smell: 3.5 | taste: 4 | feel: 4 | overall: 3.5
Poured into a Seattle Beer Week pint glass. Pours a coppery amber with a fine one finger off white head with great retention and lacing. Aroma malty and nutty with a hint of hops. Flavor is subdued biscuit malt, nuts and grassy hops. Although it tastes a bit thin at first sip, the finish and aftertaste bring out more pleasant biscuit malt and nuts. Light to medium bodied, but with a hint of creaminess. A bit underwhelming, but true to style and well made. A nice pleasant light pale ale in the British style.
512 characters
3.45
/5
rDev
-3.4%
look: 3 | smell: 3 | taste: 3.5 | feel: 4.5 | overall: 3.5
**From notes.
Picked up a pint can at Fiamma Burger, decided to save for later.
Pours a lager color into amber body in glass. Head - half finger beige head, Lacing - slippery lacing, both last a while.
Mild citrus, hoppy, lemon, smells like the fruit cups or yellow sweet tarts you used to eat as a kid. Or crayon. Hint of moldy peach and banana.
Taste is just that, tart and dry. Hint or rusty lemon.
Subtle mouthfeel to a quirky wet finish. All the kick is in the aftertaste. Initial feel is pleasant and light. Citrus hints.
Overpaid. But an average lager indeed. Don't know what's British or stylish about it. But ok.
628 characters

3.66
/5
rDev
+2.5%
look: 4 | smell: 3 | taste: 4 | feel: 4 | overall: 3.5
Poured from 16oz can into a pint glass.
Appearance: slightly hazy orange body with two fingers of pillowy ivory foam. A decent-looking brew.
Smell: very mild aroma of slightly citrusy and slightly funky hops. Not bad, but there's practically nothing here.
Taste: nice malty body with a good, plain malt flavor. Hops are pretty mild and tend toward the citrusy and the earthy; they complement each other well. Quite good.
Mouthfeel: medium to medium-light body with a good level of carbonation. This is surprisingly creamy despite its relatively thin body!
Overall: this beer gets some good marks, but it just doesn't grab me. It seems well-crafted enough, but I don't see myself going out of my way for more.
713 characters
3.83
/5
rDev
+7.3%
look: 4 | smell: 3.5 | taste: 4 | feel: 3.5 | overall: 4
16 fl. oz/1 pint can, found 'cross the the river at By the Bottle; poured to a 'proper' pint glass. My first taste from from 7 Seas (woo-hoo, another craft can!), but two things: is it *that* hard to create a more clever name than 'British Pale Ale'?; and how about a new piece of label art? this poor fellow looks like a nattily-dressed chipmunk...
A: An almost perfectly clear copper-orange, a fairly busy bubble swarm. A finger or so of crackly whitish foam; sticky and wide-stretching cobwebs.
S: Nuts and toasty 'English' malt waft from the glass. Pretty good strength, sweet dough and honey tend to take over.
T: A spritzy twist of lemon, a floral grassiness, and lightly toasted biscuit. Just about all you'd want in a BPA. Nutty and malt-veering after an initially more-balanced hoppiness.
M: Light and rather creamy; nearly has the feel of a cask pour. Soothing carbonation and bit of bitter bite in the finish for some cleanness.
D: Very tasty and perfectly session-worthy British Pale (though at 5.4%, a tad stronger than the overseas version). A fine effort by 7 Seas, a pint I'd certainly have again.
1,118 characters

4.1
/5
rDev
+14.8%
look: 4 | smell: 4 | taste: 4 | feel: 4 | overall: 4.5
Poured a deep yellow amber into a pint glass with a finger of frothy white head. Crisp aroma of lemon with a hint of caramel.
Moderate carbonation and a light mouthfeel. Mild lemon flavor up front followed by nutty caramel malt and a pleasantly bitter finish. Very well-balanced while maintaining a light overall feel. Didn't blow my mind with new flavors, but this is one extremely well-executed brew.
403 characters

3.4
/5
rDev
-4.8%
look: 3 | smell: 3 | taste: 3.5 | feel: 4 | overall: 3.5
Clear amber with foamy tan head. Pale malt aroma. Crisp pale malts and light hops balanced well. High carbonation with a clean finish.
Overall, a typical pale ale that's a little darker than you might expect. Certainly easy drinking and refreshing and something you could drink all night.
289 characters
3.5
/5
rDev
-2%
look: 3.5 | smell: 3.5 | taste: 3.5 | feel: 3.5 | overall: 3.5
Served in straight pint glass. Poured an attractive pale copper color with 3/4 of an inch of just off-white head that had low retention and decent lacing.
The aroma was fairly typical for the style, malt and hops blended nicely and well-balanced. The taste was also in the average range for the style, neither the hops or the malt dominate.
Body and drinkability were both also typical for the style. Overall, a fairly typical and average example of the style. Worth a shot if you see it.
490 characters
3.53
/5
rDev
-1.1%
look: 4 | smell: 3.5 | taste: 3.5 | feel: 3.5 | overall: 3.5
Poured a copperish color with good carbonation and a nice white head. Nose is hops, malt, fruit. Taste is a sharp, crisp taste, much cleaner and sharper for this style. Fruikts and floral. English malts. Mouthfeel is rather falt but clean with hops and some toffee. Drinkable, yes.
281 characters
2.85
/5
rDev
-20.2%
look: 2.5 | smell: 2.5 | taste: 3 | feel: 3 | overall: 3
One might call this beer uncarbonated or flat. Or one might call it British. In either case it seemed desperately short of vigor for a non-cask ale. BPA is clear bronze and is dominated by an assertive yeast variety in the aroma and taste. I might have guessed that the absent hop flavor was by design, but 7 Seas' beer placard boasts of nonexistent "earthy hop notes." It also speaks of "a clean, snappy finish" which BPA does possess. Bittering is integrated and smart. The rest of the beer is simple and somewhat thin.
521 characters
British Pale Ale from 7 Seas Brewery and Taproom
3.57
out of
5
based on
34
ratings.