The Deuce
| Sun King Brewing Company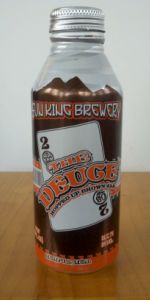 BEER INFO
Brewed by:
Sun King Brewing Company
Indiana
,
United States
sunkingbrewing.com
Style:
American Brown Ale
Alcohol by volume (ABV):
7.00%
Availability:
Limited (brewed once)
Notes / Commercial Description:
No notes at this time.
Added by TwelveOunces on 10-29-2012
This beer is retired; no longer brewed.
Reviews: 5 | Ratings: 31

3.49
/5
rDev
-5.4%
look: 5 | smell: 3.5 | taste: 3 | feel: 4 | overall: 3.75
As the 1,000th and a Deuce CANQuest (TM) review, my utmost thanks goes out to Anther6Pack! What The Deuce is this?!? I was told deuces are wild and now I am handed a Subpoena Duces Tecum! I am riding the first deuce-and-a-half into town to get this resolved! "Oof! Did you get served?!?!" I am almost always served as I rarely get cut off, except when I am riding my 2003 Harley-Davidson Softail Deuce.
Enough with the jokes! I have a screw-top CAN of beer to review!
From the CAN: "A CANlaboration by Sun King Brewery [&] Oskar Blues Brewery"; "Pack It In, Pack It Out"; "Made Possible by Ball[,] cask.com[,] Silgan".
First off, let me reiterate that this is NOT the medium from which to CANduct an aggro pour! On a previous CANBottle review, I splashed beer into my keyboard and this time, I got a huge gush that could barely be CANtrolled, causing the loss of ~ 2 fluid ounces. While I rushed around to clean up the mess and overflow, it created two dense, rocky fingers of deep-tan head that eventually collapsed inwards to look like a fallen souffle. Color was a deep-brown with minimal light penetration, allowing me to see ruby/garnet highlights (SRM = > 34, < 44). Nose had a slightly sour quality, something that I have been noticing in Brown Ales lately, along with the usual chocolate malt sweetness. Mouthfeel was full, creamy, really. It tasted like a dark chocolate milkshake, if anyone ever made such a thing. The sour smell translated to a deeply smoky flavor in the mouth and on the tongue, followed by a very chocolaty taste. The finish was slightly charcoal, making it more dry than I am used to in the style. It was still chocolaty, but it had a burnt, overcooked quality that would cause me to give it a pass on a second go-'round of The Deuces.
1,776 characters
4.04
/5
rDev
+9.5%
look: 3.5 | smell: 4.5 | taste: 4 | feel: 3.5 | overall: 4
A canned collaboration between Sun King and Oskar Blues breweries. This is a kinda strange beer - it's a really hoppy brown ale. Appearance is brown, of course, with somewhat minimal head. Nothing special here. The aroma starts to get interesting, though.
The strong citrus, pine hoppiness is a surprise after looking at a brown ale. It's really a pronounced hop aroma, with little else. I like it. The taste follows with a hop dominated flavor, though it's supported with nice brown malt that makes it come together a little like an IPA, except with brown malt instead of caramel. It's a fairly unique combination of flavors that works for the most part.
I don't know if I would go for this style all the time, but I certainly have enjoyed it as a change of pace so far.
775 characters

3.2
/5
rDev
-13.3%
look: 3.5 | smell: 3.5 | taste: 3 | feel: 3.5 | overall: 3
Picked up a single for $5.99 because I didn't want a 4 pack at $20. Kind of pricy for the contents.
Pours dark brown. Faint off-white head and little lacing.
Big hop aroma from this one. Pine and citrus fruits. A little chocolate malt, but very hop forward.
Big bitterness up front. Orange, lemon and pine hop flavors along with a little roasted malt and nutty bread. Kind of weird as the mellow brown malt body clashes a bit with the intense hoppiness and this is coming from a hophead.
Medium to light bodied. At times was a bit watery. Lots of carbonation makes a crisp finish.
Interesting, but didn't do much for me. Tasted more like someone dumped a bunch of hops in a brown ale than any cohesive effort. Also the price point even for SK offerings is much too high.
775 characters

3.8
/5
rDev
+3%
look: 4 | smell: 4 | taste: 4 | feel: 3 | overall: 3.5
A-Clear brown when pouring. One finger tan head and black in the glass.
S-Nuts, roasted malt together with a lot of hops. Smells similar to some Black IPAs.
T-Nuts, roasted malt, caramel, grassy hops, not much bitterness when compared to the nose.
M-Light in body, not much carbonation and a tad watery as well.
O-The balance between the hops and the malt was off. Can't believe I'm saying this but toning down the hops would have made this beer better.
457 characters

3.97
/5
rDev
+7.6%
look: 3.5 | smell: 4 | taste: 4 | feel: 4 | overall: 4
Resealable 16oz can poured into a snifter
A- Pours extremely dark brown, turns black in the glass.Very little of an off white head.
S- The nose on this beer is ALL hops. A ton of orange, pineapple, lemon. A slight bit of pinecone. Malt's are subtle but sweet and earthy.
T- A slight bitterness at first. The bright citrus hop profile sweeps over and dominates the beer. A ton one orange and pineapple make up most of the flavors. The malts, although second to the intense hoppyness, are definitely in favor of a brown ale. There is a slight nuttyness, very earthy, and almost a tad roasty.
M- This beer is on the bitter side of a brown ale. It remains very drinkable and smooth and comes with a crispy clean finish. It is a clean and none offensive beer that comes with a load of flavor.
O- Although this is quite pricey it is a worthy one off collaboration beer it's worthy of a try. It has the malts of a brown and the hops of a citrusy IPA. More of a black ale then anything but whatever it may be, its worth checking out.
1,030 characters
The Deuce from Sun King Brewing Company
3.69
out of
5
based on
31
ratings.