Everybody's Brewing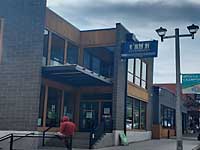 PLACE INFO
Type:
Brewery, Bar, Eatery
151 E. Jewett Blvd.
White Salmon
,
Washington
, 98672
United States
(509) 637-2774 |
map
everybodysbrewing.com
Notes:
No notes at this time.
Added by RedDiamond on 07-30-2009
Reviews: 13 | Ratings: 26

3.82
/5
rDev
-5.4%
vibe: 3.75 | quality: 3.75 | service: 4 | selection: 3.75
The excellent view of Mt. Hood is one of the virtues of this brewpub. Their beer is good although I didn't try anything great. Friendly service. A few guest taps in addition to 11 taps of their own brews.
208 characters

4.53
/5
rDev
+12.1%
vibe: 4.75 | quality: 4.5 | service: 4.5 | selection: 4.5 | food: 4.5
Packed on a Sunday evening. Original folk/Rock/acoustic band. Awesome back patio with view of snow covered Mt. Hood, across the Columbia River in OR. Best pork nachos. Very good beers too! Super cool vibe.
205 characters

3.98
/5
rDev
-1.5%
vibe: 4 | quality: 4 | service: 4 | selection: 4 | food: 3.75
Stopped in for lunch on a Sunday. Nice looking place. The service was great. The four brews that we tried were all good, with the red sour being great. We only had the nacho, but they were outstanding. This is a place to stop at on the 14.
239 characters
3.13
/5
rDev
-22.5%
vibe: 3 | quality: 3.5 | service: 3.5 | selection: 2 | food: 4
Several beers were unavailable, a disappointment when it's one of the beers you've convinced yourself you have to try. The vibe here was off, not extremely welcoming or cozy or all of the things you want a brewery to be. The food was great though incredibly overpriced.
269 characters
3.75
/5
rDev
-7.2%
vibe: 3.5 | quality: 3.75 | service: 4 | selection: 3.5 | food: 4
This place is awesome, however if your not a local it can be a little off-putting. But the wait staff will still treat you very well so go in there! Its only the locald that will look at you funny for being in there, but screw them they dont own the place!The pulled pork burrito is amazing!
291 characters

3.91
/5
rDev
-3.2%
vibe: 3.75 | quality: 4 | service: 3.75 | selection: 4 | food: 4
i love this place. the beers are solid, and the food is really really good. they have good options to choose from, and i've never had a bad meal here. the service is always really good as well, i've stopped in on really busy nights just for a growler fill and the bartender fills me up right away. usually pretty busy, but if you have to have a beer or two and wait it's worth it.
380 characters
3.71
/5
rDev
-8.2%
vibe: 4 | quality: 3.5 | service: 3.75 | selection: 4 | food: 3.25
A: We pulled up on a Sunday at 11AM(thirty minutes prior to openeing) and hung out for a bit. We were amongst the first few in the door and pretty much seated ourselves. The place is beautiful inside with lots of wood, just a well taken care of clean establishment. You wont find a whole bunch of TVs, just some good conversation. Inside at the bar you can snag a peek of Mt Hood or you can head out to the patio with an unobstructed view of Mt Hood. Beautiful. Very laid back place, a mix of visitors and locals starting streaming in shortly after they opened but I was really impressed by the vibrance and beauty inside. I'm an old rustic, historian kind of guy an I just dug the place in general. Relaxing.
Q: I've had a good amount of Everybody's beer over the past couple of years and have yet to have a bad one. Many of them I did not particurally care for but that does not mean they're bad. Today I had a rotating tap IRA which was nice.
S: Our server was nice and prompt, very accomodating considering we had a wild and crazy infant present. We waited a little while on the food but no big deal.
S: They had all of their staples plus a few one offs and guest taps. Pretty much anything to make anyone happy but they have yet to make a bwine, damn it.
F: Food was good. My gyro was very good but a tad to generous on the lettuce. My fried was sordove thin and stringy. Decent pubgrub.
1,397 characters
4.11
/5
rDev
+1.7%
vibe: 4.5 | quality: 4 | service: 4.25 | selection: 4 | food: 4
Stopped in for dinner after Solera Brewing and on my way to Walking Man to complete my Hood River visit.
Had a burger for dinner along with their Bo Brah Bitter or something like that. Both the food and burger were above average but not mind-blowingly amazing.
Bartender was quick and courteous and quick to as for a replacement beverage of which I sampled their Little Sister IPA, once again good. This place would have been amazing to sit outside but it was raining, thanks Oregon, so alas I could not. The rotating selection and above average atmosphere make this a recommended stop on your way to or from Hood River/Portland.
633 characters
3.63
/5
rDev
-10.1%
vibe: 3.5 | quality: 3.5 | service: 3.5 | selection: 4 | food: 3.5
Went for a day trip drive from Porltand to Government Camp and Mt. Hood, and finished off with a stop here for lunch.
Everybody's brewing is a bit difficult to find, as the brewpub still has the Goodwill sign over the top of the building, and the brewpub's name is written in fairly small letters on the window. As one walks in from Jewett Street, there is a sign at the door that says "everybody's here." Pretty funny, but also pretty inaccurate on the Monday we stopped by around 1:15. We had the brewpub practically to ourselves.
In any event, EB still has the look of a fairly new spot, with lots of wood everywhere and not much in the way of decorations. It's gives the place something of a stark appearance. Otherwise, the dining room is modeate size, but there's also outdoor seating on a back patio, and they have a small couch and chairs set-up by the window to your left as you come in from the street. The bar area (holding around 10 seats or so), is in the back to the right. In any event, the young women working here were quite friendly, and this seemed like a nice place to hang out with a beer or two.
On this day, EB had 10 house beers on tap, with 6 guest beers as well (Stone smoked porter, Double Mountain kolsh, green flash IPA, rainer and spaten pils come to mind). There were three house IPA's and DIPA's, along with a porter, a "common ale," and a brown ale, among other things. I found the country boy IPA to be pretty tasty, but was not impressed wit the Big Brother DIPA.
Food was OK. We got the nachos and a common salad, and while neither was memorable, they were enjoyable and tasty. As already mentioned, the servers were friendly and quick (to be expected, given the lack of customers when we arrived). I'm not sure how knowledgeable they were about the beers here... they didn't offer any information about the brewpub or any of the beers (to us or anyone else, from what I could hear). Prices were fairly reasonable. Except for the DIPA, 12 ounce glasses were $3.50 and pints were $4 (my 12 ounce glass of BB was $4).
Shrug. Nothing wrong with EB, but my experience wasn't so memorable that I can see coming here again any time soon. Hood River is only 5 or 10 minutes away (depending on the back-up on the bridge), and all the breweries/brewpubs there provide a superior beer and dining experience to what you'll find at EB. So no real reason to go here (White Salmon is an interesting, cute little town, but it's not THAT cute and interesting).
2,488 characters
4.45
/5
rDev
+10.1%
vibe: 4 | quality: 4.5 | service: 4.5 | selection: 4.5 | food: 4.5
I made the trip out about a week ago just to check the place out. I already know I love their beer from the few around town I have had... and while there i had a 12 taste sample tray. Almost each and every beer was great, and the Bro Brah ESB was amazing. The flagship IPA Country Boy IPA was super good too.
I showed up there right at opening at 11:30am. The service was very good, and they were not afraid to get involved in some good conversation about the beer, and the food that I heard was great.
The best thing i though was how clean the place was, and the glass was getting cleaned too before they opened. I just felt really comfortable and clean there... which is different from some joints that are just dirt holes.
I tried the Mac & Cheese, it was killer.. but I didn't have the full meal, my buddy did and I just tried his. I was there to get some beers down. I did have some nice simple chips and salsa. The menu looked great, and I am going back this Thursday to try the Cuban Pork Sandwich.
Certainly a fantastic spot with great service.
1,060 characters
3.83
/5
rDev
-5.2%
vibe: 4 | quality: 4 | service: 4 | selection: 3.5 | food: 3.5
I started wondering why this place doesn't have many reviews, but once I got to the town of White Salmon, I understood why: because it's in the town of "White Salmon." The places people live these days. Don't get me wrong, it's a nice little town, but who would ever go there? Not only that, but apparently the main road going out of the town was shut down a year or two ago, and thanks to them probably not knowing what a GPS even is, my GPS found no other alternative for leaving. I thought I was in some X-Files town that I'd never escape. But anyway... Fortunately it's conveniently located just minutes from Hood River, so we made a point to stop in on our day trip from Portland.
Basic layout here, nothing fancy, sort of lodgey atmosphere. With not many other bars in the area, you get a pretty interesting mix of clientele here. The bar is small to medium sized, and there's plenty of standing and sitting room elsewhere, even though the place is pretty small. Service was fine. They had a good selection of house brews on tap, with a few choices of APAs and IPAs. Not really big on stouts I guess, though they had a porter and a winter warmer. Comfort foods on the menu, and prices were all reasonable.
This place is definitely worth hitting up if you, like myself, are doing a jaunt between Hood River and Portland. Seems like it would be fun in busy hours.
1,369 characters
4.43
/5
rDev
+9.7%
vibe: 4.5 | quality: 4.5 | service: 4 | selection: 4.5 | food: 5
On a recent beer trip to the Gorge we decided to cross the river and try out this new location!
From the outside, it was hard to tell this was everybody's brewing, a small sign above the door was the only indication. Entering, it was very minimal, old style wooden seats, large picnic tables, painted skateboard decks on the wall, a small bar, really nothing thats in your face. Very low key style is what made this place a treat, It didnt have the applebees experience that you can get with some brewpubs these days, it felt like something you and a couple friends could easily create and love.
Beer was exccelent had a oatmeal stout, and a esb, very good quality brew's could tell there was some expertise that went into them. Service was good, our waitress stopped by often and was always asking if we needed anything. We shared a plate of nachos, and they had to be one of the best things I have ever eaten.
Huge portion of homemade chips, piled high with cheese, giant strips of pulled pork, an amazing creamy cheese sauce, and jalepenos. My words can not do justice how good these nachos were. I've rarely had that orgasm feeling from food, but I had to go to the bathroom several times to make sure I didnt cream myself.
Overall, we would make the visit again. We go to hood river often for the beer there, but its well worth the 75 cent there and back to drive over the bridge to hit up everybody's brewing.
1,419 characters
4.2
/5
rDev
+4%
vibe: 4.5 | quality: 4.5 | service: 4.5 | selection: 3.5 | food: 4
Though the Gorge's newest brewpub has only just begun brewing, I'm very encouraged by what I've seen so far. First, the brewpub is a handsome mix of historic charm and modern comfort. Good lighting, clean, wooden lines, and a relaxed vibe pervade. Beer glasses are a distinctive bent ovoid shape that grips well to the hand (no shaker pints). Food is fresh, simple and prepared with attention to detail. And the first two beers from the half-Japanese brew house were terrific. On top of that, they host live music and the rear patio affords pristine views of Mt. Hood.
The patio and brew house extend outwards from the original building, which once served as a gun and liquor store. (That's one store selling both guns and liquor). From the patio you can look down on the brewery as you might at the original Laurelwood in Portland. The basement level 20 hectoliter (17-bbl) brewery is poised to deliver far more beer than the pub will serve. Look for draught accounts popping up in Portland and the gorge by 2010 followed by bottled or canned beers.
Unfortunately, the building next door to Everybody's burned to the ground just a week after they started serving house beers. Everybody's suffered smoke and water damage but is expected to bounce back, ultimately offering 6 regulars, 2-3 seasonals, and 3-4 guest taps. Recommended.
1,336 characters
Everybody's Brewing in White Salmon, WA
3.71
out of
5
based on
363
ratings.