Brew 1000 - Bourbon Barrel Aged
| Fremont Brewing Company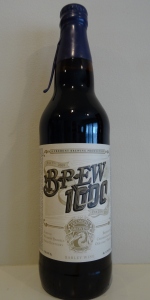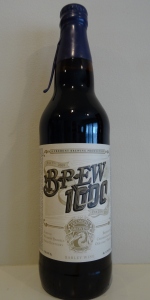 BEER INFO
Brewed by:
Fremont Brewing Company
Washington
,
United States
fremontbrewing.com
Style:
British Barleywine
Alcohol by volume (ABV):
13.10%
Availability:
Rotating
Notes / Commercial Description:
Fremont Brewing Company began as a dream in 2008. Years later, our dream has come true in each and every one of you, our craft beer family. And like every family, we have had our ups and downs but we keep coming back together knowing we are stronger together. In your hands is a special nod to you, a gift for now that will continue to give many years from now should you have the patience to wait...Brew 1000. This English-style barleywine uses floor-malted English barley, Noble hops and extended bourbon-barrel aging to bring you a complex and subtle craft beer flavor experience. We brewed this to celebrate brewing our 1000th brew and we look forward to sharing it with you, our craft beer family. It is said that 1000 represents the immortality of happiness and we hope this beer brings you immortal happiness, or at least one fun night...Because Beer Matters!
Down & Dirty: Mars Otter Pale and Carafa malts, White Wheat, with Magnum and Golding hops.
This beer is retired; no longer brewed.
Reviews: 38 | Ratings: 201

4.7
/5
rDev
+2.4%
look: 4.5 | smell: 4.5 | taste: 4.75 | feel: 5 | overall: 4.75
A: Rich darkness with some caramel amber tones on the rim of the glass.
S: Bourbon-forward vanilla with a slight note of toasted grains and fig.
T: It has a slight hint of alcohol on the back end but not over powering for 13%. Rich cherry, fig notes at first followed by some of the toasted barley grains to finish.
F: Smooth as butter. Rich and creamy.
356 characters

4.6
/5
rDev
+0.2%
look: 4 | smell: 4.5 | taste: 4.75 | feel: 4.75 | overall: 4.5
22oz into a tulip. Pours a deep chocolate mahogany w/ a 1-finger khaki head.
Aroma is sweet dates and figs, toffee, vanilla, caramel. Bourbon and molasses. Smells sticky and rich.
Taste follows nose. Bittersweet, complex, rich. Dark dried stone fruits, toffee, vanilla, bourbon-soaked pipe tobacco. Alcohol well hidden but there's an underlying heat here that pulls everything together.
Mouthfeel is thick and heavy, velvety smooth, good carbonation, lingering aftertaste.
Overall a big, complex sipper of a beer. Somewhere between English barleywine and old ale.
567 characters
4.72
/5
rDev
+2.8%
look: 4.75 | smell: 4.5 | taste: 4.75 | feel: 5 | overall: 4.75
A - Poured an opaque dark brown colour and settled almost black with a thin layer of mocha coloured head.
S - A perfect mix of sweet caramel and raisin notes from the base beer and rich bourbon, toasted oak and vanilla from the barrels.
T - There's a lot going on here: caramel, molasses, raisin, fig, bourbon, toasted oak, vanilla and just a touch of alcohol heat. The flavours all come together beautifully. Smooth.
M - Full body. Thick and chewy.
This lived up to the hype. I am always skeptical when a beer has only a small number of reviews and such a high rating, but this is worthy.
602 characters
5
/5
rDev
+8.9%
look: 5 | smell: 5 | taste: 5 | feel: 5 | overall: 5
Holy sophistication, Batman! It's almost impossible to believe that this smooth as silk beauty weighs in at 13.1% Incredibly complex offering with subtle nuances ranging from bourbon and coffee to plum, chocolate, fig, date, graham cracker, prune, cherry and vanilla.
Absolutely mind-blowing, and a truly fitting tribute to Fremont and its loyal cadre of imbibers!
365 characters

5
/5
rDev
+8.9%
look: 5 | smell: 5 | taste: 5 | feel: 5 | overall: 5
I think my highest score.
Bottle. Pours a deep brown, and looks black unless held up to a light.
Smell is deep brown sugar, toffee, and bourbon.
Taste follows, with a sweetness that is warmed by the alcohol and then brisked away by the bournony finish. Leather and oak linger long after it is gone.
A mild carbonation plays perfectly on the tongue and really adds to the final taste.
Wish I had more of this. One of the best of class.
434 characters
4.94
/5
rDev
+7.6%
look: 5 | smell: 4.75 | taste: 5 | feel: 5 | overall: 5
I only got my hands on one and sweet lord that was something! Such an easy drinker I could have drowned. Beautifully well crafted and smooth smooth smooth.
155 characters
4.47
/5
rDev
-2.6%
look: 4 | smell: 4.5 | taste: 4.5 | feel: 4.5 | overall: 4.5
Pours clear amber... Nose is thick vanilla caramel with a big toasty maltiness.. tons of wood and bourbon essence melts into a big malty sweetness.. Immediately reminds me of Wooden Hell.. Probably the best Barley Wine I've had in a couple years. Huge winner is going on my wants tonight!! Thanks a bunch Deggar!
4/4.5/4.5/4.5/4.5
331 characters
4.76
/5
rDev
+3.7%
look: 4.5 | smell: 4.75 | taste: 4.75 | feel: 5 | overall: 4.75
The beer pours a fairly dark brown color with excellent head retention and considerable lacing. On the nose, the beer smells great. There's considerable bourbon in the aroma, but I also pick up milk chocolate, vanilla, light coffee, brown sugar and maybe even some plum. The flavor profile replicates the nose pretty closely, but the mouthfeel is amazing. It's very full of course, and there's not a sharp edge anywhere. The beer is very soft and creamy, and the alcohol blends in seamlessly into the flavor profile. You can tell this is a big beer, but the alcohol is exceptionally well integrated into the flavor profile. The finish in this beer is nearly endless.
Stunning. Easily one of the finest barleywine's I've ever sampled. Fremont brewing continues to knock it out of the park.
800 characters
5
/5
rDev
+8.9%
look: 5 | smell: 5 | taste: 5 | feel: 5 | overall: 5
This may be the most astounding barleywine I've ever tasted. A plethora of winy, red fruit skins, smooth bourbon, port/sherry, molasses, raisins, chocolate, prune, plum, clove, vanilla, pecan pralines, tobacco, toasted coconut and old leather. All these esters are rich, deep and very intense, while, simultaneously coating the palate in a gentle and refined way. The finish is nearly infinite, and while this is quite sweet, it never crosses over into the realm of cloying.
Fremont continues to astound my palate, particularly when it comes to their barrel aging program, and I think this masterpiece is its crowning achievement.
633 characters

4.25
/5
rDev
-7.4%
look: 3.5 | smell: 4 | taste: 4.5 | feel: 4.25 | overall: 4.25
2015-09-30
22oz purple-waxed/capped bottle served in a large snifter. Roughly a third of the beer left in the bottle (for my wife when she comes back from kids' bed time), so I should have little or no sediment. I think it's only a single batch, so I'll not worry about dates.
Pours black with a tiny ring of head that neither fades nor grows. Modest amount of very fine, very slow carbonation. I would not expect an English Barleywine to be so black, although I would be more open-minded for an American Barleywine. Putting a bright light behind it, I can see that it's really a very dark, cloudy brown. Smell is "Jesus, bourbon." Chocolate, vanilla, and alcohol.
Taste is surprisingly sweet and soft. Bourbon takes a step to the side, and it's super fruity sweetness instead. Alcohol bite keeps it from being cloying, however (although this is an EXTREMELY rich beer, and I would recommend sharing a bomber rather than consuming the whole thing). A little, tiny hint of tea that reminds me of Newcastle. I feel like I could keep on sipping this and detecting new stuff.
Mouthfeel is thin, slick, silky. Overall, very good beer.
1,132 characters

4.85
/5
rDev
+5.7%
look: 4.75 | smell: 4.75 | taste: 5 | feel: 4.75 | overall: 4.75
Another fantastic BA Fremont. Deep brown, thin tan head. Bourbon, vanilla and a good amount of tobacco. A little bit boozy, but doesn't feel like 13%. Very sweet. I am terribly pleased. Worth the twenty bucks? To me, absolutely. Glad I bought extras.
250 characters
4.93
/5
rDev
+7.4%
look: 4.75 | smell: 4.75 | taste: 5 | feel: 5 | overall: 5
If you soaked a fine Italian belt in caramel, toffee, bourbon, sherry, vanilla, coconut, maple syrup, and a soupcon of tobacco, then let it sit, under ideal conditions, for a very long time, before gently wringing out the belt into a glass, you might end up with something like this. The flavors here are deep, delicious, and seem to go on forever. It is also as smooth and lush as liquid velvet. A truly worthy monument to all that Fremont has done since their inception.
475 characters
4.3
/5
rDev
-6.3%
look: 4 | smell: 4 | taste: 4.5 | feel: 4.5 | overall: 4.25
L: dark brown with some awesome ruby highlight, virtually no head, leaves some legs in the glass when swirled. Pretty damn good looking dark English style barleywine.
S: has some dark fruit in the nose (prunes, dried currant) nice warming alcohol in the nose. Has a slight sherry note.
T: taste follows nose nicely. Dark fruit, sherry like quality. Has a little caramel and bourbon. Lot of alcohol but not super harsh or hot. Just nice and warming. Great taste.
F: super chewy! Just coats the mouth and won't go away.
I: super solid BA barleywine. Will probably thin out with age and I recommend drinking fresh
613 characters
Brew 1000 - Bourbon Barrel Aged from Fremont Brewing Company
Beer rating:
4.59
out of
5
with
201
ratings