Cowiche Canyon Organic Hop Lab #1
| Fremont Brewing Company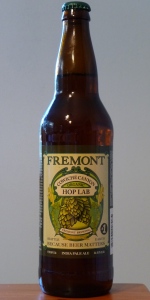 BEER INFO
Brewed by:
Fremont Brewing Company
Washington
,
United States
fremontbrewing.com
Style:
American IPA
Alcohol by volume (ABV):
6.00%
Availability:
Limited (brewed once)
Notes / Commercial Description:
No notes at this time.
Added by dirtylou on 04-01-2012
This beer is retired; no longer brewed.
Reviews: 15 | Ratings: 37

3.92
/5
rDev
-4.4%
look: 4 | smell: 4.5 | taste: 3.5 | feel: 4 | overall: 4
Poured into a Black Raven pint glass. Pours a medium orange amber with a nice two finger fine white head with good retention and great lacing. Nice aromatic aroma of herbal and piney hops and sweet malt. Flavor is citrus, piney hops, grapefruit in the middle. Finishes somewhat thin and dry, but pleasant malt and hops. Hops are not as defined as the smell, and the flavor seems a bit subdued. Pleasant medium body. Could use a bit more herbal hop intensity in the middle and finish, but nicely balanced and tasty IPA as expected from Fremont.
543 characters
4.32
/5
rDev
+5.4%
look: 4 | smell: 4.5 | taste: 4.5 | feel: 4 | overall: 4
A: Poured a nice transparent light copperish color with good carbonation leaving a nice white cap, bubbles and decent lacing
S: Bready with a very citrus and tropical fruit bouquet. I almost thought there was a slight onion to it as well
T: Some toasted malt with a nice juicy citrus punch, like Capri Sun, with a slight onion charachter and a mildly slick, bittering finish
M: Lighter bodied, excellent flavor, well carbonated, a bit slick at times
O: Another good IPA by Fremont I will drink again.
504 characters
4.13
/5
rDev
+0.7%
look: 4 | smell: 3.5 | taste: 4 | feel: 4.5 | overall: 5
Hated 22oz bottle into 10oz goblet. Poured an extremely attractive orange-amber color with an inch of white head that had very good retention and lacing.
The aroma was very good, a bold hop scent featured pine and citrus on a foundation of grain and malt. The flavors were the same, just notably brighter and bolder. The beer drank cleanly and the tasty hops lingering nicely.
The body was very good, fuller than typical, but not heavy or thick. The beer was crisp and clean with a dry finish. Drinkability was excellent, the 22 disappeared too quickly, another reason why why this should be in 12oz six-packs, I probably would have drank a whole sixer. Overall, an excellent brew. A must try if you see it and certainly worth setting up a trade for. A great beer, congratulation Fremont!
790 characters
4.44
/5
rDev
+8.3%
look: 3.5 | smell: 4.5 | taste: 4.5 | feel: 4.5 | overall: 4.5
Huge thanks to ArchEnemyBrew for sending this beer my way! Thanks Hollis!
reviewed from notes 7/15/12.
22oz bottle poured into a tulip glass.
Appearance: Fairly standard looking IPA. A pale golden orangish bodied beer with a solid 2 fingers of white head on the beer. Leaves a decent lace behind on the glass.
Smell: Really big citrus notes of lemons, oranges, and grapefruit. Its also got mild fruity notes peaches and pineapples. Its got a bit of grassiness and pine in there too, but they play a minor role compaired to the crazy citrusy / fruity hops notes coming off this beer. Smell rediculous!
Taste: The beer is moderately bitter during the first few sips and just kind of settles in as a smooth mild hop bitterness through out drinking the rest of the beer. Citrus hops are the star just like in the nose! Oranges, lemons, and grassiness are big flavors in this beer. The pine and grapefruit seem to find themselves together, but are not adding very much of a bitter bite to the beer. Man this is seriously goood!
Mouthfeel: light bodied beer with moderate carbonation. Sooo drinkable. Carbonated perfectly. This is what makes the beer over the top.
Overall: This is one of my favorite IPA's! Its just a good as Blind Pig... Its not quite as bitter and even more flavorful; coupled with world class drinkablility. Fremont has some of the most drinkable and flavorful hoppy beer out there. Amazed! Fremont is just killing it! Its almost silly how great these fremont brews really are...
Serving type: bottle
1,524 characters
3.94
/5
rDev
-3.9%
look: 4 | smell: 5 | taste: 3.5 | feel: 3 | overall: 4
22oz bottle, and I love Freemont's IPAs.
A - Pours a clear, dark orange with a small near-white head. Good retention and lots of lacing left on the glass.
S - Grass, herbal, and sweet mangos, oranges, and tangerines. Smells great.
T - Bitter grass and some slight citrus.
D - Lower carbonation for the style and an average body.
O - A wonderful boutique and aroma, the taste is bitter but the citrus helps to save it a bit.
429 characters
4.2
/5
rDev
+2.4%
look: 4.5 | smell: 4.5 | taste: 4 | feel: 4.5 | overall: 4
22oz bottle, appears to be the 1st (excluding the fresh hopped beer from last fall) in a line of cowiche canyon organic IPA's
appearance: served in my hilliards can-pint, bright orange body, bubbly white film, nice retention. looks good in the sunlight flooding in through my kitchen windows
smell: aromatic hops - some lush citrus, pineapple, lemon zest
taste: "brewed exclusively with organic Citra and Simcoe hops grown in the Cowiche Canyon of the Yakima Valley." I dont know exactly what Fremont is up to with this hop farm, but i wholeheartedly support it, along with everything else they do. This IPA has a great hop profile showcasing two of everyone's favorite hops - bright citrus, pineapple, lemon, moderate bitterness, a leafy freshness, finishes with a little more grain than i'd prefer but overall really nice.
mouthfeel: oily, body is spot-on, bitterness fairly light
overall: another winner from Fremont
935 characters

4.08
/5
rDev
-0.5%
look: 4 | smell: 3.5 | taste: 4.5 | feel: 4 | overall: 4
Pours a sunny pale orange color, with a bright white head, nice lace. Aroma is big floral hops, citrus, and a bitter astringency. Bits of malt sweetness comes through. Taste is nice juicy citrus, flowers and grass, subtle but consistent bitterness, with a light bready malt backbone.
The feel has a cream quality, mild crisp carbonation, and a lighter body that works quite well.
Overall, this is a quite nice, well put-together IPA. Great drinkability.
457 characters

3.92
/5
rDev
-4.4%
look: 4 | smell: 4.5 | taste: 3.5 | feel: 4 | overall: 4
A: Clear amber with a reddish hue. Forms a sizable, rocky head that slowly reduces down to a thick surface coating and a thick ring around the edges. Some spotty lacing.
S: The aroma is pretty damn good: toasty malt backbone with a blend of citrus hops, grapefruit, and pine with orange to a lesser extent and just a faint hint of onion.
T: Unfortunately the taste is not as spectacular as the aroma as the toastiness seems to dominate on both the front and back ends. The middle showcases turns a bit watery and offers up some moderate grapefruit hops before turning piney. Finishes with more toast and a resiny earthy bitterness that gives the beer a "dirty" feel to it
M: On the lighter side of medium in body. Appropriate carbonation. Moderate bitterness.
O: I had some high hopes for this beer and while the aroma had me, the taste didn't. Still a better than average IPA with a decent drinkability to it.
918 characters
4.04
/5
rDev
-1.5%
look: 4 | smell: 5 | taste: 3.5 | feel: 4 | overall: 4
22oz bottle poured into a large mug
Pours very slightly cloudy, very slightly coppy clear with a thin pale head and a fair amount of carbonation. Smell is delicious. Seriously delicious. Pungently sweet and flowery with a piney backbone.
Taste is a bit muted, but tasty. A lot of the sweetness and floweriness is lost or damped. I get a lot of hay maltiness.
Mouthfeel is light and smooth. Overall, this is a pretty good beer.
429 characters
3.5
/5
rDev
-14.6%
look: 3.5 | smell: 3.5 | taste: 3.5 | feel: 3.5 | overall: 3.5
22oz bomber purchased at Bottles in Millwood, WA, for $4.99. No freshness date.
Poured an orange-amber color, with an off-white head of unremarkable size. There's a fair amount of chill-haze.
The nose of this beer is made up of citrusy hops.
Citrusy hops hit the taste buds first, with a more bitter hop flavor then kicking in. Not much malt flavor here, just barely being detectable in the background. Things end on a dry note.
While most of the flavor of this beer is hops, it's oddly enough not as hoppy as I would expect such a beer to taste. Perhaps the hops are already fading, or perhaps Citra and Simcoe hops aren't a flavorful as I thought they would be. Anyway, this is a decent but not terribly remarkable IPA from Fremont, who have done better with other IPAs.
776 characters

4.27
/5
rDev
+4.1%
look: 4 | smell: 4.5 | taste: 4.25 | feel: 4 | overall: 4.25
22oz bottle into a tulip. Pours a slightly hazy coppery orange w/ a sticky, frothy head that leaves some thin lacing.
Aroma is clean tropical citrusy piney hops - great balance of hoppy aromas, none dominant.
Taste is clean biscuity pale malt and tons of fresh, resinous hops. Tastes clean and pure; the water is a key ingredient here. Goes down almost too easy.
Mouthfeel is dry & refreshing, crisp finish.
Overall this is a delicious, thirst-quenching IPA. I could drink this all day long and never tire of it. Yet another home run from Fremont. I will drink anything they brew, especially if it has the words "Cowiche" and "Canyon" on the label.
652 characters

4.4
/5
rDev
+7.3%
look: 4.5 | smell: 4.5 | taste: 4.5 | feel: 3.5 | overall: 4.5
Pours hazy light orange with a big sticky off-white head leaving spotty lacing.
Lots of big tropical fruit aromas along with a little hint of candied grapefruit. Hop forward, but malt is still present. A little dank as well.
Flavor profile is a bit different than the aroma. The tropical fruit flavors are a bit more subtle. Strong citrus, especially grapefruit pith hits up front. A touch of malt for balance before finishing resiny and dry along with more bitter grapefruit.
Carbonation levels are good, but the body seems a touch thin. Maybe just a bit more malt would make this one perfect.
Pretty good beer for experiment #1. Didn't read the bottle until I had written the heart of my review, but you can't go wrong with Citra and Simcoe. Great flavors and aromas. Only thing that could use improvement is mouthfeel. Fantastic beer.
841 characters

4.38
/5
rDev
+6.8%
look: 4.5 | smell: 4 | taste: 4.5 | feel: 4.5 | overall: 4.5
A: 1/2" cream coloured head that left a nice lacing over amber liquid with excellent clarity.
S: Sweet malt, citrus and floral hops.
T: Bready malt, grapefruit and lemon citrus, and some pine and floral presence as well.
M: Medium to thick viscosity and a medium level of fine carbonation. Some drying.
O: Good balance between bitterness and sweet, thick hop presence, a tasty and easy-drinking IPA.
404 characters

4.33
/5
rDev
+5.6%
look: 4.5 | smell: 4 | taste: 4.5 | feel: 4 | overall: 4.5
A: Clear orange with two finger head. Lots and lots of lacing and good retention.
S: Hops hops hops.
T: Grapefruit, citrous, pine-y bitterness. This is the best tasting IPA from Fremont, imo. Very hoppy. Love citra hops.
M: Good amount of carbonation, dry finish.
O: This one is awesome. Kind of pricey though.
318 characters

4.02
/5
rDev
-2%
look: 3.5 | smell: 4 | taste: 4 | feel: 4.5 | overall: 4
Bomber poured on 7/23/12.
Appearance: Pours a light orange with a big foamy head that receded quickly. Spotty lacing around the glass.
Smell: Citrus hops dominate the nose with an herbal/grassy scent too. Really lively citrus notes.
Taste: Follows the nose with a citrus hop sweetness that is not overwhelming. Light malts balance the hops, although this isn't a palate wrecker at all. Mild bitterness to the finish.
Mouthfeel: Fairly light-bodied for the style with average carbonation. Drinkability is a highlight.
Overall: I tend to like anything with citra hops, and this is another great example of an IPA that is flavorful and hoppy without being overwhelming. Definitely will drink this again.
709 characters
Cowiche Canyon Organic Hop Lab #1 from Fremont Brewing Company
4.1
out of
5
based on
37
ratings.