The Lamb
| Fremont Brewing Company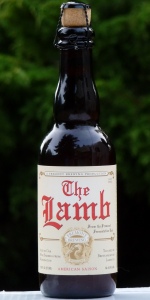 BEER INFO
Brewed by:
Fremont Brewing Company
Washington
,
United States
fremontbrewing.com
Style:
Saison / Farmhouse Ale
Alcohol by volume (ABV):
6.50%
Availability:
Rotating
Notes / Commercial Description:
The Lamb is the first release of the Fremont Fermentation Lab, a project that Fremont Brewing created to brew unique, small-batch artisan beers, aged in oak and touched by wildness. This Saison is brewed with Northwest hops and aged in oak barrels with Brettanomyces Lambicus to produce pear and apple notes and a distinct but gentle, funky farmhouse character. The Lamb is bottle conditioned and finished dry and crisp. Because Beer Matters!
Down & Dirty: 2-Row Pale and Wheat malts with Magnum and Cascade hops
Yeast: Brettanomyces Lambicus & Belgian
Added by harrymel on 09-06-2012
Reviews: 15 | Ratings: 61

2.85
/5
rDev
-26.2%
look: 3.75 | smell: 3 | taste: 2.75 | feel: 2 | overall: 3
Bottle from FalconA. Thanks!
A: Cork comes out with a substantial pop. The pour yields a huge, huge, huge white foaming head. Golden color. Looks pretty nice. PIty it's somewhat overcarbed.
N: Holy cheddar cheese. This is crazy funky from ten feet away. Some oak, light apricot, and lemon zest fill in the other flavors, but really this about cutting the cheese. Brettanomyces are really chewing this one up.
T: Very, very funky. More of the cheese and a bit of diacetyl. There's a touch of sourness and there's some grapelike sweetness, but this is mostly funk. Can't really say it's good, but it is uh, interesting.
M: Somewhat oily, partly dry, and not great.
O: Pretty substandard for the style. I don't know that aging this is going to help, either, because it's already growing overly funky in disproportion to the underlying beer. I hope they re-release it and dial it in.
★
901 characters

3.24
/5
rDev
-16.1%
look: 5 | smell: 3.5 | taste: 3 | feel: 3 | overall: 3
2016 Batch, 750ml Batch poured into two 16 oz tulips.
A — Pours a nice orange color with great clarity and a nice off-white colored head that sits on top and manages to leave some spots of lacing.
S — Smell is sharp with notes of white oak barrels and funky Brett barnyard character. A bit of white wine and grape juice, but very sharp.
T — Mellow notes of white grapes and green apples lead way to a sharply dry Brett character with notes of barnyard and tannins. A lot of barrel character as well which is quite dry and slightly sour.
M — Medium bodied, bone dry, slightly acetic.
O — Good overall, but not quite what I expected. Seems as though it spent a bit too much time in barrels and is dominated by them as a result.
★
744 characters
3.65
/5
rDev
-5.4%
look: 4 | smell: 4 | taste: 3.5 | feel: 3.5 | overall: 3.5
A: Poured a goldenish color with a nice white fluffy cap, good amount of bubbles and moderate lacing
S: Yup, brett alright. Apples, pear, grass, barnyard and a mix of light baby diaper and barf
T: Initial taste is a fruit and funky. Fresh orchard fruits like pears, apples. Some emerging hay, grass, baby diaper and funk with a dry lingering finish
M: Medium bodied, medium to high carbonation which fits this style. Funkiness lingers on the palate.
O: Really missed th wine barrel influence and it seemd to be a one way Brett street on this beer.
★
552 characters
3.68
/5
rDev
-4.7%
look: 4.5 | smell: 4 | taste: 3.5 | feel: 3.5 | overall: 3.5
Bottle opened on 9.6.12.
A - Pours a nearly clear copper-orange with a large, foamy off-white head that fades very slowly.
S - Mellow funk, wood and mild red wine.
T - Tart cherries, then some buttery popcorn, followed by a woody taste.
D - Tons of carbonation, thin-medium body. A tart buttery finish.
O - I love Fremont, they are usually solid, but this one is not what I was hoping for.
Edit:
Second bottle opened 10.21.12
More green apple and pear on the nose and tongue. No more popcorn! Still pretty subtle, but mucu, much better.
★
542 characters
3.7
/5
rDev
-4.1%
look: 4 | smell: 4 | taste: 3.5 | feel: 4 | overall: 3.5
375ml bottle - sharp design. Corked and Caged tighter than any beer I can recall
appearance: served in my ale asylum chalice, hazy pale orange body, thick frothy egg-white fluff with some nice retention
smell: oaky, notes of brett, grassy
taste: I recall having this in January at the Belgian Beer Festival (perhaps sans-barrel aging?) and not being overly impressed. The Lamb has a nice oaky bite with indications of a nice brett strain, but there is an off flavor that I'm assuming is coming from the barrel. In my opinion, this beer would have been much better served in something like a chardonnay barrel, rather than a merlot barrel. Merlot isn't a grape I particularly care for and it seems to be leaving an earthy character that doesnt seem to fit.
mouthfeel: medium, frothy carbonation
overall: good, but not exceptional
★
833 characters
3.83
/5
rDev
-0.8%
look: 4 | smell: 3.5 | taste: 4 | feel: 3.5 | overall: 4
Thanks a bunch to Derek for sending this beer! Poured into a chalice. There is a huge foamy white head atop a slightly hazy golden straw color. Lots of great lacing here.
The aroma displays the fruitier side of brett; with just a touch of the funky mustiness that is sometimes prominent. The aroma also indicates there may be some mild tartness.
The taste has some nice peppery yeast flavor to go with a touch of citrusy hops to balance out the slightly sweet malt. There is a touch of oakyness in the finish. The brett is really mellow in the flavor.
This is medium bodied, with nice sharp crisp carbonation. This is really good with nice complexity.
★
654 characters

3.88
/5
rDev
+0.5%
look: 4 | smell: 3.5 | taste: 4 | feel: 4 | overall: 4
Poured into a Nostradamus flute glass. Poured into a Nostradamus flute glass. Pours a clear golden amber with nice carbonation. A fine two-finger head with great retention and massive lacing. Aroma of wild yeast, pleasant oak, light fruit, somewhat vinous. Flavor of light fruit; apples and pears, brett yeast, oak, light malt. Finishes rather dry with a pleasant oaky aftertaste. I'm not a big fan of brett beers, but like a light touch of it in a well made ale with enough flavor to balance it out. The oak presence in The Lamb completely balances the brett flavors for me and also moderates the vinous quality. I really enjoyed this saison. Flavors are mellow and well integrated. Light to medium bodied, but nice mouth feel from active carbonation. I'm learning to enjoy saison/farmhouse ales and this could well be the one moving into the watershed of really liking them. I'm increasingly impressed with Fremont. A previous reviewer quotes the label description and I think Fremont nailed the beer they described.
★
1,018 characters

3.89
/5
rDev
+0.8%
look: 4.25 | smell: 4 | taste: 3.75 | feel: 4.25 | overall: 3.75
Poured from 375mL corked & caged bottle. Great to see a beer like this from a local Seattle brewery.
Appearance: medium golden hue with a moderately hazy body and a massively strong effervescence. Head is 3+ fingers of pillowy ivory foam with good retention. Wonderful!
Smell: sweet, very slightly buttery malt with a big dose of farmhouse funk. It's got a grassy character to it and a light hint of tartness as well. The label says "touched by Brettanomyces lambicus", and from this smell, I believe it. The butteriness puts me off a little, but other than that it's quite alluring indeed.
Taste: buttery, grassy, farmhousey and just a tiny bit tart, there's a lot going on here. Honestly the butteriness bothers me less against this particular background, but it still grates on me a little too heavily for my preference.
Mouthfeel: medium-light body with a huge carbonation and a mammoth, mouth-filling creaminess. Kudos!
Overall: this is an interesting and creative Brett-fermented saison. I like it in general, but the diacetyl-type butteriness has got to go.
★
1,070 characters
3.91
/5
rDev
+1.3%
look: 4 | smell: 4.25 | taste: 3.75 | feel: 3.5 | overall: 4
Let's see how we're doing a year later.
Took a champagne corker to get the cork out this bitch. Pours golden with a three finger top that falls to a finger quilt of creamy whites. Smells funky with some hay, pineapple, sweet golden apple, soft chardonnary barrel and grape with a hint of grain. It's bitter, grainy, touch of dust, some leather and soily nuts. Thin bodied with high carb and a salivating finish. Better beer than before.
Previous review: 3.5 all the way across. Reviewed on 06SEP12
Just happened to be in town to pick this up!
From the label: "The Lamb is the first release of the Fremont Fermentation Lab, a project of Fremont Brewing created to brew unique small-batch artisan beers, aged in oak and touched by wildness. This saison is brewed with Northwest hops, aged 7 months in oak barrels with Brettanomyces Lambicus to produce pear and apple notes and a distinct but gentle, funky farmhouse character. The Lamb is bottle conditioned and finishes dry and crips. Because Beer Matters!"
Down & Dirty: 2-Row and Wheat malts with Magnum and Cascade hops.
I inquired about the barrels, and was told they are Merlot barrels.
Pours light golden with a solid sheet of fine white foam. Either I'm victim to the power of suggestion, or they hit is spot on with the description here: pears and apples, a hint of wet linen mildew, grass and lemon zest. Flavor initially is dry and woody, with clay like saison yeast flavors, grain, slight bitterness, hints of baking soda and medicinal sharpness. As it warms the merlot tones actually make an appearance, just as the body carries the fullness and silky character a fine merlot has as well. The carb is prickly and moderate with a slick finish. The flavor of the finish is relatively long and holsters some of the barnyard aspects I would like more of up front. Overall the beer is okay, I'd like to hear what the Saison experts out there think of this one. I think the beer was worth the trip, and I'm interested to see how this matures.
★
2,006 characters

3.92
/5
rDev
+1.6%
look: 4 | smell: 4.5 | taste: 3.5 | feel: 4 | overall: 4
375mL into a tulip. Pours a clear golden color w/ a big fluffy white head that leaves behind a few patches of lace; vigorous carb. A few wisps of sediment from a fraction of the last 5% of the bottle make it into the glass before I stop the pour.
Aroma is tart, funky, vinous, a little grassy. Great brett character. Aroma is the best thing about this beer.
Taste leads off with a grainy quality that doesn't quite work for a saison. There's a certain coarseness that conflicts with the refinement of the wine and oak. Slightly metallic aftertaste. Brett gives it a nice dryness. But the overall taste comes off a little flat, dull. As it warms, some crushed aspirin emerges. It's not a bad beer, just doesn't measure up to the top saisons or even top brett-fermented saisons.
Mouthfeel is light, dry. Carbonation tickles the tongue.
Overall, I really like what Fremont tried to do here, and I think they're on the right track. But something—maybe it's in the malt bill, maybe it's the wine barrels—isn't quite working. I've got a few more bottles in the cellar so I'll be interested to see how this evolves over the next couple years.
★
1,143 characters

4.08
/5
rDev
+5.7%
look: 4.5 | smell: 4 | taste: 4 | feel: 4.5 | overall: 4
375ml bottle poured into a beer tulip glass.
Pours a nice golden color, tons of pillowy Belgian head that sticks around for quite some time leaving plenty of lace. Nice tight bubbles streaming up the side. Champagne looking.
The nose is interesting, like a mild wild ale (is there such a thing?) funky, leather, some tartness, grassy notes, apples and pear. Smells like a winner to me.
The taste is very complex; apples and pear up front followed by grass and some bitterness from the hops and a dry, crisp finish that is at about 25% tartness. Not overly sour, but not marketed as such. There is a bit of souring from the brett and barrel aging, but mostly funky farmhouse type finish.
Mouthfeel is thin, crisp and light on the palate, kind of playful. Leaves a hint bubbling on the tongue and salivation from the slight souring. Mouthfeel is about as good as it gets for a beer of this style.
A fun take on a saison and very interesting, Fremont is starting to become one of my favorites as far as specialty beers. I highly anticipate what is to come from these guys and if The Lamb is any indication, then I am very excited.
★
1,130 characters
4.2
/5
rDev
+8.8%
look: 4.5 | smell: 4.5 | taste: 4 | feel: 4.5 | overall: 4
Huge thanks to ArchEnemyBrew for this bottle! Thanks Hollis!
poured into a founders tulip.
July 2012 release date.
Appearance: murky straw yellow bodied beer resulting from a full pour with all the yeast from the bottle going into the glass. Huge white head that has lots of dense head. Very sticky lacing on the glass. settles down to a thin cap with a few big clumps of foam.
Smell: wheat malts, decent lemony citrusy notes, peppery spice, earthy, oaky, grassy hops, a hint of barnyard funky; light fruit notes of apples, pears, and white grapes. Really liking how this smells!
Taste: Upfront you get a decent dose of wheat / straw / hay notes. A really nice balance of lemon tartness and barnyard / earthy funk and oak barrel notes. Little bit of fruity sweetness (pears and white grape) joins the party in the middle of the drink. Little grassy and peppery on the backend with some lingering notes from the wheat malts.
Mouthfeel: light boided beer with high end of moderate carbonation. This beer has really crisp and clean carbonation. Its fairely eppervescent yet, still a bit delicate on the palate. Finish is fairly dry.
Overall: This is a really nice saison with lots of complexity! I think that most of reviews are lower scores than they should be...this fremont beer deserves a little more credit than its getting! The bottle says American saison and i would say this beer is true to its beer style!
★
1,421 characters
4.28
/5
rDev
+10.9%
look: 4.25 | smell: 4.25 | taste: 4.25 | feel: 4.5 | overall: 4.25
my first wild beer from fremont. i love these guys, but i didnt know they did this kind of thing. how cool! looks like they are making it again or like its been around awhile. they brought some to great american beer festival and i am glad they did, one of the more memorable beers at the event for me, and thats saying something. a subtle saison, not overly interesting in grain complexion i cant imagine, pale wheat and two row barley, not a whole lot going on there, but thats not what its about. its soft in texture and light in body, which is the purpose i assume. the wine barrels are quite aromatic, juicy and wet, you really taste the wine here, more subtle on the wood, but there is a little acidity in the wine, and its there in the flavor as well, which makes a perfect transition into the mild sourness of it. somewhere between a three and a four out of ten on the sour scale, really more funky than puckery in my opinion, but deeply complex in its yeast. there isnt much of a belgian or french saison yeasty element, but a true american farmhouse wild vibe. just wonderfully carbonated too, feels so fresh and alive, especially if its from the original batch. reminds me of some of the better allagash stuff, highly refined. i wish i could buy this, i have the thirst for it now...
★
1,294 characters
4.33
/5
rDev
+12.2%
look: 4.5 | smell: 4 | taste: 4.5 | feel: 4 | overall: 4.5
First batch, consumed 04/13.
Hazy Gold with a big white fluffy head. Good retention that eventually settles to a small cap. Leaves good looking laces.
Light farmhouse brett funk and bread. Pear, apple, oak, and white grape. Light lemony citrus with some floral.
Light crisp bready malts. Lightly soured funky Brett. Pear, apple, and white grape with a bit of tart. touch of citrus and floral. pleasant oak rounds it out.
Light and refreshing with lively carbonation. Crisp and pleasantly dry.
Very tasty and ages beautifully. Nice lightly soured Brett saison. Perfect for Spring/Summer. Did not get the diacetyl that others have reported.
★
643 characters
4.45
/5
rDev
+15.3%
look: 4 | smell: 4.5 | taste: 4.5 | feel: 4.25 | overall: 4.5
This is the 2016 version, recently picked up at Arch Bridge
The beer pours a bright gold color with good head retention and lacing. On the nose, this just smells great. There's a huge aroma of wine, vanilla, light clove and a hint of citrus. The flavor profile replicates the nose fairly closely, and while the beer smells as if it will be fairly sour, it really isn't (just a touch of sour in this beer). There's a lot going on in this beer otherwise, but the flavor profile is dominated by honey, light clove, vanilla and the wine flavor. The acidity is really bright in this beer, and so you feel as if the flavor almost explodes on the palate. The finish is almost pretty clean and dry in this well crafted beer, and this is one of those beers that every time you take a sip, you can't wait to take another. Alcohol is well integrated into the flavor profile, but then the abv. is only 6.5% anyway, so that's no surprise.
There are a lot of barrel aged saison and farm house ales that are nothing spectacular and really not worth the price (price for a 750 ML bottle was $20 at Arch Bridge), but this one is. I would happily buy this one again, if Fremont would just make more of it. Not sure how likely that is, but regardless, this is pretty terrific.
★
1,268 characters
The Lamb from Fremont Brewing Company
3.86
out of
5
based on
61
ratings.