TriplIpa
| Microbirrificio Opperbacco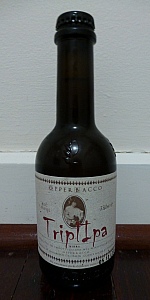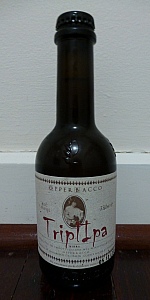 BEER INFO
Brewed by:
Microbirrificio Opperbacco
Italy
opperbacco.it
Style:
Tripel
Alcohol by volume (ABV):
7.80%
Availability:
Year-round
Notes / Commercial Description:
No notes at this time.
Added by thepeter on 06-26-2010
HISTOGRAM
Ratings: 15 | Reviews: 9
3.64
/5
rDev
-2.2%
look: 4 | smell: 3.75 | taste: 3.5 | feel: 4 | overall: 3.5
brutally overpriced at nearly 20 bucks a bottle, but i have only ever seen it at one store in my life, so if its a rarity thing i get it, but if its an italian gross inflation, its just not fair. not worth that price, maybe not even worth half of that, but its worth drinking, as i think almost all beers are. apparently its supposed to be some sort of a hybrid between a big ipa and tripel, but it doesnt come across as a satisfying take on either style, although the bottle may be a little past its prime, something i encounter a lot with the high priced italian stuff. carbonation is awesome, and i got what i paid for with the yeast, which is appreciable weird (something i lust for in these beers), but as a tripel, its thin and dry and one dimensional, and as an ipa its not even close. there isnt much hop flavor to this, a bushy sort of piney thing in the finish, bitter enough, but thats all, and its a let down for me. the mouthfeel is really the best feature, as the malt on the tripel side brings nothing special either. i thought this would be sweet and oaty fluffy with a big hoppy finish, it almost makes me want to brew something like i thought this would be, so its inspiring in a bad way. that said, i have not had any beer from these guys, and i am so curious about all the italian producers that i can still justify the purchase in my head, but i wanted a lot more out of this one. from a yeast standpoint its fun, and the mouthfeel is great, but thats about it. looks like a pretty obscure and small operation, id like to try some more of their stuff.
1,572 characters

3.89
/5
rDev
+4.6%
look: 4 | smell: 3.75 | taste: 4 | feel: 4 | overall: 3.75
TriplIPA is an ugly looking beer on paper but it is drop-dead gorgeous in reality. This faintly hazed amber ale has an LED-like glow that illuminates everything around it; I get lost in thought when examining it to the light. Head retention isn't great by Belgian standards but, in normal circumstances, certainly suffices.
The hop bill reads as follows: simcoe, columbus, chinook, saaz, willamette, amarillo. One of those things is not like the others (I'll let you figure it out on your own). What's apparent is the aim for American-style IPA. In that regard Opperbacco succeeds. There's the customary pine, grass, citrus and tropical fruits.
But of course we can't ignore the yeast - and why would you want to? Orchard fruits (pear, apple) are thrown into the mix along with cracked pink peppercorns. Whether the spiciness or the bitterness (59 IBU) or the combination of the two, this one definitely tastes its strength (7.8%). It's likely not the kind of beer you'll be drinking more than one of in a night (even if you're a fan of the style).
Most "Belgian IPAs" lean one way or the other. But here yeast and hops come through in singular clarity which, like music amplified from two speakers, adds dimension and depth to the overall experience. It's like the hops line up the tastebuds with flavours of pine resin and cantaloupe then the yeast knocks 'em down with fresh bread, bubblegum and coriander notes. It's an effective 1-2 punch.
Belgium doesn't get enough credit for their understanding and appreciation of gastronomy. But arguably no country does food and drink better than Italy. And new, exciting microbreweries like Opperbacco are proving they can do beer just as well as wine - even other peoples' beer as this American/Belgian hybrid shows. TriplIPA isn't a world-beater but it's definitely good enough to put these guys on the map.
1,868 characters
4.13
/5
rDev
+11%
look: 4.5 | smell: 4 | taste: 4 | feel: 4 | overall: 4.5
Squat 330ml bottle purchased from Slowbeer in Melbourne.
Pours a deep, relatively clear golden hue, with a massive, frothy and sticky head of off-white, that leaves some very solid, messy and complex lace. Body is pleasantly light, and has bright beading carbonation threaded through it. The clarity is very nice, and the head is spectacular. Overall, it's a very good-looking beer.
Nose is sharply hoppy, with a peppery, continental European bent to the aromas. Some slightly grassy notes and a herbal, slightly spicy character. This spice character mingles with the Tripel side of things; the slightly volatile spicy booze and yeast notes. It has a little lemonade sweetness too, which pares everything back a little. It's quite pleasant all up, and pretty much fulfilling its promise.
Taste is solid, with some biting peppery Tripel phenolics through the centre of the palate, that morphs pleasingly into a long, oily bitter note on the back. Some solid savoury, biscuity malt around the edges does a decent if pedestrian job of forming a basis, while there are hints of those fragrant volatiles as it warms in the mouth. Slight hint of juniper and more pepper on the afterpalate. Pleasing.
Overall, this is good stuff. Bright, and peppery, it takes the parts of a Tripel and an IPA which work well together, rather than setting two distinct styles against each other. The end result is a more fully integrated and pleasant experience, rather than a mere curiosity. I was pretty impressed.
1,496 characters
4
/5
rDev
+7.5%
look: 4 | smell: 4 | taste: 4 | feel: 4 | overall: 4
3.37
/5
rDev
-9.4%
look: 3 | smell: 3.5 | taste: 3.5 | feel: 2.5 | overall: 3.5
Pours hazy amber with a lasting head.
Nose shows Belgian phenols, herbal and spicy notes, sweet light malt and floral hops.
Very bold flavours, with sweet malt dominating before the sharp piny hops and alcohol take over. The phenols add some depth.
Body feels thick. Not enough carbonation.
290 characters


4.07
/5
rDev
+9.4%
look: 3.5 | smell: 4 | taste: 4.5 | feel: 3 | overall: 4
Drank from my Duvel tulip
A - Pours a slightly cloudy pale golden colour with a decent white head that reduces to a film a retains well and laces
S - Nice aromas of Belgian hops, malts and spices.
T - The flavours lean toward an IPA hense the name, and was nicely surprised by this. The Belgian carachter is still there though with spice and malts. This is a very clever brew indeed. And the balance is very impressive.
M - Medium body and perhaps a little undercarbonated.
O - Not often you get to taste a hybrid brew that hits the mark, and this does, heaps of flavour that sits both in the Tripel and IPA camp. A must try.
630 characters

4.22
/5
rDev
+13.4%
look: 4 | smell: 4.5 | taste: 4 | feel: 4 | overall: 4.5
Body is hazy gold, with a gradation to more cloudiness up to the foam line.
Smells of Belgian tripel yeast, with tropical fruits on a sweet malt backbone along with green vegetal hops. Smells very fresh.
Tastes as it smells, begins with sweet fruity tastes, especially pineapple, and ends with a long green vegetal hoppy bitterness.
Body is medium and carbonation is fine and round, giving this a somewhat creamy mouthfeel.
Overall, this is a tripel that is aggressively hopped, a marriage of Belgian tripel yeast and IPA hoppiness, sort of like Duvel tripel hop. This is more extreme, like a combination of bitter greens and tropical fruit. I wouldn't say this is a really well-integrated beer, but I do find the juxtaposition of tropical fruit and green bitterness to be interesting. There is a tension between the fresh pineapple and the bitter greens going on. Probably not a beer to drink a lot of by itself, but one that could pair well with certain foods, like roast chicken and salad. That seems to be the direction that Italian craft beer is taking.
1,064 characters
3.21
/5
rDev
-13.7%
look: 4.25 | smell: 3.25 | taste: 3.25 | feel: 2.25 | overall: 3.25
750mL bottle thanks to
[email protected]
Liquor. BB July 2013, so I'm firmly hoping that Opperbacco employ 6 rather than 12 month BB dates.
In trying to break the seal a whole section of the neck cleaves through completely! Fortunately it's a blood-free outcome. Murky kumquat with a healthy just off-white head. Retention is pretty strong, eventually falling to a 1cm raised curtain and frothy island.
Yeast is all over the hops, with phenolic, spicy and slightly gritty elements coming through. Aggressive swirling yields sweet malt and mild fruity hops. Notes of melons and stewed stonefruit, but difficult to discern what's what. Really not picking up a great deal of punch or clarity here, which could be testament to the age of this bottle.
Taste is initially dominated by medicinal phenolics, until herbal hops emerge from the gloom, eventually contributing a surprising degree of bitterness, which is of the seriously dry, metallic kind. The candy sugar malt backbone is definitely orthodox Tripel, but it kind of sits in the background without much integration.
Full bodied with noticeable booze heat, and not enough carbonation to cut through. Pretty rough overall.
Hard to get a handle on. Essentially not a great deal of desirable hop character and not particularly exciting Tripel character. Don't think age is solely to blame, but keen to give this another try if I can get a new batch.
1,401 characters
4.22
/5
rDev
+13.4%
look: 4 | smell: 4.5 | taste: 4 | feel: 4 | overall: 4.5
A - Pale and slightly hazy, big bright bubbly head that went quickly but then again, so did the beer!
S - Very nice! Sweet, orange zest zing honey, hops, and a hint of Licorice
T - Light Citrus pale malt candy sugar, well hopped but extrememly well balanced. Fruity, bitter, goodness
M - Light bodied and very effervescent, light on the tongue and extremely pleasant. I could drink this all day, perfect for a beautiful day spent with friends.
This beer, to me, was a very well hopped tripel but I guess others may dissagree. Either way I loved it and will look for it again, just one more wonderful example of the Italian craft beer movement.
647 characters
3.23
/5
rDev
-13.2%
look: 4 | smell: 3.5 | taste: 3 | feel: 3.5 | overall: 3
Too bitter for our taste. a mix between an abbey tripel and an indian pale ale. very hoppy, too hoppy, it destroy the palate in my opinion. if you like the bitter beers here you'll have a nice beer to try, but for us, too bitter!
love beer hate racism!
253 characters
TriplIpa from Microbirrificio Opperbacco
Beer rating:
3.72
out of
5
with
15
ratings