Blues' Golden Ale
| 16 Mile Brewing Company
BA SCORE
77
okay
30
Reviews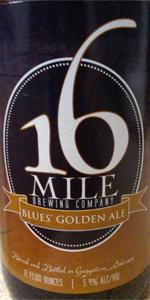 BEER INFO
Brewed by:
16 Mile Brewing Company
Delaware
,
United States
16milebrewery.com
Style:
American Blonde Ale
Alcohol by volume (ABV):
5.90%
Availability:
Year-round
Notes / Commercial Description:
Balanced layers of flavor. The crisp and clean finish of Blues' Golden Ale makes it the perfect complement to any meal. 16 Mile names this golden ale for The Delaware Blues who fought in almost every battle of the Revolutionary War. Also pictured on our label, a monument in their honor is located Outside of Legislative Hall in Dover, Delaware.
Added by TMoney2591 on 07-17-2010
Reviews: 30 | Ratings: 127
3.26
/5
rDev
+0.9%
look: 3.5 | smell: 2.5 | taste: 3.5 | feel: 3.5 | overall: 3.5
Received a bottle for Christmas. Just getting around to cracking it in March 2011. I visited the brewery back in July 2010 and sampled this, as well, on tap with my brother and nephew prior to a tour with the owners.
FYI - The beer is bottled in an "Aluminum Bottle". Very neat concept, although its been done before but I'm not sure in a 22oz size. The bottle did a rather good job of keeping the remaining beer cool throughout the sampling since I finished the entire 22oz in one sitting.
Enjoyed in a DFH Signature Glass.
A - Pours a translucent, golden honey color. A one finger, foamy but not creamy head upon pouring. The head quickly fades to a thin film on top of the beer. Little to no lacing on the side of the glass.
S - The smell does not offer much in the aroma department. Slightly sour smell with a hint of sweetness.
T - A tangy, slightly sour taste with a strong malt presence. Not much hops present. A slight caramel sweetness is also present. With an unknown ABV, hard to say say if the alcohol is well hidden but it isn't very noticeable regardless. Not bad tasting but not fantastic.
M - A rather high amount of carbonation. A rather thin beer. A sour taste lasts after drinking.
D - I think this is an OK beer that you could probabaly drink all night if you were really into it. It's just not my style so I probably won't seek it out again.
Overall: I really like the attitude of the two owners I met on my tour of the 16 Mile Brewery. I liked their Amber Sun but this brew just doesn't hit the mark for me.
Cheers!
1,546 characters

2.02
/5
rDev
-37.5%
look: 3.5 | smell: 1.5 | taste: 2 | feel: 3.5 | overall: 1.5
Thanks for sharing this bottle, Bobby.
A: The pour is nearly perfect in it's translucence. Golden in color with a high level of carbonation and a short lived white head.
S: Smells just awful. Body odor, wet dog, and rotten corn pretty much sum up the "bouquet". A bit of overly sweet sugar/corn syrup to it and maybe some grass.
T: Big time corn aroma along with grassy hops. There's a lot of sweet corn syrup and sugar, and a tinge of sourness to this beer. It's just bad in almost every way.
M: The body is quite light with a high level of carbonation.
D: No thanks, Delaware.
583 characters
3.85
/5
rDev
+19.2%
look: 3.5 | smell: 3.5 | taste: 4 | feel: 4 | overall: 4
A 22 oz aluminum bottle from Liquid Assets.
A: Another stunning head from 16 Mile. This one is white and fluffy, three plus fingers on pour. Mild lacing followed the decline of the head. The blonde ale portion of the package is hazy with a golden glow. Looks like a witbier.
S: The blonde ale has a restrained aroma, sweet grains and breads alongside earthy hops.
T: The blonde ale is grainy with a light flavor. Pale malts create a mild toasted flavor that remains light throughout the glass. Yeast adds a musty flavor, a fruity compliment to the malts, that dries the mouth out. Not much in the way of hops. The yeast and breads spend a while on each sip.
M: The mouthfeel borders on a Belgian pale ale, lots of fruity flavors hanging around within the malts.
D: Again, I'm a fan of the delivery vessel, a sturdy aluminum bottle. The blonde ale has a nice zing to it, a refreshing drink that goes down very easily.
921 characters
3.53
/5
rDev
+9.3%
look: 4 | smell: 3.5 | taste: 3.5 | feel: 3.5 | overall: 3.5
The standard 16 mile brewery packaging: 651ml aluminum container shapped llike a tall bottle. Poured into a SA sensory glass, this brew appears a cloudy light orange/yellow color with 2 fingers worth of fluffy white head. Head retains decent but as it fades it leaves only a bit of leggy lacing about the glass.
The aroma of this brew has a scent of fresh bready sweet grains upfront. A touch of herbal hops are noticed in the background. A slight indication of some fruity esters are present, very similar to orange rind and a very subtle spiciness.
This beer has a very light flavor profile. Upfront it tastes of fresh bready grains with a light indication of fruity/citrus hops. Also included in the taste of this brew is a mixture of light spice that come across like a orange rind meets cloves.
Overall this is a clean finishing and easily drinkable beer. At times it seems a bit watery but it is a light bodied brew with a moderate level of carbonation. No problems finishing the oversized offering but it isn't really something I would revisit again.
1,061 characters

3.73
/5
rDev
+15.5%
look: 3.5 | smell: 3 | taste: 4 | feel: 4 | overall: 4
Served in a Devil's Backbone willibecher.
Randomly found a stash o' these guys at Norm's as I was about to leave. I'm always happy to find some new brews to sink my taste buds into. This one pours a hazy orange straw topped by a finger at best of white micro-foam. The nose is a bit faint, cmprising corn syrup, wheat, coriander, and what seems to be a touch of black pepper. The taste holds notes of wheat, citrus zest, coriander, pepper, cardamom, and a touch of flowery grapefruit hiding in the background. The body is fairly light, with a light moderate carbonation and a rather refreshing feel and finish. If this had some added banana and clove, I'd say it was a minor hefe. In any case, a very nice "Summer beer", one I'm glad I randomly stumbled upon. Plus, I am diggin' the rad aluminum bottle.
804 characters
Blues' Golden Ale from 16 Mile Brewing Company
3.23
out of
5
based on
127
ratings.