Ithaca Coffee Company at Gateway Commons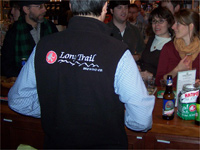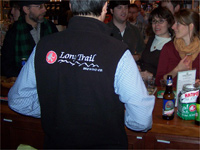 Bar, Beer-to-go
299 E Green St
Ithaca
,
New York
, 14850
United States
(607) 273-7800 |
map
ithacacoffee.com
Notes:

4.75
/5
rDev
+13.1%
This is the bar to go to if you are really into beer. Constantly rotating selection of around a dozen brews on tap at any given time. They occasionally do hop-rocketing, which is pretty awesome! Weekly tastings at both locations and any beer on tap can be had as a 4 ounce "taste" for a reasonable price as a build-your-own flight option. You can also "sample" any beer on tap for free (they are great about this, so don't abuse it). If you are lucky enough to be there when James is there, he will easily match your beer knowledge, however good you think it may be. The rest of the staff are very knowledgeable and friendly as well.
They don't have a beer menu, just the big board, because it always changes. No sheets for flights when you order one, so you're an your own there keeping track of what you order. But... it's fine, really.
Not only are they a tavern, but they are a shop. They offer the second best craft beer selection in town (and in the entire region) and offer a crazy amount of stuff as singles! So, throw a few back, shoot the shit with the other beer geeks, then browse and build your self a six pack (or a 5 pack, or a 10 pack, whatever you want). Unless you go to Finger Lakes Beverage Center, you won't find a better offering! Prices are more than fair.
To top it all off, they sell brewing supplies, and have a great selection of fine cheeses, gourmet import and specialty foods, and baked goods and candies. The only place I know where I can get a fresh pint of amazing craft, pick out a few singles for the night, and grab a Vosges haut chocolate bar and a pint of Jeni's Ice Cream for dessert.
Just don't bother with the coffee. Go to Gimme Coffee if you want that! Seriously, the coffee is sub par. Any place that claims to be coffee geeks and stores their coffee in those transparent, non-air-proof, self-serve bulk bins along with pre-ground bags... I mean, even if it were the best beans in the world (it isn't), it wouldn't stand a chance. Where they fail in coffee, they succeed in beer (and food).
Food? Yup, they do that, too. They offer some basic sandwiches and baked goods, which aren't great, but are good enough. They also have a build your own cheese plate option, which is cool. There's plenty to eat here, really... go browse the store and find a bag of some delicious thing you never knew existed (or know about but can never find) and munch on that.
OK, so what about wine? Surprisingly, they offer wine and a half way decent selection. OK, I should qualify that. If you're a real wine geek, you're not going to be impressed and you'll probably turn your nose up. That's OK. It's the wine equivalent of having a Sam Adams seasonal, Stella Artois, and maybe a Sierra Nevada on tap... does that make you an awesome craft brew bar? Surely not. But... it's not half bad. And beer bars are usually BAD when it comes to wine. But, ICC have about half a dozen to 8 (guessing) wine offerings by the glass that are decent (to me) and they have a really cool, super fancy vacuum pump, climate controlled dispenser thing. Yeah, really. That's pretty sweet. So go ahead and bring that friend that says they "hate beer, and they only drink wine" and at least they'll know they aren't being served some oxidized motor oil that was opened God knows when.
Seriously, this is the best bar in town! Easily. Hands down. And it's usually where I go for all my beer needs, unless I need an even wider selection, in which case I go to the Beverage Center.
The Gateway Commons location has a slightly smaller selection of beers, and a significantly smaller selection of foods and cheeses, but it's still the best place downtown Ithaca to grab a brew after work. Easily.
3,706 characters

4.25
/5
rDev
+1.2%
Great selection of bottles and cans. Several taps with ability for flights and samples. This place was great. Super friendly folks working the bar. Oh yea, it is a coffee shop in front- which I think is very cool.
214 characters
4.3
/5
rDev
+2.4%
vibe: 4 | quality: 4.5 | service: 4 | selection: 4.5
This is a pretty weird place in the sense that had I not known about, I wouldn't have expected primarily a coffee place to sell beer.
Not only that, but they have kind of a non-cooled beer cave with not only a ton of six-packs, but a few shelves for "new" beers, mostly new arrivals, along with a few shelves for bombers and bigger corked and caged beers.
What I like mostly is that they have, unlike a lot of the smaller shops and stores, many singles you can choose from. All of them are right next to the six-packs, and this was fantastic for me to see. There seem to be apartments all over the place, and it's right near St. Street, so I wonder if more and more people will discover that they can buy brew here.
Also, they have growlers and pints, and a few taps, more like 7, and they all seemed to be good.
And I have to mention they also had a bunch of Slyfox corked and caged I hadn't seen anywhere.
This is a cool place, one I'd recommend anyone in Ithaca who likes brew to check out. They have all the staples and then some, in addition to a ton of local stuff. They clearly care about beer, their selection, organization, and quality.
And if you're picking up a brew and you want a dessert, well, there are many to choose from...
1,252 characters
4.01
/5
rDev
-4.5%
vibe: 3 | quality: 4 | service: 4 | selection: 4.5
Ithaca Coffee Company has started having beer tastings every Thursday evening (4-7) and this is a well-attended and very worthwhile affair. They sometimes feature a single brewery (Wolavers last week) and sometimes they do a wider selection presumably from a single distributor. The staff is knowledgeable and loves beer which is always a big plus.
ICC also has 4-5 beers on tap and they will pour you a pint or fill a growler for you. I find the draught selection always interesting although limited. When it comes to bottles, the selection is very ample. A great selection of American craft beers from around the country and a decent smattering of good imports is available as well. You can grab an empty six-pack and create your own assortment. Prices seem comparable to other retailers.
This is also a great coffee shop and great place to hang out or pull out the laptop and enjoy the free wireless. I only wish it were bigger.
933 characters
4
/5
rDev
-4.8%
vibe: 4 | quality: 4 | service: 4 | selection: 4
Visited while traveling to Cooperstown for BCTC 2009. It was conveniently located at Green and State Streets, right on the way out of town.
Atmosphere: The Ithaca Coffee Company is a coffee shop that took the next step and added beer. The entrance drops you into the coffee house section, with the beer bar in back (along with the to-go selection). A wide-open space, the bar manages to retain some warmth.
Quality: Overall I was pleased. Beer at one bar, coffee and ice cream at another. Browsing the six packs and bottles was also easy in the wide avenues. The restrooms are through an imposing door but do have showers if you are so interested. I took my bock out onto the patio and sipped it in the shade.
Service: I chatted with the barista that poured my Yuengling Bock (yes, I travelled from Harrisburg to Ithaca to have a Yuengling Bock) and he was friendly. My wife got some ice cream from the front bar with no complaints.
Selection: Six beers on tap, including the aforementioned bock and Dogfish Head. A nice offering of six packs and singles, including Wild Devil, Three Philosophers, Lagunitas and Affligem. Not a bad selection for a coffee shop. Because it was a Friday, lots of people were grabbing six packs for the weekend.
Food: Ksak enjoyed her chocolate ice cream. Pastries and finger food were available. I'll call it 'N/A' because I didn't get anything.
1,381 characters
Ithaca Coffee Company at Gateway Commons in Ithaca, NY
Place rating:
4.2
out of
5
with
7
ratings