Shawshank's Injunction Pale Ale
| The Fat Cat Beer Company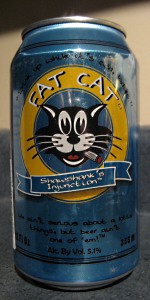 BEER INFO
Brewed by:
The Fat Cat Beer Company
California
,
United States
Style:
American Pale Ale (APA)
Alcohol by volume (ABV):
5.10%
Availability:
Year-round
Notes / Commercial Description:
No notes at this time.
Added by silverking on 03-14-2013
Reviews: 7 | Ratings: 29
2.2
/5
rDev
-25.9%
look: 2.75 | smell: 2 | taste: 2 | feel: 3 | overall: 2.25
355ml can. Yet another contract brewing brand actually made by Minhas, of Monroe, Wisconsin. Cool-sounding name, though I can't really figure out what they mean by it.
This beer pours a slightly hazy, medium golden amber colour, with two fingers of puffy, lazily bubbly ecru head, which leaves a few sparse streaks of wave splash lace around the glass as things quickly bleed away.
It smells of doughy, bready pale malt, astringent citrus and leafy hops, a generic orchard fruit blandness, and a further weedy mustiness. The taste is black pepper, vegetal, dead leafy hops, bland grainy pale malt, and rotting apples, with a wee hint of rubbing alcohol warming.
The bubbles are fairly inert, the body a so-so medium-light weight, and smooth in a pithy, tongue-scraping manner. It finishes off-dry, the apple mush brigade gaining points, in a game that nobody wins.
Another Minhas re-branding, another shell of a beer offering presented wholly otherwise. Nothing really APA-like about this one, just more brewery lager runoff masquerading as craft.
1,051 characters

2.39
/5
rDev
-19.5%
look: 2.25 | smell: 2.5 | taste: 2.5 | feel: 2 | overall: 2.25
My local, in-person trader, tone77, headed Due South for a while and returned with a bunch of CANs for me in furtherance of The CANQuest (tm)! It is like a twist on the old t-shirts in that my buddy visited the south and all I got was a bunch of CANs. In this case, that's okay by me.
From the CAN: "'Drink up while it's cold, ladies.'"; "'We ain't serious about a lotta things, but beer ain't one of 'em! ™'"
Me 'n' the Cat had a falling out a while back, but I'm gonna give the kitty another ChANce, starting with pulling his tail for a loud Crack! He was pretty full of himself, so I held him upside down for an inverted Glug. This may have been a mistake as he yowled, howled, foamed up a finger or two of fizzy, tawny head that fell like #TheOldLady after she tripped over his dumb ass and went over our penthouse balcony. You CAN probably understand why I ain't exactly enamored of the porcine feline right about now. I slapped the stogie outta his yap and looked down. His discharge was fulla floaties! Poor Fat Cat! Was it distemper or worse? Maybe that's why tone77 wanted me to take it easy with him. Eh, I've seen it all before! That and the heavy stuff fell to the bottom of the glass, leaving a hazy Amber color (SRM = > 7, < 9) for me to deal with. He smelled kind of off, like his malt was old or something. Where'd he come from, again? I wondered as I took my first draught. Mouthfeel was thin to medium. Monroe, Wis[CAN]sin!?! He's a f**kin' CyberKitty in disguise! Now I recognize the smell and the taste! It's too late, but the cotton CANdy/dry cleaning fluid should have been a giveaway. Minhas! F**k, my hands are becoming encased in metal and my innards are becoming cyborg circuitry. The finish was perfect, as always, Cyberleader. It is my distinct pleasure to be in your service again. I have missed being subsumed by these inferior products, but I will now happily fill the cooler with more of them as we head out in search of CANquest (tm) of other sentient beings. It will be my pleasure to bring the Fat Cat along on our journey!
2,070 characters
2.92
/5
rDev
-1.7%
look: 3.5 | smell: 3.25 | taste: 2.5 | feel: 3.25 | overall: 3
A- Pours a nice amber with an off white head that fades to a thin layer of foam with nice lacing.
S- Malty, with hints of citrus and apples. Hop aromas are detectable if you look for them.
T- Malt up front with lemon peel. It has a sour malty funk to it, kinda wierd. there is a mildly bitter/sour hop presence in the finish. very strange.
M- Light and crisp with moderate amounts of prickly carbonation.
O- Very strange. I don't know what to think about this one.
468 characters

3.19
/5
rDev
+7.4%
look: 3.25 | smell: 3.5 | taste: 3 | feel: 3 | overall: 3.25
fresh 12 oz can.
Confused(?) brewer's (or marketers. more likely) describe this as a kolsch style pale ale. huh? Well, it is something of a cross between the two, being lighter in both hoppiness and body than a typical APA.
Aroma: light citrus aroma.
Flavor: too weak for an APA.
Feel: too thin despite medium-high carbonation.
O: Marketing and the beer itself suggest "lawnmower beer"
392 characters
3.39
/5
rDev
+14.1%
look: 3.5 | smell: 3.25 | taste: 3.5 | feel: 3 | overall: 3.5
A - poured from a 12 oz can into a tulip glass. Pours a copper/amber hue with one inch of head that disappears quickly.
S - smells like bread and cooked fruit. I get a little banana and raisin. Not expected for an American Pale Ale.
T - immediate taste of bread maltiness. I detect sweet fruits immediately that lingers on the tongue. Even though the ABV is only 5.1 percent you can taste alcohol in this one. Leaves a slightly bitter aftertaste. Interesting overall.
M - low carbonation with medium mouthfeel.
O - overall I would drink this beer again. It is interesting. The style of this beer puts it in the same category as Sierra Nevada Pale Ale and Drifter Pale Ale both of which are hoppy in comparison to this offering. I was not expecting the flavor profile to be so malty. To me this beer taste more like a low ABV scotch ale or malty copper ale.
861 characters

3.41
/5
rDev
+14.8%
look: 4.5 | smell: 3.5 | taste: 3.25 | feel: 3.5 | overall: 3.25
Shawshank's Injunction pours a hazy orange color with a large head that retains well. The aroma is bright and grainy, with strong citrus and watery malt. The taste is sweet and citrusy, with an adjunct-y tasting malt base. Not great, but not awful either. The mouthfeel is light and highly carbonated, and the drinkability is alright. Overall, Shawshank's Injunction really tastes like a more citrusy version of the normal Fat Cat Lager.
437 characters
3.43
/5
rDev
+15.5%
look: 4 | smell: 3.5 | taste: 3.25 | feel: 3.5 | overall: 3.5
Poured from a 12 oz. can. Has a golden color with a 1/2 inch head. Smell is of malts, some citrus. Taste is definitely on the malty side, considerable sweetness, some light citrus as well. Feels medium bodied in the mouth and overall, while a bit light on the hops, is a decent beer.
283 characters
Shawshank's Injunction Pale Ale from The Fat Cat Beer Company
2.97
out of
5
based on
29
ratings.