Brandy's Imperial Sundae - Saddlebag Series
| Mustang Brewing Company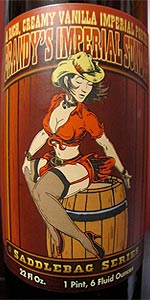 BEER INFO
Brewed by:
Mustang Brewing Company
Oklahoma
,
United States
mustangbrewing.com
Style:
American Porter
Alcohol by volume (ABV):
9.10%
Availability:
Fall
Notes / Commercial Description:
No notes at this time.
Added by StaveHooks on 10-06-2012
Reviews: 8 | Ratings: 35

3.68
/5
rDev
+0.5%
look: 3.5 | smell: 3.5 | taste: 3.75 | feel: 3.75 | overall: 3.75
Stumbled upon Brandy at Brown's Bottle Shop in Stillwater, OK while looking for whales. I'll admit the label and name of this beer piqued my interest and I had to have it. An unimpressive cola color and a short lived fizzy head were unimpressive, but you never know with porters. Aromas of simmering dark fruit in candy sugar, dark malty chocolate, and vanilla are detectable, but not pronounced. While chilled, there is a metallic off-flavor, but warmth will allow this porter to open up a bit. Once warmed in the glass for about 30 minutes, I found flavors of rum-raisin, plums, short bread cookies, brandy, baker's chocolate, smoke, and vanilla beans. The medium body is met with some serious dryness thanks to 9.1 abv. Warm your porters! Goes great with a pepper-crusted T-bone steak!
788 characters

3.18
/5
rDev
-13.1%
look: 3 | smell: 3.75 | taste: 3 | feel: 3 | overall: 3
This beer is not as full bodied as it could be. This isnt what I was hoping for. Lighter mouthfeel than I would have preferred. Almost a complete lack of maltiness. The more I drink, the less I like it. This reeks of artificial sweetness. No thank you.
EDIT: After reading others reviews, I am confused. This is not a good beer in my opinion.
343 characters

3.97
/5
rDev
+8.5%
look: 4.25 | smell: 3.5 | taste: 4.25 | feel: 3.75 | overall: 4
Pours a very dark brown. Creamy tan smooth head that lingers. Aroma of malt, bread and raisin. Initial taste is malt, dark fruit and vanilla, but the chocolate, coffee and alcohol really comes through as it warms a bit. Only a slight bitterness. Medium mouth. I came to like this more and more with every sip. A quality porter where everything comes together well.
364 characters
3.46
/5
rDev
-5.5%
look: 3.5 | smell: 3.75 | taste: 3.25 | feel: 3.5 | overall: 3.5
Pours chocolate brown color with a decent head.
Smells very malty, some vanilla and booze and maybe light chocolate.
Taste is very sweet, almost cloying. Plenty of vanilla which is the best part of this beer, but it could use a somewhat darker backbone to support the sweetness and vanilla.
Pretty drinkable considering how sweet it is.
I like this beer but I don't love it--it's not very well balanced, the vanilla is nice but not particularly memorable.
6.8/10
467 characters

4.15
/5
rDev
+13.4%
look: 3.75 | smell: 4.25 | taste: 4.25 | feel: 4 | overall: 4
Thanks merc
The beer pours a dark brown with a thin tan head that dissipates quickly. The nose is potently vanilla, almost like an extract. the taste is a bit roasty, sweet,with a hit of vanilla. It definitely delivers a big amount of vanilla with a great sweetness to compliment. This is definitely the best vanilla forward stout that I've had and certainly hits the spot.
373 characters

3.1
/5
rDev
-15.3%
look: 3.5 | smell: 3.5 | taste: 2.5 | feel: 3.5 | overall: 3.5
P: Dark brown almost non-transparent with ruby tint and a small froth of cappuccino head.
S: Hot fudge, yogurt covered raisins, amaretto coffee creamer and vanilla bean.
T/M: Chocolate gem donuts, amaretto, burnt caramel malt, cherry NyQuil, bourbon soaked raisins and vanilla flavored syrup. Oak hops deliver a bit of bitterness to the rich vanilla flavoring. Tastes like cherry vanilla coke with chocolate syrup. Medium body with tangy carbonation. Finish starts smooth then turns dry and reveals bitter cocoa and burnt wood.
O: As excited I was to try this new offering from Mustang I gotta say I thought it was not fantastic. I really tried to like it but it super artificial tasting. Sorry Mustang I really tried its just not doing it for me. Props for taking a risk though.
785 characters
3.71
/5
rDev
+1.4%
look: 2 | smell: 3.5 | taste: 4 | feel: 3.5 | overall: 4
Got this bomber from Freddy at the Biergarten in Jenks, OK, USA. Cheers Freddy
Pours Chestnut/mahogany with a slim tan head that drops off rather quickly. Zero head retention & lacing, the only flaw to this beer
S: Dark fruit, jammy notes, bourbon?
T: Chocolate, vanilla, carob, figs & a touch of caramel & dryness up front. This skews more like mocha with a boozey vanilla cream soda as this warms ( in a good way!), some figgy & cherry notes too. Finishes dry, with vanilla sweetness, & dark fruit; almost pulled 4.5
MF: Medium bodied, slight carbonation, becomes warming
Hats off to Mustang & the crew at Krebs for this one, thrilled to see mustang bottling some of their product in state. I hope this a permanaent fixture. Will buy more when I see it most likely
771 characters
4.04
/5
rDev
+10.4%
look: 3.5 | smell: 4.5 | taste: 4 | feel: 3.5 | overall: 4
22oz served in a snifter.
A - Pours a very dark brown with 1.5 fingers of mocha head that dissipates pretty quick. A few specks of lacing are left on the glass.
S - Very rich aromas of vanilla and caramel malt, chocolate cake, oak wood, raisin bread, coconut, amaretto, roasted coffee beans, raw brown sugar, woody scotch alcohol.
T - Some acidic fruit upfront but then it transforms into layers of vanilla, caramel and chocolate malt, wrapped in oak wood. Prunes and sweet raisin bread with notes of amaretto and coffee. Has a soft woody finish with a bitter chocolate aftertaste.
M - Medium body with low carbonation, silky feel.
Very nice porter here. Very layered flavors that really hit the spot on a cold day like today.
732 characters
Brandy's Imperial Sundae - Saddlebag Series from Mustang Brewing Company
3.66
out of
5
based on
35
ratings.