Luckydog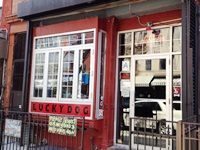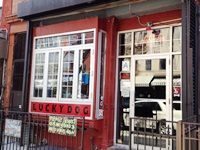 Bar
303 Bedford Ave.
Brooklyn
,
New York
, 11211
United States
(347) 294-4971 |
map
luckydogbrooklyn.com
Notes:
Recent ratings and reviews.
Ratings by elamb106:

Rated by elamb106 from New York
4
/5
rDev
-4.8%
vibe: 4 | quality: 4 | service: 4 | selection: 4
Apr 04, 2016
More User Ratings:

Reviewed by Billolick from New York
4
/5
rDev
-4.8%
vibe: 4 | quality: 4 | service: 4.25 | selection: 3.75
Dark and dumpy inside, longer and narrow room...nice outdoor space in the rear, funky and friendly...and a few seats worth of seating in the front. The whole operation oozes with character, in a Williamsburg Bklyn. kinda way.

Quality drafts available like...Sloop Juice Bomb, 3 Floyds Zombie Dust, Threes Temporary Insanity IPA and Bronx Brewery Bill and Sals IPA.

The Juice bomb was fresh and tasty...cant go too wrong with that flagship brew.

Its a dive..they have some good beer...lots of atmosphere...very casual and friendly feeling to this spot....decent place for a brew or two
Apr 22, 2021
Reviewed by slander from New York
4.08
/5
rDev
-2.9%
vibe: 3.5 | quality: 4 | service: 4 | selection: 4.5
On what is going to be a train wreck of an attempt at taco night in Williamsburg, what with (Evil) Davo's known lack of real time promptness and his having invited enough people to be assured that there's no way we're going to get seated with a group this large come dinnertime. Early early and in wait for the unusual suspects to gather, I'm a-looking to hold up somewhere for a few. Somewhere very local to where I's gots to be in a bit (strangely, the word "I's" didn't flag in spell check, I's a-gonna check that again. Nope, still nothing). Saw the place what was before, and the place before that. Guess I'm due again to see what is...

Completely and totally unrecognizable from its former venues. So very dim, and seriously, I can't believe it's the same bar. Long wood beam topped bar with a piping foot rail, seating 14 on leather stools off to the left. 4 X 6 vertical blackboard listing tap selections and pint & pitcher pricing on the slat wood barback wall on one end; and framed boxes & shelvings with booze displayed otherwise. The rest of the space is done up with mirror and pressed tin pieces, and a collection of left behind ID's (you're stupid) and credit cards (and we should run up a tab on yo' ass), brewerania cans, tap handles, beer trays & a center mirror listing bottles and drinky things, hard to read in this or any light. Old beam framing holds brewerania, retro lighting and signage, and booze lined shelved lowers. Another board listing wine selections up front.

Opposite wall is brick with a pastel colored mural of one lucky dog, and bar counter space below with 6 stools and then the juke past there. It's a good juke, no, it's a reeeeally good juke (Flying Burrito Brothers, Cash, Wilco, Garcia/Grisman, Neil, Mick Taylor era Stones, Kinks, John Prine, Smiths, Pixies). Table shuffleboard & a Lord of the Rings pinball machine to the rear where the kitchen used to be. There was this guy who used to live there, a Paniniman, he did fucking magic. "Magic", I say. And you think you can replace him with games? I think not. I will say a silent prayer for him and his family and look to beer for forgetiveness. Bench below the back window for the lookin' in on, of things. Amongst them, the board games for the play atop the juke mocking the memory of Paniniman (Bastards!).

Wide plank floorings still, and to save you from having to extend your neck muscles by looking up, they've got pressed tin ceilings & crown moldings, center ductwork blended black with wrapping Xmas lighting red white blue, a couple of spins, drop suction cup lamps over the bar and some spider spots. A few Grain Belt & PBR retro beer lamps picked up from the Gutter store riddled about, and strung glow rope along the underside of the bar adding some light light.

The big accordion windows up front over the small outside seating pen there below what awns. Large framed mirror in the front corner, and an "L" bench below it. This inked guy stepped on the bench and through the window twice now instead of walking around like civilized peoples do. Guess what, dude? You're not that cool. Especially with them green neon glasses. Yeah, you!

20 taps in a row on a sunken wood box below the bar, and a handpump that extends up through the bar alongside. The taps are American craft heavy, as it should be. Local (Brooklyn Lager, Six Point Sweet Action, Captain Lawrence Extra Gold), regional (Ommegang Rare Vos, Genesee Cream Ale, Victory Prima Pils, Sly Fox O'Reilly's Stout, Thomas Hooker Watermelon Ale, Allagash White, Peak Organic Summer Ale, DogFishHead 60 Minute IPA & Theobrama), and beyond (North Coast Pranqster, Great Divide Hercules, Bear Republic Racer 5, Oskar Blues Dale's Pale Ale), plus a smattering of import play (Reissdorf Kolsch, Hacker-Pschorr Hefe Weisse, Stella), and a single simple (Doc's Apple) Cider. The single handpump is pouring Clipper City Heavy Sea Loose Cannon IPA. Tried a bit of this and a bit of that, and opted for the Racer 5, due to love. And it's special.

You know, it's hard to tell if and what they do bottled here, and only partially because the place is so very dimly lit. Actually, it took some time but I have determined that beyond 8 or so bottles & cans and some macro/retro action, everything else is for show. I don't know why.

Backyard is not as excellent as it used to be. It's contained and bound to both sides fenced and tighter & slighter than I'm sure I correctly recall. Grungier crowd than the previousnesses got (in a good way). The 'tender I do likes, and there's a decent vibe here, although the music they're playing just now is angry and unjukeboxlike. Still, the beers seems fresh and clean and pairs extremely well with a Dumont one-two. Pre-taco time well spent.
Feb 04, 2011

Reviewed by olympuszymurgus from California
4.34
/5
rDev
+3.3%
vibe: 4.5 | quality: 4 | service: 5 | selection: 4
went here after visiting the brooklyn brewery on a snowy saturday. a beautiful time to be at that bar. bartenders very friendly, selection plentiful, with many good stuff from around the ne and some bigger micros with a selection of booze as well. twenty taps or so, they had the mad elf from troegs on tap, which is delicious and shouldn't probably be given to anyone in a pitcher except on a night like that one.
shuffleboard, check. bartender even explained the rules without being an ass about it in any way.
watching the snow fall in nyc for the 2nd straight year ... ah, a beautiful christmas.
Dec 24, 2009

Reviewed by Hibernator from Massachusetts
4.22
/5
rDev
+0.5%
vibe: 4.5 | quality: 4.5 | service: 4 | selection: 4
My friend recently moved to Brooklyn, so most of our weekend consisted of bar hopping around the craft beer heaven that is Williamsburg.

We decided to check out the newly opened Luckydog on Bedford Avenue. We ended up having such a good time here that we came back a couple of times for more. The atmosphere is pretty chill with comfortable dark wood inside and an awesome back patio area. The actual bar area itself is pretty narrow and small, but there is enough of room for some tables and chairs. The patio offers more tables, a swing and a portable outdoor fireplace. No TV's either, which is a statement in the bar scene these days. I like it.

You can expect about 20 draft options with selections like Great Divide Titan IPA, Hooker Octoberfest, Allagash White Ale, DFH 60 & 90 IPA, Rogue Hazlenut Porter, Hacker Pschorr Weisee, Ommegang Rare Vos, Reissdorf Kolsch, Goose Island Demolition and Brooklyn Manhatten Project.

They also have Genny 24 oz beers for $4 if you're feeling frugal. Pitchers of beer are also an option with some draft selections. Beers are served in appropriate glassware too, which I always love to see.

Prices are reasonable for NYC, especially with $1 off during Happy Hour. Service was solid, with a cool bartender, great jukebox (good classic country, Bob Dylan, Rolling Stones, Beatles, etc), games (awesome shuffleboard table!) and a nice selection of craft beers. I had a great time here.
Oct 06, 2009
Reviewed by DawnL from New York
4.5
/5
rDev
+7.1%
vibe: 4.5 | quality: 4.5 | service: 4.5 | selection: 4.5
The bar is dimly lit, which I like. Reclaimed wood floors and bar. Decent jukebox - lots of Bob Dylan. Great backyard area! Very relaxing and easy-going vibe.

The beer selection is almost all craft on tap. Stella makes an appearance as does Franziskaner. They do offer PBR buckets for some of the locals who want it. The bartenders are great. The service is excellent.

The beer selection is terrific - not sure how many taps (it was the third place I visited in an afternoon of binge drinking). I had a hard time choosing what to drink - I wanted a pint of each! I think they had 20 taps and a cask offering.

They don't offer too much food - mainly you go there for the beer and the backyard. There's a restaurant next door and the food smelled really good - Thai, I believe. Dumont Burger is across the street.

I will be back to visit again in the near future...
Aug 10, 2009
Luckydog in Brooklyn, NY
Place rating:
4.2
out of
5
with
7
ratings