Hart & Thistle
BEER AVG
-
none
Awaiting 10 Ratings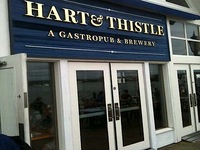 PLACE INFO
Type:
Brewery, Bar, Eatery
1869 Upper Water St
Halifax
,
Nova Scotia
, B3J 1S9
Canada
(902) 407-4278
// CLOSED //
Notes:
No notes at this time.
Added by bobsy on 08-06-2009
Ratings: 13 | Reviews: 13
Reviews by Buebie:
3.83
/5
rDev
-7%
vibe: 4.5 | quality: 4 | service: 3 | selection: 4.5 | food: 3
Located in the hustling bustling shopping area of the harbor, this is a great place to trick the wife into going. She will get hungry and tired from spending all your money at the shops.
Large seating area on the wood deck with many umbrelles to keep the sun off. Also many seats inside with wide large booth seats. The bar is wood lined with several taps.
Some nice looking cute girls on the wait staff. The staff is friendly and quick to return with your food and drinks.
A good amount of natural light comes in through windows, giving you a great view of the harbor. Inside the tanks are displayed well behind glass in an inside room. Upstairs are the mash tuns, also displayed well. Bright copper tanks glowing inside these rooms.
Ample people watching if you sit outside.
The food is alright, not to greasy, big portions. I had a bite of my wifes bacon burger which was cooked to perfection with a generous amount of cheese. The fries come in huge mounds on your plate. I had a pulled bbq sandwich that seemed really small for $13. However the fried did make up for the small portion.
Now on to the beer...
The house beers are something special. Ive said it before and I'll say it again. The 37 hour Simcoe SMaSH is the best ipa I've ever had. The stout on nitro is also a damn fine brew with huge hop aroma. There were severla other local beer offerings, all good. But if you go, grab a few in house brews done up by NASH, they will make it all worth the trip.
The prices on food were a bit spendy, but the offerings list was large.
Check this place out.
1,572 characters
More User Reviews:

4.08
/5
rDev
-1%
vibe: 5 | quality: 4.5 | service: 4 | selection: 3.5 | food: 3.5
The Hart & Thistle is located at the Historic Properties. It's right on the waterfront and has one of the best patios in town.
They offer a few craft brews and usually have a couple of their own on-tap. Nash keeps up with the brewers blog, so you can see what's going on.
There's some really interesting stuff on the menu, but it's not always executed well... mind you the patio was crazy busy during the summer evenings that I was there.
There's plenty of great pubs in Halifax, but if you're ever in town, you really need to sample some of Nash's work.
566 characters
3.43
/5
rDev
-16.7%
vibe: 3.5 | quality: 4 | service: 3 | selection: 2.5 | food: 5
I stopped in for lunch from our cruise ship. Good location in the Historic Properties with a view of the water. Bright and roomy during the day, we were unfortunately seated against windows with scaffold and workmen outside (would have been a nice table without the workmen)
The beer selection was a surprise as they only had one brew of their own on tap. This did allow a chance to taste other Halifax local brews. The H&T Scharz Porter was interesting, pleasant-tasting experience. Propeller Brewing Co. hefeweizen was okay, while their Bitter was more to my liking.
The food was very good and worth an effort to enjoy. We only had room for starters, but would love to try more. The menu is extensive, inviting, and varied. Prosciutto-wrapped scallops looked like a small portion, but they were satisfying. The mussels were a full bowl and very tasty.
We had to sit for a while after being seated, but once our server connected with us service improved.
Well worth the trip for the food and the unpredictability of the house beers.
1,038 characters

3.53
/5
rDev
-14.3%
vibe: 3 | quality: 4 | service: 3 | selection: 3.5 | food: 4
My first stop after checking into my hotel, the location could hardly be better (just steps from the Marriott Harbourfront).
Not a bad looking place with a small inside area to go with outdoor seating on the harbor. A twelve seat bar, a couple of circular high tops built around load bearing columns, and some tables scattered around. The vibe was not great though, from the not particularly friendly bartender (same one on my visits on Thursday afternoon and Friday prime time), to the annoying loud college kids at the end of the bar that could have been wiped clean from time to time.
The beer was the highlight. I stuck to the two house beers (a hefewiezen and a DIPA) which were both well made. There were other handles from local craft places plus the inevitable Alexander Keith's.
My fish and chips were quite nicely done.
On a nice day (which I did not experience on my short visit), this would be a nice spot to pass some time outside on the deck with friends.
HV
978 characters
4.68
/5
rDev
+13.6%
vibe: 4 | quality: 5 | service: 5 | selection: 4.5 | food: 4
This bar is the best in craft beer Halifax has to offer. The selection is always rotating, typically with two hand crafted beers on tap. The main focus is on extremely hoppy IPAs, but the occasional stout and porter are the real gems (IMO). There is also the odd foray into other beer types (red, saison, hefeweizen).
The food is a bit above average for typical pub food. However, if you are heading to Hart and Thistle you are going primarily for the beer. If you look around the room, at least 2/3 of the room is drinking their crafted brews. The service is always prompt and very friendly. I have never had a bad experience with the staff.
As someone you frequents this establishment a couple times a week, I recommend this place to anyone from or coming to Halifax.
Enjoy
778 characters

4.13
/5
rDev
+0.2%
vibe: 4 | quality: 5 | service: 4 | selection: 3.5 | food: 3.5
Let me start of with this, if you enjoy craft beer and are in Halifax, you should visit Hart & Thistle and try the house beers by Greg Nash. He tends to focus on very hoppy IPAs that are truly excellent, rivaling any thing made by other large, Halifax breweries of Propeller and Garrison (which are also good enough to be worth checking out), and even other notable breweries in Canada.
Overall, it's pretty typical in atmosphere, but the staff are fun, interesting to talk to, and seem to enjoy working there. Mildly knowledgable about beer, with some better than others.
Service is prompt and appropriate. Food was good, but not spectacular. I had the beet salad and chicken club sandwich. I enjoyed my salad, although the beets were a little undercooked. Chicken was good, but fries weren't the best.
As for the rest of beers, they have a selection of Propeller and Garrison beer as well as Alexander Keith's (a macro company to avoid).
Overall, I anticipate returning here each time I'm in Halifax to try what great brews Mr. Nash has made next.
1,054 characters

4.53
/5
rDev
+10%
vibe: 4.5 | quality: 5 | service: 4.5 | selection: 4 | food: 4.5
My first stop once I got to my hotel in Halifax, poorly timed however because we were too late and it was closed. Fast forward to the next day, great spot on the waterfront with a massive patio a great setting for some beer. I was here to meet NASH for a little swap and beer talk and had a pretty good afternoon. I ended up drinking several pints of the Window Pane Wet Hopped IPA and only had a sip of another beer while I was there. I knew they had plenty of other local stuff to drink but I didn't go to the Hart & Thistle to drink brews I already had waiting for me in my hotel. Looking back I'm a little pissed at myself for not drinking the other house beer on tap but anyways... Service was great and quite easy on the eyes and the food was quite tasty. Great calamari, some of the biggest wings I've ever seen and the nachos were pretty easy to eat too (thanks NASH)
This place is a must visit for anyone going to Halifax, great house brews always rotating, some of the better pub grub I found out East, and the setting is wonderful.
1,043 characters
4.33
/5
rDev
+5.1%
vibe: 3.5 | quality: 5 | service: 4.5 | selection: 4 | food: 3.5
Went here while on a cruise at the recommendation of others at BA.
I am so freakin glad I made the trip down the boardwalk here! I got a table during lunch (midweek so it wasn't crowded). The waitress was firendly and when I mentioned I heard about it from BA she got Greg Nash to come out meet with us. Having lunch here was a highlight of my vacation.
The food was good, and reasonably priced. The beer.... was awesome. I tried the Orange Sunshine and Microdot, and they were really good.
If you like beer and find yourself in Halifax, you must come here. End of story.
577 characters
4
/5
rDev
-2.9%
vibe: 4 | quality: 4 | service: 4 | selection: 4
stopped in for a drink after dinner on a Sunday evening, the place was pretty dead but there were still a couple diners and a few people watching the World Cup final, so drinks were still being served
the place itself is a little tough to find as it's located in the back of a little mall and there wasn't a sign visible at night, so just navigate to the address and go from there, pretty big space with very high ceilings, lots of wood, and brewing tanks displayed, big windows allow for views of the harbour, and the large outdoor terrace would be a fantastic place in better weather
addition: the next night we sat out on the dock to watch the evening fog roll in on a cold wind, would be an awesome setting were it not for the annoying 90s rock, but at least the scenery is nice
very large selection of beers to include two house beers - a baltic porter and dipa at my visit, Propeller ESB and hefeweizen, maybe 6 from Alexander Keith's, an O'Connell, and a couple from McAuslan, something like 14 in all, glassware was appropriate
the great representation of locals and the harbour view make this an ideal stop for visitors to the area
1,144 characters
4.28
/5
rDev
+3.9%
vibe: 4.5 | quality: 4.5 | service: 4.5 | selection: 4 | food: 3.5
If you're going to the Hart and Thistle, you're going for the beer. Greg Nash's kicked-up hoppy goodness is the draw here, plain and simple. It's a very nice place, with comfortable seating and a great view of the harbour, the service is excellent, and the food is pretty good, even if it's a bit underwhelming for the price, but the beer it the raison d'etre for this place. And what a reason. Frequently rotating, invariably delicious, and actually quite reasonably priced. If you're in Halifax and looking for good beer, this is your first stop, end of story.
562 characters

3.95
/5
rDev
-4.1%
vibe: 4 | quality: 4.5 | service: 3 | selection: 4 | food: 4.5
I ended up stopping here on one of my last days in Halifax, and I wasn't disappointed. The place looks fairly new with modern decor, lofty ceilings, large booths and tables, and a great outdoor patio that overlooks the bay. A really nice touch were the windows in the interior that looked into the mini brewery the house brewer has going, with both the equipment and brewers being clearly visible; emphasizing the bar's main asset (the beer) as well as its freshness.
Our waitress seemed to have a bit of an attitude and pressed us to make our order, even though the place didn't seem busy, and was a bit inconvenienced when we took longer to pick than what she expected. On the other hand, she was quick, knowledgeable about the beers on tap, and recommended their wings which I would have never picked myself, but they were, without exaggeration, the best wings I've had in my life. They were all about the chicken rather than the sauce (which was served on the side) and were fall off the bone tender.
But, it wasn't the atmosphere, food, or service that made me want to go here, it was the beer. The tap line was good with a selection of Propeller and Garrison beers as well as one Pumphouse tap, and then the rest of the usual suspects. But what really makes their lineup stand out is their house beer brewed by Greg Nash. I had a pint of his "Unknown DIPA" that was tapped only three days prior, and it was fantastic. And I was pleased to see that about 3/4 of the people around us had a pint of the same thing, making it obvious that his beer is quite the draw with a good following. What makes it really interesting is that the same beer is never brewed twice, giving a great reason to go back again and again.
If you're down by the bay in Halifax, be sure to stop by. I'm in Halifax three times a year, and I'll be trying my best to go down at least once each time.
1,878 characters
4.22
/5
rDev
+2.4%
vibe: 3.5 | quality: 4.5 | service: 4.5 | selection: 4 | food: 4
I will admit that I have been spending a lot of time down at the Hart and Thistle lately. First encountered when the owners invited the beer community down for the first tapping of house beer in the summer of 2009, I have made it a point to go down at least once when a new beer is tapped.
And at the Hart and Thistle, this happens fairly frequently. The brewer there has made a point of not brewing the same thing twice, striving for unique and different tastes to interest the beer advocate groups and regular drinkers alike. This generally results in something new every two months.
But enough about the beer and on to the restaurant itself. The Hart and Thistle has a huge patio, great for those summer afternoons, and a wood stove in one corner of the bar, great for one of those cold winter afternoons. Internal decor is somewhat weird, with a really high roof and an odd wooden owl that surveys its domain of half the bar. Plenty of advertising for the 'local' macro beer, but more often than not you will see fellow patrons with a glass of local microbrews, in part I believe due to the big sign at the entrance mentioning the house ales.
The beers are always fantastic. However, the actually food is a bit hit and miss. Some items are fantastic, such as the chili or thai noodles. Some are usually good, like the fish and chips or the burger. Some are just not good at all, like the nachos. Really, do not try the nachos.
Service has always been great. Servers are generally pretty attentive. They also tend to engage in some small talk, making you feel more welcome.
Prices are a little higher than normal. However, if you order the right stuff it is worth it. Also, it is the only place I am aware of locally that serves a full imperial pint when you ask for a pint. When that pint is something like Double Simcoe Smash, I feel like I am making out like a bandit (a part of that might just be the booze talking though).
All told, the Hart and Thistle has quickly become one of my 'must' places to visit on a fairly regular basis and a definite must for people visiting the city to try out.
2,106 characters

4.6
/5
rDev
+11.7%
vibe: 4.5 | quality: 5 | service: 5 | selection: 4 | food: 4
Comfortable seating, tons of room, nice patio outlooking the harbour (for the chilly summer days). A few TV's playing sports. There was live music, not sure who the person was that was playing but he was very good, engaged everyone and was just jolly. I've never come and not enjoyed the music. Here almost weekly and I enjoy the musicians who play.
The service was great, the waiters and all other staff were very friendly and provided a warming environment.
The food was good, but a little on the pricey side, but good. I can't recall having a better burger than the Hart Burger, could be my sheltered burger eating life, but I loved it.
Greg's brews are amazing and the tap line consists of a number of Propeller and Garrison beers. Way to keep it local! You don't see to many people drinking Keiths or other macro's here. You come here for Greg's innovation and creativeness. New keg after the last one is tapped, he is always brewing new beers, recreating or inventing something that hasn't been heard of.
I was amazed at the tapping of Messy. I've never seen the place so packed. In such a short time, H&T has gotten it's name out there. The beer pricing depends on what is brewed,
All in all this place will become my new hangout as it provides the friendly atmosphere, great beer and live music. It's also interesting to keep updated on Nash's blog to know what and when new beers are coming on tap.
If there is one place to check out when in Halifax it's this place.
1,487 characters
Hart & Thistle in Halifax, NS, Canada
0
out of
5
based on
0
ratings.