Hogs Back Wobble In A Bottle
| Hog's Back Brewery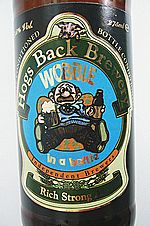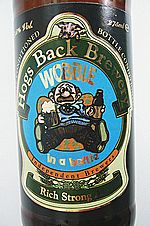 BEER INFO
Brewed by:
Hog's Back Brewery
England
,
United Kingdom
hogsback.co.uk
Style:
English Strong Ale
Alcohol by volume (ABV):
7.50%
Availability:
Year-round
Notes / Commercial Description:
No notes at this time.
Added by rastaman on 09-18-2003
Ratings: 5 | Reviews: 4
Reviews by CRJMellor:

3.28
/5
rDev
-5.7%
look: 3.5 | smell: 3 | taste: 3.5 | feel: 3.5 | overall: 3
Pours a maroon color with a light tan head that fades quickly. Aroma is rich medium malts and a citrusy hop note. Taste is caramel and pale malt with just a hint of bitterness. Looked for something else here but nothing really stood out. Decent beer but left a little to be desired as it was just a little too syrupy sweet.
323 characters
More User Reviews:
3.2
/5
rDev
-8%
look: 3 | smell: 3 | taste: 3.5 | feel: 3 | overall: 3
. Pretty approachable strong ale. Nice rich barley sweetness, with some juicy, slightly citric hops at the finish. I don't get the smoke in the aroma, oh, well, ever so slightly. Savoury finish, abit spicy in the finish aswell. Pretty decent. A touch syruppy and sticky for me though.
284 characters
3.58
/5
rDev
+2.9%
look: 4 | smell: 3.5 | taste: 3.5 | feel: 4 | overall: 3.5
1999 Vintage
Poured hazy dark copper, with a frothy head and fine bubbles of carbonation. Head dissapates to whisps in short time.
Sweet malts layered with dried citrus in the nose.
Finishes with a yeast wink and a hint of quanine.
On the thin side of medium bodied, malt starts out juicy on the pallet, and dries quickly. Subdued hops and mild alcohol.
Dusty fruit and a minerally yeastiness finish quick.
Nothing particularly intriguing here, or impressive, for that matter.
Oxidation off flavors on the low side for 6 years old.
540 characters
3.85
/5
rDev
+10.6%
look: 3.5 | smell: 3.5 | taste: 4 | feel: 4 | overall: 4
Revisiting this ale almost four years since my last bottle, alongside Chiltern "Bodgers Barley Wine"(C). BB 21/11/2008, served cool in Gulden Draak's tulip-shaped bowl sniffer.
A: dark red to russet amber in colour, coming with very faint carbonation and a rimmed head - slightly too timid for a RAIB.
S: compared with (C), the aroma is more straight forwardly, densely sweet, with lots of liquidy caramel, palm sugar, sour-sweet prunes, raisins, marinated and old pineapple slices, and fat Chinese dates at display. A swirl helps bring up a semi-stale sour edge of a well-aged Barley Wine, but only just, not sufficient to add a bit more complexity to the composition. After some breathing, a hint of chocolates and more stale notes hover in the background, but never quite pronounced.
T: in contrast to the impression from the nose, the foretaste lands lightly on the palate, showing semi-sweet prunes, sweet tea, liquidy longan-fruits, mild barley candy, backed by a lightly herbal and semi-"smoky" yeasty-malt undertone; then, a soothingly dry and bitter undertone as of hops as well as a well-aged sherry creeps down the palate, rendering a mildly spicy-herbal (like herb/licorice-flavoured prunes) finish.
M: almost no carbonation is detected on the palate, feeling smooth, and the flavour profile is pretty quiet and soft. Medium-bodied, neither heavy nor cloying.
D: an understated barley wine that tastes better than it smells, while the semi-dry palate gives very clear hints of long ageing, also adding to the overall drinkability. Compared with (C) this one is certainly more traditional, but never underestimate what "tradition" might entail...
* Tasting Date: 09/08/05
Coming in a long-neck, 275ml brown bottle, with a Best Before date of 22 Sept. 06.
3.5 A: served in a big tulip-shaped wine glass, it pours a reddish copper or light ruby hue, with sparse and negligible beer head and quite low carbonation... The colour is really nice, almost looking like a glass of rose wine in front of me (if the beer head is discarded).
3.5 S: a strange, kind-of-artificial smell of chocolate-flavoured candy (yes, a bit like M&Ms!!) approaches... also noted is a wild and semi-sharp note of brand new wood furniture on top of a deeply sweet smell of toffee and astringent note of cherries+citron. Overall not unpleasant but I'd say it's distinctive and not my cup of tea.
4 T: prevailing flavour of bitter-sweet malts smoothly flows onto my palate...with an underlying, warmish taste of ___(??) which gradually intensifies towards an intense, dryish and peppery bitter finish along with an implicit, nut-syrupy taste. It tastes very differently for an English beer, or any beer for that matter; at times the aftertaste even reminds me of some vegetable-countrywine...
3.5 M: the mouthfeel is smooth, even a bit flat... but the evolving mouthfeel does not lose its distinctive, sharp edge brought about by the hops.
3.5 D: a very different full-bodied and full-flavoured beer to savour at night, though one bottle is surely enough for my conservative taste-buds...
3,074 characters
Hogs Back Wobble In A Bottle from Hog's Back Brewery
Beer rating:
0
out of
100
with
5
ratings