Summer Ale
| Greenport Harbor Brewing Company
BA SCORE
84
good
12
Reviews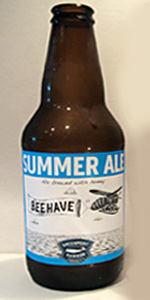 BEER INFO
Brewed by:
Greenport Harbor Brewing Company
New York
,
United States
harborbrewing.com
Style:
American Blonde Ale
Alcohol by volume (ABV):
5.30%
Availability:
Summer
Notes / Commercial Description:
A refreshingly delicious, moderately hopped golden ale brewed with a touch of orange blossom honey for a light, slightly sweet and floral finish. Our Summer Ale is waiting to take it's place somewhere between softball, rooftop parties, SPF whatever, and sand in the bed.
Added by tobelerone on 05-01-2012
Reviews: 12 | Ratings: 64
4.13
/5
rDev
+11.3%
look: 3.5 | smell: 3.5 | taste: 4.5 | feel: 4.25 | overall: 4.25
Picked up a 6 pack from Babylon Beverage in West Babylon, NY. Definitely a refreshing brew that's good on a hot summer day. You can taste the honey up front and it has a crisp floral finish.
191 characters

3.81
/5
rDev
+2.7%
look: 3.75 | smell: 4 | taste: 3.75 | feel: 3.75 | overall: 3.75
12 oz bottle, 000011116 printed on the bottle
Pours lightly hazed golden, moderate off white one finger head, leaves a thicker film and some moderate bits of lace.
Ripe fruit nose, with melon and honey.
On the palate its a load of honey, more ripe fruits, melon, pears, light pepper....pleasant
Summer ale - yup - better then decent - worth a try -servicable sessioner
373 characters
3.61
/5
rDev
-2.7%
look: 4 | smell: 3 | taste: 3.75 | feel: 4 | overall: 3.75
Bottle at Porto Vivo in Huntington, NY at the suggestion of the bar tender.
L: strawberries, very thin head
S: extremely delicate, bordering on almost no scent at all. Honeysuckle, but barely
T: delicate, Honeysuckle
F: very good. Crisp, with tight carbonation. Refreshing
O: very nice. Extremely delicate. Refreshing
318 characters

3.86
/5
rDev
+4%
look: 4 | smell: 3.5 | taste: 4 | feel: 3.75 | overall: 4
A golden straw color pour with moderate carbonation and a fast white head. The nose is malty with sweetness. A light start with lots of sweet malts upfront and a smooth and semi-sweet finish. Really nice notes of grass, German malts, bread, sour mash, and oats. The honey is there and it just adds a slight sweet tone which is very nice. The mouth feel is crisp, clean, and refreshing.
Overall, a really nice ale that is perfect for the hot weather.
451 characters
3.53
/5
rDev
-4.9%
look: 3.5 | smell: 3.5 | taste: 3.5 | feel: 3.75 | overall: 3.5
On-tap at Rattle N Hum, New York, NY
A: The beer is clear yellow in color and has no visible carbonation. It poured with a quarter finger high frothy white head that gradually died down but never completely faded away.
S: Light aromas of fruity yeast are present in the nose.
T: Similar to the smell, the taste has flavors of fruity yeast along with underlying hints of sweet malts.
M: It feels light- to medium-bodied on the palate and has a moderate amount of carbonation.
O: This pale ale isn't that difficult to drink but it isn't overly interesting to drink. It would probably be a better choice to have with a meal than as a stand alone beer.
649 characters
3.57
/5
rDev
-3.8%
look: 3.75 | smell: 3.5 | taste: 3.5 | feel: 4 | overall: 3.5
Notes are from 5/28
A medium bright yellow color, this beer shines like polished gold. The smallish off-white head takes some time to fall and drops spotting behind.
Malts are on the dry side, crackery with some biscuit, and they offset the honey-like sweetness nicely. The hops are citrusy, and zestier than many in the regard, with a very light pith, and a bit floral. They're light, particularly for a pale ale, but they add some depth and balance. There's a touch of something lightly spicy and a very, very light nip of black pepper just underneath it all. This ale makes it hard to tell where hoppiness should lay back for a lighter "summer" profile, but the hops should be more prominent regardless.
The body is medium and the brew is fairly dry overall. Crispness and smoothness both stay with the palate off a strong but not overstated carbonation.
858 characters
5
/5
rDev
+34.8%
look: 5 | smell: 5 | taste: 5 | feel: 5 | overall: 5
I am delighted to find a regional micro brew of such exceptional quality. I am so tired of the current trend of heavy handed brewing. This beer is the exception to that. It is loaded with layers and layers of nuanced a subtlety. Clear clean and floral with notes of honey and clover. To my taste this ranks with some of the finest German Brews in this style. I could drink this beer glass after glass and continue to find new flavors of interest. Bravo! Keep it coming. IPA is BS Demand More!
492 characters

3.69
/5
rDev
-0.5%
look: 3.75 | smell: 3.5 | taste: 3.75 | feel: 3.75 | overall: 3.75
On draft at Tap and Barrel, Smithtown, New York.
Poured a light brassy hue with a one finger foamy white head. There was decent retention and lacing.
The smell featured round pale malts and a grassy hop.
The taste was well balanced with a touch of honey sweetness tempered by clean grassy hop.
The mouthfeel was toward the fuller side of the style.
Overall a tasty sessionable summer ale.
397 characters

4.05
/5
rDev
+9.2%
look: 3.75 | smell: 3.75 | taste: 4.25 | feel: 4.25 | overall: 4
Had this one at Coals in BX.
I had trouble choosing one to go with my pizza, but to see my boy cosmicevan gave this one some love I went with it.
A: Golden Orange/Brown, Decent lacing, no head when it was served.
S: First whiff brings out the spices, all of which I cant identify. Its there, but a subdued.
T: Nice. Coriander, Orange peel. But not like Blue Moon in taste since the similar spices, very nice touch in the front and then getting some honey sweetness in the finishPale Ale puts a nice twist on the summer for me. All summers should have a bit of this character.
M: Very nice. Bit grainy in the same way that Zombie Dust comes across. It doesnt taste anything like it but the execution is on point.
D: Very High.
I usually dont go for summer beers but glad I tried this one. finish. Pale Ale puts a nice twist on the summer for me. All summers should have a bit of this character. Get a pint for sure.
923 characters
4.08
/5
rDev
+10%
look: 4 | smell: 3.5 | taste: 4.25 | feel: 4.5 | overall: 4.25
Light golden color, little white head that quickly settles. Smell was slightly sweet, hint of honey.
Enjoyed the flavor, slightly sweet, slightly floral, the honey comes out just enough. Extremely easy to drink, very refreshing feel, perfect for hot summer days.
263 characters
4.02
/5
rDev
+8.4%
look: 3.5 | smell: 4 | taste: 4 | feel: 4.5 | overall: 4
swung by the brewery after a day at the vineyards to sample the local offerings. got about a half if a pint sample. brew was a transparent straw yellow with a thin white fizzy head. smelled of pilsner malt but came alive in the flavor. honey and orange peel on a golden ale worked amazingly well. great beer for the warner weather a real treat. soft and easy to drink.
368 characters
3.58
/5
rDev
-3.5%
look: 4 | smell: 3.5 | taste: 3.5 | feel: 4 | overall: 3.5
A clear, light gold bodied-beer with a small white head that settles down quickly, leaving some patchy lacing on the glass. Aroma is lightly sweet, with pale malt, a touch of bitter, citrusy hops, and noticeable honey. Faintly floral and perfumy.
Pretty tasty and straightforward. The honey really comes out in the flavor, adding appealing sweetness that doesn't take over too much. Otherwise it's grainy, cracker malt and just a kiss of citrus and floral hops. Low bitterness.
Medium-thin bodied with crisp carbonation, a dry finish, and a clean, refreshing mouthfeel overall. Very nice warm weather session brew.
625 characters
Summer Ale from Greenport Harbor Brewing Company
3.71
out of
5
based on
64
ratings.