Ogham - Ash
| The Celt Experience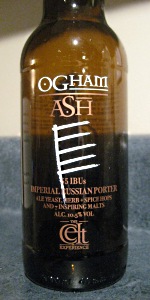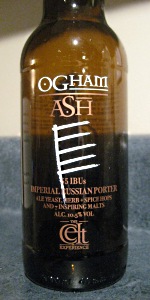 BEER INFO
Brewed by:
The Celt Experience
Wales
,
United Kingdom
theceltexperience.co.uk
Style:
Russian Imperial Stout
Alcohol by volume (ABV):
10.50%
Availability:
Limited (brewed once)
Notes / Commercial Description:
Ash, with It's mass, height, and deeply embedded roots are all metaphors for the spiritually minded, reflecting mastership and power.
A huge complex of roasted coffee, dark chocolate, expresso and liquorice finish with a enticing winey backbone.
55 IBU
Added by CwrwAmByth on 05-17-2013
This beer is retired; no longer brewed.
HISTOGRAM
Ratings: 10 | Reviews: 7
None found.
More User Reviews:


3.94
/5
rDev
+4%
look: 4 | smell: 3.75 | taste: 4 | feel: 3.5 | overall: 4.25
Very dark brown almost black colour. Pungent, heady aroma of dense fruit/raisin, malts and toastedness. Syrupy in its consistency, it tastes toasty, bitter, and strong. It's hard to discern any of the flavors mentioned in the commercial description; maybe a bit of sweet licorice initially, with subtle spicy hops towards the finish. A heavy beer. Minimal carbonation gives this one an almost velvet texture.
Would I buy this beer again? Yes.
445 characters
3.95
/5
rDev
+4.2%
look: 4.5 | smell: 3.75 | taste: 4 | feel: 3.75 | overall: 4
330ml bottle. A rather Native American-seeeming inscription/scratching on the label, which upon further investigation is actually Gallic language, wherein trees have a lot of influence. Anyway.
This beer pours a pretty solid black hole, except for those broad cola highlights, brightening up the edges, and two fingers of densely puffy, silkily foamy beige head, which leaves some hefty, awkwardly splattered, and honeycombed lace around the glass as things slip away.
It smells of lightly roasted chocolate, grainy caramel malt, a light orchard fruitiness, and a leafy, earthy hoppiness. The taste is gritty, grainy cocoa-heavy malt, a bit of of semi-sweet coffee liqueur, a sort quite reminiscent of Kahlua, for what it's worth, what with all that indistinct cafe au lait, and generic java shop 'joie de vivre'. Oh, and the craftily sublimated booze - can't quite forget that now, can we? In the interim, there is a wee bit of earthy, leafy hops, some quite overwhelmed caramel malt, if we're still interested in the base beer.
The bubbles are actually a whole whit more perceptible that I was anticipating for the style, the body full in weight, so, quit asking questions, yo? Oh, right, it finishes well off-dry, the cocoa, caramelized malt, and edgy, yet still ill-defined hops ruling the day.
A nicely introductory version of the style, the cocoa, and grainy malt - all in hepped-up proportions, natch, having more influence than one might otherwise prefer. That's because the other players here just don't have the chutzpah to compete. Sad, but true, but who the hell cares - this is one hefty, chocolatey, boozy (without any sort of actual agency), imperial stout. Good stuff, my Celtic bros!
1,704 characters

3.94
/5
rDev
+4%
look: 4 | smell: 3.75 | taste: 4 | feel: 4 | overall: 4
Served on cask via handpump at the Port Street bar in Manchester
A huge complex of roasted coffee, dark chocolate, expresso and liquorice finish with a enticing winey backbone.
177 characters


4.23
/5
rDev
+11.6%
look: 4.25 | smell: 4.25 | taste: 4.25 | feel: 4 | overall: 4.25
330ml bottle poured into tulip 24/7/14
A black liquid with a deep cola edge, three fingers of mocha foam quickly falls to a fingers width and stick around, a couple thick rings followed by random patches
S lots of chocolate fudge and coco powder, strong licorice and molasses, dark fruit and raisins, faint smoke and coffee with a little chocolate syrup
T much more coffee, still lots of licorice and chocolate, some charred wood, rich dar roast works well for it, different to the nose but equally good
M thick liquid and it creams up nicely, a little chalky, just a hint of booze, lots of char and espresso on the finish
O rich and dark, I liked this one from start to finish, I took a bit of a gamble on this random bottle and it paid off
I had no idea what to expect and was pleased with my random find, well priced and its drinking great so I'll grab another for sure
880 characters

4.33
/5
rDev
+14.2%
look: 4.5 | smell: 4 | taste: 4.5 | feel: 4 | overall: 4.5
330ml bottle poured into a tulip glass
Look: When I poured this, I was immediately reminded of draught Guinness - opaque black, albeit with ruby highlights when held up to the light, a tight, off-white head and that wonderful two-phase look as the main body of the beer and the head mix. Good head retention.
Smell: I didn't get a great deal in the smell, but what was there reminded me of a chocolate/espresso stout. That is to say, dark roasted coffee, cocoa powder and chocolate plus the usual dark roasted malt and burnt sugar smells you generally get from a stout. Slightly smoky.
Taste: Deep and dark - the coffee and chocolate flavours really shine through here, along with dark malts and plums/raisins. Doesn't quite have the bitter edge of a 'true' coffee stout, but the coffee flavours are undeniably there. Give it a chance to warm up a little and it really does come to life. Quite exquisite, and ticks all the boxes for me.
Feel: As others have pointed out, it's a wee bit chalky on the finish but the flavour profile more than makes up for that. For a double-figure ABV it's not what you'd call excessively heavy. There's a good balance of roasted malts, smoke and coffee with a long, dry finish. A bit light compared to some Imperials, but none the worse for that.
Overall: If this was truly a limited run then it's a real shame as it's not only a mighty fine Imperial stout but a mighty fine beer in general. If you like stouts and you happen to find a bottle of this, you'd be foolish to pass it up - very good indeed.
1,540 characters
3.39
/5
rDev
-10.6%
look: 3.5 | smell: 3.25 | taste: 3.25 | feel: 4 | overall: 3.5
Poured from a 330ml bottle into a Fullers snifter glass.
Pours a thin looking black colour, with a creamy tan head.
No strong smell, alcohol, maybe some vanilla too.
No vanilla in the taste. A pretty classic RIS taste, dominated by alcohol though not in an overly harsh way. With the czech hops it seems mostly 'hot'. Other than that, bitter burnt malts with a creamy texture.
Overall an okay attempt. Perhaps a lower abv or some more aging would tone down that heat.
483 characters
4.05
/5
rDev
+6.9%
look: 3.75 | smell: 3.75 | taste: 4.25 | feel: 4.25 | overall: 4
Coming in a 330ml slim brown bottle, bottle-conditioned; BB 10/04/2015, served cool in a short-stemmed bulb-shaped goblet.
A: pitch black in colour, coming with some yeast sediments, a dissipating layer of dark beige froth and fairly low level of carbonation.
S: on the approach, the nose is very light and fruity hoppy by the standards of this beer style, suggesting lots and lots of citric and piney American hop varieties mixed with a rather quiet backbone of black & dark malts. Given a good swirl, the sweet edge of burned caramel comes to the surface, otherwise the aroma is predominantly citric hoppy with a faint suggestion of black cherries, raisins, and leather.
T: in line with the aroma, the foretaste comes extremely light-bodied in terms of maltiness and roastiness, rather slick on the palate, and rather acidic citric fruity in terms of hoppiness, backed by faintly bitter-chocolaty notes, random roastiness, longan-fruits on shells, and the unsweet edge of plum preserve; as the warming alc. deepens, the sweet edge of dark malts also lingers, until all are outlived by the herbal and mildly spicy flow of hop bitterness and aromatic roasted malt undertones, always with prune-ish smoked acidic notes on the side.
M&O: softly-carbonated, the body remains fairly light as far as an Imperial Stout is concerned. The flavour balance unusually, heavily tilts towards the hop department, but all in all the weight of malts still anchors quietly at the back in order to help carry through the hop theme. A very different, but highly tasty and well-crafted, Imperial Stout this is.
1,592 characters
Ogham - Ash from The Celt Experience
Beer rating:
3.79
out of
5
with
10
ratings