Ultimate Stout
| Bristol Beer Factory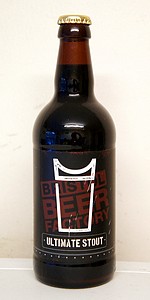 BEER INFO
Brewed by:
Bristol Beer Factory
United Kingdom (England)
|
website
Style:
Foreign / Export Stout
Alcohol by volume (ABV):
7.70%
Availability:
Year-round
Notes / Commercial Description:
No notes at this time.
Added by jazzyjeff13 on 06-08-2013
Reviews: 6 | Ratings: 13
Reviews by wl0307:
3.87
/5
rDev
+0.3%
look: 4 | smell: 3.75 | taste: 4 | feel: 3.75 | overall: 3.75
At 7.5%abv., coming in a 500ml brown bottle, bottle-conditioned; BB 18/01/14, served mildly chilled in a straight imperial pint glass. Notes: the back label suggests the beer is brewed with "a Belgian yeast".
A: pours a pitch black colour, coming with a fluffy dark khaki foamy head with fairly good retention, on top of moderate carbonation.
S: interestingly, the aroma is quite estery, not a surprise given the info. that Belgian yeasts are used for this brew; the balance is tilted towards the rich but not OTT fruit esters, densely savoury-sweet notes as of preserved hawthorn-fruits and dates, roast malts, and a fairly considerable amount of lactic acidity, in addition to the slightly dusty notes and earthy-roasty maltiness. All in all, this is SO… different than one's traditional stout, and interestingly so.
T: moderately effervescent on the entry, the foretaste is savoury-sweet, herbal-estery, and brown-bready malty, just nice but again every bit different than one's English stout; the bitterness emerges only in the long end, before that my palates have experienced quite an influence from the estery elements unique to the Belgian yeasts, where the lightly lactic sweetness gets mixed with the chocolate malts, backed by considerable fruit esters and azuki-bean-paste like perfumy bean-ish esters. The finish shows only… "littered" signs of roast malts, whereas the bitter or burned edges do not even make themselves felt at a noticeable level.
M&O: smoothly carbonated, medium-bodied (for 7.5%abv.), and very very untraditional in every sense due to the dominance of yeastiness at every single stage. The end result is a dark ale more similar to a Belgian take on the style than any British product I've had, which explains just how Belgian yeasts can make one turn, to both the drinker and the brew itself! Not bad at all; I'd love to try some more hybrid beers if this brewery cares to experiment more.
★
1,944 characters
More User Reviews:

3.97
/5
rDev
+2.8%
look: 3.5 | smell: 4 | taste: 4 | feel: 4 | overall: 4
A 500ml bottle with a BB of June 2013. Picked up a little while back from the York Wine & Beer shop. The label mentions that Belgian yeast was used to ferment this stout.
Poured into a Duvel tulip. Bottle conditioned. A very dark brown hue that appears ultra-black in the glass. Yields a decent head of creamy light-brown foam that lasts for a few minutes before subsiding. Aroma of rich, dark malt with notes of dried fruit, prunes, roasted grain, molasses, fruity yeast esters, mild chocolate and a twinge of sourness. A warming whiff of alcohol in the background.
Tastes of full-bodied dark malt with a fruity character and a lingering finish. Notes of roasted malt, burnt grain, molasses, dried fruit, prunes, mild coffee, subtle chocolate, fruity yeast esters and stewed leaves. Slightly sweet, with a hint of sourness and a warming boozy flavour in the background. A restrained, malty bitterness upon swallowing. Mouthfeel is velvety smooth and creamy, bordering on unctuous, with some tingliness from the alcohol. Nice thick body, though the carbonation could be a shade more effervescent. Somewhat astringent, with an aftertaste of dried fruit, bitter roasted malt and yeast esters.
Another solid offering from BBF - does a good job of living up to its name. Looks alright, though the head could have lasted a bit longer. The aroma is a decidedly fruity affair where the malt takes a back seat; lots of dried fruit, yeast and booze. The flavour is a bit more balanced - roasted malt and fruitiness in equal measure. Body is great; fantastically smooth. The Belgian yeast gives an unusual roundedness to this beer's character, along with a not-unwelcome hint of sourness. Perhaps the yeast is what stifles the malt in favour of fruity notes. At any rate, an impressive brew that demands attention. Well worth sampling if you come across it.
★
1,856 characters
3.5
/5
rDev
-9.3%
look: 4 | smell: 4 | taste: 3.5 | feel: 2 | overall: 3.5
Pours pitch black with a tan head.
Nose shows liquorice, chocolate, spicy phenols, a hint of cloves and cardamon, roasted malts and chocolate liqueur.
Aggressively roasty flavours, nowhere near as sweet as the aroma suggests. Mainly focuses on roasted barley, liquorice and spicy phenols but there's also a hint of coffee.
Body feels a little light on, carbonation is a bit over the top.
★
387 characters

3.52
/5
rDev
-8.8%
look: 3.75 | smell: 3.5 | taste: 3.5 | feel: 3.5 | overall: 3.5
500ml bottle bought online from Ales By Mail
Poured almost completely black with just a hint of brown around the edges when held up to the light. Tan head poured pretty bubbly and frothy then faded quickly to thick wispy covering... some light lacing...
Aroma - Strong chocolate, lots of roasted malts with a slight hints of smoke and leather, coffee, slightly sooty, some cola traces, slight sour hints, no real sweetness, very faint dark fruits - some plums and blackcurrents...
Taste - Nice lightly roasted chocolate malts mixed with toasted coffee notes, again some faint smoke, slight sour notes (maybe a hint of Belgian sour red ales), light dark treacle sweetness, cocoa, some roasted / burnt nuttiness, earthy, light vanilla, some date fruitiness...
Feel - Fairly smooth with just a little sharpness underneath... medium / full bodied... fairly quaffable...
Overall - A decent and slightly different stout... nothing earth shattering but well worth a try...
★
970 characters
4.47
/5
rDev
+15.8%
look: 4 | smell: 4.5 | taste: 4.5 | feel: 4.5 | overall: 4.5
500ml bottle-conditioned. Drinking 10 months before bbe date.
Pours black, thick lasting tan head. Aroma: yeasty, spicy, molasses. Taste: black treacle, alcohol. Feel: chalky, thick, mouthcoating taste. Overall: Smashing beer. An overwhelming taste experience.
★
260 characters
3.62
/5
rDev
-6.2%
look: 3.75 | smell: 3.5 | taste: 3.75 | feel: 3.5 | overall: 3.5

4.04
/5
rDev
+4.7%
look: 4 | smell: 3.75 | taste: 4.25 | feel: 4 | overall: 4

4
/5
rDev
+3.6%
look: 4 | smell: 4 | taste: 4 | feel: 4 | overall: 4
From Bottle. Pours deep opaque black with a small, creamy off-white film head. Aroma has sweet malts, roasted, chocolate, raisins. Flavour has roasted malts, chocolate, coffee, cocoa powder. creamy mouth feel nice.
★
214 characters

4.1
/5
rDev
+6.2%
look: 4 | smell: 4 | taste: 4.25 | feel: 4 | overall: 4

3.88
/5
rDev
+0.5%
look: 4 | smell: 4 | taste: 3.75 | feel: 3.75 | overall: 4
Ultimate Stout from Bristol Beer Factory
-
out of
100
based on
6
ratings.