Dragonmead Armageddon Grand Cru
| Dragonmead Microbrewery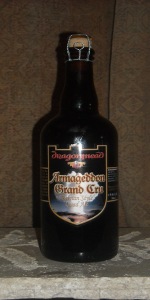 BEER INFO
Brewed by:
Dragonmead Microbrewery
Michigan
,
United States
dragonmead.com
Style:
Quadrupel (Quad)
Alcohol by volume (ABV):
11.60%
Availability:
Rotating
Notes / Commercial Description:
Grand Crus are traditionally known as "The best beer that a brewery makes." This Belgian-style quad lives up to that name and then some. Available once a year, in May to celebrate our Anniversary.
Added by BeerAdvocate on 05-20-2004
Reviews: 18 | Ratings: 43
3.67
/5
rDev
-6.9%
look: 3.5 | smell: 4 | taste: 3.5 | feel: 4 | overall: 3.5
Soft red-orange color, light haze, slightly translucent with a small rapidly disippating fluffy cloud colored head. Smells of light chocolate, raspberries, a hint of doughy yeast and some bit of clove. Flavor is quite impressive, full of candy sugar and sweet sweet caramel flavors. Lots of red fruit and a medium-full body. Even when served warm, this stuff is able to mask the 11 percent alcohol very well.
408 characters
3.67
/5
rDev
-6.9%
look: 3.5 | smell: 4 | taste: 3.5 | feel: 4 | overall: 3.5
On tap at the brewery pub.
Dark amber brew with a small smattering of lace on top. The aroma was composed of light fruity esters, sweet sugary candy, and a bit of alcohol. Sweetness from the candy sugar was very strong in the flavour, and was accompanied by a ripe fruitiness and alcohol warmth. Full bodied and smooth, lightly carbonated. Overall, not as complex as the Final Absolution, mostly just very sweet.
415 characters
3.65
/5
rDev
-7.4%
look: 3.5 | smell: 3.5 | taste: 3.5 | feel: 4 | overall: 4
had this in late may. at the brewery,from the tap. poured a ruby color with a small head,I think it was off white it is had to tell in this place because of the dim lights. aroma spices like cloves, chocolate, berries, sweet, flavor, caramel, sugar, medium dark fruits, with just a hint of alcohol
297 characters
3.65
/5
rDev
-7.4%
look: 4 | smell: 4 | taste: 3.5 | feel: 3.5 | overall: 3.5
GLASS: Snifter
TEMP: Cellared @ approx 45 degrees
Thanks to mjd83goblue for this one.
This one pours the color of golden, amber honey, with a slight haziness to it. Just a little over a fingers worth of loose, eggshell colored foam makes the head. It recedes to a light filmy surface covering. Lacing is loose and foamy, but fairly sticky.
Not a typical Quad nose. Big notes of sweet cherries and tropical fruits. Pineapple, papaya and mango are easily found. Mild yeast presence and a light oak presence. Belgian candi sugars.
It's not what I expected, but it does smell delicious.
This is the most boozy brew that I've had in awhile. Its got a lot of fruits surrounding it and some good spice notes, though. Some yeast and candi sugars. Nice oakiness, also.
Medium-bodied, just shy of full. Light carbonation level, which lets the alcohol run free. Lacks any real creaminess.
As a once a year item, when Dragonmead brews it for their anniversary, I like it. I wouldn't personally drink it much more frequently than that, though.
1,035 characters
3.5
/5
rDev
-11.2%
look: 4 | smell: 4 | taste: 3 | feel: 4 | overall: 3.5
Has a murky copper color with a healthy white foam. Smells yeasty sweet. Tastes of honey, not too sweet. The bottom begins to taste a bit sickly sweet. Not as good as most tripels I've had (I would expect quadrupels to be a notch above tripels, but maybe that's ignorance), but this is still pretty tasty.
307 characters
3.42
/5
rDev
-13.2%
look: 3 | smell: 3.5 | taste: 3 | feel: 4 | overall: 4
Pours a half-finger of light tan head over a light copper (with reddish) liquid. Many particulates suspended throughout. Smells mild overall. Phenol, candi-sugar, some pear esters, banana.
Tastes strongly of candi-sugar, with some pear, interesting alcohol edge, and phenol finish. Aftertaste sees a resurgence of the candi-sugar. Light and playful fruits tempt alcohol burn and spicy zip. In the aftertaste, there is a cherry flatness on the upper back portion of the mouth.
Interesting sticky sugar mouthfeel on a light bodied beer. Modest carbonation. Pretty drinkable, though more of a trippel than a quad, IMO.
617 characters
3.28
/5
rDev
-16.8%
look: 4 | smell: 3.5 | taste: 3 | feel: 4 | overall: 3
Been a challenge lately to get through anything new, but I decided to let my family have a crack at a few things this weekend and pulled a sample off of each. Part of the " Random BBQ Event" at my in laws on 07/19/2009.  
Appearance - The pour was pretty good here. Hazy amber in color, nice head on top with good retention, left behind a good deal of lacing along the sides and the bottom of the glass. Some light sediment in the final pour.  
Smell - Aroma was ok...light fruit notes, grapes, dates, perhaps some prunes at first come through. Lots of grain notes and a touch of alcohol as well. Not really very complex and overall a touch light for my tastes, but no matter we push on.  
Taste - Average here, perfect word. Not the most complex thing I have ever run across in my lifetime to say the least, this seemed to be amped up enough as the abv was quite apparent, but the rich fruit notes and complex taste were lacking. Lots of bland flavor that really did not go anywhere for me.  
Feel - Good carbonation with a solid feel to it. Nothing too heavy or cloying at all, rather nice feel to it and as heavy as it should be given the style.  
Drinkability - Decent, but nothing crazy. It was drinkable but the flavor just did not really do anything for me.  
Overall - I don't know, it just wasn't all there for me, I wanted it to be, but alas, it was not. I would not really go after this one again.
1,426 characters

3.16
/5
rDev
-19.8%
look: 4 | smell: 3 | taste: 3 | feel: 4 | overall: 3
Thanks to Derek for sending this beer my way.
A: The beer pours amber-copper in color with a sizable off-white head.
S: A weird citrus aroma to it along with some definite cardboard notes. Toffee and caramel sweetness along with some dark fruits and a bit of spice and yeast.
T: This is sort of cidery. Lots of apple and orange peel flavor. Certainly some cardboard, too. Sweet toffee and brown sugar, a little bit of dark fruits, too. Spices, yeast, and metal round out the flavor.
M: Medium in body with a medium level of carbonation.
O: Not sure of the age on this beer, but it seemed like it might have been past its prime.
632 characters
Dragonmead Armageddon Grand Cru from Dragonmead Microbrewery
3.94
out of
5
based on
43
ratings.