Black Bear Blueberry Ale
| Black Bear Brewery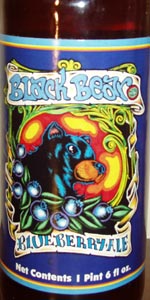 BEER INFO
Brewed by:
Black Bear Brewery
Maine
,
United States
blackbearmicrobrew.com
Style:
Fruit / Vegetable Beer
Alcohol by volume (ABV):
not listed
Availability:
Year-round
Notes / Commercial Description:
Blueberry Ale is brewed with pale, Munich and light crystal malts. There is a distinct spicy character from the hops. The aroma is fragrant blueberry, but the flavor is beer first. The blueberry comes in second so that the light summery crispness can shine through. Our version of a Maine classic.
Added by sulldaddy on 07-25-2006
Reviews: 7 | Ratings: 11
Reviews by tigg924:
3.33
/5
rDev
-3.8%
look: 3.25 | smell: 3.25 | taste: 3.25 | feel: 3.5 | overall: 3.5
Appearance: 1/4 inch head, clear, light yellow in color, moderate carbonation
Smell: blueberry
Taste: blueberries dominate with slight hops at the end
Mouthfeel: light body, sweet with light bitterness at the end, medium carbonation
Overall: Not a bad beer. Above average, pleasant tasting blueberry beer that hits all the right notes, but does not differentiate itself in the world of fruit beers. That said, I could do a six pack of this on a hot day.
457 characters
More User Reviews:

3.78
/5
rDev
+9.2%
look: 4 | smell: 3.5 | taste: 4 | feel: 4 | overall: 3.5
Shared a bomber with my wife, who really likes these fruit beers. I don't, but she said I would like this one. And I did, sort of. It was a hazy gold color with a medium-sized white head. Aroma was strongly blueberry, almost cloying. But, it had a much better taste than suggested by the aroma. The blueberry was more muted and there was a very nice malt presence. It had much more depth than other fruit beers. I'd drink it again, if my only choice was a fruit beer.
467 characters


4
/5
rDev
+15.6%
look: 4 | smell: 4 | taste: 4 | feel: 4 | overall: 4
Growler from Burby's.
Pours a hazy golden color with ample head and leaves a good amount of lacing.
Smell is similar to a wheat beer, strong yeast/citrus/lemon aroma with a hint of blueberry, not overwhelmingly sweet for a fruit beer.
Taste is a cross between a wheat beer and a fruit beer, the blueberry sweetness isn't overwhelming like it can be with some fruit beers but instead has a light hop bitter aftertaste melded with the malt, good amount of carbonation that makes it crisp.
489 characters
3.26
/5
rDev
-5.8%
look: 4 | smell: 3 | taste: 3 | feel: 3 | overall: 4
This brew is a 22 oz bottle poured into a pint glass at room temp. The beer is clear amber with 1/2 inch bleached white creamy head foaming up easily. Aroma is some grainy malt and very mild blueberry. First sip reveals an average body and mild carbonation. Flavor is husky grain malt dominant with only a hint of blueberry mixed in. The blueberry is more evident if the beer is allowed to sit on the tip of my tongue, but otherwise is very mild.
Finish is again grainy with some herbal hops. AN easy drinker that works well when sitting lakeside on a sunny day. Not overly fruity though.
589 characters

4.13
/5
rDev
+19.4%
look: 3.5 | smell: 4.25 | taste: 4.25 | feel: 4 | overall: 4
Overall not especially astounding for veteran craft and micro-brew drinkers (though non-advocates may love it their first time!). However, remarkable on hot days without a doubt! One of the most drinkable beers that is upwards of 6% ABV. Another reason I rate it so high is that it mixes EXTREMELY well with the Black Bear Brewery's Demon Stout. Try a half and half of the Blueberry Ale and the Demon Stout and you might never go to another brewery for a black and blue ( i challenge you to find one that's fresher too!)
520 characters
1.89
/5
rDev
-45.4%
look: 4.5 | smell: 3 | taste: 1 | feel: 3 | overall: 1
On tap at Paddy Murphy's in Bangor, ME
A: Nice hazy unfiltered coppery gold. About damn time I saw an unfiltered Blueberry up here. One finger of head. Good retention.
S: Overwhelming amount of blueberries.
T: Cloying sweet, unbalanced blueberry madness in an artificial, medicinal gagging kind of way. There was a slight vinegary aftertaste which may have been a fault, but which was actually the best part of this beer. Awful.
M: Yeah, I guess.
D: I would never drink this again, either for love or money.
512 characters
3.68
/5
rDev
+6.4%
look: 4.5 | smell: 4 | taste: 3.5 | feel: 3.5 | overall: 3.5
Pours hazy gold, with a huge, foamy, rocky head.
At least 4" of spongy white.
After two minutes the massive head falls like a cake, leaving webbed lacing aplenty.
Large blueberries in the nose, along with a light spiceyness and a hint of malt. A bit citrusy beneath the berries.
Medium body and well carbonated, a bit prickly and aggresive.
Light malt on the pallet with a more subdued blueberry character.
Fruity enough in general, but not screaming the blues as did the nose.
A crisp hopping rate suggests a decent APA recipe as a base before adding the berries.
Finishes dryish and a bit sweet, with lingering fruit and a slight harsh husky note.
Some more malt and blueberry on the pallet would be helpfull.
720 characters

3
/5
rDev
-13.3%
look: 3 | smell: 3 | taste: 3 | feel: 3 | overall: 3
Black Bear Blueberry Ale from Black Bear Brewery
3.46
out of
5
based on
11
ratings.