Black Bear Pail Ale
| Black Bear Brewery
BA SCORE
79
okay
14
Reviews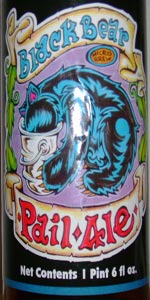 BEER INFO
Brewed by:
Black Bear Brewery
Maine
,
United States
blackbearmicrobrew.com
Style:
American Pale Ale (APA)
Alcohol by volume (ABV):
5.60%
Availability:
Year-round
Notes / Commercial Description:
Pail Ale is a hoppy American pale ale. Large late American hop additions give a big aroma and flavor balanced with a sweet malty backbone for a very drinkable pale ale.
30 IBU
Added by Nipitato on 07-14-2007
Reviews: 14 | Ratings: 24
3.44
/5
rDev
+5.5%
look: 3.5 | smell: 3.25 | taste: 3.5 | feel: 3.5 | overall: 3.5
Poured on-tap and served in a tumbler pint, the beer is a crisp, clear, golden-copper coloring with a very thin, whispy, white film coating on the top. Fruity and floral nose, with a biscuity backbone and hoppy presence. Subtle nose, but inviting. Flavors are very smooth and balanced, with a tangy caramel backbone that transitions into a very floral, slightly bitter finish. Good hops presence of resiny and rich character joins midpalate. The beer is slick, and remains light on the tongue. Tangy, hopped aftertaste. Very smooth, balanced beer that is a little hop heavy for a pale, but I'm not complaining.
610 characters
3.48
/5
rDev
+6.7%
look: 4 | smell: 3.5 | taste: 3 | feel: 4 | overall: 4
22oz bottle received from deltatauhobbit an embarrassing amount of time back. Into my Guinness pint glass
A: Pours a clear orange with a massive head and tons of carbonation. There's a pretty solid network of lace as this disproportionately large head recedes.
S: Smells of citrus (cascade) hops with orange and fresh-cut pine. There's a sugary sweetness that makes me think "alcohol" for some reason. There's also a mildly vegetal aroma but all said and done, pretty solid
T: Starts off with a massive bitterness, a little too much IMO and mildly abrasive in nature. No real malt character to speak of, this is a strong display of bittering hops with a *little* bit of flavoring hops that have a citrus note to them. Finishes dry and bitter
M: Light, well carbonated and a pleasing dry finish
D: A chug-worthy nightcap, if that means anything
848 characters

2.29
/5
rDev
-29.8%
look: 3 | smell: 2.75 | taste: 2 | feel: 2.5 | overall: 2
Bright amber with a thin blanket.
Smell is pear, corn, apple, and a sort of grape stink.
I taste a lager style beer first. That funky grape comes in, followed by a faint burnt rubber.
Tangy, thin, and pilsener-like.
218 characters
3.5
/5
rDev
+7.4%
look: 3.5 | smell: 3.5 | taste: 3.5 | feel: 3.5 | overall: 3.5
Black Bear- Pail Ale
Label has a Black Bear eating out of a metal "Pail"
A- Slightly cloudy orange with a small head. Quick disappation of the foam.
S- Big grain odor. Sunflower seeds, flour & wheat.
T- Again big grain flavors dominate here. Big doses of sunflower seeds, flour, spelt, flaxseed, oats, wheat, and a modest buttery malt backbone.
M- Dry with a chewy malt finish.
Overall- A unique flavor thats for sure. Not bad, I wouldn't mind sitting in a bar in Bangor (Orono) drinking pints of this.
505 characters
3.72
/5
rDev
+14.1%
look: 3.5 | smell: 4 | taste: 3.5 | feel: 3.5 | overall: 4
This APA was a bright amber/orange color off the tap in Orono at the pub. The head was a beige finger's worth that left good lacing but the retention was only decent. The aroma was pleasant, citrus rind and some leafy hops over pale malt. The flavors were similar, orange rind, grapefruit and some herbal notes though the malt was not big enough to properly balance the hops profile. Tart and acidic but also crisp and refreshing. The mouthfeel was average, the carbonation lively and the body medium. One of the better beers they make.
536 characters

3.41
/5
rDev
+4.6%
look: 4 | smell: 3 | taste: 3.5 | feel: 3.5 | overall: 3.5
From a growler bought at Burby's.
Pours a clear pale yellow color with a very slight reddish tone, plenty of head and a good amount of patchy lacing.
Smell is weak, mostly malty, not much hop presence.
Taste starts out malty with a good amount of carbonation, surprisingly slick and buttery which makes it more enjoyable if it wasn't there.
343 characters

2.53
/5
rDev
-22.4%
look: 3 | smell: 2.5 | taste: 2.5 | feel: 2.5 | overall: 2.5
1 pt 6 fl oz brown bottle; served in a nonic.
Faded copper coloration with a chill haze. Foamy white head with average retention. No lasting lace to speak of.
Bittered caramel with a metallic-like floral hop; tea-like. Adjunctory aromas: corn husk, rice, unflattering grains.
Toasted malts; bready with mild notes of diacetyl. Lemon-solvent hop character; waxy, that leads to an adjunct-filled graininess: corn husks and rice. A bland bitterness is followed by the same adjunctory-flavored aftertaste.
Medium bodied; waxy, solvent-like. Grainy due to the adjuncts.
An unflattering, sub-par American Pale. The kinks are definitely not worked out of the recipe. I had to pour the rest of this down the sink.
720 characters
4.07
/5
rDev
+24.8%
look: 4 | smell: 4.5 | taste: 4 | feel: 3.5 | overall: 4
I found this at whole foods in Portland, I had never even heard of the brewery, there always seem to be more breweries popping up in Maine that I was not aware of. The beer pours a slightly red gold with a thin head. Aroma is citrusy American hops, maybe Centennial, Cascade or Amarillo, with a light sweetness. The hops are more subdued in the flavor, more in style with a pale ale, but certainly more malt than hops.
418 characters
2.68
/5
rDev
-17.8%
look: 3 | smell: 2.5 | taste: 2.5 | feel: 3 | overall: 3
Purchased at a liquor store (forgot the name) off Cottage Street in Bar Harbor, Maine.
A: Good looking amber hue. A miniscule white head rims the glass. Good clarity.
S: Very mild and restrained aroma. Fruity hop aroma that is very weak. Apple aroma present perhaps acetaldehyde from fermentation. Malt aroma is grainy. Buttery diacetyl aroma undersores.
T: Lacking depth and character. No real hop flavor, rather a minimal bitter/sour taste. Malt flavor is slightly grainy and without strong character.
MF: Medium light body. Minimal carbonation - practically flat.
D: Easy to drink/session if you can get past the one dimensional taste and lack of depth.
673 characters

2.86
/5
rDev
-12.3%
look: 3.5 | smell: 2.5 | taste: 3 | feel: 2.5 | overall: 3
Pours a cloudy, pale orange with a one-finger, bubbly off-white head that fades quickly but leave some pretty good lacing.
Not much in the nose: slight hint of bready yeasts and grass, with barely a trace of any hop profile.
No noticeable hop presence except briefly near the end your sip. Slightly sour up front, a little grainy but with no real malt background to speak of. A little citrusy sweetness comes through in the middle as it warms, but overall the taste is real yeasty.
Quite thin and watery in the mouth, with virtually no carbonation.
This is an easily drinkable brew, but only slightly better than lawnmower beer. Still, I would drink one again if I were offered one, but not one that I would search out.
723 characters
3.72
/5
rDev
+14.1%
look: 3.5 | smell: 4 | taste: 3.5 | feel: 3.5 | overall: 4
Serving notes - cold, on tap, shaker glass. This place seems to prefer serving beers without head.
A - Floral hops fill the nose.
A - No head. Opaque, cloudy straw color.
M - Medium body with low to medium carbonation.
T - Floral hops from the start of the sip all the way to the aftertaste. Slight hop oiliness. Malt sweetness just present enough to prevent the hops from being too much.
D - Nice hoppy beer that manages to stop short of being out of balance. This is a good American pale ale.
494 characters
3.05
/5
rDev
-6.4%
look: 3.5 | smell: 3.5 | taste: 2.5 | feel: 3 | overall: 3.5
this is from notes.
this beer pours a golden ale with about 1/2in head that subsides. the main aroma i get is a butter smell with hints of citrus. the flavor has a slight hop bitterness in the front with some bubble bum sweetness in the middle finishing with nut. while the descriptions might sound good this beer is unbalanced and i find a lettuce flavor through out which is very distracting to the overall taste. the mouth feel is ok, but not noteworthy.
overall i would not purchase this beer again. while it is not bad, there are much better representations of a APA from maine.
585 characters
3.45
/5
rDev
+5.8%
look: 4 | smell: 4 | taste: 3 | feel: 3.5 | overall: 3.5
Bought a growler from Burby&Bates and poured into a 24oz glass.
A- Light orange brown. Cloudy look with a very nice 1/2 inch to inch head. Lacing trailed down the glass with every sip.
S- Orange smell and sweet hoppy smell.
T- Some orange and hops, but no sweetness as was expected from the smell. A little bit bitter and almost metallic.
M- Very smooth to drink. Leaves little residue and has medium carbonation. The after taste is a bit bitter.
D- A solid beer, but a little too bitter in the end to give a high score in this department. However I will definetly buy another.
582 characters
3.45
/5
rDev
+5.8%
look: 3 | smell: 3 | taste: 4 | feel: 3.5 | overall: 3
On-tap at The Great Lost Bear in Portland, Maine.
The bartender said it was his new favorite, so I thought I'd give it a shot. I'm glad I did.
This Pail Ale pours a peach color, kind of a funky red-yellow. Your mouth is greeted with low-key bittering hops and a medium body. This is followed by a very fruity mid, almost like a hard cider, with - is that hints of champagne? Weird. After the fruitiness has worn off, your mouth is left to savor a long and wonderful honey wheat finish, which sparkles with just a touch of fresh clean pine. This is the longest finish I've ever experienced in a pale ale.
This is definitely the most complex tasting pale ale I've had to date. Give it a try if you find it on tap, it's worth the experience.
741 characters
Black Bear Pail Ale from Black Bear Brewery
3.26
out of
5
based on
24
ratings.