Fireman's Brew Brunette Beer
| Fireman's Brew, Inc.
BA SCORE
80
good
28
Reviews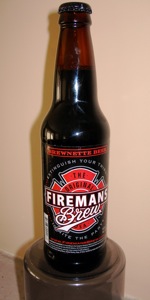 BEER INFO
Brewed by:
Fireman's Brew, Inc.
California
,
United States
firemansbrew.com
Style:
Doppelbock
Alcohol by volume (ABV):
8.00%
Availability:
Year-round
Notes / Commercial Description:
No notes at this time.
Added by BeerAdvocate on 10-01-2009
Reviews: 28 | Ratings: 136
5
/5
rDev
+45.8%
look: 5 | smell: 5 | taste: 5 | feel: 5 | overall: 5
I must concede across the board that this beer is without flaw. A friend turned me onto this beer for it's high alcohol volume (10.8%!), but it turns out to be much more incredible than I could have hoped. As a previous reviewer mentioned, there's no detection of alcohol in this drink at all! More than that, the taste is absolutely exceptional: a creamy smooth caramel flavor that tastes more like a soda than a beer. But then that high-ABV sweeps you off your feet!
It has a very slight burnt aftertaste which lingers for a long time. It leaves you wanting more. Then when you come back to it, the flavor explodes in your mouth again and... it's just an incredible flavor for a very low price ($8/6 pack). Granted, it's a microbrewery that I believe has not expanded out of Los Angeles, but if you get a chance I urge you to take it! This is the kind of beer people settle down on because again, it comes without flaw.
★
922 characters

3.89
/5
rDev
+13.4%
look: 3 | smell: 4 | taste: 4 | feel: 2.5 | overall: 4.5
Thanks to SanDiegoBeerLove for tossing one of these in a recent trade. I drank this one out of my Rose-Hulman pint glass. Pours a dark thin brown color with a short bubbly head. I know it is easy to describe some beers as a cola, but this looks so much like a coke. Bigger bubbles that rise quickly to the top with a semi-fizzy foam. The head dissipates quickly and leaves a small island of brown foam in the middle. Halfway through my beer, there is nothing left on the top. No lacing on this guy either.
Has a very nutty smell - also has the scotch caramel smell that you get on some dopplebocks. No alcohol is detected at all. Also has a light roasty malty characteristic.
Taken a bit off-guard as I took my first swig. A very thin mouthfeel with virtually no carbonation. I expected a fuller-bodied beer, but this doesn't even reach medium. The malts are there, but I was hoping they would be even more pronounced. Has a bit of the caramel-sweet taste and finishes with the nuttiness detected form the first whiff. Taste is gone very quickly, and extremely mild. I am blown away that this thing clocks in at nearly 11% ABV - not detectable at all.
The flavor of this guy is good, they have that down. However, it just doesn't have the malt profile that I expect from a top-notch dopplebock. I know they claim they pounded this guy with malts, but I think they could go even further. As it is, it is extremely drinkable. Seriously, there is ZERO alcohol detected and very low carbonation. At 10.8%, this beer goes down way too easily. Overall, a good brew.
Consumed on 1/30/2010
★
1,586 characters
4.33
/5
rDev
+26.2%
look: 4.5 | smell: 4 | taste: 4.5 | feel: 4 | overall: 4.5
A - is a rich dark brown. Like a dark roasted coffee. The head is tan which dissipates quickly. Yet leaving some lacing from both the head and beer around the glass.
S - well balanced scent of roasted malt and grain.
T - malts and nuts at first taste. Followed by a hit of coffee before a clean finish. While drinking this beer, I almost spit it out of my mouth, out of astonishment. When the owner of the brewery told me it was 10.80%!!! Where they put the extra 5 - 6% of ABV in the beer, that I could not taste. I have no idea!
M - smooth as an egg white :-P
D - drinkability is stupendous, yet dangerous. Since the taste of alcohol is almost invisible. A drinker of this would not know what hit them after a few of these bad boys.
All and all, this a great well rounded beer from brewers with a good cause. Your Budweiser friends would probably enjoy this with you. A good gateway beer for the masses.
★
910 characters
Fireman's Brew Brunette Beer from Fireman's Brew, Inc.
3.43
out of
5
based on
136
ratings.