Guinness Special Export Stout / Antwerpen Stout
| Guinness Ltd.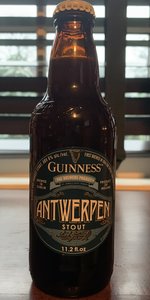 BEER INFO
Brewed by:
Guinness Ltd.
Ireland
guinness.com
Style:
Foreign / Export Stout
Alcohol by volume (ABV):
8.00%
Availability:
Year-round
Notes / Commercial Description:
This 8% abv stout has long been a secret pleasure among beer connoisseurs and indeed our Brewers, who value the mouth watering intensity of its roasted malt, smoked wood and dark chocolate notes, not to mention it's excellent and seemingly endless finish. Since 1944 we have been exclusively exporting this same special stout from Ireland into Belgium through the vibrant port of Antwerp. This is the first time we're making it available for general release in America.
Added by TheLongBeachBum on 06-28-2003
Reviews: 214 | Ratings: 429
4.67
/5
rDev
+12.3%
look: 4 | smell: 4.5 | taste: 5 | feel: 4.5 | overall: 4.5
I had a chance to try this beer again while in Greece. The Foreign Extra Stout has become my favorite Guinness in the US so I wanted to have another taste of this guy to see who would win out. I would say no doubt that this is my favorite Guinness stout and rates high overall on the stouts I like. Even though not classified an Imperial stout, the alcohol content is high. It lacks the bitterness of a regular Guinness; it is almost sweet. Pours a dark black colour with no head. I don't know if it is served on tap anywhere but I would like to try it if it is.
562 characters

4.67
/5
rDev
+12.3%
look: 4.5 | smell: 5 | taste: 4.75 | feel: 4.5 | overall: 4.25
Pours a pitch black shade of brown with a one finger, café colored head.
The smell is intoxicating. Imagine being in a bakery surrounded by sugary pastries, chocolate dipped fruit and cakes and pies. Notes of black licorice, cappuccino, tiramisu and salted creme brulee amongst rich decadent notes of lightly smoked toasted malt and bitter chocolate.
Smooth and well balanced, although sharp and pungent. Moderate roasted grain and sweet chocolate malt flavor upfront. Notes of espresso, black licorice, and restrained, fruity esters akin to plums, raisins and gourmet red apples gradually develop over the course of the finish. Vaguely hoppy with notes of earthy, floral pine resin throughout. A clean, albeit spicy alcohol profile is detectable at times.
Mouthfeel is full bodied and lightly carbonated. Highly drinkable (it's tasty and goes down smooth), though boozy and noticeably alcoholic.
Overall I really enjoyed this. This is a moderately hoppier, boozier alternative to their foreign extra stout, with sharper notes of lactose, smokey malt, milk chocolate and black licorice. If it came in six packs, I could see paying a premium price, but for now I think their standard export stout (foreign extra stout) is a better deal at half the price.
1,259 characters
4.68
/5
rDev
+12.5%
look: 5 | smell: 4.5 | taste: 4.5 | feel: 5 | overall: 5
Appearance: almost black and nearly opaque due to its dark colour. The head is brown, large, rich, full and creamy. Excellent retention followed by beautiful lacing.
Aroma: very nice roasted malt aroma. Chocolate and coffee notes.
Taste: well balanced between the roasted malts and the bitter hops. A noble port presence.
Mouthfeel: unctuous and velvety, perfect carbonation and a full body. The beer is so balanced that you do not feel the 8% ABV.
Finish: lingering bitter aftertaste.
Overall: Great beer with a wonderful mix of flavours. One of my favourites in the world. Better than the average Guinness. Could not wait to get my hands in another one.
656 characters
4.69
/5
rDev
+12.7%
look: 3.5 | smell: 4.5 | taste: 5 | feel: 5 | overall: 4.5
Presentation: A 33cl Tall thin neck brown bottle. Purchased in Belgium during my 2003 Easter Trip. Standard black, red & light orange label, very similar in style to that of Foreign Export Stout. Labeled as "Selected by John Martin, Alc. 8% Vol.", the middle of the front label has the Red Letter M with a small JM above it, followed by the number "461009". Brewed in St.James's Gate, Dublin for John Martin N.V., B-2060 Antwerpen. "Belgium Guinness".
Appearance: Pours a thick black color. A darkish brown thin head forms slowly as the beer is poured into my Belgium McEwan's Scotch Ale Goblet. The minimal carbonation that existed in the beer expired quickly to reveal a rather flat looking darkish brown fluid. However, when the beer was swirled, it slowly allowed more carbon dioxide to come out of solution. The yeast that remained in the bottle slipped slowly into the Glass with the dregs of the pour.
Nose: Deep strong smooth malts. Slight vinuous hints mixed with some Port. Fino Sherry like whiffs occasionally permeate the air as the beer is swirled.
Taste: Massive and complex multi-layered tastes that reveal themselves at various stages. Strong coffee roasted malts that have been smoothly rounded by time in the bottle, lend Drinkability. Has a body reminiscent of a good Port. The 8% alcohol by volume is barely noticeable, yet there is a warming aspect to the finish of the beer in the stomach. Well-balanced.
Mouthfeel: Strong malts dominate the massive presence in the mouth, coating the tongue, cheeks & teeth. This all helps to create a fantastic lingering mouthfeel even after the beer has been swallowed.
Drinkability: A sipper that at times, simply dazzles you with its strong tastes, massive mouthfeel & gorgeous 'aged' finish. A simply huge beer, that has stood the test of time extremely well. A true, bottle-conditioned Strong Stout of the highest order and quality.
Overall: Totally Astounding. Sheer Bloody Brilliance. You can keep the Nitro-Can, the naff plastic bottle and the thin watery draft versions.
Oh, but just if all Guinness was like this….<sigh>
Note: The obverse label is dated, but its smudged, 10/11/9…., the last digit could be an '8' or a '0'. The Zero is not as far fetched as it sounds. That's because I bought this dusty old bottle from a tiny little Bar in Huy, Belgium. The woman who ran the Bar sold me this dusty old bottle, and the last 3 of her McEwan's 1993 Christmas Ales (plus a free Glass) for just €5 this Easter – the stuff of legends!
2,547 characters

4.71
/5
rDev
+13.2%
look: 5 | smell: 4 | taste: 5 | feel: 4.5 | overall: 5
Darkly pitched in black with periodic flashes of brown tinting. Lofty huge dark tan top of smoothed over foam. Stays at the helm forever and a day and never leaves its seat, fanning out eventually to leave enormous amounts of thick lacing.
Well rounded aroma of dark cocoa and milk chocolate with a light roasted quality and even lighter fruity notions of cherries and figs.
Flavor is quite full of action from front to back. Slender and dark fruity front, sweetly sided undertones at first, then, bold and creamy, big roasted chocolate cake center, dry and bittering finish with burnt crusty edges of roasted malts and grains. Turns to smoke, charcoal, tar, coffee grounds, and dry licorice spice as it cinders off into the finish. Wonderfully complex and layered with fun roasty flavors. A great whirlwind at the finish totally knocks it out of the park.
Feel is rich, thick, and velvety with a unique sweet under carriage that keeps a very nice balance. The roast never really completely takes over but makes great efforts to do so. The body of this stout continues to grow in texture as it warms, becoming creamier and warmer in cocoa returns towards the finish as does the coffee grade.
A fantastic beer. The true Guinness! So truly sad that many here in the states don't realize what they think and drink as the "Original" - isn't actually what it should and could be. Oh well...
I thank the hell out of Shaughn256 for sending this as an extra in our latest trade! Osu!
1,490 characters
4.71
/5
rDev
+13.2%
look: 5 | smell: 4 | taste: 5 | feel: 4.5 | overall: 5
Yet another brew from the Guinness family and again, a shame they all seem to bear the same name because this is a completely different brew from the rather bland liquid that most people know as Guinness.
A: Super black with a very stable tan head - sure the nitro kegged draught has a white 'n' tight head but this has a proper beer head with great stability and lacing and just looks like a proper beer rather than something designed by a marketing department.
S: Big smell of roasted malts and sour tang.
T: Roasty malts and sour tang. This is probably something very close to the true original taste of porters/stouts (the so-called "entire butt" beers) which were a blend of young and older, soured (almost lambic like) beers. An extremely complex combination of sweet malt, bitter hop and soured beer. One of the most complex tastes you will find. It's a shame that Guinness seem to have stopped using the soured essence in most of their beers, but at least it's still to be found here.
M: Gorgeous, big chewy mouthfeel.
D: Gimme more. I could keep drinking this one till I fall over. The taste is so well balanced between sweetness, bitterness and sourness that it never becomes tiring.
This is really an excellent beer. As outstanding as their pub draught is bland. It's so sad that this amazing beer is almost a footnote for the Guinness brand while the bland standard version is so lauded. Stock up before they stop making it!
1,442 characters
4.73
/5
rDev
+13.7%
look: 5 | smell: 4.5 | taste: 5 | feel: 4 | overall: 4.75
This beer put Guinness back on my map for drinking. Period. Their Blonde American Lager was good and an awesome alternative to their long-standing Stout. I found it in a BevMo and immediately bought it. It tastes exactly like it says on the carrier. This is an awesome beer. Thank you Guinness.
294 characters

4.75
/5
rDev
+14.2%
look: 4.75 | smell: 4.75 | taste: 4.75 | feel: 4.75 | overall: 4.75
one of the best stouts ever. Dark Color and mild head. Malty and somewhat bitter in taste goes down pretty darn smooth. Better than i expected. Almost like drinking a chocolate candy bar
186 characters

4.78
/5
rDev
+14.9%
look: 5 | smell: 4.5 | taste: 5 | feel: 5 | overall: 4.5
Considering that Guinness foreign extra stout is my favorite beer of all time, when I saw this in Belgium, I had to try it.
It pours an inky opaqe black that doesnt let the tiniest amount of light through. The head is absolutely massive, the color of coffee with milk in it and lasts indefinitely. The amount of lace this beer leaves behind is ridiculous. It coats the glass like shaving cream.
The aroma is of milk chocolate and coffee with hints of hops and alcohol. The taste is very complex with big hits of dark chocolate and coffee bitterness, theres also plenty of hoppyness and an alcohol zing (which is very mild, though definitely more noticeable than the Foreign Extra Stout, which my favorite beer ever). The taste is incredibly luscious and well balanced.
The mouthfeel is very smooth and thick as can be. It coats your mouth and throat. The sheer viscosity fights incessantly with its ample carbonation for your palate's attention.
This is as close to a perfect stout (with the exception of F.E.S.) as I have yet tried. Its a testament to what a cool place Belgium is that Guinness would brew a beer like this especially for its markets.
1,164 characters

4.78
/5
rDev
+14.9%
look: 5 | smell: 4.5 | taste: 5 | feel: 5 | overall: 4.5
I poured this one from a 33cl bottle into a Chimay goblet. It is a deep dark brown cola-like color and makes a superb off white/tan head. Laces nicely down the goblet as it empties.
Smell is rich, roasted malt and coffee beans with a subtle hints of chocolate and caramel.
Flavor is full of roasted coffee bean and bittersweet chocolate malt. Its spicy and hoppy. Much of the same that was found in the nose is present in the flavor, roasty caramel and chocolate with a huge coffee flavor. There are hints of prunes and raisins on the pallate. Alcohol is hardly present. This is perfection in an export style stout.
Mouthfeel is full bodied and viscous and long lasting coating on the throat.
This is a moderately drinkable brew, it is strong and full flavored and all around great!
795 characters
4.78
/5
rDev
+14.9%
look: 5 | smell: 4.5 | taste: 5 | feel: 5 | overall: 4.5
Believe the hype. This is a tremendous stout.
Appearance: Black as night with just a little bit of ruby coming through at the bottom of the glass. Volumnous head. Big lacing til the end.
Smell: chocolate malt. It smells like someone opened up a bag of dark malt, except less intense.
Taste: Strong dark chocolate malt tastes with some vinous Russian Imperial Stout tastes poking through. Esp. when you are at the end of a sip.
Mouthfeel is perfect, esp. as it warms up a tad.
Drinkability: extremely good esp. given the alcohol percentage of 8%.
Now, I don't want to be stereotypical. "This is sooo good and you can't get any." This is great. But if you have good imperial stouts near you, you should content yourself. That speaks to how good this beer is, when I can easily compare it to the imperial stout style.
833 characters
4.89
/5
rDev
+17.5%
look: 5 | smell: 4.75 | taste: 5 | feel: 5 | overall: 4.75
Last of my 4 pack that I've been enjoying over a few weeks. Poured into my Imperial Pint.
L -- Opaque black only showing red highlights via a flashlight through the glass. Dense, finely bubbled tan head that holds up substantially.
S -- Milk chocolate and cream notes with light roasted malt character back. Some clay-like notes with warmth.
T -- Roasted barley character very prominent up front. Coffee flavors follow with a spicy hotness from alcohol. Peppery alcohol blending with roasted grains through the finish and into the aftertaste with a light malt sweetness balancing the roasted character. Mild earthy hops in the aftertaste as well.
F -- Mouthfeel is smooth and creamy with a robust body and dry finish.
O -- I'm not sure how this compares to the every day Guinness Extra or Foreign Extra Stouts, but I can say that this beer hits all of the right targets for the style. My only inner debate is whether there are any faults to knock this from a perfect score. My only hedge is in aroma, but that is growing on my senses with warming. There is no real fruit or vinous character, but the milk chocolate aroma is very inviting.
1,152 characters
5
/5
rDev
+20.2%
look: 5 | smell: 5 | taste: 5 | feel: 5 | overall: 5
One of the best beer in the galaxy; reflects in its price (us$5.00 in mexico); direct from the st jame´s gate brewery, take an scale in belgium via John Martin, and put in mexico by Carrefour; in general this beer had an exceptional touch of ireland; the irish brewers are up on the english brewer´s, english had good beer´s but ireland had guinness in a wide range of variations, this version is the most powerful of it; made originally for export with a chocolate and roasted malt, belgium is the place where fisrt was sold this beer; i recommend alone, but try with american and mexican food
597 characters
5
/5
rDev
+20.2%
look: 5 | smell: 5 | taste: 5 | feel: 5 | overall: 5
Poured in a half pint Guinness glass. Black colour and the usual big brownish Guinness head that last until the last sip. Complex aroma of coffee, licorice, cream, butter, prunes, raisins, rum, rosted notes, spicy, nutmeg... the lot. Taste is coffee, licorice, rum, figs, rosted, nutmeg, raisins... the lot again. Alcoholic coffee flavor. Great.
345 characters
Guinness Special Export Stout / Antwerpen Stout from Guinness Ltd.
4.16
out of
5
based on
429
ratings.