Guinness Bitter Draft
| Guinness Ltd.
BA SCORE
75
okay
10
Reviews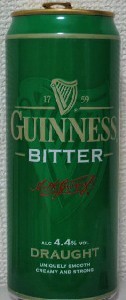 BEER INFO
Brewed by:
Guinness Ltd.
Ireland
guinness.com
Style:
English Bitter
Alcohol by volume (ABV):
4.40%
Availability:
Year-round
Notes / Commercial Description:
No notes at this time.
Added by BeerAdvocate on 01-30-2001
Reviews: 10 | Ratings: 21
2.48
/5
rDev
-11.7%
look: 3.5 | smell: 3 | taste: 2 | feel: 2.5 | overall: 2.5
Two tastes - weak coffee and bitter beer. Drink it straight from the bottle is the motto. However the best we can say is its coffee appearance and huge creamy head that stays there. OK to drink if you';re drinking something after to take away the taste.
★
253 characters
3.36
/5
rDev
+19.6%
look: 4 | smell: 3 | taste: 3 | feel: 4 | overall: 4
Presentation: 440ml green and gold can. Widget enabled. Best before date on base of can.
Appearance: Clear and bright amber with a 1" creamy white head. Nice cascading effect from the widget, when poured.
Smell: Metallic (can-like), floral aroma with soft toasted malts in the nose.
Taste: Very smooth, very creamy, with a light-bodied mouthfeel. Bitterness is leafy, tea-like, with floral and metallic flavours. Malt is thin -- light toasted and toffee flavours. Finish is a touch dry with a residual raw hop leaf coating.
Notes: 4.4%abv. Interesting, but not the best bitter in the world. The Guinness label and widget are ultimately driving the sale of this brew. Regardless, I enjoyed it very much. Went extremely well when matched to my wahoo, tuna and mango chutney sandwich.
Purchased and reviewed in Tortola, British Virgin Islands.
★
855 characters
2.08
/5
rDev
-26%
look: 2.5 | smell: 2 | taste: 2 | feel: 2.5 | overall: 2
12 ounce bottle bought from Beverage Warehouse
I already do not like regular Guinness, then add misplaced bitterness to it and it makes it worse
Very dark with the same white head, but has a very dry aftertaste that made me cringe
Not my favorite and I do not recommend to anybody that does not like dark beer
★
312 characters

3.23
/5
rDev
+14.9%
look: 3.5 | smell: 3 | taste: 3.5 | feel: 3 | overall: 3
Beer can (50cl), tasted in 2006.
Appearance : Copper color, with white creamy head.
Smell : Malts, caramel, and some hops aromas.
Taste and mouthfeel : caramel, light bitterness. Finish smooth and refreshing.
Drinkability : an average beer in the English bitter style
★
270 characters
2
/5
rDev
-28.8%
look: 2 | smell: 2 | taste: 2 | feel: 2 | overall: 2
Well, i'm definitely "not impressed", this was way to bland a creamy, and its all due to the nitro widget thingy. No aroma, cloying creamy palate, with some bittering hops, pretty crappy, they should lose the nitro, because it could be quite decent otherwise.
★
259 characters
2.2
/5
rDev
-21.7%
look: 2 | smell: 2 | taste: 2 | feel: 2 | overall: 3
Appearance: 3cm smooth head, white and fine. Lasted to the very bottom of the dark amber body.
Aroma: Light aroma of citrus and dirt.
Flavor: Light.
Mouth:creamy without carbonation, dispite huge head. Odd woody after taste.
Drinkability: average, as in, budweiser.
★
278 characters
3.44
/5
rDev
+22.4%
look: 4.5 | smell: 3 | taste: 3 | feel: 3.5 | overall: 4.5
A beautiful, reminiscent of the normal Guinness cream top decks this dark copper colored beer. Blanket lacing. Smell is sweet and sour malts, floury. Light.
The feel of the cream top followed by the slightly cooler temperature beer is excellent, and reminds of Guinness. Taste is a bit watery as far as bitters go, not much in the mouth, and a light bitter aftertaste that is somewhat persistent. An unpleasant side-taste of "cheap beer" is also present. Body is light to medium, and watery. Very easy to drink this beer.
★
524 characters
2.87
/5
rDev
+2.1%
look: 4.5 | smell: 2.5 | taste: 3 | feel: 3 | overall: 2.5
The widget is pretty ineresting. One thing I can say about guinness is that it is pretty damned consistant. The apperance is right on par with all the other serving types. Thick black color with a foamy tan head that sets the standard of what a stout should look like. But that, once again, is where the greatness ends. It has the musty smell and taste that still reminds me of my grandfathers house. It has a watered down feeling that is also very unbecoming of a stout. I'm sorry Guinness fans. We have a weak one here.
★
521 characters
3.12
/5
rDev
+11%
look: 3 | smell: 3.5 | taste: 3 | feel: 3 | overall: 3
Always the Guinness. I will always love this beer. Not always above all others, but above most. It is the classic beer for guys. It has one of the best heads on it and is known around the world for its taste and ability to heal stuff (not really sure about that). This one has a copper complexion and is not one of the best. It is a satifactory beer, but who really likes a bitter beer, especially one that is advertised as one. Not one of their best.
★
451 characters
2.18
/5
rDev
-22.4%
look: 2.5 | smell: 2 | taste: 2 | feel: 2.5 | overall: 2.5
On the menthol cool can it explains in no uncertain terms that this is "Uniquely smooth, creamy and strong."
Every beer served with nitro tastes as "smooth" (is that market-speak for bland?) as this beer, so it is hardly unique. The nitro does what it does. It has nothing to do with the beer.
The creamy bit is also referring to the effect of the nitro.
And to call a 4.4% session beer "strong" really is pulling down your pants and showing your bum to the guys responsible for writing the Trade Description Act.
That the resulting "beer" is drinkable is not to say that it's a quality product, merely that it's the beer equivalent of a Big Mac.
★
658 characters
Guinness Bitter Draft from Guinness Ltd.
2.81
out of
5
based on
21
ratings.