Smetoniška Gira
| Volfas Engelman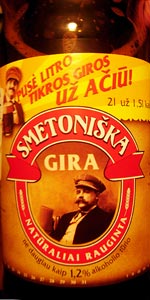 BEER INFO
Brewed by:
Volfas Engelman
Lithuania
volfasengelman.lt
Style:
Kvass
Alcohol by volume (ABV):
1.20%
Availability:
Year-round
Notes / Commercial Description:
No notes at this time.
Added by emerge077 on 07-15-2010
Ratings: 6 | Reviews: 4

3.49
/5
rDev
+15.2%
look: 3.25 | smell: 3.5 | taste: 3.5 | feel: 3.5 | overall: 3.5

3.38
/5
rDev
+11.6%
look: 3.5 | smell: 3 | taste: 3.5 | feel: 3.5 | overall: 3.5
Served in a Chicago Bears shaker pint glass.
And the Kvass Kick returns to Lithuania after a sojourn in Mother Russia. This kvass pours a clear ruby-brown topped by a short-lived wisp of light tan foam. The nose comes off as the usual grainy pumpernickel deal, with a slight bit o' gingerbread in there as well. The taste is also usual kvass: cola, root beer, sour rye in the back. A bit of what seems like nutmeg works its way in, too. The body is a light medium, with a slightly fizzy carbonation and a very light syrupy feel. Overall, a slightly better-than-average kvass that really allows for some easy drinking.
618 characters

3.25
/5
rDev
+7.3%
look: 3.5 | smell: 3.5 | taste: 3 | feel: 4 | overall: 3
2L plastic bottle thanks to emerge077 - served in a Sam Adams perfect pint glass. I wonder what Jim Koch would think...
A - Quick-dissolving finger of tan foam that leaves behind a few spots of lace, and settles to a thick collar. Looks like cola, with plenty of bubbles rising through the body.
S - Malt, grapes, raisins - near-beer smell. Reminds me of Caribbean malt beverages or Clausthaler Golden Amber. Pretty cloying, but thankfully not metallic.
T - Taste is less intense, but still quite saccharine. Cola, raisins, caramel, etc. Pretty one-dimensional.
M - Pretty smooth, surprisingly pleasant, with less carbonation than I expected.
D - Too sweet for my tastes - perhaps this is for children.
707 characters
3.01
/5
rDev
-0.7%
look: 3.5 | smell: 3 | taste: 3 | feel: 2.75 | overall: 3
4-2014: Saw a can with different graphics and "bravoro rauginimo" under the name, leading me to think it was a new kvass. Unfortunately just new packaging, same meh taste. They do make a hopped stronger version (1.2%), called Apynio Gira.
Smell is caramel and raisin, lightly toasted bread. Flavor is the same. A touch more caramel than others but also a bothersome astringency. Easy enough to quaff after yard work, but not worth seeking out.
07-15-2010 3.28
Poured from a 2L plastic bottle, into a Hoegaarden glass.
$3.99 at Three Sisters Delicatessen in Chicago.
Fizzy tan foam, it settles quickly to a ring around the edge. Crystal clear caramel color, crimson highlights in direct light. Sweet bready aroma, a little musty or funky like wet barley.
Astringent up front with some artificial berry flavor, moving into more sweet grainy territory. Aftertaste hangs around momentarily, thankfully not overly sweet. Soda carbonation, easy to drink in gulps and not think much about it. Sadly i'm thinking "how am I going to finish a 2 liter of this"... I know, MasterSki will drink it! ;D
Commercial description:
"Bread-kvass "Smetoniška"
It is made with respect to good quality and traditions of our cuisine. Naturally fermented bread-kvass "Smetoniška" is a really traditional kvass for the whole family. Enjoy it and be healthy!"
1,343 characters
2.59
/5
rDev
-14.5%
look: 3.5 | smell: 2 | taste: 3 | feel: 3 | overall: 2
500ml foil-topped can. Can proclaims 1.25% alcohol, label says under .5%.
It pours a dark brown with a large, foamy, slightly of-white head.
The smell is decent. It has a tanginess to it that is reminiscent of dark fruits, specifically raisin. There is some noticeable rye, syrup, and earthiness.
It is sweet with a noticeable sugariness that is not a part of the malt bill. More of a soda-like version. That being said, I am starting to get used to these, it is like a healthier soda (though this stuff isn't healthy at all). This one isn't as tangy. The flavor is of burnt butterscotch and some sugar. It is
612 characters

2.35
/5
rDev
-22.4%
look: 2.5 | smell: 2.5 | taste: 2.25 | feel: 2.5 | overall: 2.25
Smetoniška Gira from Volfas Engelman
3.03
out of
5
based on
6
ratings.