Kuhnhenn Iron Monger Dunkel
| Kuhnhenn Brewing Company
BA SCORE
83
good
13
Reviews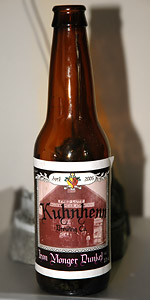 BEER INFO
Brewed by:
Kuhnhenn Brewing Company
Michigan
,
United States
kbrewery.com
Style:
Dunkelweizen
Alcohol by volume (ABV):
6.25%
Availability:
Rotating
Notes / Commercial Description:
This dark brown German lager is dominated by Munich malt, with a bready and malty nose. With mild caramel and chocolate notes this beer is robust while being drinkable like a lager. It leaves the palate malty with a medium-dry finish.
Added by Gaisgeil on 04-11-2005
Reviews: 13 | Ratings: 31
3.28
/5
rDev
-9.6%
look: 3.5 | smell: 3 | taste: 3.5 | feel: 3.5 | overall: 3
A: The beer is very dark amber in color and poured with wispy patterns of bubbles covering the surface.
S: There are light to moderate aromas of cherry cough syrup in the nose.
T: The taste is similar to the smell in that flavors of cherry cough syrup dominate. There are some hints of sweetness in the initial taste and a bit of sourness towards the finish. The aftertaste really leaves the cough syrup flavor sitting in your mouth.
M: It feels medium-bodied on the palate and has a light to moderate amount of carbonation.
O: The cough medicine taste makes this a beer that I probably won't be trying again.
611 characters
2.66
/5
rDev
-26.7%
look: 3.5 | smell: 2.5 | taste: 2.5 | feel: 3.5 | overall: 2.5
12oz bottle from a trade or BIF with somebody. Dated April 2005, best by August. Oops.
Poured into an imperial pint glass, formed a 1/4" tan head above the clear chestnut brown brew. Head fades rather quickly down to a layer of small bubbles, with average lacing. Aroma is slightly of grains, but dominated by tartness. Taste starts sour and tart, and never really gives way to allow much other character to come through. Mouthfeel is smooth with the wheat influence enough to temper the sour somewhat, but drinkability isn't that great, not something I'd want Again. But if the occasion arises, I'll take one for the team with a fresher example and see what transpires.
673 characters
2.4
/5
rDev
-33.9%
look: 3 | smell: 3 | taste: 2 | feel: 3 | overall: 2
12oz bottle shared courtesy of weare138. Bottle labeled bottled on 4/05.
Poured a dark brown color with a smaller sized off white head. Aromas of leather, and sour cherries. Tastes was also of sour cherries. Puckering. I'm going to have to guess that something may have been wrong with this bottle (if you have a bottle, send it my way for a re-rate!).
Notes from 3/10/06
374 characters
4.24
/5
rDev
+16.8%
look: 3.5 | smell: 4.5 | taste: 4 | feel: 4.5 | overall: 4.5
12 oz bottle received from Walleye. Thanx!!
I am sampling in a pint glass at room temp.
The beer pours a dark mahogany with a thin frothy quickly fading beige head.
Aroma is sweet with toffee and some fruity apple scents and a hint of chocolate all mixing very nicely.
First sip reveals a nice smooth creamy body with very fine carbonation.
Flavor is fairly sweet with brown sugar and chocolate mixing with roasted malt. Finish is very roasty and sweet.
Very smooth and easy to drink. Quite the enjoyable beer!
517 characters

3.85
/5
rDev
+6.1%
look: 4 | smell: 4 | taste: 4 | feel: 3.5 | overall: 3.5
Thanks to trbeer for the bottle.
Pours a dark maroon and brown with a thick and puffy off-white head. Leaves some sheets of lace on the glass as it is consumed.
Aroma chocolate, sweet citrus, some caramel and a biscuity/bready hint.
Flavor is really dominated by the dark citrus flavors of the malt with a brown sugar sweetness also emerging. Just a hint of bitter chocolate is detected as it warmed a bit.
Mouthfeel is medium and appropriate for style. Carbonation is just a bit off and detracts just a bit from beer.
Drinkability is above average but the bottled version doesn't seem to hold up to the draught version. Still a good K Bros. beer but not their best.
671 characters
2.8
/5
rDev
-22.9%
look: 3 | smell: 3 | taste: 2.5 | feel: 3 | overall: 3
Bottle, labeled April 2005. Dark brown in color with a small, failing head. Malt accented nose giving hints of burnt popcorn, toasted malt and light caramel/toffee. Somewhat tart, astringent flavor, with a calming nuttyness and a touch of toffee. Mehh.
252 characters
3
/5
rDev
-17.4%
look: 3 | smell: 3 | taste: 3 | feel: 3 | overall: 3
Thanks to cjrmellor for the B&G bif sample. Pours a somewhat hazy brown color. Low aroma-some banana and yeast esters. Flavor is ok-rather metallic and somewhat astringent. Nothing really stands out.Its just "there". Ok body-slightly thin. Nothing really here to grab or impress me. Considering how awesome the Eisbock of theirs was Im a tad dissappointed. You make the call whether to try it. No big deal for me.
413 characters
4.04
/5
rDev
+11.3%
look: 4 | smell: 4.25 | taste: 4 | feel: 3.75 | overall: 4
This brew was served on tap at Kuhnhenn in Warren, Michigan. It arrived in a generic pint glass, showing a deep Tootsie Roll brown coloring, and boasting a half finger tall head of light tan bubbles. Spots of lacing were left around the glass following a mediocre retention. Light haze cut clarity, but no sediment was noted. Carbonation appeared to be light. The beer smelled of dark chocolate malts, huge cigarette and campfire smokiness, molasses, smooth toasty oats, burnt chocolate covered espresso beans, slick booziness, white sugar sweetness, glossy print paper, plastic phenols, chalky chocolate powders, burnt caramel, and a final cloy of crème brûlée candied sweetness. Very rich. The following flavor was composed of dulled mallow sweetness, hard fruit candy, sticky caramels and toffees, sea salt, soy sauce, stainless steel, white sugar, gingerbread toast, foamy plastics, lime, cranberry and dark cherry juiciness, chalky chocolate malst, sweet coffee and hot cocoa, sweet sherry vinegar, basement mustiness, and a light finishing of fusel alcohol. The body was medium, and carbonation was a bit light. Each sip gave otherwise nice cream and froth, decent slurp, smack, and pop, and was left mildly coated and warmed by the end of it. The abv was appropriate, and the beer drank back nicely.
Overall, there were a couple of things that intrigued us about this beer. Firstly, the nose was much deeper and warmer than expected, with intense smokiness riding high against a rich and complex cloying sweetness ranging from dark chocolate to burnt candy sugars. This set the stage nicely for the flavor, invigorating the sense. The second surprise, unfortunately, is that this aspect of the beer didn't really deliver as well. The flavor was dull at times, holding onto very little of that smoke or cloy. While those flavors alone or in excess wouldn't be desirable, it just left the palate wanting here, making the balance seem ever so off and incomplete. That said, there was a lot going on, and the drink was ultimately a pleasantly sippable offering. We just wish that the rest of the beer could have lived up to the reputation set by that aroma.
2,185 characters
4.12
/5
rDev
+13.5%
look: 4 | smell: 4.5 | taste: 4 | feel: 4 | overall: 4
12 oz bottle obtain in trade from a BA to remain anonymous. Thanks buddy, I'll keep and eye out for some goodies for you to return the favor. Reviewed live on BA, right here, right now in May 2005.
Pours a thin tan head over a very dark cloudy liquid (oops, a small amount of sediment went in the glass). Smells caramelly sweet during the pour. Upon closer inspection it smells, oh my, like Bavaria. Lotsa chalky Munich malt character with chocolate, caramel, and a hint of alcohol. Tastes tart green apple followed by rich delectible chocolate. Apple I don't think belongs here, but the transition to the chocolate goes through a dandy chocolate-covered apple phase. Yum, that was nice. Let's try another sip. Definitely a tart start, like a shadow of a Sahti sour/tart. The chocolate is dry but now I get some toffee. There is some roast, but it was a bit hard to pick that out, as it was nearly covered by a prickly fine carbonation blast on the front of my tongue and roof of my mouth. A bit too much carbonation and I wish it wasn't there. Okay, I swirled the glass to release some of the carbonation and to stir up more smells. Now it's got a biscuit smell over the top of a gentle caramel and perhaps some hop floral at the very end. Oh, this beer tastes much better now. Much of the sour has gone and a wet sweet has arisen. Chocolate is still present late, but it's tamer and mixes well with the sweet malt. The end has a bit of a zing that I can't decide if it's from alcohol or clove made by the yeast. Mouthfeel is medium and has a silky quality, like an oatmeal stout. This was a fun beer to try. Thanks much, buddy.
1,632 characters
4.5
/5
rDev
+24%
look: 4.5 | smell: 4.5 | taste: 4.5 | feel: 4.5 | overall: 4.5
from my favorite brewery from the tap. poured. poured a nice brown with a light tan head. aroma, a nice blend of malts and chocolate, a nice sweetness to this one, some nuttyness, flavor a good balance of chocolate and malts got a nice touch of hops. I waited for awhile for this beer to come back out. very good
312 characters
3.65
/5
rDev
+0.6%
look: 4 | smell: 4 | taste: 3.5 | feel: 3.5 | overall: 3.5
Thanks for Eyedrinkale for this trade. 12 oz bottle poured into a sniffer.
Appearance: Cloudy dark red to brown with a thin, siwrly, tan head.
Smell: Meaty, fruity, roasty, smells almost like a beef marinade with some sour vinous scent and what seems like a very light floral garlic scent.
Taste: Roasty and lightly sour but not harsh at all. There's a lingering maltiness that is fruity and roasty at the same time. Throughout the beer there is a distinct tartness that is not strong and does not quite develop. It's light and it starts nicely, but the tartness never becomes a true and strong flavor. I personally don't like very tart beers so that is fine with me, but for someone who likes tart beers, this one would seem more like a tease.
Mouthfeel: Dry and light to medium bodied.
Drinkability: I think this beer will end up being a decent but forgetable beer to me. It's not bad at all, in fact it's quite good. But it's not great either. None of the distinctive and potentially impressive flavors really develop. While it is a tasty beer it's just not too exciting.
1,091 characters
4.38
/5
rDev
+20.7%
look: 4.5 | smell: 4 | taste: 4.5 | feel: 4.5 | overall: 4.5
From a very limited cask conditioned version of the brew at the Kuhnhenn pub.
Poured a dark and murky brown with ruby tones around the edges of the glass with a thin light tan to compliment, very appealing. Nose is very woody/earthy with stewed fruit tones all throughout, very rich and multifaceted. Taste is quite similar, notes that seemed similar to Scotch were also apparent, a slight smokiness and a bit of an alcohol bite. Banana flavors and clove, as per the style. Very "fresh" tasting and quite malty, hops play a supporting role overall. Carbonation was only slight, but paired well with the tone of the brew, very nice indeed. This one does very well on cask. Mouthfeel was thick, clung to the palate quite well.
Very nice example of the style, though slightly more to this one than most.
Slàinte!
819 characters
3.77
/5
rDev
+3.9%
look: 3.5 | smell: 4 | taste: 4 | feel: 4 | overall: 3
Poured dark brown with a thin tan head that didn't last very long.
The nose was very sweet. There were hints of fruit and the wheat was evident.
It tasted much the same. The biggest thing I noticed drinking this beer was the sweetness. Sweet fruity malt flavor dominated this beer. It also had a grain-like taste that appeared during the middle. It finished with an alcohol warming effect. I'd call this brew medium bodied, it wasn't quite as full as I expected it to be. I enjoyed this beer but I must admit that I had a little trouble near the end of the pint, I don't think I'd want more than one in a night. Probably a good after dinner beer.
654 characters
Kuhnhenn Iron Monger Dunkel from Kuhnhenn Brewing Company
3.63
out of
5
based on
31
ratings.