Kuhnhenn Tenacious Cassis
| Kuhnhenn Brewing Company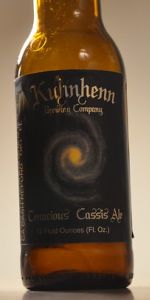 BEER INFO
Brewed by:
Kuhnhenn Brewing Company
Michigan
,
United States
kbrewery.com
Style:
Fruit / Vegetable Beer
Alcohol by volume (ABV):
15.00%
Availability:
Rotating
Notes / Commercial Description:
No notes at this time.
Added by BeerAdvocate on 07-18-2007
Reviews: 107 | Ratings: 156

4.4
/5
rDev
+8.4%
look: 4.5 | smell: 4.5 | taste: 4.5 | feel: 4.5 | overall: 4
Huge thanks to Konrad for the bottle.
Gotta love Kuhnhenn's labels, they all look like they were designed in photoshop and just printed out on a laser-jet. If they get wet, they run.
Anyway, the beer is thick, deep brown with translucent mauve highlights and a lasting foam ring head. Nose is delicious sweet and tart blackcurrant with a bready backing and an earthy almost celery smell. Quite unique. Flavor is intense strong spicy blackcurrant and pureed raspberry seeds, with waves of dark toasty maltiness surfacing. There is a strong sense of warming on the end without any ethanol taste or sting. The alcohol is certainly there, but very well covered. Mouthfeel is sticky and thick, matching well with the taste of the beer. Drinkability is hampered by the intense flavors and high alcohol... it's a bit of a sipper. An excellent beer. I hope they continue to make this one.
880 characters

4.64
/5
rDev
+14.3%
look: 4 | smell: 5 | taste: 5 | feel: 4 | overall: 4
12oz bottle purchased at the winter solstice party dec 21/07. website shows 13.5% abv. sampled jan 13/08.
pours murky reddish brown with a few very fine tan bubbles that disappear almost instantly. no lace.
aroma is excellent. tons of fruit. blackberry, raspberry, currant, bit of cherry. alcohol. nice fruity and caramel sweetness. many cascading layers of fruit that just keep you going back for more.
wow, taste is excellent too. tons of fruit with a solid warming alcohol balanced against it. even more fruit in the flavour. along with the raspberry, blackberry, and currant there is also a nice strawberry character. my wife says it tastes like liquified wine gums. i get something more like those fruit juice gummies, the berry ones. low bitterness level. there's a nice dark chocolate character lingering back there too. just a hint of caramel sweetness, but nowhere near enough to make the fruit seem syrupy. light bread and cracker malt.
mouthfeel is good. low carbonation level. medium body holding things together well. fairly dry finish.
drinkability is great. at no point does the fruit overpower. the alcohol is mostly hidden, and what's there is nice. nice depth to the fruit too. a bit of a sipper, but i certainly enjoyed sipping on it over the afternoon. as it warms the alcohol comes out more, detracting from the drinkability slightly. might be better if this was in the smaller bottles they sell the eisbock in, or maybe for sharing with a friend. this one is definitely a winner.
1,506 characters
4.88
/5
rDev
+20.2%
look: 5 | smell: 4.5 | taste: 5 | feel: 5 | overall: 5
I had this once before at the Michigan Brewer's Guild Summer Festival, but resisited reviewing it due to my inebriation and the small sample size. Nevertheless, I knew it was the best beer i had at the fest and that i really wanted to try it again. Luckily, Konrad got me a bottle at their winter solstice, so i am in great anticipation.
Pours thickly, purple to brown in color with a slim ring of brown. Looks sultry and deep and heavy.
Odor is strong enough to catch whiffs of from a distance. Smells wildly of blackcurrants, small hints of alcohol. Candy-like children's medicine mixed with wine. Very inviting.
Taste is huge with a blast of blackcurrant syrup and lemony sourness/bitterness. This melds quickly into a strong alcohol and smooth creamy deep chocolate malts. Blackcurrant runs throughout and is complemented nicely by the chocolate and some toasty bread notes. Sweet and stong and warming.
Thick, like concentrated fruit juice, with a comfortable stickiness.
Overall, its a fantastic beer (i guess i knew that already, but this confirms it). I hope against hope that this becomes a regular bottled offering from Kuhnhenn, that it's distributed to the closest liquor store to my house for the rest of my life, and that the owner of the liquor store saves it in a back room for me.
1,305 characters

4.22
/5
rDev
+3.9%
look: 4.5 | smell: 5 | taste: 4 | feel: 4.5 | overall: 3.5
A dark demon of a beer. Quite honestly it resembles cassis:) Almost black showing no transparency. Head is tan and nicely carbonated.
Amazing nose of fresh cassis and cat piss. Earthy esters but frut dominated with some dark bready malts. Bright acidity is lively and in your face.
An amazing beer. Unique quality from the thick cassis flavors and even thicker creamier depth of malt. Juicy in the mouth. The cassis is a little overpowering on the finish slightly hurting drinkability. Some time in the bottle can help this beer mellow out tremendously. A crazy beeer, thick and juicy so malty with some big alcohol showing through. Very cough syrupy long drawn out finish. Wow!!
681 characters

3.83
/5
rDev
-5.7%
look: 4.5 | smell: 4 | taste: 3.5 | feel: 5 | overall: 3.5
A - this fruity beer is a dark deep ruby/crimson color, with a tan/creamed coffee colored head thin and dissipating as it arrives, too dark to note and carbonation
S - the aroma is heavy on berries, to no surprise, heavy on blackcurrants, but also grapes and cranberry, very sweet and thick aroma, like that of a jam or preserve
T - smooth fruitiness at first, like the aroma, at it's best it smells like a high quality preserve and fresh berries, at its low end its a bit like cough syrup, take nothing from this beer, each sip shows different sides of this beer, but what is evident througout is the quality of this beer
M&D - throughout the beer is a distinctive velvety, nigh syrupy smoothness, that slides down the gullet, a bit too sweet at times, but never the less, an incredible treat, definitely would accompany cake perfectly as an apertif, the menu lists this at 16.5%
883 characters
4.87
/5
rDev
+20%
look: 4.5 | smell: 5 | taste: 5 | feel: 5 | overall: 4.5
I just happened to be one of the out-of-towners sitting beside tangfoot when the Kuhnhenn Brother's father treated us to a little sneak peak of this gem. Comparable to the Raspberry Eisbock and that is saying a lot for me considering the Eisbock is the only beer I've ever given all 5's. I was hesitant to add the beer and my review because I wasn't sure of the name and whether it would be released. Seems I was beaten to the punch, aw nuts. Anyway...
This fruity concoction poured a woody brown/ruby with a creamy tan head that left thick walls of lace. I recall the anticipation well.
The aroma was unbelievable. Just like with the Raspberry Eisbock, I could have just sat and enjoyed the bouquet all afternoon. Thick crushed black currant. Spicy fruit; cherry and honey. Tart and juicy. Absolutely decadent.
The flavor was pure beer joy. Tangy and sweet. Very well balanced. Heavy, pungent black currant, citrus, black cherry, spice, and lots of dark fruit: fig, raisin, date. The fact that there was so much booze in there blew my mind. So well masked; just a hint of warmth in the finish. A syrupy, decadent sipper.
Thick, syrupy and fudge-like. Heavy and lingering on the palate. As I said, definitely a sipping beer. Some acidic tang but little carbonation. Coats the tongue in dessert-like goodness. I can't wait to get my hands on some more of this stuff. The second best fruit beer I've ever had; a close second and very comparable to the Kuhnhenn Raspberry Eisbock. I have no idea how they do it, but lord do I hope they continue.
1,548 characters
4.64
/5
rDev
+14.3%
look: 4 | smell: 5 | taste: 5 | feel: 5 | overall: 3.5
A huge thanks goes to Bret Kuhnhenn who pulled this out of the back for me.
Pours a deep dark crimson. A small tan head makes a quick appearence before leaving. There isn't much lacing or head with this high abv brew.
There is so much going on in the nose with this one it is hard to put into words. My first thought was fruit punch. It smells of raspberries, bread, brown sugar, and alcohol. The aroma is so strong I could smell it a few feet from the goblet I poured it into. Very enticing.
Upon first sip I was overwhelmed by the fruitiness of this beer. There are all kinds of berry flavors in this one. I am also hit with a grape-like flavor which is sweet and somewhat tart. Alcohol is evident in the finish but not unwelcome.
Wow, this is amazing stuff! I would love to drink this by a fireplace on a cold winter night, or while digesting a holiday meal with family. This is a definite sipper, I enjoyed it over the period of an hour. This beer is big and flavorful so one in a sitting is definitely enough. I only hope that this beer is more widely released. This is without a doubt one of the best and most unique beers I have ever had. Well done Kuhnhenn's!
1,175 characters
Kuhnhenn Tenacious Cassis from Kuhnhenn Brewing Company
4.06
out of
5
based on
156
ratings.