Kuhnhenn Imperial Crème Brûlée Java Stout
| Kuhnhenn Brewing Company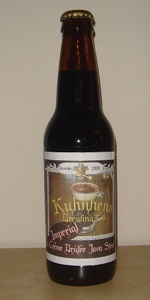 BEER INFO
Brewed by:
Kuhnhenn Brewing Company
Michigan
,
United States
kbrewery.com
Style:
American Double / Imperial Stout
Alcohol by volume (ABV):
8.00%
Availability:
Rotating
Notes / Commercial Description:
No notes at this time.
Added by MasterSki on 12-25-2009
Reviews: 61 | Ratings: 192

4.3
/5
rDev
+6.7%
look: 4 | smell: 4 | taste: 4.5 | feel: 4 | overall: 4.5
Bottle pours a dark black with a little bit of foam forming on the Sam Adams perfect pint glass. Smells of coffee and of course, creme brulee. This is a much easier version to drink compared to Southern Tiers Creme Brulee. The taste is of very smooth coffee and quite drinkable. Glad I picked one up of these at the brewery. Very decent stout.
343 characters

4.08
/5
rDev
+1.2%
look: 3 | smell: 5 | taste: 4 | feel: 3 | overall: 4
Not sure who wandered up and gave me a pour of this at Woodshop 5.0 but thanks. Pours dark brown with no head. Aroma explodes from the glass: creme brulee (duh), vanilla, semisweet chocolate, cocoa, and brown sugar. Flavor has some licorice, vanilla extract, roasted malt, hazelnuts, vague fruits. Very high carbonation but with some swirling it's okay. Medium body, too thin to properly support the flavor. Otherwise a very good beer.
435 characters
3.98
/5
rDev
-1.2%
look: 4.5 | smell: 4 | taste: 4 | feel: 3.5 | overall: 4
A- Very deep black with barely any light getting through at the edges. The mocha head is creamy at first but settles to numerous splotches on the surface. Looks like it means business.
S- Coffee, cream, and cocoa powder. Smells very sweet and oddly complex. There is something to this I can't quite put my finger on.
T- Sweet chocolate and coffee with just a hint of a nutty aspect at the end. Not as rich as the aroma led me to believe, in fact it is rather well balanced.
M- Smooth but there is just something a bit off at the very end... maybe a touch metallic or sour.
D- Drinks rather well and it is nice to have something a little different than just a normal coffee stout. This tastes a little different than it did on tap. Worth trying either way.
762 characters
4.1
/5
rDev
+1.7%
look: 4 | smell: 4 | taste: 4 | feel: 4 | overall: 4.5
On tap at Kuhnhenn. Black served in a tulip glass. Smell was intense sweet coffee. Taste was sweet coffee as well, with some hints of bitter dark chocolate. Excellent drinkability for the 8% ABV that was reported on the menu. Moderate mouthfeel.
This isn't really complex, but is an above average to decent coffee stout with excellent drinkability.
349 characters

3.69
/5
rDev
-8.4%
look: 3.5 | smell: 4.5 | taste: 3.5 | feel: 3 | overall: 3.5
Another Kuhnhenn bottle from hoppymeal.
Pours almost completely black and oily out of the bottle with almost no light passing through underneath a small creamy tan head that recedes to a trace of bubbles and leaves very little lacing.
The aroma is excellent with plenty of espresso and lactose and vanilla sweetness as well as dark roasted black malts. It's like a sugary coffee dessert in the nose.
The taste is odd because I get all the same character as the aroma but it seems very watered down. The initial taste is the vanilla and caramelized sugar sweetness with a quick roasted coffee presence that gets washed away into a lightly roasted but sweet finish.
The mouthfeel holds this one back for me as it tastes watered down. The mouthfeel is very thin and slick with low moderate carbonation but way too light bodied.
The aroma really had me excited but the flavor is just too washed out for this one to be a great beer. Which is a shame because I think the flavors are there but it's tough to know due to the light body.
1,033 characters
4.19
/5
rDev
+4%
look: 3.5 | smell: 4.5 | taste: 4.5 | feel: 3 | overall: 4
Thanks to FooFaa for sharing a bottle of this on 1/30/10.
A - Poured a deep brown body with a bubbly burnt tan head that reduced to a patchy veil and yielded sparse lace.
S - Vanilla-infused coffee creme brulee goodness! Vanilla sweetness definitely dominates the aroma. Smells like an expensive dessert at a fine Italian restaurant.
T - As with the aroma, that little sweet vanilla bean packs quite a huge flavor, although there is a slightly bitter coffee character and underlying chocolate notes, both adding complexity to the stout and keeping the flavor from becoming one-dimentional. Finishes with slightly bitter, earthy hop notes amidst the intense sweetness.
M - Medium bodied with a slick yet thin and watery texture. Finish is bittersweet on the palate.
D - Pleasant blend of creme brulee and coffee attributes, although the mouthfeel is a bit lacking for an Imperial Stout. Otherwise, this is a class act.
925 characters

3.75
/5
rDev
-6.9%
look: 4 | smell: 4 | taste: 3.5 | feel: 3.5 | overall: 4
A: Pours a dark mahogany with a samll 1" soda-like head that recedes almost immediately. Liquid stains the sides of the glass as it is swirled.
S: Dark malts and roasted malt. Very strong dark-roasted coffee aroma, and chocolate pudding. Light diacetyl, and a bit fumey from the alcohol.
T: Roasted malt and chocolate up front, moving along to sweetness from the lactose and the chocolate/coffee coming in again near the end. Alcohol is felt on the upper palate but not in the throat. Sweetened coffee with cream is the prominent taste as it warms, but it doesn't have the body one would expect. Imho, Short's Cup A Joe is superior.
M: Rather thin, with the body possessing a deadening finish that doesn't linger on the tongue. Charred malt flavour remains though, as well as a bit of the lactose.
802 characters
3.69
/5
rDev
-8.4%
look: 3.5 | smell: 4.5 | taste: 3.5 | feel: 3 | overall: 3.5
Sampled on 1-16-10
Bottled in December 2009
Pours completely black and opaque, with almost no head and absolutely no lacing. Very viscous looking.
Smell is all coffee and vanilla, very sweet but without being cloying. The coffee becomes even stronger as it warms, really adding to the enjoyment.
Taste is much earthier than the smell, the coffee is not as sharp, adding more of a malty quality. The creme brulee aspect adds a an odd bitterness that a can't quite place. Not as good as I had hoped.
Mouthfeel is very thin, almost watery, a disappointment.
Drinkability is decent, but the odd flavors and thin feel make it more difficult.
Overall, started out awesome, and then tanked.
689 characters
4.12
/5
rDev
+2.2%
look: 4 | smell: 4.5 | taste: 4 | feel: 4 | overall: 4
A - Deep cola in color with a thin, almost non-existent, tan head.
S - The nose is very rich with coffee and chocolate. The aroma reminds me of fudge brownies, maraschino cherries, whip cream, vanilla and steaming cup of espresso all poured into a gigantic snifter.
T - Wonderful coffee, roasted malts, and chocolate flavors mingle well together, though it does not have the complexity of the nose. This is no where near as sweet as the regular version.
M - Full bodied despite the low level of carbonation present. Finish is quite dry in comparison to the regular version
D - The intense coffee and chocolate flavors make this a fantastic beer. I wish some of the complexities of the nose would have come through in the taste. A little more sweetness would have helped to make this a bit more "crème brulee"-ish.
819 characters
4.24
/5
rDev
+5.2%
look: 4 | smell: 5 | taste: 4 | feel: 4 | overall: 4
The non-imperial version of this was definitely one of the highlights of the 2009 Great Taste of the Midwest in my opinion. In fact, I enjoyed it more than both Canadian Breakfast Stout and Oak Aged Dark Lord. Hopefully the imperial version can stack up. Here we go....
Pours black with a small half finger of head that dies quickly. A quick swirl causes a collar to rise, but it dies out quickly.
The smell is incredibly complex for a coffee stout. First off, there is the freshly roasted gourmet coffee aroma that is wonderful. Underneath sits a bet of whipped cream that smells like I just shoved a Reddi-Whip can up my nose and pulled the trigger. Definitely some cinnamon spice, marshmallow, luscious milk chocolate, and graham cracker. Honestly, this makes every other coffee based beer smell like a plain old cup of Folgers. Stunning.
The taste is not quite as amazing but is still quite good. The way I described the regular version of this is "like washing down a chewy brownie with a cup of gourmet coffee." The word on the street was that this one wasn't as sweet, and it is not. And I have to say it is not an improvement. I enjoyed the sweet fudge...this one is a bit more like a mellow cup of coffee with cinnamon sugar. Still tasty, but emptier than I had hoped for. A solid coffee beer.
Mouthfeel is medium bodied with low carbonation. This one could use a little more body, but is actually saved by the low carb because the flavors are able to marinate on the tongue for a bit.
Not sure what the ABV is on this, but I would be surprised if it was higher than 8%. Drinks very well, definitely sessionable. Honestly, I much preferred the version I had at the GTOM and really wish I could do a side by side right now to see if I am just remembering wrong. Nonetheless, this is a mighty fine beer.
1,815 characters

4.46
/5
rDev
+10.7%
look: 3.5 | smell: 5 | taste: 4.5 | feel: 4.5 | overall: 4
Picked up a bottle at the recent Kuhnhenn Winter Solstice party. Served in a snifter.
A - Pours with a half-finger of tan foam that dissipates quickly to a ring and a bit of light haze - minimal lacing. Pitch black body, with only the tiniest hint of brown at the bottom of the glass.
S - Crème brûlée! Coffee (with cream)! Roasted malt, light brandy, maraschino cherry. Definitely not as saccharine and diabetic as the Southern Tier version - the coffee helps balance things out. It's just terrific - wonderful balance, and reference quality for this type of stout.
T - The taste is more of a 4.25, but since I was hard on the appearance I figured I'd round up. It's a little more roasty and dry, with less overt sweetness. The coffee starts to take center stage, with a bit of dark chocolate also creeping in. The aftertaste is bitter, and mounts throughout the serving.
M - Smooth, medium-thick body, with low carbonation. Surprisingly dry finish, with only slight residual stickiness.
D - A 12oz bottle is probably the appropriate serving size. It's very far into dessert beer territory. However, the well-hidden booze, moderate bitterness, and delightful flavor make it a well-enjoyed serving. It also helps that I don't feel like my heart is racing and that I have to amputate my leg afterward. Highly recommended!
1,338 characters
Kuhnhenn Imperial Crème Brûlée Java Stout from Kuhnhenn Brewing Company
4.03
out of
5
based on
192
ratings.