Kuhnhenn Blueberry Eisbock
| Kuhnhenn Brewing Company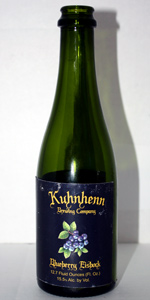 BEER INFO
Brewed by:
Kuhnhenn Brewing Company
Michigan
,
United States
kbrewery.com
Style:
Eisbock
Alcohol by volume (ABV):
15.50%
Availability:
Limited (brewed once)
Notes / Commercial Description:
No notes at this time.
Added by TurdFurgison on 02-17-2013
This beer is retired; no longer brewed.
Reviews: 13 | Ratings: 130
4.5
/5
rDev
+0.2%
look: 4.5 | smell: 4.5 | taste: 4.5 | feel: 4.5 | overall: 4.5
Big thanks to Andy for sharing this beast.
Touch of fizzy head great, super dark murky brown color.
Nose is phenomenal, epitome of awesome blueberry, then going close brings sweet syrupy bock, candy syrup, toffee, maple syrup, blueberry syrup, blueberry with butter pancakes, juicy berry fruit, blueberry eggo waffles, candy syrupy toasted wheat.
Taste little sweet syrupy candy, with nice blueberry candy, blueberry waffles, candy blueberry and fresh blueberry flesh, mild bitterness, hint of booze warmth, juicy berry and candy toffee syrup. Finish is sticky and sweet, lingering blueberry syrup and mild toffee candy, etc,
Mouth is thicker sweet mild syrupy, decent carb, hint of booze,
Overall great.
713 characters
4.44
/5
rDev
-1.1%
look: 4.25 | smell: 4.5 | taste: 4.5 | feel: 4 | overall: 4.5
Humongous thanks to Andy for sharing this.
A - Poured into a Kate the Great tulip a murky tootsie roll brown hue with thin wisps that lead to big big legs.
S - Aromas of blueberry jam galore. Not tart blueberries but sweet fruit. Great blueberry pancake aromas with some butter too. Little tootsie roll chocolate. Really incredible blueberry pancakes, blueberry eggo waffles. Alcohol hidden excellent.
T - Taste is phenomenal blueberry syrup upon blueberry waffles. Sweet sweet blueberries over and over. Light chocolate tootsie rolls. Rather heavy and syrupy on the taste but yea, delicious sticky blueberry syrup and waffles. Wow.
M - Mouthfeel is lightly carbonated, almost thin, syrupy. That said the alcohol is hidden well.
O - Overall this beer was really tasty. Great blueberry syrup notes over the nose and the taste. The base beer is more muddled in this than the raspberry Eisbock.
Serving type: bottle
920 characters

4.69
/5
rDev
+4.5%
look: 4.25 | smell: 4.5 | taste: 4.75 | feel: 5 | overall: 4.75
On draft at Churchkey in D.C.
I've been coveting this beer since its release. How exciting to find it on draft. Boom.
It's hard to discern the precise color of the beer due to the lowly lit atmosphere, but what I perceive is lavender to deep bluish purple body with a small, broken head. the aroma brings loads of blueberry despite the fact that this beer was released in 2012. No signs of age or degradation in the flavor either. Super jammy with lots of berry sweetness. Blueberry cobbler in a glass. 15.5%?!? Are you shitting me? You'll only notice that when you stand up. This beer is delicious and I could sip it all night. Expectations met. Fantastic.
660 characters
4.46
/5
rDev
-0.7%
look: 3.75 | smell: 4.5 | taste: 4.5 | feel: 4.5 | overall: 4.5
Poured on tap at Churchkey into a snifter only 4 oz. allowed. Vintage 2012.
A big served soapy collar, with maybe a light tan colored appearance. Deep red garnet body color, with some nice clarity. Bit of a slick top and kind of watery, beer looks a little lifeless but has some great colors.
Woah. Holy fruity pebbles bouquet there! Literally slamming boo berry cereal in my face. Ripping blueberry fruit off of this, in fact I even smelled it when it was served before I picked it up. Huge and deep, lots of candy and chewy chewy taffy like senses. A bit overkill and enormous, nothing else to say or going on, incredibly dominant, and while sweet not horrifically.
Much continues through the palate as hinted on the nose. Much blueberry and rich iced vanilla and cream. Thick toffee malt backbone, but doesn't provide much malt based flavors that are dominated by this crushing fruit. Palate is slick and thick, with an interesting fizzy front. Hardly boozy until it's too late.
Overall it's just killer, but the beer is just too darn rich, and disappears into some obscure arena of taste that makes you forget what beer style this is really. Completely makes me forget this is an eisbock, but impressive as hell.
1,220 characters

4.69
/5
rDev
+4.5%
look: 3.5 | smell: 5 | taste: 4.5 | feel: 4.75 | overall: 5
375ml bottle 15,5% Abv.
Served chilled and split between a snifter and a wine glass.
2012 Vintage
Thanks to Rfraga for this bottle.
Appearance: Kuhnhenn Blueberry Eisbock isn't the best looking beer I have seen, appearing an opaque brown in the glass, with a back light revealing a very strange green tint along the edges. A rough pour yields no more that a thin layer of tan coloured bubbles that fizz away almost instantly. A swirl coats the glass in some sticky alcohol legs.
Smell: Oh yes, this smells amazing! Massive juicy blueberry, sugar covered blueberry flavoured fruit pastels and some caramel make up the initial nose. As the nose opens up, the blueberry flavour increases to unbelievable levels and dominates everything else!
Once the beer approaches room temperature, brown sugar, sweet caramel, a little almond and preserved berries become apparent. There is no trace of the 15% in the nose.
Taste: The initial flavour is not quite as fruity as the nose suggested, with an odd, almost cough syrup note and some bitterness in the back end. A little warming seems to do the trick however, and allows a massive sweet blueberry flavour to emerge, along side caramel, brown sugar, a jammy note and a hint of chocolate. As with the nose, there is virtually no alcohol noted in the flavour.
Mouthfeel: The body is just shy of full and fantastically sticky, with a very low level of smooth carbonation. I think the carbonation might be a little low for most people, but it is just abut perfect for me.
Overall: Kuhnhenn Blueberry Eisbock isn't the most complex beer that I have had, but the amount of blueberry flavour is just so good that is certainly makes up for that! I certainly hope I'll be able to have this one again in the future!
1,760 characters
4.23
/5
rDev
-5.8%
look: 2.5 | smell: 4.5 | taste: 4.25 | feel: 4 | overall: 4.5
375 mL bottle poured into a snifter.
Appearance - No head on a dark body. Hints of green in the light. Weird.
Smell - Blueberry, but not jammy. Lots of blueberry. Dark caramel and a hint of chocolate. Very boozy.
Taste - Blueberry and chocolate. Some cola flavors and a bit of bitterness in the back end. Boozy again. Very small bit if greeny vegetal flavor.
Mouthfeel - Nearly flat. Very boozy. Heavy.
Overall - This has the depth that the new KRE lacks. The blueberry isn't necessarily better than the raspberry flavor, but the chocolate reminds me of the vintage KREs.
577 characters
4.64
/5
rDev
+3.3%
look: 4 | smell: 5 | taste: 4.5 | feel: 4.5 | overall: 4.75
Bottle, graciously shared by Jim. Pour a deep purple with only small bubbles. Aroma is straight up blueberry pie, very decadent malts and some grapes. Rich blueberries in the taste, mostly very sweet but has a little tartness that makes it lighter and more drinkable than KRE. Rich and sticky mouthfeel with minimal carbonation. The ultimate fruit dessert
355 characters

4.41
/5
rDev
-1.8%
look: 4.25 | smell: 5 | taste: 4.25 | feel: 4 | overall: 4.25
Poured from a 16 oz bottle into a 8 oz glass, split 4 ways.
A- pours a reddish, purple with some dark amber hues. No lacing.
S- wow! Crazy blueberries and that's about it. Slight chocolate aroma.
T- very similar to nose, tons of blueberries with another berry flavor I can't finger. Again, some chocolate almost tootsie roll flavor as well.
M- full body and low carbonation. Alcohol is fairly apparent and beer is syrupy.
O- this is mother of all blueberry beers I think. Would love to try this in a few years to serif the heat dies down.
543 characters
4.57
/5
rDev
+1.8%
look: 3.75 | smell: 4.25 | taste: 4.75 | feel: 4.75 | overall: 4.75
huge thanks to BigBadBarrel for this bottle! Thanks Jon and an honorable mention for Tony!
Vintage 2012. A small hiss when the pressure cap came off the bottle.
poured into tulip glass.
Appearance: Inky pitch black body it might have a purplish/blue hue. Thin cap of medium brown head resulting from an aggressive pour. Cap fizzes down quickly to no head on top of this beer.
Smell: Blueberry and boisenberry jam and hint of chocolates. Smells really fruity and sweet.
Taste: Just like the nose! Big blueberries and boisenberry jam. Blueberry juice and tootsie roll finish. Maybe some caramel notes in there for good measure too. I get a touch of tannic notes that are reminiscent of an oak barrel. Big and sweet beer almost wine like, but its not too vinous like wine. Its still tastes like a fruit beer, just a massive fruit beer! If you like blueberries this is a great beer to try. As this beer warms, up the tootsie roll flavor starts to get bigger.
Mouthfeel: high end of a medium bodied beer; almost full bodied beer. Low carbonation levels. As the beer lands on your tongue you get just a little bit of tingle that keeps this beer from becoming too syrupy. 15.5% is very well hidden; not even a hint of warming booze sensation! Wow. Its rediculously smooth.
Overall: Kuhnhenn....Wow. This is a serious beer. I havent drank many Eisbocks, but this was absolutely delicious. I probably will never see another drop of this beer, but I am happy that I got to try it out! If you like blueberries and chocolates this beer is for you. Love that the blueberries dont taste fake and really makes the beer a blueberry bomb. Its a regal drink for any beer snob! I drank the whole 12.7 fluid oz of this beer myself and it did not become overbearing at any time.
1,765 characters
4.23
/5
rDev
-5.8%
look: 3.25 | smell: 4.5 | taste: 4.25 | feel: 4 | overall: 4.25
Thanks to mrbubbler for sharing this one at GRG1313's tasting.
2012 vintage.
Pours a clear dark red with a foamy tan head that settles to wisps of film on top of the beer. Small dots of lace slowly drip into the remaining beer on the drink down. Smell is of malt, blueberries, blueberry juice, and blueberry syrup. Taste is much the same with a strong blueberry flavor and an alcohol kick on the finish. This beer has a lower level of carbonation with a slightly crisp and medium bodied mouthfeel. Overall, this is a very good beer with great aromas and flavors but a small pour was more than enough for me.
609 characters
4.52
/5
rDev
+0.7%
look: 4.75 | smell: 4.5 | taste: 4.5 | feel: 4.5 | overall: 4.5
Appearance was dark brownish-purple with a creamy purple 1/2 finger head. Decent carbo on tap. Looks like a cabernet sauvignon.
Smell was incredible. Deep ripe blueberries interplay with Munich malt, caramel and dark chocolate undertones.
Taste was similar to the smell, but just more amplified. Ripe blueberries and malt sweetness. Munich malt melanoidins underlying the biscuit, toffee, and caramel flavors in the malt profile. Light notes of dark chocolate make appearances before the slight alcohol burn and tannic blueberry skin flavors finish the beer. Taste is reminiscent of a blueberry tootsie pop - just way more complex and outstanding!
Mouthfeel was nice and medium-full bodied with just the right amount of viscosity to support the rich and decadent flavor profile of this big fruit eisbock. Leaves your lips sticky after a few ounces.
Overall was an awesome experience. Glad to snag a bottle at the release to cellar! Should do fantastic with age!
965 characters
4.4
/5
rDev
-2%
look: 3 | smell: 4.75 | taste: 4.5 | feel: 4.25 | overall: 4.25
Enjoyed on tap at Kuhnhenn for the eisbock release. Same price as the Raspberry Eisbock - 15$ for a 6 oz pour, so hopefully it'll be worth it. The pour was thick and completely opaque, deemed a grey-ish, purple tinted color with a slightly lighter purple head. Full of sediment and trudge, this looked similar to purple Go-Gurt (you know, the yogurt in a tube), only slightly less thick. Swirling the glass left huge footprints and legging on all sides. It is to my understanding that this isn't necessarily how the beer is supposed to look - many people have had it and it looks very similar to the raspberry eisbock. My thought is that maybe this was near the bottom of the barrel, where all the sediment and leftover blueberry trub had collected? Either way, it looked like a monster. Thick and muddy, no light passing through.
The aroma was fantastic, just like the Raspberry Eisbock, except now with blueberries instead. It also doesn't have the chocolate-like aroma that the Raspberry Eisbock had, but I'm certain that's a good thing - blueberries n' chocolate don't mingle too well. The nose is extremely powerful and absolutely pure - fresh, juicy, ripe blueberries bombard the nostrils and put you in a patch of blueberries for just a moment. A nice layering of aromas takes place; pungency, sweetness, juiciness, even a mild tartness, though very small. As the beer warms up, a little touch of alcohol can be detected on the nose, but the amount is very small considering this baby is 15.5% ABV. Overall, such a fantastic and pure blueberry aroma, like fresh blueberry puree.
Holy sheeeeyat. As I take a swig of this, it feels like thick Vitamin D milk on my palate, or a semi-melted milkshake. This is probably the thickest beer I've ever tasted! But again, I don't think this is really how it's supposed to be. This is "bottom of the keg" type thickness right here. But hey, I'm not complaining. The taste is a full-force explosion of blueberries. Sweet, savory, juicy - it was like a mouthful of smashed bluberries. The thickness, though probably not intended, actually fit the profile quite nicely. Alcohol becomes apparent and warming about halfway through - the alcohol presence is slightly more dominant in the BE than the RE, but is still incredibly mild given the high level of it. Some very light chocolates come out from the malt on the palate, too, but are still relatively oppressed compared to the blueberry flavors - again, much more subdued than in the raspberry eisbock. A touch of sweetness and syrupy, blueberry goodness to finish it off, with a mild alcohol warmth.
Hot damn, I think I may have gotten the bottom of the barrel, because this was absolutely the thickest and most full-bodied beer I've ever had. Thicker than FIS. And I don't think it's supposed to be like that. But regardless, it was damn good, and the thick mouthfeel only added to the experience of blueberry massacre. Overall, I prefer the raspberry eisbock, mainly because I'm more of a raspberry fan. But blueberries are tasty, too, and this beer was no slouch. I'm glad I had a chance to try this one.
3,106 characters
4.71
/5
rDev
+4.9%
look: 4.5 | smell: 4.75 | taste: 4.75 | feel: 4.5 | overall: 4.75
I had this on tap at the brewery during the bottle release, $15 per pour. Sampled side-by-side with fresh Raspberry Eisbock on tap.
The beer is dark brown/black, with purple highlights at the edges when held up to a light. A thin and translucent blue film laces across the glass as it empties. Nearly no head, not surprising with the ABV and the low carbonation.
The aroma is amazing, there must be a ton of blueberries involved in the making of this beer. I initially felt the malts would overcome the fruit but it really was the other way around. Only hints of cocoa beneath the blueberry (unlike the raspberry eisbock which gives a much stronger chocolate component).
The blueberries are dominant in the flavor as well, but here the malts start to assert themselves. No alcohol in the aroma or taste, just blueberries, sweet malts, and intermittent cocoa. Phenomenal really, I had high expectations and they were surpassed. The raspberry eisbock was again much stronger in the cocoa flavor, and while I loved both beers I think my personal preference was for the blueberry. It's possible that the raspberry has aged longer prior to being tapped, in which case I would think that some age will give the blueberry eisbock more cocoa and less blueberry in the flavor. It will be interesting to see if this happens with my bottle.
The body was on the heavy side, not overly viscous but rather pleasantly mouth-coating. The flavors lasted long after each sip.
If you get a chance, I recommend a mix of both eisbocks. We did this in several ratios at our table, and to me the best mix was 75% blueberry to 25% raspberry. This gives a nice chocolate complement to the blueberry, with soft undertones of raspberry. With age on them it's anyone's guess as to the correct ratio.
1,776 characters
Kuhnhenn Blueberry Eisbock from Kuhnhenn Brewing Company
4.49
out of
5
based on
130
ratings.