Atlas 12
| Union Export Brewery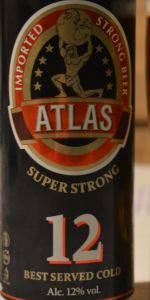 BEER INFO
Brewed by:
Union Export Brewery
Netherlands
Style:
Euro Strong Lager
Alcohol by volume (ABV):
12.00%
Availability:
Year-round
Notes / Commercial Description:
No notes at this time.
Added by Douberd on 02-04-2012
Ratings: 7 | Reviews: 4

1.93
/5
rDev
-7.2%
look: 2.75 | smell: 2.25 | taste: 1.75 | feel: 1.75 | overall: 1.75
Caramel. Sweet bread. Corn adjunct. Malt syrup. Booze. Cloyingly sweet. Metallic.
Abysmal stuff. Just really bad.
At least it's not watery?
D- / AVOID
153 characters
2.62
/5
rDev
+26%
look: 3 | smell: 3.5 | taste: 2.5 | feel: 1 | overall: 2.5
Straw gold with large and small bubbles, clean filtered, topped with 2 fingers of off white head.
Bread, corn, wet dog, malt.
OMG, super sweet, corn, corn candy, little bitterness, hints of hops and definite alcohol.
Thick and syrupy, little carbonation. Coating clings to the tongue afterwards.
Got in CNX, drank here April 2nd, 2016. Hmmmm. Not much more to say on this one. Got it hoping it was better than others in this style I've had. Seems perhaps worse. The sweetness is a little hard to take, though I love Belgian beers, this is more of a strange syrupy sweetness that seems misplaced.
605 characters
2.31
/5
rDev
+11.1%
look: 2.25 | smell: 2.5 | taste: 2.25 | feel: 2.25 | overall: 2.25

1.25
/5
rDev
-39.9%
Worst beer I have ever had, period. I can't even begin to describe the nastiness of this brew.
94 characters
1.39
/5
rDev
-33.2%
look: 1.75 | smell: 1.5 | taste: 1.25 | feel: 1.25 | overall: 1.5
Like the Grolsch Kanon, this is a booze-beer. It is literally mouth-numbingly boozy, with nothing else going on besides.
Pours a lazy lager yellow, virtually headless. Low carbonation. Smells okay at first, but almost immediately after pouring, the booze wafts out, pushing away all other impressions. No solvents, which is about the only positive thing it's got going.
Flavour is booze. Taste is sticky-sweet, with an window-cleaner mouthfeel: the booze tries to convince your mouth it's not as sweet as it is by attempting to dissolve all residues and rinse the mouth clean, but you're still left with a sticky film covering the inside of your mouth.
I found this to be utterly undrinkable, even ice cold. Not because it tastes bad, but because of the horrible booze-presence, and the lack of anything else.
813 characters

1.96
/5
rDev
-5.8%
look: 2.5 | smell: 1.5 | taste: 2 | feel: 2.5 | overall: 2
Atlas 8.5 stronger brother, that 500 ml can was only different in color (black for this one, blue for the lighter version). The similarities don't stop there though since this one has also a clear yellow golden colour and a non-existant head. Smell is stronger with the alcohol easily traceable. Even more in the beer's taste.. I am gonna grade this one the same grades as with the Atlas 8.5, because really there are no differences at all, except from the ABV.
461 characters
Atlas 12 from Union Export Brewery
2.08
out of
5
based on
7
ratings.