Estrella de Navidad

Hijos De Rivera, S.A.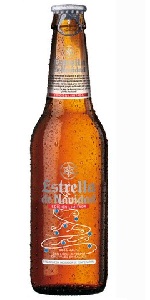 Rate It
Beer Geek Stats
From:

Style:

ABV:

5.5%

Score:

Avg:

2.98

| pDev:

16.11%

Reviews:

6

Ratings:

Status:

Active

Rated:

Jun 06, 2022

Added:

Apr 25, 2014

Wants:

Gots: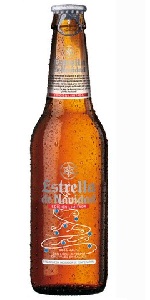 Notes:
Los Maestros Cerveceros de Estrella Galicia modifican todos los años la receta de esta cerveza de temporada. Buscan materias primas diferentes y/o incorporan nuevas técnicas de elaboración para lograr una cerveza celebración diferente año a año.
Una cerveza ámbar, limpia y con una cremosa espuma de color blanco hueso. Aroma dominado por la malta y el lúpulo, que aporta notas frescas y herbales. El sabor a malta, con elegantes matices tostados y los suaves sabores florales y herbales aportados por el lúpulo, equilibran una cerveza que nos regala un prolongado regusto amargo. Su agradable paso por boca y una calidez moderada la convierte en una gran cerveza de celebración.
Estrella Galicia's Master Brewers modify the recipe for this seasonal beer every year. They look for different ingredients and use new brewing techniques to achieve a different celebration beer year after year.
An amber beer, clean and with a creamy head white. Nose is dominated by malt and hops, which brings fresh and herbal notes. The malt flavor, with elegant toasted notes and the soft floral and herbal flavors contributed by the hops, balance a beer that gives us a long bitter aftertaste. Its pleasant passage through the mouth and a moderate warmth make it a great celebration beer.
Recent ratings and reviews.
Ratings by elnachooo:
Reviewed by elnachooo from Spain
2.5
/5
rDev
-16.1%
look: 2.5 | smell: 2.5 | taste: 2.5 | feel: 2.5 | overall: 2.5
Dorada con un dedo de espuma de buena retención. De cuerpoy carbonatación media. Aroma leve a tostado y a miel. Sabor dulce gracias a la miel y también a caramelo.
Nov 27, 2020
More User Ratings:
Reviewed by jonmikel from Spain
3.75
/5
rDev
+25.8%
look: 3.75 | smell: 3.75 | taste: 3.75 | feel: 3.75 | overall: 3.75
Drunk at a bar close to Las Arenas metro station/square (Getxo, Spain). 0,33 botttle poured into a glass.
Seemingly changes some from year to year. I drunk it in June, which seems odd to me, but nevetheless was nice.

-Reddish/ruby color. Head fades away fairly quickly.
-Lager Yeast and spicy smell.
-Bitter taste. Hops. A bit grassy. Some chestnut.
-Enjoyable aftermath.

I like it. Didn't know this brew from the Galician family company.
Jun 06, 2022
Reviewed by Sigmund from Norway
2.86
/5
rDev
-4%
look: 3.5 | smell: 3 | taste: 2.75 | feel: 2.75 | overall: 2.75
750 ml corked & caged bottle, from Super Cor Expres, Puerto de la Cruz, Tenerife. ABV is 5.5%. Deep golden to amber colour, moderate white head. Malty aroma, notes of wort and grain. The flavour is slightly more dry than sweet, again malty and grainy, just a little hops in the finish. No masterpiece this one.
May 31, 2022
Reviewed by StonedTrippin from Colorado
3.52
/5
rDev
+18.1%
look: 3.75 | smell: 3.5 | taste: 3.5 | feel: 3.5 | overall: 3.5
current vintage, sounds like this changes some from year to year. neat to have a seasonal lager like this, its a little richer overall for me, more malt, a toasted character to it, and even though its not super fresh now this time of year, it holds up fine a few extra months and is still an enjoyable bottle. pretty reddish color to this, glowing jewel tone between mahogany and ruby, with a fast rising and slow fading fizzy white head. it smells just slightly oxidized, a little winter warmer type longer boiled richness, but still some familiar lager yeast too, faint spiciness perhaps from the hops, grassy, a light sweetness, and hints of almond and green tea to me, different than other winter lagers i have had right away. some graham cracker in the taste, bitter hops, warming malts and even a little alcohol wrapped up with all this body. chestnut, brown sugar, and maybe faint allspice or nutmeg, but im not sure this is even spiced, it just presents like that, could even be some bitter orange peel too. i like the depth of flavor, and i think the grain aspect of this is excellent, but its just a tad old to be fully popping for me, and seems to be somewhat aggressively hopped for the style. a good nightcap after a long day, a slow sipper that warms up alright, a change of pace for sure and i am glad to have had the chance to drink this even off season, unique in this space for sure.
May 31, 2022

Reviewed by janubio from Spain
2.15
/5
rDev
-27.9%
look: 3.25 | smell: 2 | taste: 2 | feel: 2.25 | overall: 2.25
75 cl bottle. Served in a lager glass. Pours a dark golden colour, medium head with very long retention, all the while, in fact. Normal lace.
Aroma has some spicy notes ginger and maybe aniseed, but as it warms diacetyl and oxidation comes over.
Medium body, oily texture, good carbonation. Bubbles keep coming up not only from the center, but everywhere. Sweet finish.
Taste of gran, spieces, aniseed, someme ginger, cardamom... and again butter and cardboard, diacetyl and carboard.
Not what I'd called a Christmas, but it starts good... and finishes poorly.
Dec 20, 2018
Reviewed by josanguapo from Spain
3.37
/5
rDev
+13.1%
look: 4 | smell: 3.25 | taste: 3.25 | feel: 4 | overall: 3.25
From Hipercor. In Teku glass. Watching Narcos 1x08. Nasty smell. Taste is better. Some sweetness and a warming feeling that is pleasant. Avg 3.19 Nov 2016. In Teku glass. Watching Los Soprano 5x01. Ive enjoyed it more than last year. Malty, nice sweetness, good body and noticeable grassy hops. Reminds euro strong lager but abv is lower. Avg 3.7.

24 Dec 2017. In Teku glass. From Hipercor. At dinner, shared with Luis & Javi. Typical euro strong lager, with alcoholic, sweet and a bit toasted notes. Can be drank without much disgust nor much enjoy. Avg 2.75

24 Dec 2018. En copa Teku. De Carrefour. Edicion 2018. En cena de Navidad. No dulzona ni alcoholica como la encontre año pasado. Suave al paladar. Maltosa, con sabor algo mas intenso de lo habitual a lupulo herbal pero no demasiado fresco

24 Dec 2019. En copa Teku. De Hipercor. Edicion 2019. En cena de Navidad. Perfil de lager industrial algo subidita de grados pero sin pasarse, con sendacion suave en el paladar
Nov 26, 2015
Estrella de Navidad from Hijos De Rivera, S.A.
Beer rating:
2.98
out of
5
with
9
ratings