1906 Red Vintage

Hijos De Rivera, S.A.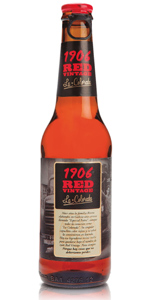 Write a Review
Beer Geek Stats:
| Print Shelf Talker
Style:

ABV:

8%

Score:

Avg:

3.29

| pDev:

19.76%

Reviews:

12

Ratings:

From:

Avail:

Year-round

Wants

Gots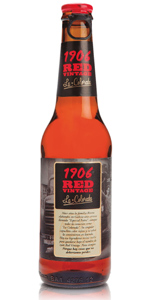 Notes: Intensa lager extra con un excelente equilibrio entre las maltas, los lúpulos y su alto volumen de alcohol. Es el resultado de la recuperación de una receta histórica de Hijos de Rivera, la Especial Extra (La Colorada). Su elaboración, en nuestro único centro productivo, sigue nuestras pautas tradicionales: las mejores materias primas, un mosto específico, una guarda prolongada, ...
De color oro viejo, brillante. Aromáticamente se percibe el balance hacia las maltas, con agradables notas dulces, a caramelo. En boca el amargor equilibra su alto grado alcohólico y su ligero postgusto picante.

A strong lager that offers a perfect balance between the malts, the hops and the high alcohol content.
Our Brewmasters recover one of the old Hijos de Rivera historic recipes, the "Especial Extra" (aka La Colorada). Brewed in the only Company's brewery placed in A Coruña using our traditional methods: best ingredients, long maturing time, passion for the excellence.
An intense amber beer. In aroma the balance shifts slightly in favor of the malts, with pleasant sweet notes, caramel-like. The bitterness balances the intense alcohol content and the light piquant aftertaste.
3.37
/5
rDev
+2.4%
look: 3.75 | smell: 3 | taste: 3.5 | feel: 3.25 | overall: 3.5
Book ended my weekend with these 1906 named brews - though I liked the Black Coupage better, this one ain't so bad...
Reddish tinged, amber colored brew with short-lived head and no lacing, I found the accompanying smell to be lacking - it was like, essentially, non-existent. The mouthfeel was certainly carbonated but not as strong as other beers I've had, just this weekend, and the taste was probably the next most appealing aspect. Booze forward but not so strong as to detract from light flavors of honey and spice. Overall, it's solid enough, though it won't be the 1906 I reach for moving forward.
609 characters

3.89
/5
rDev
+18.2%
look: 4 | smell: 3.75 | taste: 4 | feel: 4 | overall: 3.75
Served in a wide flute glass.
Appearance: Super clear dark gold color with medium bub Les and white head rising quarter of an inch off the body.
Smell:
Taste: Sweet honey and bitter raw hops. Alcohol feel and taste is subtle and not all at once.
Mouth: Sticky beer. Settles easily and comes off a touch strong finish.
Overall: good brew and always serve In a glass. Salud!
382 characters

3.5
/5
rDev
+6.4%
look: 3.5 | smell: 3.5 | taste: 3.5 | feel: 3.5 | overall: 3.5
Bottle. White head. Lace. Dark golden color. Clear.
Very simple. Light honey sweetness. Bready malts. Grassy hops. More flavor than the regular 1906, but not a ton more.
170 characters
3.5
/5
rDev
+6.4%
look: 3.5 | smell: 3.5 | taste: 3.5 | feel: 3.5 | overall: 3.5
A: The beer is clear yellowish amber in color and has a slight amount of visible carbonation. It poured with a short off white head that died down, leaving lacing on the surface and the sides of the glass along with a narrow collar around the edge.
S: Light aromas of pale malts are present in the nose along with some hints of dark fruits.
T: The taste is a near mirror image to the smell and has flavors of pale malts and dark fruits. Although no bitterness is detectable, the hops mostly serve to mask any malty sweetness (and also contribute a bit of herbal flavors).
M: It feels medium-bodied on the palate and has a moderate amount of carbonation.
O: Although the description of this beer says it's brewed in the style of a German Doppelbock, I'd say that it is more of a hybrid between a Euro Strong Lager and a Doppelbock.
Serving type: bottle
853 characters
3.54
/5
rDev
+7.6%
look: 3.75 | smell: 3.5 | taste: 3.5 | feel: 3.75 | overall: 3.5
Poured a strange copper amber color with thin white head that dissipated quickly to a thin film. Moderate lacing was present. Nose is malty and grainy. Taste is very malt forward with a touch of hop bitterness on the tale. More hops would balance this out nicely. The feel is crisp with a light to moderate body and carbonation.
333 characters
3.39
/5
rDev
+3%
look: 3.75 | smell: 3.5 | taste: 3 | feel: 4.25 | overall: 3.5
Poured from a bottle into a pilsner glass.
Pours a gold/amber with just a hint of red taking it toward copper. Absolutely clear with huge bubbles and plenty of effervescence. Very little head and no lacing to speak of. A nice looking beer overall.
The aroma is loaded with diacetyl/caramel malt with just a touch of toasted bread and booze. Not complex, but solid.
The flavor loses me a little bit. I get that this is sort of a malt liquor, after all, but the booze is rather prominent for the ABV, although it's not an unpleasant taste. Strong malts again are the main event, although there are herbal notes that weren't there on the nose. It could maybe use just a little more hop to balance things out. As the brew warms, there is a growing metallic note.
The mouthfeel is the star of the show. Despite the weight and malt-forward notes, it finishes pretty crisp with plenty of carbonation and character.
Overall, a very mixed bag of notes. If the booze and malt were dialed back a bit or balanced with some more hops, this would move up a tier. Still worth a look, especially if you dig the style.
1,117 characters
2.08
/5
rDev
-36.8%
look: 5 | smell: 4.5 | taste: 1 | feel: 1 | overall: 1
Review: 33cl Bottle of 1906 Reserva Especial: ABV: 6.5% vol
The beer has won a stack of international awards….at the Monde Selection and the World Beer Challenge amongst the many.
The bottle caught my eye…..the design of the label was quirky enough, looked more like a bottle of wine with its age printed……1906…..looked intriguing, so I snapped it up. The 1906 refers, of course, to the date the brewery was founded.
A pretty good looking beer in appearance, with a lovely decent sized frothy white head and a nice golden colour.
Very good lacing with a head that maintains throughout.
Good carbonation.
Lovely smell, very beery, very malty, very good smell……
Smell is very strong on nose, grains, malty. Yeah liked the aroma.
Taste is very sweet initially, front taste is hoppy and too sweet, not a great start.
Horrible! Typical, always the way….good smell n good looking but always a shitty beer, why is that?
On taste got a creamy mouthful.
Very hoppy. Not great, not smooth.
Ok, there are some tastes, mainly malt and sweet grains, but overall it is tough to drink. Not nice at all, what a pity.
1,133 characters
3.62
/5
rDev
+10%
look: 4.25 | smell: 3.5 | taste: 3.5 | feel: 3.75 | overall: 3.75
330 ml bottle, exp. 08/2017, in a pilsner glass. Very clear, amber beer. Much of lacing, visible carbonation. Aroma has nice subtle touch of roasted malts and delicate hops (much like 1906 Reserva Especial), both more present on mouth, together with sweetness and booze, which are not overwhelming at all, considering the style. Aroma reminds of crackers back there, but some bland sweetness gets on the way soon enough. On mouth this sweetness is balanced by a moderately bitter aftertaste. Light body and good drinkability for a beer with this ABV. Overall, it's a non expensive option with much more complexity than I would expect for that price and for the presence of "maiz", which seems to contribute nicely to its drinkability.
734 characters

3.46
/5
rDev
+5.2%
look: 3.75 | smell: 3.25 | taste: 3.5 | feel: 3.5 | overall: 3.5
330ml bottle, poured into La Chouffe tulip.
A: Bronze, clear, medium tanned head made a fairly quick getaway, didn't leave much lacing.
S: Sugar beet and malt, not too much in the way of hops as is the norm for Spanish lagers.
T: Started out with sweet malts which lead to notes of corn and gave way to a lingering wheaty finish.
M: Medium to thick texture, fairly smooth, not much carbonation, slipped down pretty well.
O: All in all it wasn't offensive, kept the booze under wraps.
497 characters
3.35
/5
rDev
+1.8%
look: 3.5 | smell: 3.5 | taste: 3.25 | feel: 3.5 | overall: 3.25
From Carrefour. In Teku glass. Watching Sons of Anarchy 4x04. Pretty nice for an industrial lager. Pleasant to drink and smell. Can be a good everyday table beer
11 Feb 2015: It was waiting its turn in the fridge as a safeguard against contamined beers and today it came thanks to a nasty troublette bio. It Didnt dissapoint me
328 characters
3.43
/5
rDev
+4.3%
look: 3.5 | smell: 3.5 | taste: 3.5 | feel: 3.25 | overall: 3.25
Deep golden colour, with a two fingers head that leaves a ring and a good lace. Smell of caramel, honey, some roasted notes and blue cheese? Lively carbontaion, medium body. Taste of caramel, butter, malts and some roasted notes. Good.
235 characters
2.73
/5
rDev
-17%
look: 2.5 | smell: 2.5 | taste: 3 | feel: 2.25 | overall: 2.75
Light copper color with a very thin head with short retention.
Aroma with notes of corn syrup, metallic, floral hops and apple juice.
Sweet flavor with notes of spicy and floral hops, drops of Cointreau liquor, corn syrup, metallic, very distant toasted malt, caramel, mild orchard and booze. Medium dry aftertaste with a booze finish.
Relatively light body with appropriate carbonation. Alcohol of 8% abv feels lower despite of its lighter body.
Not my favorite style, but this is actually not too bad for a Malt Liquor. Nevertheless it is sweet, and it misses body and hops to help to counterbalance its alcohol.
615 characters
1906 Red Vintage from Hijos De Rivera, S.A.
Beer rating:
73
out of
100
with
47
ratings