Simple Malt Cascade India Pale Ale
| Brasseurs Illimités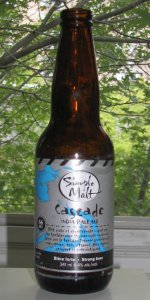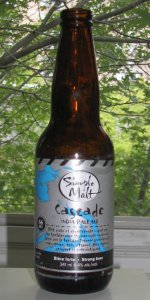 BEER INFO
Brewed by:
Brasseurs Illimités
Quebec
,
Canada
brasseursillimites.com
Style:
American IPA
Alcohol by volume (ABV):
6.40%
Availability:
Year-round
Notes / Commercial Description:
No notes at this time.
Added by ZorPrime on 10-29-2009
HISTOGRAM
Ratings: 65 | Reviews: 39

3.09
/5
rDev
-16.7%
look: 4.5 | smell: 3 | taste: 3 | feel: 3 | overall: 3
Bought in Quebec City a month ago. No date on the bottle. Poured into a tulip.
Pours a rich deep orange-red that is cloudy. Clearly this is going to be a very malty IPA... The aroma is dominated by caramel and sweet crystal malt aromas. The body is thick and sweet and malty, almost too much so as the bitterness is so completely balanced I don't notice it at all. There were no major hop aromas nor flavours evident in any amount which is disappointing. Well carbed, but too sweet to drink regularly.
502 characters
3.57
/5
rDev
-3.8%
look: 3.5 | smell: 4 | taste: 3.5 | feel: 3 | overall: 3.5
Thanks Lubiere. Not a bad bitter, but overated nevertheless. Overcarbonated is an obstacle to drinkability, there is cascade orange taste there, hop aroma.A little astringent in the finish, not bad as some sweetness.I have had lots of better examples of cascade IPA.
266 characters

3.23
/5
rDev
-12.9%
look: 4 | smell: 3.5 | taste: 3 | feel: 3.5 | overall: 3
Thanks to freud for bringing this one down! Rated with sleepnbballrlife.
Appearance: Super clear amber orange with thin foam-y off-white head.
Nose: Some toffee right at the bat makes me think it's a bit faded. Smells like hop pellets muddled with dried or flaked grains. Biscuit malt comes out to play too.
Palate: Bitterness is faded into the grassy/herbal area, not the big citrus I was expecting. Caramel malt and hay flavors.
Notes: I'm afraid this is not as "American" in style as I was hoping. A malt driven IPA, or maybe a bit faded.
545 characters
3.45
/5
rDev
-7%
look: 3.5 | smell: 3.5 | taste: 3.5 | feel: 3 | overall: 3.5
12oz bottle from Peluso in Montreal.
Pours a rich mahogany with a finger of off-white head that put down a few spots of lace as it dropped to a film. On the nose there's the expected grapefruit notes, but also a significant amount of floral hopping, and a decent dose of caramel. Perhaps the nose is almost too malt-heavy, and it doesn't really pack the expected hop punch.
In some respects, the same can be said of the flavour, which isn't nearly as hop-forward as many IPAs, but has great balance to make up for that. Grapefruit and flowers provide the main thrust, with more than ample countering from honey and caramel malt. A decent bite turns up in the tail. The body is slightly heavy, and there's something abrasive about the carbonation that makes me drink this one at a very slow rate.
Its an interesting beer, and a decent IPA for Quebec, but compared to the style as a whole its only middle of the pack. Obviously its based off the old Bieropholie recipe, so here's hoping they decide to resurrect Cascade Plus
1,025 characters
4.01
/5
rDev
+8.1%
look: 4 | smell: 3 | taste: 4.5 | feel: 4.5 | overall: 4
Poured into a standard pint glass.
Pale red with some haze, but I served it a little colder than requested on the bottle. No head to speak of even after an aggressive pour.
Pineapple and grass in the nose. Sparks the tip of the tongue with a super sweet malt start before you are lavished in Cascade brilliance. The hops fill the mouth quickly and beat away the sweeter malty start. Lingering aftertaste is of lemon rind, flower petals, or another bitter citrus zest.
So smooth over the tongue! And just the wint of alcohol in the mouth after every swallow.
This is one excellent APA!
589 characters

4.18
/5
rDev
+12.7%
look: 4.5 | smell: 4 | taste: 4 | feel: 4.5 | overall: 4.5
Poured from a 341ml into my Duvel tulip, bottle tanks to freud! Deep translucent red, ruby colour, with a thin off white head and insignificant lacing. What head was there faded quickly Nice aroma, slightly hoppy but mostly sweet malt. Taste is pretty malty too, but the hops (Cascade from what I understand? I'm learning!) come through too. Not bitter really, and quite balanced. I could compare this to the Granite's Hopping Mad, quite similar in my eyes. Not sure how fresh the bottle was, as the hops seem to be diminished. Quite drinkable, my first from this brewery and hopefully many more to come from Illimites.
619 characters
4.05
/5
rDev
+9.2%
look: 4 | smell: 4 | taste: 4 | feel: 3.5 | overall: 4.5
A- A beautiful amber/copper. Thin head is still lovely. Lots of bubbles and lacing.
S- Candied malt. Hops are great. Pretty much what I expected but less extreme. Burnt honey.
T- Pretty bitter. I get a little bit of water but still can't call this watery. Honey background. I'd like a little more raw hop taste.
M- Medium to full bodied and carbonated. Carbonation feels a bit crude and seltzer like.
D- Very good drinkablity. I'd easily go for this pint after pint.
Fun to drink but I wonder how fresh my bottle was. I wouldn't mind more hop smell and complexity in the taste.
583 characters
4.35
/5
rDev
+17.3%
look: 4 | smell: 4 | taste: 4.5 | feel: 4.5 | overall: 4.5
Pours an orange, almost verging on copper colour. About one finger of head foamy head on the pour that leaves nice lacing and retention. Smells of floral hops. The taste has less of the hops than I expected. I am a complete hop head, but I'm still loving the taste! It has quite a huge malt backbone to it that is pleasantly delicious. Not overly carbonated for a very smooth mouthfeel. I would typically want more hop flavour in an IPA, but I'm making an exception here. I found myself reaching for the glass for sips at a much faster pace than I usually do. This was my first beer from the brewery and I'm looking forward to trying more.
639 characters
4.2
/5
rDev
+13.2%
look: 4 | smell: 4 | taste: 4.5 | feel: 4 | overall: 4
341ml poured into a nonic pint glass...
A - Clear copper body, with a white foamy head. Some moderate carbonation.
S - Hops, hops, hops. That nice juicy citrus-like cascade hoppiness. Quite floral, with a good caramel maltness in the background.
T - Starts with a solid hop bite, with some pepperness and loads of grapefruit and orange notes. Quite sweet, with a strong caramel taste to it. The aftertaste is bittersweet, pretty well-balanced. Tastes like a very proper and balanced American IPA, I'm genuinely impressed with it, good job, Brasseurs Illimites!
M - Light-to-medium body, with some moderate carbonation. The alcohol is virtually unnoticeable.
D - Good. This can be considered a good session IPA for any hop-head or just a beer lover who enjoys a hoppy beer every once in a while.
800 characters
3.8
/5
rDev
+2.4%
look: 4 | smell: 4 | taste: 3.5 | feel: 4 | overall: 4
Failry dark for an IPA. Light shines through but you can`t see anything on the other side of the glass. Dark-amber in colour with a solid, frothy one-finger off-white head which recedes to a sparse covering and ring around the glass. Nice lacing.
Unique hop profile, I haven`t encountered an IPA quite like this one (I assume that`s the straight-up Cascade). (Pleasantly) soapy and floral hops are paired with candy-like malt. Smells great but presence could use a huge boost.
This is really malty for an IPA. Is this a Quebecois thing? It really reminds me of Maitre Brasseur`s La Maitresse; which happens to be one of my favorite session beers. I love malty IPAs. Huge sweet candy malt but not nearly enough hops (La Maitresse has the hops to back it up). Hard to tell how fresh this is, there`s no production date listed. The hops are subdued and floral, also presenting a drying on the finish, along with a little alcohol kick. I like the taste but have to subtract 0.5 for lack of hops.
Slightly syrupy medium body and lightly carbonated.
This is pretty drinkable. For me though, it`s too similar to La Maitresse, which I prefer. If I want a malty IPA, that`s the one I go to, so I don`t think I`ll be picking this up again. I would love to try this when I know it`s fresh, this could potentially be pretty old.
1,324 characters

3.53
/5
rDev
-4.9%
look: 4 | smell: 3.5 | taste: 3.5 | feel: 3.5 | overall: 3.5
Thanks to papat444 for this one. Served in a pint glass. No discernible freshness date.
A - A finger of orange-tan foam with good retention that settles to a cap, but leaves no lace. Lots of bubbles on the sides of the glass and streaming upwards. Transparent golden-copper color.
S - Initial impression is orange zest dish soap - pretty unsurprising considering this is a Cascade beer. Multi-grain bread with a touch of caramel malt backbone. Cascade is one of my less favorite hop varieties, but this is still not bad. As this warms the soap smell dissipates a little and makes it a little more enjoyable.
T - Taste is aggressively bitter, far more than the Humulus Ludicrous or Vache Folle - Simcoe. There's also a healthy dose of pine and citrus zest, and thankfully minimal soapiness. The malt bill is also far more understated. This is a little too unbalanced for me - the bitterness comes too early and isn't offset by a strong initial opposing flavor.
M - Zesty carbonation, medium body that is a little grainy at times. Nice residual stickiness and resin character.
D - Even with the slight overcarbonation and strong bitterness this is still pretty enjoyable. I'd drink a bottle or two of this one, but it's not something I'd seek out again (although to be fair, I don't generally seek out strong Cascade IPAs to begin with).
1,340 characters
4.32
/5
rDev
+16.4%
look: 4 | smell: 4.5 | taste: 4.5 | feel: 4 | overall: 4
At last! As an American banished to these norther climes these past two years I've been waiting for a beer like this to come to town. Local IPAs tend to be a bit dark and a bit muddled, but this brilliant offering is reminiscent of the best bottled IPAs from the West coast. I met the brewer at an "Oktoberfest" style beer tasting at Atwater Market a few weeks ago and finally got a chance to grab some bottles. If you're looking for a bit of the American West coast in Quebec (and in December who isn't!?) this is the one for you.
531 characters
3.82
/5
rDev
+3%
look: 3.5 | smell: 4 | taste: 4 | feel: 3.5 | overall: 3.5
Bottle: Poured a deep clear copper color ale with a large foamy head with good retention and some lacing. Aroma of citrusy hops with some bitter hoppy notes is interesting. Taste is also dominated by citrus notes with a bitter finish which leaves just a little room for the caramel malt. Body is about average with good carbonation. Nothing to really complain about here expect that I must admit that I personally don't enjoy Cascade that much and find it better with part of a balanced mix of other hops.
505 characters
4.23
/5
rDev
+14%
look: 4 | smell: 3.5 | taste: 4.5 | feel: 4.5 | overall: 4.5
Poured from a 341ml. bottle.
Appearance: Pours an orange, amber body with a thick head. Looks just a tad tan. Honestly looks like a lot of IPAs but still looks good.
Smell: Sticky & resin-like hops though a little on the down low. Floral & some citrus action.
Taste: Big citrus fruit that paves the way for a very nice hop presence that doesn't overdo it. Has a certain dryness to it. A bit of malt or even caramel if that's possible? As it warms, shows a little sweetness to it. Astringent yet yummy all at the same time. Develops a sugary, candy-like aspect in the finish as it nears room temp.
Mouthfeel: Quite full-bodied with a nice edge. Smooth and bitter all at the same time. Incredible balance and nearly perfect in the palate IMO.
Drinkability: All the way. Love the balance on this brew. Kept sipping this one quite easily.
Overall: Nothing beats a fresh IPA. So very good yet very balanced. Love it and hope it makes it to the U.S. for others to enjoy it. Pick this one up!
991 characters

4.55
/5
rDev
+22.6%
look: 4.5 | smell: 4.5 | taste: 4.5 | feel: 5 | overall: 4.5
Brewmaster was formerly brewing for Bièropholie, was looking for this one...
The color is caramel. The head is nicely formed, very sticky. The foam is creamy looking. The aroma is mainly hops! Cascade hops! The nice citrusy and piny aromas. Wow, I like this! On the taste side, it is grapefruit. The bitterness is awesome and provide joy in my mouth! This is a typical american IPA, very well balanced.
Cascade hops are some good...
439 characters
Simple Malt Cascade India Pale Ale from Brasseurs Illimités
Beer rating:
3.71
out of
5
with
65
ratings