SunFlower IPA
| Edgefield Brewery (McMenamins)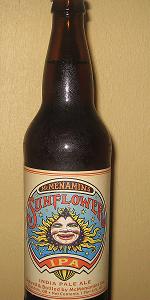 BEER INFO
Brewed by:
Edgefield Brewery (McMenamins)
Oregon
,
United States
mcmenamins.com
Style:
American IPA
Alcohol by volume (ABV):
6.71%
Availability:
Year-round
Notes / Commercial Description:
No notes at this time.
Added by John_M on 08-13-2008
Ratings: 9 | Reviews: 6
Reviews by jdklks:
3.23
/5
rDev
-13.4%
look: 3.5 | smell: 3 | taste: 3 | feel: 3 | overall: 4
A- pours a light gold with an amber hue through the middle. a beautiful pillowy soft white head with excellent retention that leaves a thick coat of lacing.
S- smells of hops and citrus fruits.
T- hops and fruit up front with a bitter, hoppy finish that doesn't last. the fruityness adds a quality of sweetness to the beer that is uncharacteristic of the style generally.
M- on the lighter side of medium bodied. the taste permeates your mouth, but like i said, it doesn't linger for long enough.
D- no problem here, i could drink this beer all night.
not my favorite beer, but definitely worth trying and im glad i have another one for another time.
657 characters
More User Reviews:
3.13
/5
rDev
-16.1%
look: 3.5 | smell: 3 | taste: 3 | feel: 3 | overall: 3.5
First had: on tap at McMenamins Pub, Mill Creek, WA
Poured a clear golden-orange with a small white head that dissipated to almost nothing. Typical citrusy hop aroma, but light, and with sweet malts in the background. Citrus zest and peach on the tongue, with sweet malts coming through. Not to strong or heavy, but not overly tasty or distinctive. Light-medium body and fairly drinkable.
389 characters

4.54
/5
rDev
+21.7%
look: 4 | smell: 5 | taste: 4.5 | feel: 4 | overall: 4.5
This beer is simply delightful, because even though I'm not normally a big fan of the hoppier beers, this one struck me as so far removed from the crowd that it rates my special attention and recommendation.
If ambrosia is the food of the gods, this is surely their IPA. With an opening aroma of strawberries and even a teeny hint of roses, it's a fragrant delight even before the first sip. I almost wanted to sit and sniff at it as it warmed up, but I resisted.
On sipping, there's a sweetness that matches the strawberry, followed by the hop bitters, which for once in an IPA, wasn't unpleasant to my taste buds. I wanted to just roll it around my tongue to get the most of it all, but being thirsty and hot enough, I soon drank it down.
But it gets better. It looks gorgeous, that coppery amber body, with a good creamy-white head. The mouthfeel is wonderful, with a sparkle that made my cheeks laugh, and yes, it does quench the thirst as well. The hops are clearly in evidence, but they mellow in the mouth rather than hang about with a bitter astringency.
I'd happily drink this beer on its own, it's that good, with a nice body and great flavours. I'd also pair it with a good meal; I can imagine it best with something spicy - a curry, chile or strong cheese plate. Couple it with a warm day in the garden, and you have Heaven in a glass, for sure.
1,361 characters
4.3
/5
rDev
+15.3%
look: 4 | smell: 4 | taste: 4.5 | feel: 4 | overall: 4.5
I know it's fashionable to put down McMenamin beers, but I would be completely happy if I could have this beer on a regular basis. This is my "go to" beer at McMemanin's, the beer I always go to if I can't think of anything else interesting to drink. It's never let me down.
This seems to be the standard McM IPA these days (unless you include hammerhead), which is something of a shame. It's quite good IMO (the best McM IPA I can think of), but some of the other IPA creations were excellent as well, and I always enjoyed trying the latest McM creation at Edgefield.
The beer pours a peachy amber color and is a bit darker then what I normally expect from a NW IPA. The nose is textbook IPA, consisting of a blast of hoppy citrus and a touch of sweet malt. On the palate this beer is delicious. It's not the least bit heavy and I could happily dirnk pint after pint of it while wandering around the grounds at Kennedy School or Edgefield. The beer has a very nice fruity hoppiness, but there is also a dry roasty quality that sets it apart from many other IPA's. This IPA is made in the West Coast style, but has enough malt to balance out the hops very nicely. This beer is never heavy or tiring to drink and drinkability is exceptional.
Excellent. Just thinking about this beer and all the good times I've had at Edgefield and Kennedy School brings a smile to my face.
1,382 characters

3.21
/5
rDev
-13.9%
look: 4.5 | smell: 3.5 | taste: 3 | feel: 3 | overall: 3
Thanks to sirdrinknp. 22oz bottle poured into an imperial pint glass.
Pours a very cloudy, yellowish orange with a white one finger head that is light and fluffy. Excellent head retention that leaves great foamy lacing down the glass.
The nose is very fruity. There is some light citrus but what stands out is the strong apple aroma. I let the beer warm, I thought maybe it was a sweeter tropical fruit like pineapple or mango or something of the ilk, but it kept coming back to apple. I'm not sure that I have ever detected apple in an IPA before, at least not like this. Perhaps blended in with other fruits but certainly nothing that stood on it's own or was this strong. Not much in the way of malt but that may be because I'm stuck on the apple.
The taste has more going on than the nose but the flavors still aren't all that strong. Some fruity flavors up front with some citrus and some of the apple that was in the nose. There are some herbal hops that peek through and provide a touch of bitterness in the middle, not a ton, just enough to note. There is a grainy character and some malt sweetness towards the end with a finish that leaves a slight taste of grapefruit rind. While all these flavors are present, none of them are really all that strong or stand out that much.
The beer has a mouthfeel on the lighter end of medium due to a matching body and medium carbonation. It's very crisp and clean, which is normally a plus but here it puts a spotlight that fact that the flavor isn't all that strong.
Drinkability is decent. The appearance is excellent and the aroma isn't bad but the flavors are lacking in the taste. The apple aroma and flavor aren't unpleasant at all but they are unexpected for the style and may have thrown me off a bit. Though it's something I would move on from after I could see where it may be pleasant as a "lighter" IPA to have a few of on a hot day.
1,898 characters
4.1
/5
rDev
+9.9%
look: 4 | smell: 4 | taste: 4 | feel: 4 | overall: 4.5
Served room temperature in a pint glass, this one appears cloudy golden-amber colored with a decent dusty colored head and good lacing. The aroma is a very pleasant grapefruit with sweet banana bread. The flavor brings a great follow up to the aroma with a malty blend with the citrus hop. There's a bit of grassy cinnamon and buttery biscuit in this easily mid-bodied delightful IPA. Very drinkable and satisying. A great introduction to this Oregon brewer.
458 characters
SunFlower IPA from Edgefield Brewery (McMenamins)
3.73
out of
5
based on
9
ratings.