Haven Gastropub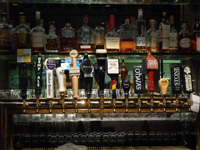 PLACE INFO
Type:
Bar, Eatery
190 S Glassell St
Orange
,
California
, 92866-1478
United States
(714) 221-0680 |
map
havengastropub.com
Notes:
No notes at this time.
Added by kbm on 09-11-2009
Reviews: 32 | Ratings: 51
3.7
/5
rDev
-6.6%
vibe: 4 | quality: 4.5 | service: 3.5 | selection: 2.5 | food: 4.5
One of many restaurants in downtown Orange that I've driven by so many times but never had the chance to dine in.
Finally came here with my cousin for a Sunday lunch. The draft selection wasn't that impressive and most of them have relatively low abv. They do have an enormous bottle list but why would you want to order bottles in a pub when you can buy them from stores for half the price.
The service is... serviceable. Not bad, but not earth-shattering. But who needs earth-shattering service at a pub?
Food is the best part here. We had the tacos and some other dishes and the flavor was phenomenal. I'll try something else if next time I am here.
657 characters
2.78
/5
rDev
-29.8%
vibe: 1 | quality: 3 | service: 2 | selection: 3.5 | food: 4
I live a block and a half from Haven and I was really excited when this place first opened. A local that would only pour craft beer and a top notch burger on par with Fathers imho. Unfortunately the place has jacked the beer prices through the roof while not even offering a proper pint. If your going to charge $7+ a beer at least make it 16 oz. Try to get a drop on the weekends and you will have to push your way through a bunch of rejects from an old Duran Duran video to get to the bar. Snooty attitudes prevail from the staff and the crowd. There are some bright spots, the food is usually excellent and Babe (yes thats her real name) the bartender is one of the best in the business. The owners are friendly enough just more interested in being trendy then a good local.
777 characters
3.5
/5
rDev
-11.6%
vibe: 3.5 | quality: 4 | service: 2 | selection: 4 | food: 4.5
I went with my husband and a friend. The beer selection was good, lots of different choices. It was nice to see different kinds of beer I had never heard of before. The service was just ok, kind of wished they were a little more knowledgeable and welcoming. Food was good too, I had the mac and cheese. My husband had the pulled pork sandwich and enjoyed it which is good because he is a total food critic. It was pricey but I would definitely go again. They also just introduced happy hour I might give it a shot, hopefully its not too crowded.
545 characters
1.75
/5
rDev
-55.8%
vibe: 2 | quality: 2 | service: 1.5 | selection: 1.5 | food: 2
I wish this place wasn't so posh, expensive and phony. I love the location, right in Old Towne Orange, with plenty of charm. Inside it is modern and generic. It just looks like an overpriced "trendy" bar.
Service staff is a pretty young, who aren't tremendously "service" minded. They don't seem to care about you one way or another - and wish you would hurry and leave so they can seat more people. I was there for hours watching the lunch to dinner crowd with an old friend very recently.
I was not impressed with the tap selection, or the bottled brews either. They refuse to get anything like Pliney, because they don't think the crowd would even know what it is. I found this out after a long talk with a full-time bartender. he blatantly admitted to me that they started off as more reasonable, but the more they got established, the higher the prices went "because they can." Wow. Pretty cocky, not sure how I feel about taking my money there now.
You wind up paying alot more here, for less, for Duvel or something even easier to find.
Same goes for food, it's okay, small, pretentious, and overpriced. Meh.
1,122 characters

4.08
/5
rDev
+3%
vibe: 3.5 | quality: 4 | service: 4 | selection: 4.5
Haven is in the charming plaza district of old town Orange. The interior is warm and comfortable, but still pretty sleek and modern.
I was there in the middle of the day on a Thursday, so it was pretty quiet. The bartender was certainly friendly, almost to the point of being obnoxious at times, but he never really crossed that line. This was probably due to the fact that it was slow at the time and he didn't have a lot to do. My girlfriend and I each ordered flights. The beer was well-kept and tasty, but a bit pricey for the quantity. I expected that, though, in a trendy gastropub in this part of town. They only had maybe ten or so taps, but they were filled with high-quality crafts and a few tough-to-find beers (minus the Guinness, that is).
The food sounded great, but I never really got a look at it and didn't try any myself. If going to Haven to dine, expect a hefty tab that my college budget couldn't have afforded.
934 characters
4.13
/5
rDev
+4.3%
vibe: 4 | quality: 4 | service: 4.5 | selection: 4 | food: 4
I was very impressed by the knowledgeable bartender. She never talked down to anyone and was quite content to let people make their own choices. But, when asked, was quick to offer reasoned educated choices.
The food was good. I ate the Brussels Sprouts with bacon and the pork belly. The sprouts were a bit on the salty side, but were a great match with the Scottish ale (recommended). The pork belly was perfect -- crisped on the top with a beautiful sauce and creamy celery puree. The prices are a little high, but this is Orange, after all. And the portions are huge.
Great value. Don't miss it.
601 characters
4.05
/5
rDev
+2.3%
vibe: 4 | quality: 4 | service: 4 | selection: 4 | food: 4.5
Ive managed to get to this place twice now, once with a good foodie friend who is interested in learning the ways of the brew, and again with a valentines day date
I was very impressed with the food the first time and the beer selection was above average. They have some good one offs form local breweries such as Stone and The Bruery and the standards form far off places...
Service and atmosphere were good both times and although my server made some off suggestions when one bottle I was interested in was gone, he was interested to talk to me and learn about another style that he didn't know.
The only reason this place doesnt get a higher grade form me is the Prices...
$18 for a pour of Stone/Brewdog Bashah
$30 for Lost abbey Gift of the Magi
These were the two that stuck out with a few others that seemed a little high even for downtown orange. Roll back the prices a little bit and maybe the Bashah wouldnt be on tap for 2+ months
I definitely recommend a Haven burger and a flight of 4 if your looking to try some of the taps
1,045 characters
4.22
/5
rDev
+6.6%
vibe: 5 | quality: 4 | service: 4.5 | selection: 4 | food: 4
This is a great place to have a pint in a posh setting. The food is decent but its the ambiance that really sucks you in. Chalk board beer list, stonework with inlaid candles and dark wood everywhere! The on tap selection is nothing spectacular, but their bottle offerings are quite good.
Service was knowledgeable and fun, a few friends and I went in and had a few drinks over a couple hours and had a great time. This place is a bit of a drive (compared to my Yardhouse haunt) but well worth it. I enjoyed the intimate setting and genuine service.
550 characters
3.98
/5
rDev
+0.5%
vibe: 4.5 | quality: 4 | service: 4 | selection: 3.5 | food: 4.5
I'm mostly with reviewer KBM on this one, but I found the food and service to be mostly pretty good. The tap selection is not that impressive and is a bit strange to folks who are looking for a true beer destination like beachwood or even pizza port. They do not focus on west coast styles, which is of course their right, but the things that they do have don't make a lot of sense. I've seen a lot of sweet beers and a lot of wheat beers, in short, the 16 taps don't present a lot of range.
I'm more impressed, recently, with the taps right around the corner at PJ's abbey - they have Green Flash Imperial, Racer 5, Ten Fiddy, and more. Haven has more taps, a nice atmosphere, and better food, but PJ's has them beat in terms of good quality beers.
751 characters
3.8
/5
rDev
-4%
vibe: 3 | quality: 4 | service: 4 | selection: 4 | food: 3
I've been to Haven's three times now. I live close and really want to like this place.
My first two visits were near disaster but they have straightened out most of those kinks.
There are a few tables in the place that are unforgivably uncomfortable. Avoid any of the tables that abut the window. The place really strives to be comfortable but it just doesn't work for me. Maybe after a few years and all the shinny things get some age, it'll be more suited for my taste.
The beer selection is good but not anything to write home about. First, the tap menu doesn't really make sense to me. I think I counted four or five wheat beers on the 12-15 taps. You'll find a few beers from the bruery and firestone and more generic taps. i.e. Guinness. The bottle list is decent with a focus on Belgians but the pricing is a little bit confusing, some beers are priced cheap while others are inexplicably expensive.
Bartenders are attentive but not beer savvy.
None of the food has really impressed me but it's not bad.
Overall, Haven's is worth a stop but don't have too high of an expectation. It's a good non-beercentric restaurant with good beer.
1,148 characters
4.45
/5
rDev
+12.4%
vibe: 4.5 | quality: 4.5 | service: 5 | selection: 4 | food: 4
I've been a regular at Hollingshead's for years. After being fed up with their service and obvious lack of respect for their regulars I sought a new local pub. First discovring Haven during the international street fair at the orange circle, I didn't think the upscale atmosphere really suited my fancy. On my most recent visit I was extremely impressed. They have a wonderful beer selection with over a dozen taps and a plethra of bottles. A friend and I split a Rodenbach Grand Cru, had a couple racer 5s and an Old Chubb at prices much lower the Hollingsheads. The service was great, one of the owners even came and chatted with us for a bit, very friendly and knowledgable staff. I was also pleased to run into to a few friends so I felt right at home. Haven is wonderful, if you're in the area give it a try.
813 characters
4.05
/5
rDev
+2.3%
vibe: 4.5 | quality: 4 | service: 4 | selection: 4 | food: 4
Saturday evening, nothing doing for dinner, what to do? Hmmm, I hear of this new gastropub in Old Town Orange, why not try it out?
Dark wood and stones all over the interior with wide windows looking onto Glassel, and a bar with seating for maybe ten people. Two TV's are located high over the back of the bar. Not a spacious place, but rather cozy. Lots of people inside, and as the night progressed, more people started showing up.
14 taps at the bar, represented by beers like Weihenstephan Original, Hemp Ale, Chambly Noire, Autumn Maple, Hottenroth Berliner Weiss, Oaktoberfest, Saison Dupont, Arrogant Bastard, Guinness, Blanche de Bruxelles, Paulaner Hefeweizen, Union Jack IPA, Green Flash IPA. The bottle list was quite impressive too (but small in quantity), carrying Old Dubh, Chimay, Spaten, Ayinger, Cantillon, Duvel, Westmalle, Rochefort, Orval, Lindemans, Wells Bombardier. Supposedly, they cut a deal to offer TAPS beers, but I didn't see any offered during my visit. Two pieces of glass are offered for the beers: a 16 ounce piece (not a standard shaker), and a 12 ounce goblet. Beers were poured nicely with big heads....they were even pouring their Guinness correctly. Drafts are $6, bottles will vary.
The food menu is very limited....less than a dozen things, including starters. I went for the macaroni and cheese. Delicious! It's made with white cheeses, topped with panko, but that cheesy goodness won me over. Oh, and some of the entrees offer suggestions for beers to pair with.
Staff was plentiful for my visit. Friendly bartenders. The food came out quick.
In the past, finding high quality beer in Old Town Orange could only be found at Rod's Liquor. Cafe Lucca added some craft beer to their lineup, but it isn't a bar. Now I have to a good watering hole in Old Town, and it makes a nice alternative to Hollingshead's in the city of Orange.
1,879 characters
Haven Gastropub in Orange, CA
3.96
out of
5
based on
51
ratings.