Kawa Espresso Bar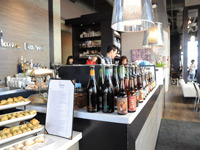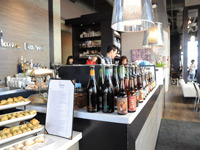 Bar, Eatery
101-1333 8 St SW
Calgary
,
Alberta
, T2R 1M6
Canada
(403) 452-5233 |
map
kawacalgary.ca
Notes:
Recent ratings and reviews.
| Log in to view more ratings + sorting options.
Ratings by andrenaline:
Reviewed by andrenaline from Canada (ON)
4.78
/5
rDev
+10.9%
vibe: 4.5 | quality: 5 | service: 4.5 | selection: 5 | food: 4.5
I've known of this place for some time, but hadn't really taken the time to check it out.. My first experience was when Half Pints came through and they hosted a tasting event. The beers were delicious as was the food. I've since returned a couple times to enjoy the vast selection of high quality beers. They've got a tremendous selection of top rated beers, and their prices are quite reasonable. Sometimes the beers are only $2 more at the liquor store, which is extremely reasonable mark-up! I would recommend this place to any beer geek for the selection alone. The atmosphere is warm, inviting and cozy and it's a great place to meet a friend and enjoy a bevy. It's not super loud and the service is great.
Oct 24, 2010
More User Ratings:
Reviewed by berley31 from Canada (NB)
4.24
/5
rDev
-1.6%
vibe: 3.5 | quality: 4.5 | service: 4 | selection: 4.5
Popped in a couple of times on a recent trip to Calgary after hearing about this place on BA... and if I hadn't, I would never have known to check it out for beer. Even their signs outside refer to it as a wine/espresso bar... no mention of beer at all.

The atmosphere is what you'd expect for a wine/coffee spot... kind of hipster-like, some pounding music one moment, jazz the next... lots of people with their Macs out, drinking coffee. But they have a lot of bottled beer (must be over 70), including a lot of Belgians... along with the appropriate, branded glassware to go with. Quality is great as well... if you order a Central City Red Racer IPA, it comes quite cool, then you order a St. Bernardus 12 and it is served at cellar temps. Very impressive.

The prices have been mentioned before, and this is another selling point here... the deals are very good, ESPECIALLY for the bigger beers. They have several bottles of Cantillon, for example, that are priced literally 3-4 dollars more than what the local liquor stores charge, which is pretty amazing.

Didn't try the food, but saw some paninis that looked very good.

Definitely worth a stop if you're in the area and looking for some reasonably-priced beers.
Sep 29, 2010

Reviewed by alpineclimber from Canada (AB)
4.53
/5
rDev
+5.1%
vibe: 4 | quality: 4.5 | service: 4.5 | selection: 5 | food: 4
Went to Kawa after finding it on the Alberta Liquor Guide website. I was curious after I saw that Kawa stocked Mikkeller Beer Geek Brunch (Weasel), that's a pretty heavy beer for an espresso bar. Upon entering the place, I noticed the decor was very modern and trendy, where better then half the people were drinking coffee and playing on their laptops. The beer list had about eighty beers, 90% of which were craft. The prices were only a few dollars more then what the liquor store sells for. I ordered the Mikkeller Beer Greek Brunch and an Italian panini. The beer was $15 dollars, not too much more then what it is in the store. The sandwich was tasty and desert was great too. The dinner menu looked even better then the lunch menu. Kawa holds beer tastings and live music as well as profiling local artists. This place is very good and it is great to see such a diverse cafe/bistro in this city. I will definitely go back for another round.
Aug 22, 2010
Reviewed by kstoyles from Canada (AB)
4.88
/5
rDev
+13.2%
vibe: 4 | quality: 5 | service: 5 | selection: 5
I am a big fan of this place. I am both a coffee lover and a beer geek in training. I found both the coffee and beer great here. Coffee is not on the cheap side, but still good. The beer selection is simply amazing. So many good beers to choose from. Alex has compiled a most excellent beer list. Although I have never made it there for a testing, I have heard nothing but good things about the testings there.
Although my food allergies prevent me from having any of the food there, my friends have enjoyed everything they have had there, so I would assume most of the food is great here.
Overall, an excellent place for both beer and coffee.
Mar 09, 2010

Reviewed by wordemupg from Canada (AB)
4.35
/5
rDev
+0.9%
vibe: 3 | quality: 4.5 | service: 4.5 | selection: 4.5 | food: 4.5
Went here for a tasting and was a little surprised to say the least. With lots of yuppies and artsy student types drinking overpriced coffee I didn't expect to find a great beer list. With 70ish bottles listed I had trouble finding a bad beer, and the prices aren't that much higher then a liquor store. Alex did an great job keeping my table well informed of what was there and what would be there soon. It was hard to miss his passion for beer and you could tell he's worked hard on his beer list and was proud of it (with good reason). Keep an eye out for tastings at this place they will sell out quicky and are worth it if you want to acquire knowledge. Not a bad spot for a great beer at a decent price, just try not to spill beer on someones laptop.

Edit: went back for the Blind IPA tasting and had the stuffed chicken and it was great. This was a small meal from a small menu but very tasty and worth trying
Jan 24, 2010
Reviewed by CBA from British Indian Ocean Territory
4
/5
rDev
-7.2%
vibe: 3 | quality: 4.5 | service: 3 | selection: 5 | food: 3.5
Kawa has been known mostly for it's supberb coffee (it's got one of those Clover machines that coffee fiends apparently go crazy for), but they've taken an interesting new direction; offering Calgary's best bottle list. The most impressive part of this is the pricing; take a bottle of Rogue XS RIS - retails in Calgary for approx $19/bottle - at Kawa they're selling it for $23/bottle. While the atmosphere is a little sparse, and the servers/baristas need some schooling on beer, it's definitely a worthwhile stop in Calgary, with a good selection of desserts. They are also running a few beer tasting sessions - excellent. It'll be interesting to see if they keep it up, and if the market supports their endeavour into craft beer. Kudos to Kawa.
Sep 16, 2009
Kawa Espresso Bar in Calgary, AB, Canada
Place rating:
4.31
out of
5
with
10
ratings