Ben's Fine Wine & Spirits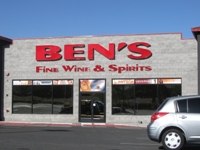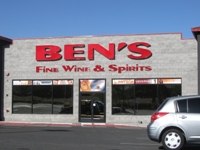 Store
10870 S Virginia St
Reno
,
Nevada
, 89511-8989
United States
(775) 853-2367 |
map
Notes:
Reviews by Beerandraiderfan:
Beerandraiderfan from Nevada
3.66
/5
rDev
-10.7%
vibe: 3.5 | quality: 4 | service: 3.5 | selection: 3.5
The newest of the Ben's that I'm aware of. Doesn't suffer from the homeless that hover around the other ones (and sometimes inside, hard to tell some of the employees on Keystone from the bums outside).
Good selection of beers, greater depth than probably all but the Lakeside Ben's. When asked about sour wild ales, the guy didn't let his lack of knowledge stop him from suggesting a bunch of beers that didn't fit the bill, but were merely expensive.
Not worth going all the way to South Reno, hit up Lakeside Ben's instead, but if you're coming up from Carson City, stop by and check this one out.
Apr 09, 2011
More User Reviews:

dertyd from California
4.44
/5
rDev
+8.3%
vibe: 4 | quality: 4.5 | service: 5 | selection: 4
This was my first time to bens was in reno for a weding so I wanted to find a good shop to get some craft beer I couldn't find back home.bens is a great store very good service and helpfull I nice selection of beer and a great selection of belg beers.they had a little selection of glass where and the rest of the store was wine and liquor.overall I was impresed and if I'm in reno again ill go back
Mar 05, 2013
Dear_Abbey
5
/5
rDev
+22%
vibe: 5 | quality: 5 | service: 5 | selection: 5
Ben's on South Virginia has my loyalty. About a year ago we started visiting this spot on our Friday lunch break to purchase beer for the weekend. The whole crew is very social and super nice to talk to. They all have good input and are super nice guys but Brian is absolutely top notch. He's not there to sell you beer, he's there to help you find what you are looking for. Over the course of the past year this place has become a standard for us. I live in Sparks but almost exclusively buy my beer from this location. If you want something that they do not have in stock (which is uncommon) they will gladly carry it for you - See the 4 packs of Rainier Ale in the cold case. I absolutely recommend this location as one of the best spots in town. Total wine may tout the largest selection of beer in the city but they don't know coors light from westvleteren 12 which should be expected from the 8 year olds that inhabit their "Sales" floor. Bens' prices are very very reasonable. I won't tell you that they are a sampling shop, but they have shared many new beers with us just out of pure fun and willingness to share new brews. These gents are professionals and have my business! Almost weekly they have new beers from big or small domestic crafts to registered trappists, and even local breweries.
Jan 19, 2013

Cinderbike from Nevada
3.66
/5
rDev
-10.7%
vibe: 3.5 | quality: 4 | service: 3.5 | selection: 3.5
One of several Ben's, this one is fairly new and in a nicer area. While I still prefer the Lakeside location (which is only 5 minutes away) this one has just as large a selection of beer, as well as a great liquor section and a respectable wine selection.
The only real downside is that, like most liquor stores, the staff have little-to-no knowledge of beer styles/suggestions. Also be aware that not everything is out on the shelf, so don't be afraid to ask if you don't see what you're looking for.
Feb 02, 2012
BlindDude from Nevada
4.94
/5
rDev
+20.5%
vibe: 4.5 | quality: 5 | service: 5 | selection: 5
Out of all the Ben's in Reno, this one in my opinion has the best section of beer! It has recently doubled its craft beer section. They have a wide variety of hard to find imports and very good quality beer. I recently purchased Dansk Mjod Viking Blod, Mikkeller Beer Geek Brunch Weasel, Grantibock, and a few others from "The Bruery". They seem to get new stuff in every week! Very knowledgeable staff and friendly service. Reasonable prices.
The bottom line.
If you are looking for beer while in the Reno area then check this place out!
Feb 23, 2011

renolayton from California
3.7
/5
rDev
-9.8%
As the other reviews have suggested, this isn't the best place to buy beer, but it's one of the best in the area. For a city that is open 24-7, you would think we'd have have a few exceptional beer shops.
If you're passing through Reno and need a decent selection of craft beer, then this is probably the easiest to access, fairly close to the freeway, and outside of any inner-city traffic.
Of the two Ben's locations I have been to in Reno (here and off of Keystone), this one is the best. Oddly enough, the selection varies between the locations.
Feb 18, 2011
tigg924 from Massachusetts
3.35
/5
rDev
-18.3%
This Ben's is pretty much like the Ben's I went to on 4th street. I stopped here and this store does have seemingly more beer and beer varieties than the other location. Lots of local brews. Deschutes, Mammoth, and New Belgium were among the highlights. Plenty of macro offerings as well. Ben's does not have the variety of other stores I have been in though. The service here was OK. Prices seemed reasonable to what I would pay in Massachusetts. I would stop here if I was in the area but would not go out of my way to get here.
Aug 23, 2010

ThreeWiseMen from California
3.55
/5
rDev
-13.4%
Ben's Fine Wine & Spirits is essentially the BevMo of northern Nevada. I've only been to to this one location (so far), but my roommate tells me that they're all relatively the same (he was born and raised in Carson City, and still lives here during the summers).
This location has a very nice selection of craft brews. I saw lots of Rogue, Deschutes, Dogfish Head, New Belgium, and other west coast micros. Some of the more local breweries available included Mammoth, Sac-Brew, Buckbean, Ruby Mountain, and Freakin' Frog. I didn't spot anything exceptionally rare, but they did have Mirror Mirror and Sac-Brew's RIS (on-sale, no less). As far as the international selection went, there was a good deal of German pilseners and hefeweizens but not much else.
The store was very clean and neatly organized. All of the beers were kept in wall coolers in the back of the establishment. The prices were very reasonable, and the workers were nice and unintrusive.
This beer store is nothing special, but it might be the best place to shop at in the area.
Sep 14, 2009
Ben's Fine Wine & Spirits in Reno, NV
Place rating:
4.1
out of
5
with
10
ratings