Tap Room No. 21 Amber Ale
| World Brews
BA SCORE
66
poor
82
Reviews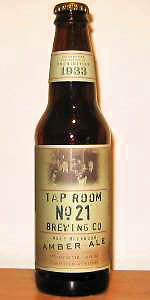 BEER INFO
Brewed by:
World Brews
California
,
United States
|
website
Style:
American Amber / Red Ale
Alcohol by volume (ABV):
4.80%
Availability:
Year-round
Notes / Commercial Description:
No notes at this time.
Added by brewdlyhooked13 on 05-17-2007
Reviews: 82 | Ratings: 195
1.9
/5
rDev
-29.9%
look: 3 | smell: 3 | taste: 1.5 | feel: 2 | overall: 1
Ok this beer is really bad. It tastes like domino sugar was thrown in during the late stages of brewing. Very fake flavor. Characteristics of this brew are poor brewmaster(s) and cheap ingredients. Blow chunk city on this beer. I guess thats what you get for $5 a 6 pack, although that is expensive for a 6 pack. You know what I mean?
★
334 characters

1.42
/5
rDev
-47.6%
look: 1.5 | smell: 2 | taste: 1 | feel: 2.5 | overall: 1
Glad I only picked up one bottle of this...ye-sh! I gave it a vigrous pour resulting in a off smelling quickly fallen, but lacing head.
I do have to say that the taste grows on you....or maybe it's just my taste has been deadened. I never gets to good, but it does taste, less gross....sorry, but not good...my FIRST homebrew was better than this.
★
350 characters
2.71
/5
rDev 0%
look: 4 | smell: 3 | taste: 2 | feel: 3.5 | overall: 3
Definitely a true amber in color, a honeyed golden-brown under an inch-high head with good retention.
Weak aroma of mild honey and minimal caramel...but ambers don't usually wow the nose, do they? This one sure doesn't.
The first few sips hit the tongue with a sweet maltiness. Hops are very much reeled in. Then a sugary element takes over, ultimately distracting and detracting from the flavor. It screams "adjunct". I'm doubting all the fermentable sugars here were produced by grain. Corn...rice...Domino sugar? Whatever it is, it's not helped by the plastic-y finish.
Firm in the mouth, with a pleasing buttery glide and mild-to-moderate carbonation.
If you're not looking for the stuff of legend, but an affordable session brew, there are so many worse choices...and many better ones. Cleary middle of the road stuff. You do have to love the slogan on the neck-ring: "Celebrating the repeal of Prohibition - 1933".
★
924 characters
3.38
/5
rDev
+24.7%
look: 3.5 | smell: 3 | taste: 3.5 | feel: 3.5 | overall: 3.5
A 12 oz bottle purchased at Chip's in Kill Devil Hills, NC.
A: The ale pours with a brilliant copper red color, looking pretty much just like a penny. The body is clear, showing off no imperfections beyond the steady stream of carbobation. The head atop the ale was one thick finger on pour and, sadly, is no more.
S: The aroma is grainy sweet, focusing its attention on the malty side of the ale.
T: The taste closely mirrors the nose, grain-dominant with little hop balance. The malts are bready with a green grape dry sweetness. They are reasonably thin, quickly evaporating into the mouth with little whimper. A few seconds after the sip is gone, the graininess returns to softly lull the tastebuds.
M: The mouthfeel lacks hops, other than that this is a surprisingly good drink. The flavor is inoffensive, possibly even good and it won't wear you out.
D: The low abv and nice session taste pleased me, I wouldn't hesitate to pound down a few of these.
★
961 characters

3.4
/5
rDev
+25.5%
look: 3.5 | smell: 3.5 | taste: 3.5 | feel: 3.5 | overall: 3
A 12oz bottle poured into a pint glass, while tailgating for the Texans-Colts game (just to add to the ambience). It was a golden color with a small white head. Sweet malt/caramel aroma. Very malty taste, which kind of overwhelmed everything else. Still, a nice beer to drink.
★
276 characters
3.35
/5
rDev
+23.6%
look: 3.5 | smell: 3.5 | taste: 3 | feel: 3 | overall: 4
12oz bottle
Clear bright copper, like a new penny, with a bright white head that laces decently.
Light caramel malt smell, slightly sweet and roasty with some fruitiness and mild hops.
Sweet maltiness up front, slightly caramel/butterscotch like, some hops come on, but not enough to beat the sweet so it becomes a bit cloying as you drink more.
Slightly hard water-like mf, but still drinkable. This stuff isn't bad for an everyday "amber," definately drinkable- more hop balance than say, Fat Tire.
★
504 characters

3
/5
rDev
+10.7%
look: 3 | smell: 3 | taste: 3 | feel: 3 | overall: 3
New arrival to the supermarket.
Per the name of the beer this is a clear amber colored beer with an off white head.
Fruity smelling like this whole series of beers it heavily suggests that this was fermented hot so that it could be sold quicker. Strong caramel aroma and a slight spicy aroma from the hops.
The taste starts off sweet and fruity with a big caramel taste to it and a solid bitter aftertaste. Lots of caramel taste and this is the flavor that defines this beer. Stronger than expected bitterness in the aftertaste this is fairly good. There is a persistent fruity flavor present from esters that heavily suggest hot fermentation like a malt liquor.
The mouthfeel is good.
An OK beer from a generally not so great brewery. If you have to drink one of these Tap Room 21 beers this is the one to pick.
★
817 characters

2.58
/5
rDev
-4.8%
look: 3 | smell: 2.5 | taste: 2.5 | feel: 3 | overall: 2.5
Appearance - a little darker than the lager, slightly hazed. A little light for an amber but some notably good-looking lace all over.
Aroma - a slight roast to the grain, an odd soapiness akin to those bottles of bubbles you buy the kids in summer. There are some positives trying to get out of the glass and be noticed but they are muddled and ultimately lost in what I imagine is a lacking grain bill. Almost there, not quite.
Taste - shallow sweetness and lightly roasted malt. Metallic flavor mixed in the middle. Mild soapiness. Everything has a decidely watered down taste. Another dime's worth of grain and effort could have cleaned up a number of areas here. If the brewer has license to keep at this, it could get better with a little richer flavor.
Mouthfeel - a bit light, pretty crisp, average at best.
Drinkability - better than the lager IMO, but this one still doesn't pass muster.
★
908 characters
2.66
/5
rDev
-1.8%
look: 3.5 | smell: 2.5 | taste: 2.5 | feel: 2.5 | overall: 3
I picked this up at a local Kroger that was just built near my house because of its price (only 20 cents more than crappy old Budweiser or Miller) so I thought, "What the hell; I' give it a shot." Anyways, here's the breakdown:
A: A pale amber color with a thick offwhite head that quickly shrinks. Seems comparable in appearance to other amber ales.
S: Not as pleasant as the appearance, smelling almost like the bastard child of tin and malts, though not overly offensive.
T: Malty but slightly watered-down tasting. While at first unremarkable, the aftertaste is much better when the almost initially absent hops kick in. Altogether, nothing special in the taste of this beer. If the aftertaste tasted more like the taste of this beer when first drunk, this would have received a much higher rating.
M: Thin, leaving you wishing there was more oomph to it. Not unpleasant, but severely lacking in character.
D: Middle of the road for me. I've had far superior amber ales, but this beer is not offensive enough for a lower score. I would rate this higher in all regards, but the brewers seemed a little reserved. To the Tap Room brewers: grow some cojones!
Altogether, this is pretty unremarkable though unoffensive. I might buy this beer again only because of its price which makes it competitive against any macrobrew. However, when money is not an issue I heed you this advice: buy any other amber ale.
PS- I also bought the pale ale from Tap Room, which is a much better beer. But I digress, this will be recorded under the proper beer review.
★
1,576 characters

2.68
/5
rDev
-1.1%
look: 3.5 | smell: 3 | taste: 2.5 | feel: 2.5 | overall: 2.5
So this beer is from Kroger??? The grocery store?? So that floors me. Anyway, here is the review:
I just drank an Abita Amber and this is very similar in color. The smell and taste have a more refined hop presence. The smell is more similar to the bitey hop aroma present on the Amber. While the latter is easily drinkable because of its similarity, this was initially so because of its complexity. As I type this I can taste it lingering behind though and making me want another sip of Abita to wash it out.
There is a sweet malt covering up the hops, which as I said linger behind bitterly on the palate. It is still a very impressive for a beer brewed by the grocery store, and a good business move too I bet.
★
718 characters
2.65
/5
rDev
-2.2%
look: 2.5 | smell: 2.5 | taste: 2.5 | feel: 2 | overall: 3.5
I'm always game for a new beer that's mid-priced (~ $6-7/6-pack), so when this amber ale (and two siblings, a lager and a pale ale) appeared at my local Kroger, I thought I'd give it a try. Label and packaging use a combination of mock-letterpress and retro font/design in blacks and browns, which I mention b/c it's what initially attracted me.
A: Pale, clear light amber/copper. The head starts off at about 1 inch, but disappears quickly. Little lacing.
S: Thin metallic-maltiness, without much hops.
T: Much like a "I'll keep trying" first/second batch of homebrew. Like the smell, the taste is thin, mild. Very, very faint hops in the aftertaste. Flavor reminds me of weak iced tea, not the actual flavor, but b/c it hints at what a stronger, richer version might taste like. Little maltiness. Taste isn't bad, just mild.
M: Thin with low carbonation.
D: I actually rate this a little higher than the other categories b/c it's so mild-mannered. Like I suggested above, overall, this beer reminds me of a "try again" homebrew batch, one that gives a newcomer hope regarding what future batches could be. It won't offend.
It will be interesting to compare this to the other Moe's selections.
★
1,204 characters
2.75
/5
rDev
+1.5%
look: 3 | smell: 3 | taste: 2.5 | feel: 2.5 | overall: 3
So I picked this up in the new Kroger... the beermonger says it's a Kroger brand that's contract brewed by Midwest Beverage Packers, which is part of City Brewery, which is actually Melanie Brewing Company. So it's a friend of their mother-in-law's second cousin, who happens to be twice removed.
Either way, it's an average beer. I'm more of a pale ale kinda guy, but what the heck.
A: Pours a golden amber with a small whitish head that can't even get to two fingers. Recedes fast to a broken cap with bubble of various size. Minimal lacing.
S: A tiny touch of hops. More malty than the pale ale, but it's a struggle to get to the nose.
T: Malty, lightly hopped (at least the aroma-compass was pointing in the right direction). Very little aftertaste. Nothing to remember it by. There's something sweet in there, but I can't place it. It's kinda like a sub-flavor from my kids' Ovaltine...
M: A light body, less than I'd expect from an amber. At least it's got a smooth, dry finish.
D: ehhh... it's okay. It'll do in a pinch. It's better than some of the mass-produced alternatives. And if it's on sale for under $6 a six-pack, that makes it taste better.... not!
★
1,183 characters
Tap Room No. 21 Amber Ale from World Brews
66
out of
100
based on
82
ratings.