Steel Kettle Whistle Lager
| World Brews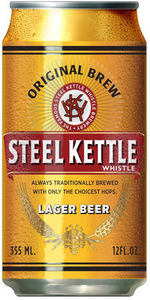 BEER INFO
Brewed by:
World Brews
California
,
United States
wineryexchange.com
Style:
American Adjunct Lager
Alcohol by volume (ABV):
4.50%
Availability:
Year-round
Notes / Commercial Description:
No notes at this time.
Added by Zorro on 09-09-2009
Ratings: 14 | Reviews: 10
3.13
/5
rDev
+29.9%
look: 3.5 | smell: 3 | taste: 3 | feel: 4 | overall: 3
Review from BeerAdvocate Magazine Issue #33 (Oct 2009):
Exclusively brewed for the chain grocer Fresh & Easy, which has locations in Arizona, California and Nevada. This is a good example of the growing trend of contract-brewed budget beers for large chains. Does it put pressure on small craft breweries or the big guys?
Not much of a head here, it all but dissipated after the first sip. Filtered clarity is a given. Nothing notable in the aroma, no glaring flaws, which is not easy on this plain canvas of a beer. Lager snap is a cinch in this light-bodied brew. Crispness does hold on to a lot of the re- freshing quality. A little grainy, with some cooked cereal grain in the middle. Hops are meek with a lemony flavor. Aftertaste is virtually clean.
The survival of this brand will simply be its price point; if it is not a budget beer, then it will have a tough road ahead. A no-nonsense choice for the American Lager drinker.
936 characters
More User Reviews:
2.67
/5
rDev
+10.8%
look: 3.5 | smell: 2.75 | taste: 2.5 | feel: 2.5 | overall: 2.75
355ml can. I can't quite believe the inanity of the Prestige Wine Group in bringing in these oh-so-seemingly similar offerings through the various Liquor Depot/Barn emporia, etc to we willing suckers here in Alberta.
This beer pours a somewhat hazy medium golden straw colour, with two fingers of puffy, foamy, bubbly off-white head, which leaves some streaky alien alphabet lace around the glass as it surprisingly lingers in its ebbing out of existence.
It smells of grainy, stale hay bales, hollow lemon cleanser, and old partially melted plastic toy soldiers. The taste is semi-sweet corny, grainy malt, a touch of stale cereal, underwhelmingly pithy, bland citrus fruit, admittedly tame stewed veggies, and a lingering, and mostly obtrusive petrochemical essence.
The carbonation is present, perfunctory, and little else, the body barely above the light side of things, weight-wise, and smooth with a rather ungainly, well, white noise nothingness. It finishes just off-dry, the sweet, corn-fed graininess and now established vegetal skank really offering nothing more than what you should rightly imagine.
Not the worst example of the style, I suppose, but it shows enough of the 'standard' attributes to make me gag just a tad, and pushing forward, does nothing for beerdom, or likewise my stomach, as a whole.
1,321 characters
2.4
/5
rDev
-0.4%
look: 2 | smell: 2 | taste: 2.5 | feel: 2 | overall: 3
Picked up this new brew at my local Fresh & Easy. $4.99/12pk.
Poured a yellow fizzy color. Pretty much what I expected. Smelled of corn, grain, slightly metallic with a faint and I mean faint hop aroma. The initial taste wasn't too bad. You get that grain/corn taste upfront with a strange warmness to it?? No hop taste in this. The mouthful was very light bodied with quite a bit of carbonation. Overall the drinkablity is easy. And considering the price it's not a bad beer. Its better than Natty light in my opinion. Also it carries similar traits to the Coors Light aftertaste.
Cheers!
591 characters

2.65
/5
rDev
+10%
look: 2.5 | smell: 2.5 | taste: 2.5 | feel: 3 | overall: 3
I really hate to be so hard on beer, but really.. this is a pretty awful brew. I agree with the others who have reviewed this sikly yellow concoction.. soapy short-lasting head with a sickly yellow color. Chemical-ish corn odor, metallic finish.. very cheap taste, if any taste at all.
Can I drink it? I guess, but just like it's Fresh & Easy cousin Taurino, it's a beer that's only good to your wallet. I had to try it once to see, and once was enough.
455 characters
1.82
/5
rDev
-24.5%
look: 1.5 | smell: 2 | taste: 1.5 | feel: 1.5 | overall: 2.5
not impressed but what do expect for 4.99 a 12 pack. when stackin brew i can't find anything cheaper.
Color: very pale
Head: very little
Smell: a little hops with metallic undertones
Taste: like a very inexpensive beer
Good value for stackin brews...
253 characters

2.71
/5
rDev
+12.4%
look: 3 | smell: 2 | taste: 3 | feel: 2.5 | overall: 3
New contract brewed beer for Fresh and Easy grocery stores.
Clear yellow colored beer with a small white colored head that doesn't last. Pretty standard for the beer type.
Smell is sweet and corny with a faint vegetable smell. Slight grassy hop scent but it isn't much.
Starts out mildly sweet with a faint corn flavor. Light and highly carbonated with not much hop in there, at best slightly herbal if you hold it on the tongue a long time.
Mouthfeel is light.
Nothing here that says quality beer. A simple fizzy lager in the BMC class. Easy to drink like club soda.
582 characters

1.44
/5
rDev
-40.2%
look: 3 | smell: 2 | taste: 1 | feel: 1.25 | overall: 1.25
Saw a 12 pack of these at Fresh and Easy for $5, so I thought "why not?". Poured it into a standard pint glass just to get a good look at it.
Ugghhh, this is the first beer I've had that I just...don't like. I've had "bad" beers before, in that I can tell that it's of lesser quality than other beers, but I've always still enjoyed so-called bad beers (I'll gladly drink a warm Keystone Light any day of the week if it's all that's available). This is the first time I've ever found no enjoyment in a beer though.
Appearance: Pours a clear yellow. Looks like any other AAL, maybe a bit darker. Was able to get a two finger head out of this pour. Although it disappeared pretty quickly.
Smell: Again, smells like most cheap AALs. Some straw, corn, malt, and a very very faint hoppiness. At this point I felt optimistic thinking I found the perfect "get drunk for cheap" beer as this is the cheapest 12 pack I've ever bought.
Taste: This is where everything went downhill. At the first sip, there was a definite adjunctness to the taste, almost no hops, but a decent malt presence. There was a bit of an odd caramel/honey like sweetness though that at first I thought was interesting, but as I took more and more sips, it started to get almost sickening, and that taste just wouldn't go away. It's probably weird that I'm describing a caramel/honey like sweetness as undesirable, but I really just can't stand it.
Mouthfeel: Very thin, watery, not much carbonation.
Overall: I'm not sure if I'm describing the taste well (I noticed another review described the taste as a sort of "warmness"), but there's definitely something off about it. Everything else is what you'd expect from a cheap American lager.
1,709 characters
2.2
/5
rDev
-8.7%
look: 2 | smell: 2 | taste: 2 | feel: 2 | overall: 3
Another american adjunct lager that tastes just like the rest. I come upon this beer alot since my buddys and I like to get pretty anebriated occasionally and we end up buying steel kettle nothing special to it just very cheap and to me it tastes like miller lite.
264 characters
2.45
/5
rDev
+1.7%
look: 2 | smell: 2 | taste: 2.5 | feel: 2.5 | overall: 3
consumed 09-12-2009, 12oz can into pint glass.
appearance: pours a yellow fizzy color. Pretty much what I expected.
smell: corn, grain, slightly metallic with a faint and I mean faint hop aroma.
taste: grain/corn taste upfront with a strange warmness to it?? No hop taste in this. carries similar traits to Coors Lights aftertaste.
mouthfeel: very light bodied with quite a bit of carbonation.
drinkability: overall the drinkability isn't too bad. you get what you pay for.
481 characters
2.3
/5
rDev
-4.6%
look: 2 | smell: 2 | taste: 2.5 | feel: 2 | overall: 2.5
Poors a very pale yellow color. Doesn't really look like beer! Little head.
Smells strongly of malt and alcohol wit ha strong presence of corn. Extremely faint hops presence.
The taste is very flat with a maltyness and a sharp disgusting malt liquor feel.
Mouthfeel is very light. Not much to write home about.
Can be stomached, especially with the less than .50 a can price tag. I would avoid unless you are low low low on money.
434 characters
Steel Kettle Whistle Lager from World Brews
2.41
out of
5
based on
14
ratings.